What is 10.0.0.1?
When we talk about the IP 10.0.0.1 there are a few things we have to mention first.
First, it's a Class A private IP address and second, it's normally used as a default gateway for Comcast Xfinity routers.
10.0.0.1 as a Private IP
Being a private IP address means that this IP can't be routed from the Internet. It can be used only in a private network and there can be only one IP like this in the network. In case there are two 10.0.0.1 IP addresses a so called IP conflict will occur which can make the whole network unstable.
10.0.0.1 as a default IP
On the other hand, the term 'default IP' means that router manufacturers use this IP to allow their router users to easily access the router settings and change them. The user can change the SSID (Network Name) and password, fix minor network problems, secure the network, and check which devices are connected to the network and so on.
NOTE: Quite often people think that 10.0.0.1 and 10.0.0.0.1 are the same IP address. The truth is that 10.0.0.0.1 doesn't exist and it's one of the most common problem people have when they try to login to their router.
Normally, if you are reading this article you want to find out more about this IP and specifically check the router login steps.
Let's see what you need to know to login to your 10.0.0.1 router successfully. By the end of this article you will be browsing through the router settings.
Before you login
There are a few things to check before you login to your 10.0.0.1 router. These are:
– Is 10.0.0.1 your default router IP?
You can easily find the default router IP using the Command prompt on your Windows PC. After launching the Command prompt type ipconfig and scroll down until you see the Default gateway. This is your Default router IP. In your case it should be 10.0.0.1, but if you see some other numbers like 192.168.2.1 or 192.168.100.1 there is nothing to worry about. You will use these numbers to login to your router.
– What are the default username and password for your router?
If you haven't changed these login details before you can use the default ones. You can find them either printed on a label on the router, or in the user's manual or the manufacturer's official website.
10.0.0.1 Login Step-by-Step
Step 1 – Launch your browser
Launch your browser and in the Address bar type 10.0.0.1.
NOTE: Take care of two things here.
First, if you type the IP in the Search bar instead of the Address bar you will get Google or Bing search results instead the router login page.

Second, typing the IP wrong will result in an error message. So make sure not to type 10.0.0.0.1 because this IP doesn't exist.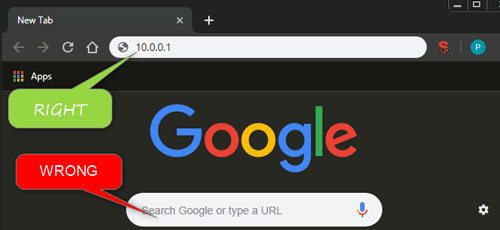 Step 2 – Type the default login username and password
If the default IP is correct you will be asked to enter the default router login details.

STEP 3 – At a Glance
If the default username and password are correct you will see the Comcast At a Glance page.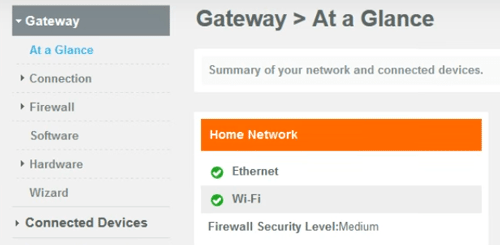 This means that you have logged in successfully. From there you can change the default router password, change the default SSID (Network name) and wireless network password. These are the first three things you need to do in order to make your wireless home network more secure.
How to change the router password?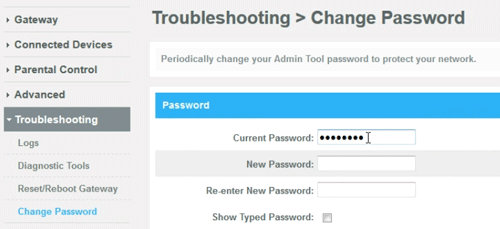 In order to protect your network you should change the Admin tool password from time to time.
You can do it by navigating to Troubleshooting and then Change password in the menu.
There you will be asked to enter the Current password and then enter the new password twice. Click Save and you are done.
How to change the Comcast Xfinity default SSID and password?
Go to Connections and then click on Wi-Fi.
In the new window you will see Private Wi-Fi Network. Click Edit.
Now you can change the Network Name (SSID) and Network Password.
Now, after you have changed the default router password and SSID and Wi-Fi password you can check whether your firewall is ON (Gateway>Firewall>IPv4>Typical Security (MEDIUM)), disable Remote Management (Gateway>Advanced>Remote Management) and so on.
10.0.0.1 Common Login Problems and FAQs
If everything goes well you will login to your router without problems. However, from time to time things can get a little complicated. Here are some of the most common login problems and how to fix them.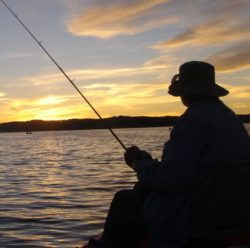 Hey, I'm David. I've been working as a wireless network engineer and a network administrator for 15 years. During my studies, I also worked as an ISP field technician – that's when I met Jeremy. 
I hold a bachelor's degree in network engineering and a master's degree in computer science and engineering. I'm also a Cisco-certified service provider. 
In my professional career, I worked for router/modem manufacturers and internet providers. I like to think that I'm good at explaining network-related issues in simple terms. That's exactly what I'm doing on this website – I'm making simple and easy-to-follow guides on how to install, set up, and troubleshoot your networking hardware. I also review new network equipment – modems, gateways, switches, routers, extenders, mesh systems, cables, etc. 
My goal is to help regular users with their everyday network issues, educate them, and make them less scared of their equipment. In my articles, you can find tips on what to look for when buying new networking hardware, and how to adjust your network settings to get the most out of your wi-fi. 
Since my work is closely related to computers, servers, and other network equipment, I like to spend most of my spare time outdoors. When I want to blow off some steam, I like to ride my bike. I also love hiking and swimming. When I need to calm down and clear my mind, my go-to activity is fishing.