There is no doubt that Apple products are top-quality ones. This applies to their Apple routers. When we buy their product, we rely on the brand and the proven quality and we generally don't expect to have any problems with the device. Sadly, this is not always the case. In some cases, instead of the normal green color, we can notice our Apple router blinking orange light.
In this article we are going to try to cover this orange blinking light on the Apple router in detail: why does it appear and what does it mean. And we are going to present the frequently used solutions that have helped many users fix the problem on their own.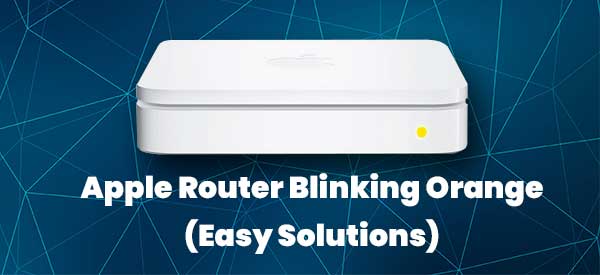 Why Is My Apple Router Blinking Orange?
The LED indicator lights on the routers tell us more about the current network status and the device itself.
If you have noticed that your Apple router is blinking orange light, it usually means the following:
The router is new and needs to be configured
The Ethernet cable is not properly connected
Some issues with the ISP
The Apple router is out of range if you use it as an extender
Modem has lost connection
How To Fix The Apple Router Blinking Orange Light?
Now when we know what might be causing the flashing orange light, it is time to start with some basic troubleshooting.
Launch The AirPort Utility

The good thing here is that you can check what the problem is on our device (computer, iPad, or iPhone) using the AirPort Utility. You just need to access the Apple router's base station using the AirPort Utility. In the Summary section, you should see the reason why your Apple router is flashing orange as well as some suggestions on how to fix the issue. You can also tell the AirPort Utility that the error needs to be ignored. This won't fix the issue but the orange light will stop blinking.
Check The Cables
Check all the cables and connectors and make sure that everything is connected to the correct port and that there is no visible damage on the cables and connectors and that the connections are tight. Although it seems quite unlikely that this might be the reason for the Apple router blinking orange light, it is worth checking each cable. You might get surprised when you notice that something is not right.
However, if everything is tightly and properly connected then try the following solution.
Move It Closer
If you are using your base station to extend your wireless network range, the orange light will start blinking when the base station is out of range. Logically, move it closer to the primary base station and see whether the orange blinking light will stop.
Restart The Modem
If you are using a cable modem or a DSL connection, the orange blinking light will appear if the modem has lost the connection. In this case, we recommend rebooting the modem. This simple and effective solution will help you fix the problem in a minute or two.
Disconnect the modem's power cable from the electrical outlet. Leave it disconnected for a minute or two and then connect the power cable back in.
NOTE: The modem and your Apple router should be connected directly using an Ethernet cable before you plug the power cable back in.
You Have To Setup Your Apple Router
In case your Apple router is not set up, either because it's new or because you have just reverted it back to factory settings, you will most probably see the orange blinking light. All you have to do in this case is to set up your router by following the manual. When you complete the setup the orange blinking light on your Apple router should disappear.
Is Your ISP Down?
If your ISP is having some technical difficulties, power or service outage or they have changed something in their configuration, you can expect to see the blinking orange light. The easiest way to check this is to either contact your ISP directly over the phone or visit their official web page and log in to your account and see if there are any notifications informing you that there is something going on.
You can also visit some sites where users report their issues with their ISP.
Update The Firmware
Sometimes the orange blinking light is a sign that there is a new firmware version available for your Apple router. A new firmware often improves the security, functionality, and performance of your Apple router.
You can check whether a new firmware update is available. First, you need to make sure that the device you are using and the base station are connected to the internet.
Then, launch the AirPort Utility and restart the base station from there. After the restart, click on the base station in the AirPort Utility. On Mac computers, if there is a firmware upgrade available you will see the Update button. On iOS devices, you need to tap on the number next to Version and then on Download and Install.

After the firmware is upgraded successfully, your base station will restart. Check whether the orange light is still blinking when it boots up completely.
Get In Touch With Support
After going through all the suggestions presented in this article and you still see the orange blinking light, it is possible that there is something else going on. So, you can contact your ISP support and ask for their assistance in resolving the issue, or you can contact Apple support and ask for their help. The final goal after all is to have a fully functional home network, fast and reliable internet connection and the light on your Apple router should be green and not blinking.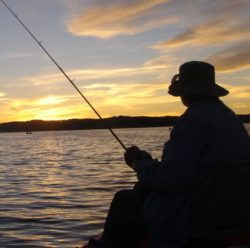 Hey, I'm David. I've been working as a wireless network engineer and a network administrator for 15 years. During my studies, I also worked as an ISP field technician – that's when I met Jeremy. 
I hold a bachelor's degree in network engineering and a master's degree in computer science and engineering. I'm also a Cisco-certified service provider. 
In my professional career, I worked for router/modem manufacturers and internet providers. I like to think that I'm good at explaining network-related issues in simple terms. That's exactly what I'm doing on this website – I'm making simple and easy-to-follow guides on how to install, set up, and troubleshoot your networking hardware. I also review new network equipment – modems, gateways, switches, routers, extenders, mesh systems, cables, etc. 
My goal is to help regular users with their everyday network issues, educate them, and make them less scared of their equipment. In my articles, you can find tips on what to look for when buying new networking hardware, and how to adjust your network settings to get the most out of your wi-fi. 
Since my work is closely related to computers, servers, and other network equipment, I like to spend most of my spare time outdoors. When I want to blow off some steam, I like to ride my bike. I also love hiking and swimming. When I need to calm down and clear my mind, my go-to activity is fishing.