Unstable Internet connection or complete outages can be pretty frustrating today, especially because most of the devices we use require a working internet connection in order to work properly.
One of the things we normally do when we experience some internet connection problems is taking a look at the router and checking the lights. In most cases we will see the AT&T broadband red light.
So, the question now is what does it mean and how you can fix the AT&T broadband light red?
What does the AT&T broadband red light mean?

When the AT&T broadband light is red it is good to know what are the possible reasons for it.
In this case, they are as follows:
The gateway is not working properly.
No broadband or DSL signal is detected
The gateway can't connect to the service provider network
Now when we know the possible reasons let's see what we can do about it.
How to fix the AT&T broadband red light?
We have ordered these fixes by their simplicity so you can try them one after another.
Check for service outages
AT&T has an outage site located at this address where you can check if there is a service outage in your area at the moment. These usually occur after a power outage or a storm. If that is the reason for your red light problem then all you can do is wait a little until everything is up and running again.
Check the connections, especially the green DSL Broadband cable
Sometimes a loose connection can be the cause of this problem. Therefore, you can easily check the connections, or even better disconnect and then connect everything back and this time make sure everything is firm and tight. Pay special attention to the both ends of the green DSL Broadband cable whether it sits firmly into the gateway.
Restart the gateway manually
You don't need any special tech skills for this one but restarting a device usually resolves most of the problems you may experience. Also, restarting the modem needs to be done before the next step (resetting the modem to factory settings) in case the problem remains.
Recommended reading : What Wi-Fi Extender Works Best With AT&T Fiber?
To restart your gateway, you need to unplug the power cable from the back of the gateway. Wait a little, 15-20 seconds, and then plug the power cable back again. Wait a few minutes for the router lights to become stable and turn green.
Reset the modem to factory defaults
We usually try to leave this option at the end. The reason for this is that the modem will be taken back to factory settings which means that you will need to set it up from scratch. Your network name, Wi-Fi password, guest network and any other customizations you have made to the settings will be lost.
If you still wish to proceed the procedure is pretty simple. Here are some official solutions on how to factory reset your AT&T modem.
Use the myAT&T app or contact support
The myAT&T app can be downloaded from Google Play or the App Store or you can just visit att.com/myattapp from your mobile device and choose whether you want to download the Android or iOS version.
On the other hand, you can text the "myATT" (without quotes) to 556699 and you will receive a link to download the app.
The myAT&T app is a pretty easy way to check for outages or troubleshoot your service.  You can use the Fix it now diagnostic tool and follow the troubleshooting steps. The tool can also test the service and guide you through the steps to fix the problem.
Final Thoughts
Hopefully you have resolved the AT&T Broadband red light problem by now. In case you didn't succeed to fix this problem after trying all the fixes recommended in this article, it is pretty possible that the modem is malfunctioning. Get in touch with the AT&T support team and they can guide you through the troubleshooting steps or even replace the mode.
Good luck!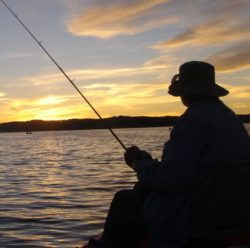 Hey, I'm David. I've been working as a wireless network engineer and a network administrator for 15 years. During my studies, I also worked as an ISP field technician – that's when I met Jeremy. 
I hold a bachelor's degree in network engineering and a master's degree in computer science and engineering. I'm also a Cisco-certified service provider. 
In my professional career, I worked for router/modem manufacturers and internet providers. I like to think that I'm good at explaining network-related issues in simple terms. That's exactly what I'm doing on this website – I'm making simple and easy-to-follow guides on how to install, set up, and troubleshoot your networking hardware. I also review new network equipment – modems, gateways, switches, routers, extenders, mesh systems, cables, etc. 
My goal is to help regular users with their everyday network issues, educate them, and make them less scared of their equipment. In my articles, you can find tips on what to look for when buying new networking hardware, and how to adjust your network settings to get the most out of your wi-fi. 
Since my work is closely related to computers, servers, and other network equipment, I like to spend most of my spare time outdoors. When I want to blow off some steam, I like to ride my bike. I also love hiking and swimming. When I need to calm down and clear my mind, my go-to activity is fishing.