When you search for solutions that provide you with a connection to the internet, you can come across three different things. There are going to be modems, routers, and gateways in the offer and most ISPs offer a gateway in the package.
There's a lot of talk about AT&T's WI-FI gateways online. That's why we decided to talk a little about this topic. In this article, we're going to talk about what a WI-FI gateway is and how a WI-FI gateway works We will also analyze different AT&T WI-FI gateway specs, and tell you how to set it up properly.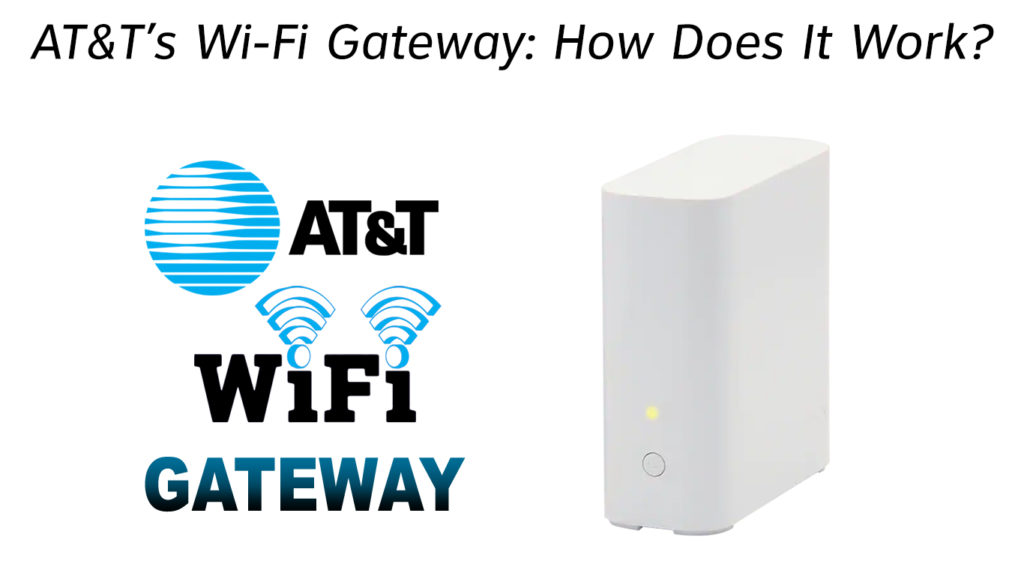 What Is a WI-FI Gateway?
Two key pieces of hardware connect you to the internet and spread that connection across your home via Wi-Fi. The first component is the modem, i.e. modulator/demodulator.
The modem keeps you connected to your ISP and provides internet access by converting analog signals into digital signals that it sends to your device or your router. The router takes the digital signals and broadcasts them to the device through WI-FI.
A gateway is these two devices combined. So, instead of having only one function or the need to connect two devices, you can get one and have the same functionality. No need for too much hardware, and no need for surplus cables.
How Does a WI-FI Gateway Work?
The WI-FI gateway works the same as a modem and router combination would work. A coaxial cable goes into the gateway, and the gateway takes the electrical impulses from said cable and converts them into digital signals.
It uses the router functionality to establish a wireless network. So, it performs the NAT (Network Address Translation) function and assigns IP addresses to the devices within the network. This is more or less how it works.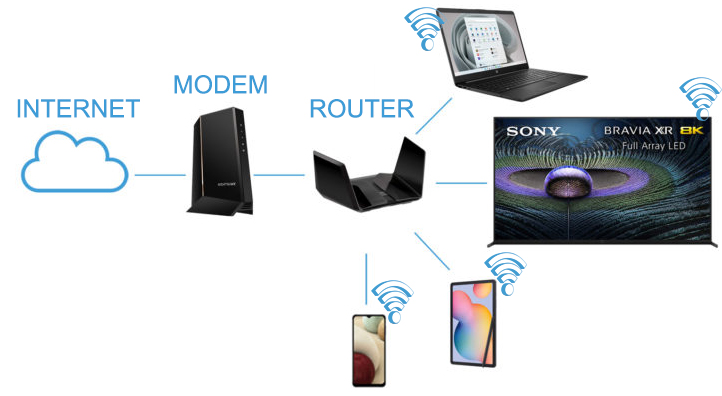 AT&T's WI-FI Gateways Specs
5 WI-FI gateways are currently on AT&T's offer. We're going to look at the specs of all the gateways, and we're going to make a comparison so that you can choose the one that works best for you if you choose AT&T.
AT&T BGW210
This is actually the Arris BGW210-700 gateway model. The gateway has an FXS port for the RJ-14 jack. There are four more ports that support 10/100/1000 Base-T Ethernet switches for the RJ-45 jack, and it has two USB 2.0 ports.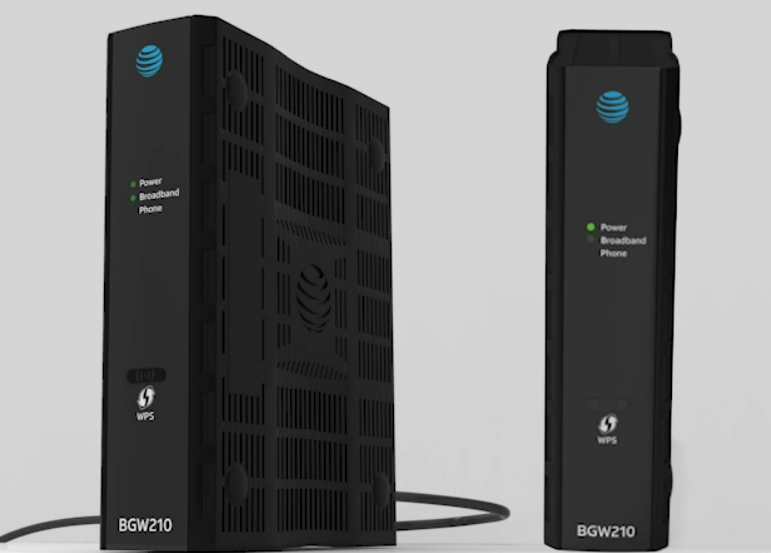 It supports VoIP (Voice over Internet Protocol), ergo the single port FXS for the RJ-14 jack. It also supports IPv6 and multiple remote management features. The WI-FI features include the 802.11n standard on 2.4GHz and 802.11ac on 5GHz.
AT&T BGW320
Well, you probably could guess that this is also an Arris gateway. The thing is that this isn't only a gateway, but it's also an ONT (Optical Network Terminal) because it can be connected to fiber.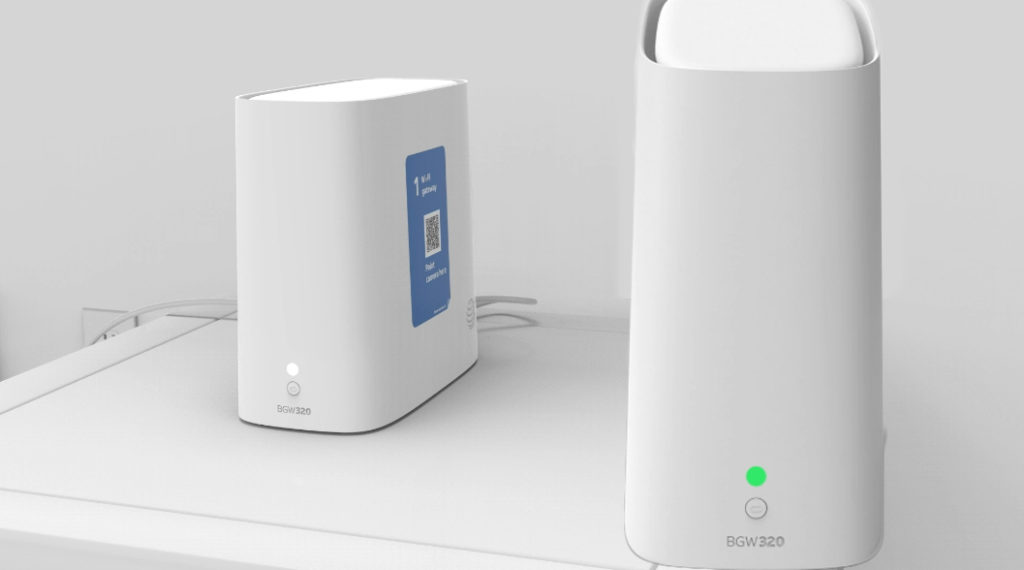 AT&T provides these gateways to fiber users. It has 4 ports. One port for 5Gb, three ports for a wired 10/100/1000 BaseT Ethernet connection, and a tri-band functionality. There are two 5GHz frequency bands and one 2.4GHz band. BGW320 is currently the only AT&T gateway with Wi-Fi 6 support. 
AT&T NVG589
This AT&T gateway is actually the Arris NVG589, and it's a DSL modem and a wireless router. It works with DSL and FTTN, quite a good deal. It also supports VoIP, and it has four ports for 10/100/1000 Ethernet.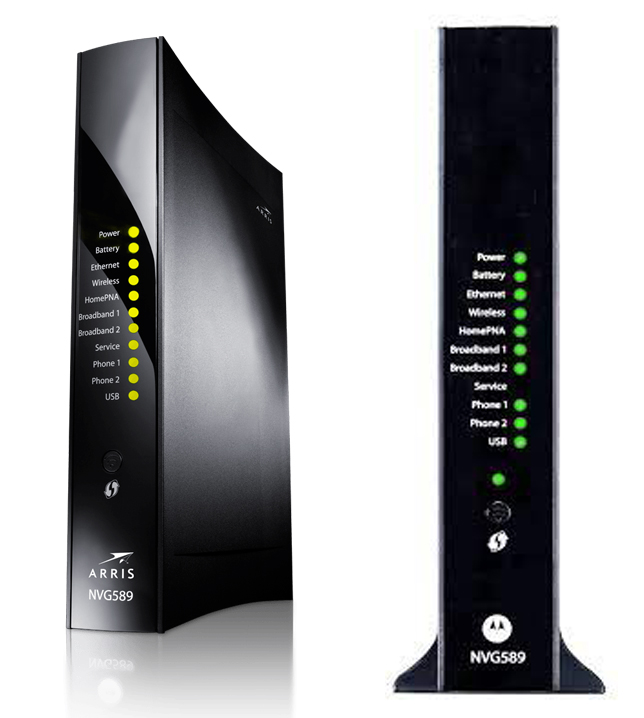 There's one WAN port, 4 LAN ports, one USB 2.0 port, and one VoIP phone port. It supports most ADSL and VDSL connection types. Finally, it supports three standards, 802.11b, 802.11g, and 802.11n.
AT&T NVG599
Arris NVG599 is a gateway that also works well with the DSL. It supports bonded VDSL2, single-line VDSL 2, bonded ADSL2+, and single-line ADSL. There's a port that supports VoIP calling for an RJ-14 jack, and one port for 10/100/1000 Ethernet.
This model supports IPv6 as well. As for the WI-FI, the standards are 802.11b/g/n and 802.11ac. Also, two wireless radios, the 2.4GHz, and the 5GHz frequency support. It's also pretty secure, so there's no need to worry about attacks.
AT&T Pace 5268
This is the last AT&T WI-FI gateway. It has 4 Ethernet LAN ports. Plus, it supports 802.11ac wireless standard as well as 802.11b/g/n. It's a dual-band router.
As for multiple inputs, and multiple outputs, there are 4 antennas inside the gateway that broadcast WI-FI simultaneously. So, this is an excellent device for the fundamental functionality of a gateway.
Setting Up AT&T's WI-FI Gateway
It's quite easy to set up AT&T's WI-FI gateway. Especially if you've already registered online on AT&T. First, you need to connect the data cable from the wall port to the gateway. Then, you need to connect the Ethernet cable from the gateway port to your device.
If you want to set up the phone, you need to plug the phone cable into the gateway. There's a port for that as well. Then, plug the power cable into the gateway and turn it on. The service lights need to turn solid green.
AT&T DSL Gateway Installation
https://www.youtube.com/watch?v=X9UQHCM8lrI
Next, you need to configure your WI-FI. Find the SSID (WI-FI Network Name) on the gateway and the WI-FI Password below. Type them in, and connect. You're now connected to the WI-FI, but you still have to log into the gateway to change the name and password.
There are two ways you can reconfigure the WI-FI. You can sign into the Smart Home Manager, and go through the settings there, or you can type 192.168.1.254 into the address bar and use your credentials to log in.
Once there, go to the Gateway Status and click on Wireless. Find User Network, and enter the new SSID and the new password. Once you do this, click on Save, and that's it. You might need to enter the Access code from the label of your gateway. Click Submit and that's it.
How to Configure Your Home Network on BGW320 AT&T Gateway
Conclusion
Hopefully, our article helped you learn a few things about AT&T gateways and understand the specs of all the gateways offered by AT&T. Now, you just need to set up your AT&T gateway and enjoy fast and reliable AT&T internet.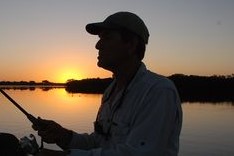 Hey, I'm Jeremy Clifford. I hold a bachelor's degree in information systems, and I'm a certified network specialist. I worked for several internet providers in LA, San Francisco, Sacramento, and Seattle over the past 21 years.
I worked as a customer service operator, field technician, network engineer, and network specialist. During my career in networking, I've come across numerous modems, gateways, routers, and other networking hardware. I've installed network equipment, fixed it, designed and administrated networks, etc.
Networking is my passion, and I'm eager to share everything I know with you. On this website, you can read my modem and router reviews, as well as various how-to guides designed to help you solve your network problems. I want to liberate you from the fear that most users feel when they have to deal with modem and router settings.
My favorite free-time activities are gaming, movie-watching, and cooking. I also enjoy fishing, although I'm not good at it. What I'm good at is annoying David when we are fishing together. Apparently, you're not supposed to talk or laugh while fishing – it scares the fishes.