For many people, the day starts when they switch on a computer, in the office, or at home. Amazingly, we have turned the home into a sub-office, assisted by the home network that is readily available at an affordable cost these days. However, the abundance of interconnected facilities does come with some threats in the form of hacker attacks, viruses, and malware.
As a result, you will occasionally find strange devices on your Wi-Fi. For example, you may see an unknown Azurewave device connected to your Wi-Fi network.
You could do some research to find out if the device is malicious or not. There's a possibility that the device has compromised your network security, or it could just be a configuration glitch.
We've got you covered. In this post, you will learn everything you need to know about the Azurewave device. We'll explain how it gets connected to your network, and how you can get rid of it.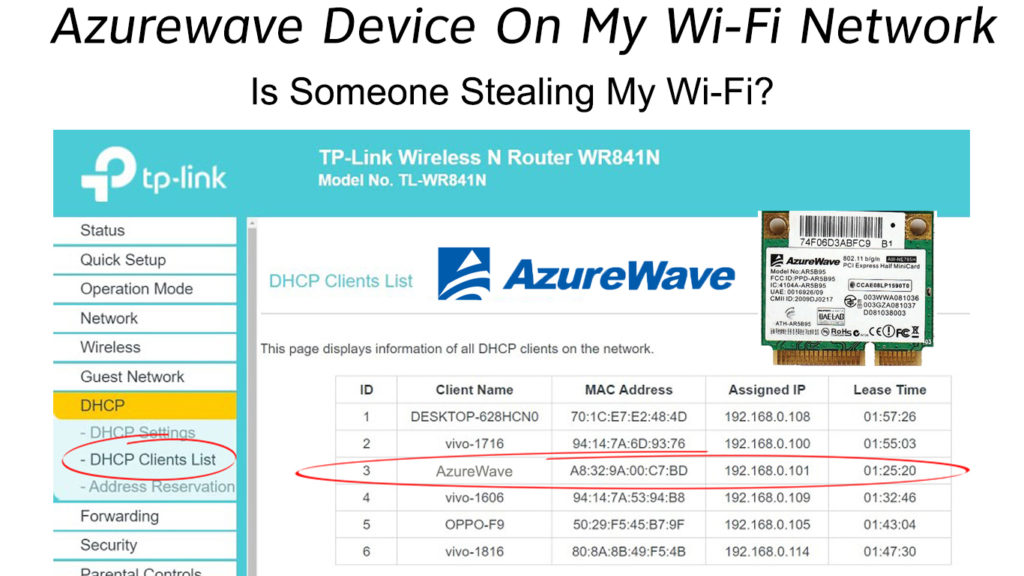 Who Is Azurewave?
Azurewave, or AzureWave Technologies, is a leading IT company that provides solutions for wireless connectivity modules and image sensors. However, you may not be familiar with this company because it provides solutions to other businesses, not to the public.
It provides micro wireless modules and digital image modules to other companies that manufacture computers, Wi-Fi devices, IoT devices, and many more.
Recommended reading:
These smart device manufacturers outsource the production of individual parts to reduce their production costs. They outsource wireless modules required by their devices to Azurewave. They get these parts from AzureWave and install them into their products.
This way, they reduce the manufacturing cost that would have been high if they were to produce everything in-house. Consequently, they manage to keep their products' final price low and affordable.
Why Does the Azurewave Device Appear on Your Wi-Fi Network?
Azurewave produces tiny wireless modules that might be embedded into your Wi-Fi-enabled devices connected to your home network. You would generally find a connected device displaying its name, but sometimes, due to various reasons, your network displays the device as an Azurewave instead.
Numerous devices have Azurewave Wi-Fi controllers and modules built inside them. A few examples are Chromecast, Chromebook, Sony PS4, and smart sprinkler systems.
If you have one of these devices, the unknown device connected to your Wi-Fi might be your own device. In that case, the device is safe, and you should not worry about it. However, hackers are getting smarter, and they can disguise their malicious intent by giving an Azurewave name to their ill-natured device.
How to See Connected Device on your Network?
Firstly, you need to search your router's IP address. You're going to use it to log into your router.
Press the Windows and the 'x' keys on your keyboard simultaneously. Alternatively, you can also click the Windows icon > Settings > Network & Internet.
Choose Network Connections from the menu.
Select Properties under Status.
Scroll further down to find the properties section.
You can view your router's IP address next to the IPv4 DNS.
You need to memorize or copy this IP address.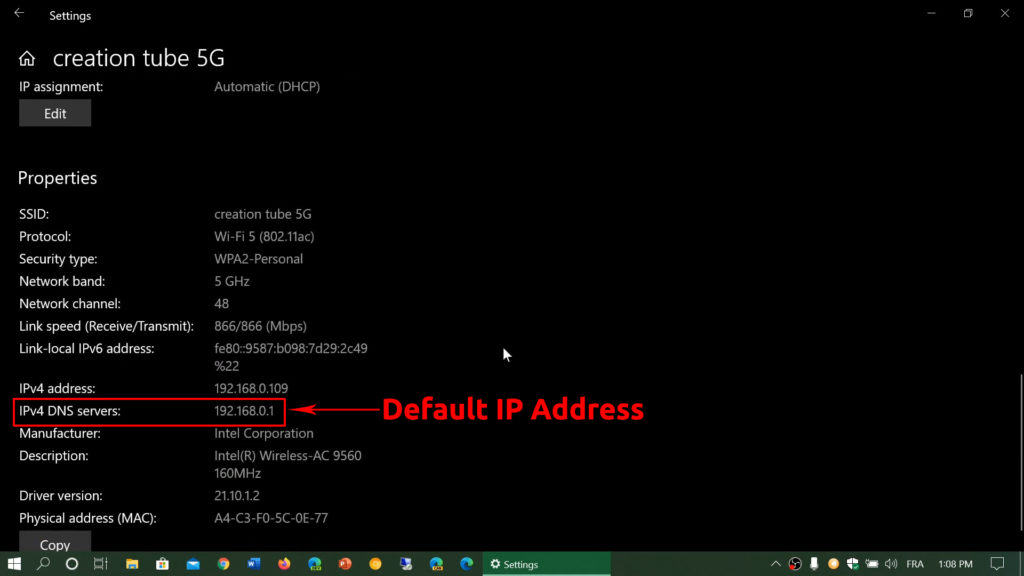 How to Find Your Router's Default IP (Windows, macOS, Android)
Log in to your router using the following steps:
Open up a new tab and type the IP address on the address bar at the top.
Look for the username and password of the router in the manual or at the back of the router itself.
Find the Menu labeled Devices, Attached Devices, Connected Devices, Wireless Clients, DHCP clients, or something similar.

How to Identify Azurewave Device on your Wi-Fi Network
Here's one of the easiest ways to identify AzureWave device on your Wi-Fi:
Firstly, switch off the router to kick the Azurwave device off your network.
Switch it on and wait for devices to reconnect to the network automatically.
Log into your router, and go to Connected/Attached Devices.
Now, you need to switch off all of your connected devices one by one and refresh the list after disconnecting each device.
If you can still see that unknown device once you switch off all devices, then it's not one of your devices. The easiest and most logical explanation – your neighbor might be stealing your Wi-Fi. It is less likely that you're dealing with a hacker attack, but it's not impossible.
Below, you can find the recommended course of action.
Change the Network Credentials
We recommend changing your Wi-Fi network name, commonly called SSID (Service Set IDentifier), and your Wi-Fi password. It is a proven method to get rid of the malicious device that has been camouflaged under Azurewave.
Your network will disconnect all your devices once you change the SSID and password. Then, you can rejoin all your devices. You will have to re-enter the new password every time.
Follow these steps to change the name and password:
Press the 'r' and the Windows keys together to commence RUN.
Enter 'CMD' in the RUN dialog box, then click OK.
On the command prompt, type 'ipconfig' and press <Enter>.
Copy or memorize the address under "IPv4 Address".
Start a new Windows tab and type the IP address on the address bar.
Enter the name and password when prompted (follow the previous guide above to find them).
Select the Wireless tab and change the SSID and password.
Follow these guidelines to set up a new SSID and password:
SSID – select a name without indicating your router's brand, like MY_TP-LINK or ASUS-2.4G. It may not be foolproof, but it can deter hackers from trying to break the password. If they know your router's brand, it will be easier for them to begin their hacking task.
Password – it's wiser to select a combination of letters, numbers, and special characters. Avoid predictable passwords like 123456, qwerty, birthdate, and phone number.
Conclusion
Seeing an Azurewave device on your Wi-Fi network is usually not a reason to worry since it could be coming from the wireless module embedded in one of your connected devices. However, there's a chance that someone is stealing your Wi-Fi. It may also come from malicious hackers who disguise themself as an Azurewave device.
Our simple guide above will help you handle this issue and remove the unwanted device.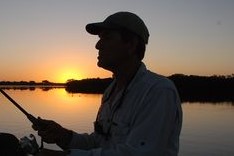 Hey, I'm Jeremy Clifford. I hold a bachelor's degree in information systems, and I'm a certified network specialist. I worked for several internet providers in LA, San Francisco, Sacramento, and Seattle over the past 21 years.
I worked as a customer service operator, field technician, network engineer, and network specialist. During my career in networking, I've come across numerous modems, gateways, routers, and other networking hardware. I've installed network equipment, fixed it, designed and administrated networks, etc.
Networking is my passion, and I'm eager to share everything I know with you. On this website, you can read my modem and router reviews, as well as various how-to guides designed to help you solve your network problems. I want to liberate you from the fear that most users feel when they have to deal with modem and router settings.
My favorite free-time activities are gaming, movie-watching, and cooking. I also enjoy fishing, although I'm not good at it. What I'm good at is annoying David when we are fishing together. Apparently, you're not supposed to talk or laugh while fishing – it scares the fishes.