The 1920s was an era of massive development in the world economy and the technology (and fashions) that came with it. The decade started with the recovery from WWI and the Flu Pandemic that sadly came to force consecutively from 1914 to 1920. A hundred years later, history seems to repeat with the Covid-19 Pandemic.
On the bright side, it catapulted a complete use of the online facilities in almost everything we do. While the 1920s marked the electrical revolution, the 2020s continue to revolutionize Wi-Fi connectivity, which started two decades earlier. Now, there are more than half a billion Wi-Fi hotspots worldwide, and the number continues to grow quickly to cater to the ever-increasing demands of the IoT industry.
The amount of traffic we create every day puts huge pressure on our routers. More usage means more traffic. Because the internet signals travel via radio waves, you can easily face traffic congestion since only a few radio wave frequencies are available. Luckily most modern Wi-Fi routers have dual or triple frequency bands. That way, you can choose your traffic to use a better frequency band. In addition, you can also set automatic band steering on your router. You might want to know what band steering is and whether you should enable it on your router.
Well, you've come to the right place. In this post, we will tell you everything you need to know about band steering and its benefits. Before we can start, it's worth knowing what frequency bands are. So far, The Federal Communications Commission (FCC) has licensed two Wi-Fi frequency bands – the 2.4GHz and 5GHz Wi-Fi bands. It has also allowed for unlicensed use of the faster 6GHz band.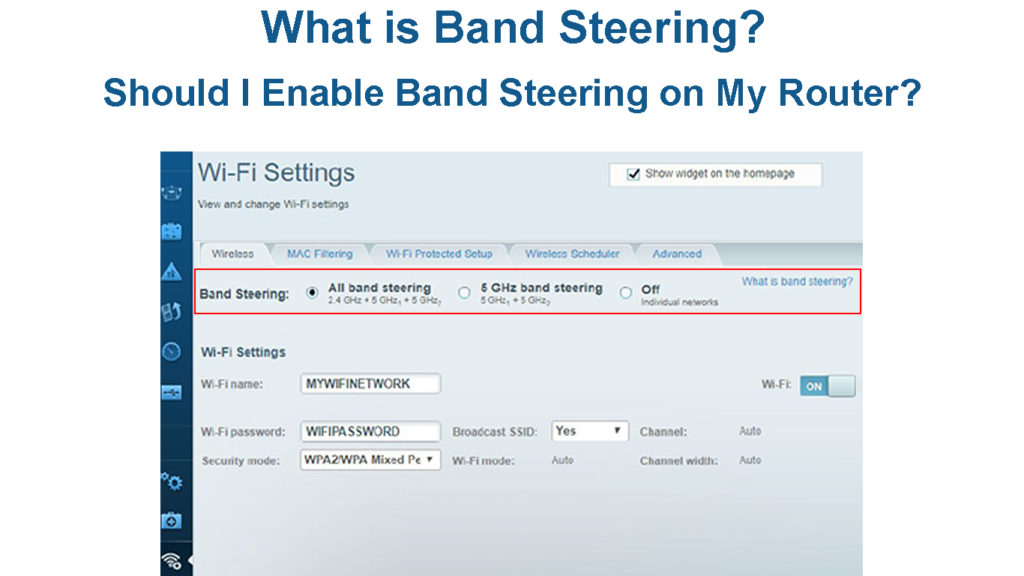 2.4GHz Frequency Band
Older wireless standards – the 802.11b/g/n use the 2.4GHz frequency band. It's also the most popular, widely used, and most congested Wi-Fi frequency band in use. Examples of devices and equipment using this band are TVs, video recorders, printers, refrigerators, washing machines/dryers, dishwashers, baby monitors, security cameras, and many more smart home appliances/devices.
While providing the furthest Wi-Fi signal reach, it lacks speed and is most vulnerable to signal interference from other devices/smart appliances. In addition, other Wi-Fi networks can also interrupt its signal, weakening it further. On the other hand, it has more strength in passing through obstacles such as walls, floors, partitions, and other obstructions.
5GHz Frequency Band
The 5GHz band is available to newer wireless standards like the 802.11ac and 802.11ax. It's also accessible to the older wireless standards, such as 802.11a/n. Despite proving signals within shorter distances, it offers faster speeds. In addition, it suffers less from interference from other devices and networks because it's less congested with traffic.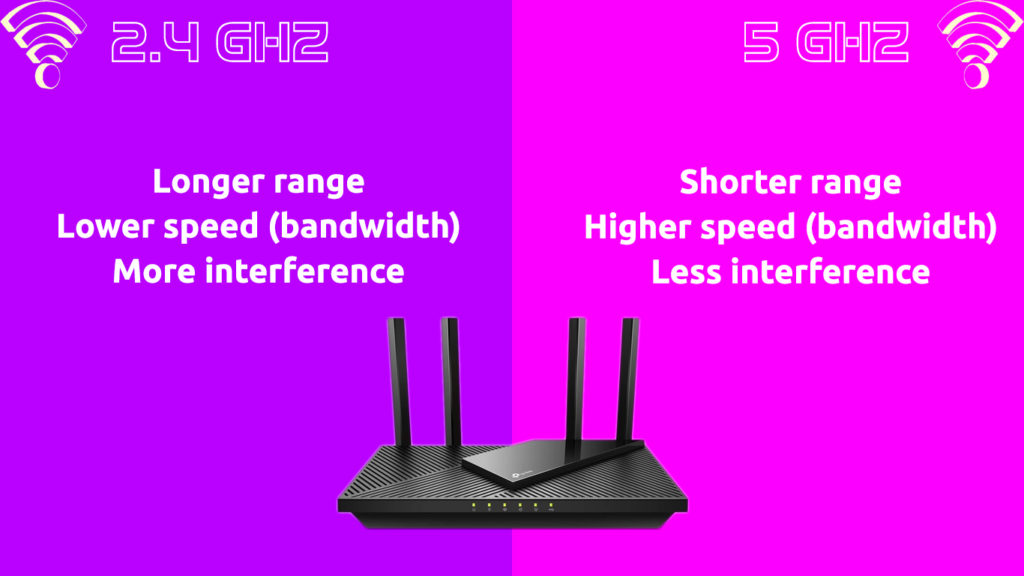 However, there's a catch – it cannot pass through obstacles as well as the 2.4GHz band. For that reason, users connect devices closer to the router using this frequency band. In addition, they prefer to connect newer devices and PCs to the 5GHz band because of its speedier offerings. Moreover, home users are enticed to put in place multiple Access Points to take advantage of the band's superior performance.    
2.4 GHz Wi-Fi vs. 5 GHz Wi-Fi
6GHz Frequency Band
The 6GHz frequency band is a step ahead of the 5GHz band, both in speed and interference level. However, the FCC has released it only for unlicensed use so far. The router technology takes a little more time to advance than device technology because the frequency bands provide the base for all devices. In contrast, a device only has itself to consider. So, we would not see as many devices you can use with the 6GHz frequency. 
That said, with the advent of the 5G network, networking providers and device manufacturers are eying the latest technology available, including the 6GHz frequency band. Consequently, they will produce the services and products that adopt the latest technologies.
Introducing 6 GHz Wi-Fi
Early routers run on a single 2.4GHz band. Later, most modern Wi-Fi routers come with dual-band or triple-band support. They work on both bands to provide more options for increased internet use and connections to more devices. Now, with the introduction of Wi-Fi 6E, manufacturers produce tri-band Wi-Fi routers that support three different bands – the 2.4GHz, 5GHz, and 6GHz bands. 
However, a single device can only use one frequency band at a time, and naturally, you would pick up the best band for a particular device. That's what users used to practice when they connect a device – manually pick up the desired band. But you can imagine how tiring and cumbersome can be to manually change the frequency bands every now and then to get the most out of the bands. Manufacturers introduced the band steering feature to overcome this issue by automating the best band selection process. 
How Does Band Steering Work?
To understand how band steering works, let's first learn how it all works without the band steering function. When you set up your router with dual or triple bands, each band will have a separate SSID (Wi-Fi name) and password. So, when you connect a device, it's up to you to decide which band to use. That means you need to find out manually what band provides the best signals at any given time. 
On the other hand, the band steering feature will automatically find and connect the best performing band for your device. Since your router will access and steer each device to the suitable frequency band, you don't have to worry about anything.
Band Steering Explained
Band Steering Modes
There are three band steering modes available:
Prefer 5GHz – your router will direct to the 5GHz frequency band when the other band is not appropriate.

Force 5GHz – your router will lead to the 5GHz frequency band by force.

Band Balance – your router will balance the use of both frequency bands.
How to Configure Band Steering
Configuring band steering is different for different router brands and even router models made by the same brand. Some router brands don't call this feature band steering. Instead, the feature is called Wi-Fi Smart Connect (TP-Link, NETGEAR, ASUS). Other manufacturers, like ARRIS and Linksys, call it band steering. The option is usually found under Wi-Fi settings.
On some router models, you can create band steering rules and give your router detailed instructions on when to steer your devices to one or the other band. On other router models, you don't get to change the band steering rules – the routers already have some preconfigured rules. Below, you can find a general procedure for enabling the Band Steering feature:
On your router admin page, go to Wireless.

Next, select Configure.

Next, choose Radio Settings.

Next, select RF profiles.

Next, go to Band selection, and select all SSID if you want to apply to all your networks. 

Make sure you have enabled both the 2.4GHz and 5GHz frequency bands. 

Choose the Enable band steering option. 

Next, choose Band steering, 2.4GHz, and 5GHz bands. 

Lastly, go to the bottom section and click Save changes.
Band Steering in ASUS Routers (aka ASUS Smart Connect)
Band Steering Myths
Band Steering Is one of the IEEE Standards
The Institute of Electrical and Electronics Engineers (IEEE) is a professional association that certifies various Wi-Fi standards, but it has never included band steering as a standard. The idea that it is a certified standard probably resulted from mere confusion when the feature first came out as new technology. Each manufacturer currently produces its own version or standard of band steering that varies from manufacturer to manufacturer. 
Band Steering is Auto-enabled
In some routers, band steering is automatically engaged. However, in most routers, you need to activate band steering before it can function (as mentioned in the steps in the previous section above).
Band Steering Is Just a Marketing Gimmick
While we know that band steering is a real and tested feature, its quality differs depending on the manufacturer. Some manufacturers provide effective and powerful band steering features, while offerings from others can leave much to be desired. Generally, most routers and APs furnish a pretty presentable band steering feature in their products.   
Conclusions
If you have a dual-band or triple-band Wi-Fi router, you'd want to make use of the router's capability in that sense. Luckily, this article readily explains those frequency bands and why the band steering feature on your router could improve the performance of your home Wi-Fi network. 
In addition, we have shown the various band steering modes available so that you can choose a particular mode that finely fits your needs.
We can't tell you whether band steering will work well for you or not, but we think you should at least give it a try. As discussed, the feature is not standardized, so the performance will differ from router to router. If you're not happy with it, you can turn it off.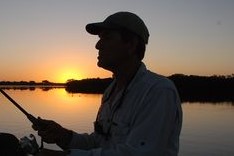 Hey, I'm Jeremy Clifford. I hold a bachelor's degree in information systems, and I'm a certified network specialist. I worked for several internet providers in LA, San Francisco, Sacramento, and Seattle over the past 21 years.
I worked as a customer service operator, field technician, network engineer, and network specialist. During my career in networking, I've come across numerous modems, gateways, routers, and other networking hardware. I've installed network equipment, fixed it, designed and administrated networks, etc.
Networking is my passion, and I'm eager to share everything I know with you. On this website, you can read my modem and router reviews, as well as various how-to guides designed to help you solve your network problems. I want to liberate you from the fear that most users feel when they have to deal with modem and router settings.
My favorite free-time activities are gaming, movie-watching, and cooking. I also enjoy fishing, although I'm not good at it. What I'm good at is annoying David when we are fishing together. Apparently, you're not supposed to talk or laugh while fishing – it scares the fishes.