Creating cable Wi-Fi in the past meant that you had to use your regular cable Internet connection and turn it into a wireless access point. You would install a router in your home, which was then connected to the modem via an Ethernet cable. This allowed people inside your house to connect to the internet wirelessly.
While cable Wi-Fi is common in homes, internet service providers are working to redefine the term Cable Wi-Fi.
Companies such as Comcast Xfinity, Optimum, Time Warner Cable, Bright House Networks, and Cox have been working on a project that will allow each company's customers access to common Wi-Fi hotspots. These common Wi-Fi hotspots (Cable Wi-Fi) have been gradually expanding across the United States.
The goal is to create a nationwide network of hotspots that would be available to people who subscribe to any of the providers' services, as well as non-subscribers who are willing to pay a small fee.
The hotspots are being created using the existing network of routers that are in people's homes and businesses and that are already connected to the cable network.
The cable Wi-Fi project is a good idea, and depending on how you see it; it can have positive or negative implications. The benefit of the project is that it will widen the connectivity range for all customers of big cable providers. However, there are also a few downsides to the infrastructure being used to create access to Cable Wi-Fi hotspots. The primary concern is customers' security.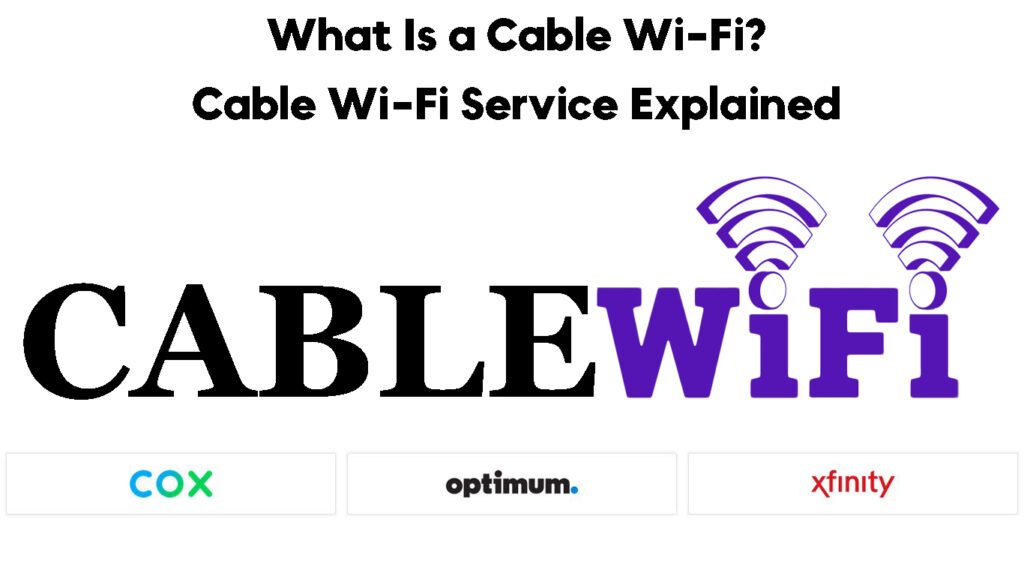 How a Cable Wi-Fi Works
The cable Wi-Fi project completely changes how we define cable Wi-Fi. In the past, it was only about setting up a wireless router and connecting it to your home's cable Internet service. 
Today, Cable Wi-Fi also means using your home router to create a hotspot that other people can connect to.
You may have seen a Wi-Fi network on your phone/laptop named CableWiFi in areas where cable Wi-Fi has been deployed. This is often a free high-speed Internet service provided by your cable company in partnership with other providers in the Cable Wi-Fi Alliance.
However, depending on your cable provider and your location, the network name may vary. Instead of seeing a name such as CableWi-Fi, you may see other names such as TWC Wi-Fi, CoxWiFi, optimumwifi, xfinitywifi, Bright House Networks, or any other SSID name associated with the name of the cable company in your area.
The CableWiFi network is intended to give you high-speed access to the internet when you are away from home or while in locations where access to a wired connection is unavailable.
The good part about Cable Wi-Fi is that you can access it even if you are not a customer of any of the companies in the Cable Wi-Fi Alliance. All you need to do is to tap the SSID that is being broadcasted in the area, connect to it as you would connect to any other Wi-Fi network, and you will be redirected to the Wi-Fi captive portal.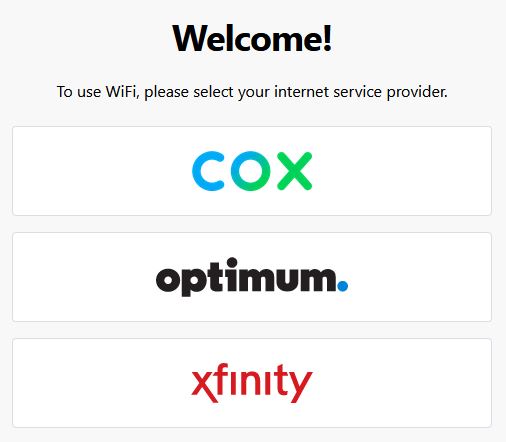 To get internet access through the captive portal, you will have several subscription options to choose from, including hourly, daily, and monthly.
However, some providers are quite generous: some entice new customers by offering a free one-hour trial pass, while others offer hourly, daily, or weekly passes to high-speed internet. If you purchase an Internet pass, you will be able to connect to any of the hotspots that are part of the cable Wi-Fi project established by major providers.
Introducing Cable Wi-Fi
How Does Cable Wi-Fi Differ from a Public Wi-Fi Hotspot?
When you connect to a Cable Wi-Fi, you are using an internet connection that is coming from a private individual's modem as opposed to public hotspots that are found in places like libraries, parks, and businesses.
Cable companies have been tight-lipped about this service and have not publicized the fact that they encourage customers to turn their home routers into public hotspots. This is because they are not sure how the public will react to it.
When you are renting a modem from the above-mentioned cable companies, it comes configured with private network access and public network access. The private network is for the customer's use only, while the public network is what gets broadcasted to other people in the area, allowing them to access the internet through the customer's modem.
Generally, Cable Wi-Fi differs from other types of public Wi-Fi in that with Cable Wi-Fi, you are not connecting to a business's network. You're actually connecting to somebody's home network.
Moreover, the Cable Wi-Fi also comes with a mobile app that makes it easy to find and connect to a hotspot, as well as manage your account and purchase passes.
Cable Wi-Fi hotspots offer speedy and affordable service, making them ideal for budget-minded travelers. Download speeds can reach up to 26 Mbps if you're close to the access point, and from farther away, the average speed is still a respectable 6 Mbps.
Cable Wi-Fi hotspots are a great idea. However, the cable Wi-Fi companies have been mum about it and have been executing it discreetly.
This is probably because internet customers, who, of course, are homeowners, might not want to share their connection with anyone and worry about possible malicious activity if they do. These are legitimate concerns that the cable Wi-Fi alliance companies need to consider if they want to increase the adoption of this technology.
Frequently Asked Questions
Question: What is the CableWiFi™ Alliance?
Answer: The CableWiFi™ Alliance is a consortium of leading cable providers who have joined forces to offer their high-speed internet, which is subscribers based, by aggregating the reach of their hotspots.
Question: How many providers are part of the CableWiFi™ Alliance?
Answer: As of now, there are over a dozen CableWiFi™ Alliance providers, including Comcast XFINITY®, Time Warner Cable®, Cox Communications, Bright House Networks, and more.
Question: Are there time or bandwidth limits when using CableWiFi? 
Answer: Most CableWiFi™ hotspots do not have time limits, and there are no bandwidth caps or restrictions. However, some providers may offer time-limited passes for purchase.
Question: How do I get started with CableWiFi? 
Answer: If you are a customer of one of the providers that are part of the CableWiFi™ Alliance, simply look for the CableWiFi network on your device's list of available networks and connect. If you are not a customer of one of the providers, you can still connect to a CableWiFi™ hotspot by purchasing an Internet pass.
Question: What are the download speeds of CableWiFi? 
Answer: The download speeds of CableWiFi™ can reach up to 26 Mbps if you are close to the access point. Each Cable Wi-Fi provider is responsible for its own hotspots' Wi-Fi speed.
Question: How can I get support for CableWiFi? 
Answer: For support, please contact your cable provider. Visit www.cablewifi.com/providers to find a list of CableWiFi™ Alliance providers, and then select your provider's website.
Conclusion
Cable Wi-Fi is a great way to get high-speed access to the internet when away from home. It is also a great option for those who want to save on their mobile data usage. However, the companies behind it need to be more transparent about it and address the concerns of the people who are renting their modems.
Also, the people who are providing their home connection as part of this project need to be aware of the risks. Overall, the concept is great and has potential, but it needs to be executed in a way that builds trust with the users.
What do you think about cable Wi-Fi? Have you tried it? Let us know in the comments below!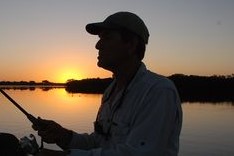 Hey, I'm Jeremy Clifford. I hold a bachelor's degree in information systems, and I'm a certified network specialist. I worked for several internet providers in LA, San Francisco, Sacramento, and Seattle over the past 21 years.
I worked as a customer service operator, field technician, network engineer, and network specialist. During my career in networking, I've come across numerous modems, gateways, routers, and other networking hardware. I've installed network equipment, fixed it, designed and administrated networks, etc.
Networking is my passion, and I'm eager to share everything I know with you. On this website, you can read my modem and router reviews, as well as various how-to guides designed to help you solve your network problems. I want to liberate you from the fear that most users feel when they have to deal with modem and router settings.
My favorite free-time activities are gaming, movie-watching, and cooking. I also enjoy fishing, although I'm not good at it. What I'm good at is annoying David when we are fishing together. Apparently, you're not supposed to talk or laugh while fishing – it scares the fishes.