Singapore Telecommunications Limited – Singtel is one of the largest telecommunications companies in Singapore (founded in 1879). It is also the largest mobile operator in this country (more than 4 million customers) and has close to 30,000 employees.
In recent years, Singtel has been expanding its businesses outside Singapore (Australia, India).
We recommend Singtel users to read this article to the end because it is very useful to know how to change the password of your router yourself.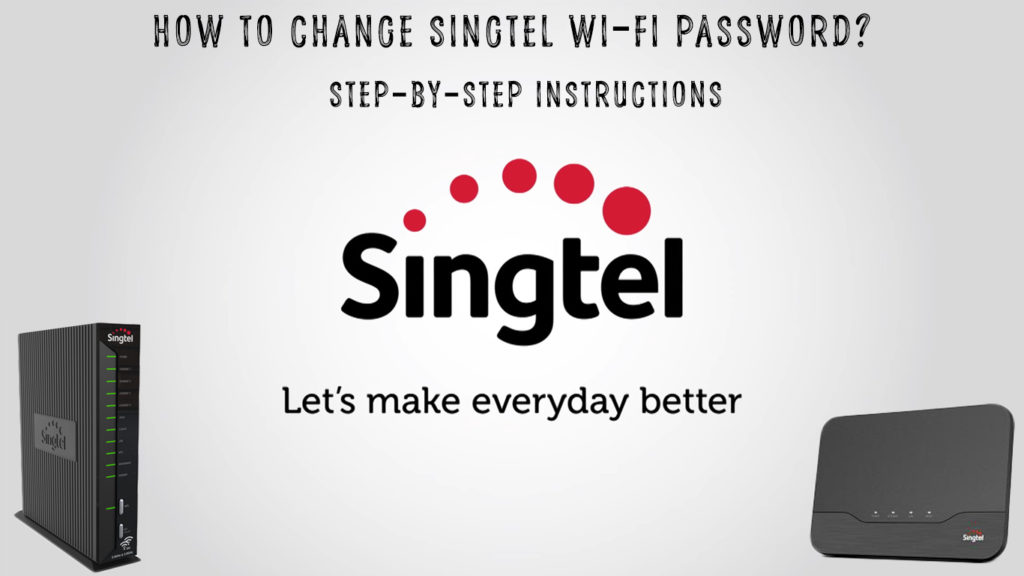 Reasons Why it is Advisable to Change the Wi-Fi Password
Before we start explaining the procedure, let's first see why we should change the Wi-Fi password at all.
Have you ever had the internet suddenly running much slower than usual? We believe the answer is yes. Several causes can lead to this, but one of the most common reasons, especially when it comes to new router users, is that someone else, without your permission, uses your Internet. These are mostly people from your neighborhood. Maybe this confuses you now because you don't understand where they got the password for your Wi-Fi.
Remember that routers, even if they are from different manufacturers, can have the same or similar default passwords, so it's not that difficult for your neighbor to connect to your Wi-Fi.  Based on this, we can conclude that one of the main reasons why we have to change the default password is our neighbors.
Unfortunately for you as a user, this is not the only reason we recommend changing your password. The second, even more serious reason why you need to change your Wi-Fi password, are hackers. It doesn't happen that often, but it can definitely do you a lot of damage. Hackers will not steal your internet, but they will do something much worse – they can get to your bank account or to your personal data that they can later misuse.
The Most Important Information About Your Singtel Router
When talking about changing the Wi-Fi password, we have to mention some of the basic information about the router, because they are necessary to log in, and you have to log in to your router if you want to change the password 
The default password, SSID, and IP address are certainly the most important information about the router and you will find them all on the sticker located on the back, bottom, or side of the router. For example, Singtel Aztech routers have their sticker on the side.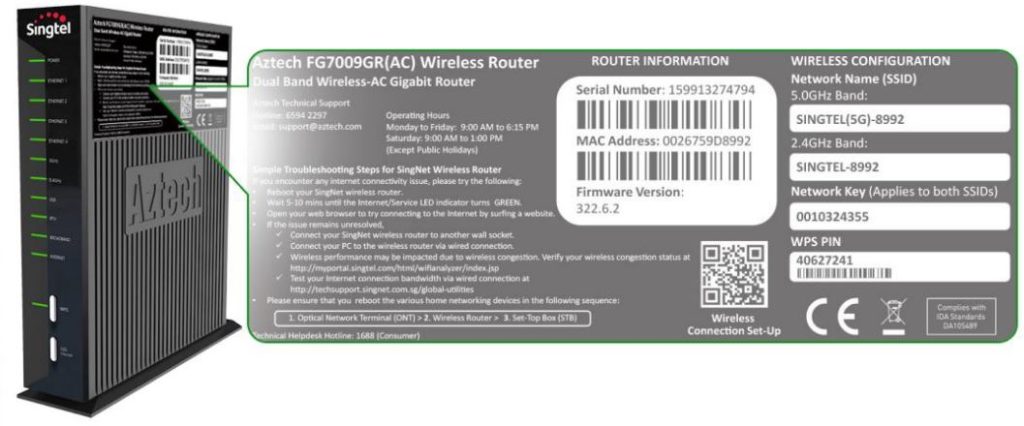 It can happen, but very rarely, that the information we mentioned is not on the router and then you have to get to the default IP address as follows:
Type Ipconfig at the command line and press Enter. You will see the number that appears under the default gateway. This number is the default IP address of the router. (The default IP address for Singtel routers is 192.168.1.254).
What is a Router Reset and How to Perform This Procedure?
What if you change the default password and then forget the password you set? This may seem like a big problem, but it is not. There's a simple solution, and that is the reset procedure.
The reset procedure deletes all router settings (made by the user) and returns them to the default settings.
The reset is done in a very simple way. Here's how:
Look at the back of the router. Find the reset button on it – you'll recognize it because it's in a small hole. Now, get a paper clip, or similar object that has a sharp tip and press the reset button. Hold it for 10-15 seconds and then release it.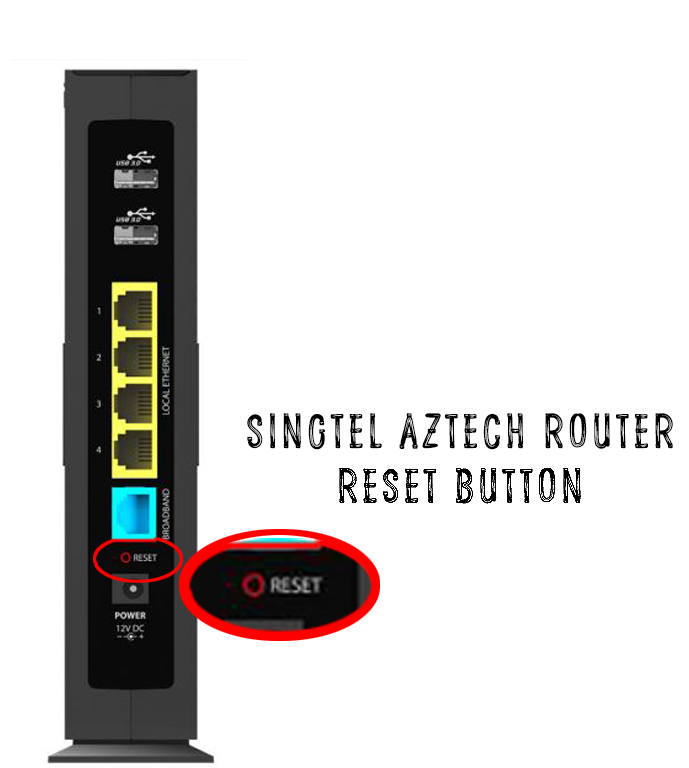 How to Change Singtel Wi-Fi Password?
Now, we will show you how to change the Singtel Wi-Fi password and for that we will use Aztech DSL7009GR Router and Singtel Mesh Router.
How to Change Singtel Wi-Fi Password on Aztech DSL7009GR Router
First of all, you need to connect your computer to your Wi-Fi (or connect it to the router

using an Ethernet cable

).
Type 192.168.1.254 into your browser and press enter.
By default, the 2.4 GHz band will appear. Your router has another 5GHz Wi-Fi band. You can change the Wi-Fi settings for that band, too.
Select the desired band (2.4 GHz

Wireless Setting or

5GHz Wireless Setting)

and then click Change your password, enter a new password, and click Save (to save the changes).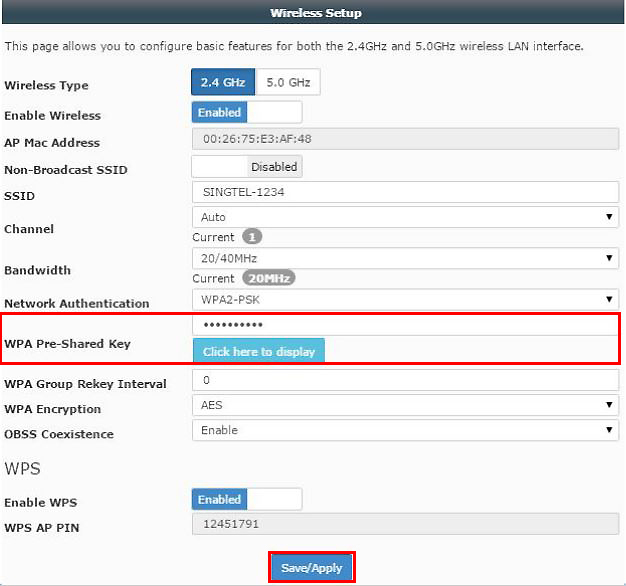 How to Change Wi-Fi Password on Singtel Mesh Router
Like always, the first thing you need to do is connect your PC/laptop to the Wi-Fi network (or use an Ethernet cable).
Enter 192.168.1.254 in your browser.
Press enter (When prompted to enter credentials, type in your default username and password, and log in).
In this step, select the tab where all devices connected to your Wi-Fi are listed, and then click on the Mesh Controller.
You need to write down or remember the Mesh Controller IP because you will need it for the next step.
In your browser, you need to open another card, then type in the IP address for the Mesh Controller – the one you previously wrote down (or memorized). Once you type in the address, press Enter.
Find and click on the General option.
You need to log in with a password and username (with the ones on your device).
To change the password for Wi-Fi, select 2.4GHz Network Key and enter the password of your choice. You can use the same password for both bands (2.4GHz and 5GHz), or you can set a different password for each band.
At the end of the process, click Save (to save the changes).
---
Note: After changing the password, you will have to reconnect all the devices – you will use the new password to reconnect them. 
---
Conclusion
Lastly, trust us, it's much easier to change your Wi-Fi password by following our step-by-step instructions than to have problems with hackers or neighbors who want to use your internet without permission.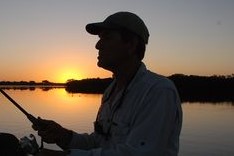 Hey, I'm Jeremy Clifford. I hold a bachelor's degree in information systems, and I'm a certified network specialist. I worked for several internet providers in LA, San Francisco, Sacramento, and Seattle over the past 21 years.
I worked as a customer service operator, field technician, network engineer, and network specialist. During my career in networking, I've come across numerous modems, gateways, routers, and other networking hardware. I've installed network equipment, fixed it, designed and administrated networks, etc.
Networking is my passion, and I'm eager to share everything I know with you. On this website, you can read my modem and router reviews, as well as various how-to guides designed to help you solve your network problems. I want to liberate you from the fear that most users feel when they have to deal with modem and router settings.
My favorite free-time activities are gaming, movie-watching, and cooking. I also enjoy fishing, although I'm not good at it. What I'm good at is annoying David when we are fishing together. Apparently, you're not supposed to talk or laugh while fishing – it scares the fishes.