Realizing that your device is blocked from Wi-Fi is the hardest thing to accept when you're doing online activities. Without Wi-Fi, it's really hard to complete work. No doubt you have your cellular service as an alternative, but you don't want your data to run dry before getting a fresh supply of data in the next cycle.
If you're trying to connect a blocked Android device to Wi-Fi, you've come to the right place. In this article, we're going to show how to connect your blocked Android Device to Wi-Fi. We will walk you through what Wi-Fi blocking is, how it works, and how you can go around to connect your blocked device to Wi-Fi in several ways.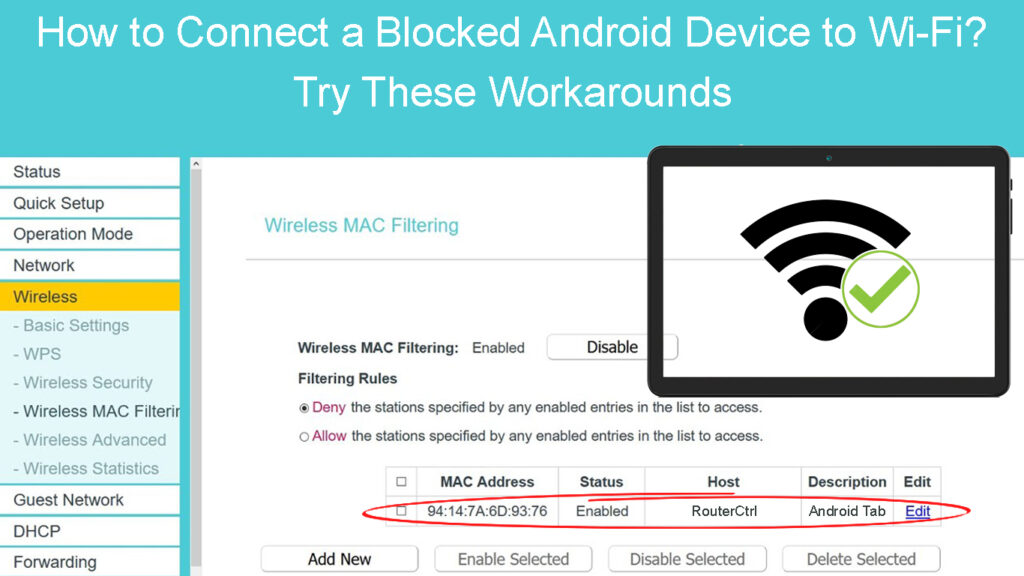 Wi-Fi Blocking Explained
If the Wi-Fi admin blocks your device, the Wi-Fi router will block your device automatically from entering the network, even though you have the network name (SSID) and password. You may have gained access to the Wi-Fi before, but now you cannot get in. There's a chance that the Wi-Fi network owner has blocked your device, but it can also be an issue with your device.
So, how do routers block your device? Well, most Wi-Fi blocking techniques involve filtering the MAC address. MAC (Media Access Control) address is your hardware identifier when you transfer data over the internet.
A Wi-Fi network router can identify each device by its MAC address. So, it's easy for the router to block a specific device from joining its Wi-Fi network by blacklisting its MAC address in a filtering exercise. So, when your device's MAC address appears in the filtering list, the router automatically blocks that device.
How to Block Devices through MAC Filtering (TP-Link Router)
How to Connect Your Blocked Android Device to Wi-Fi
There are several ways how you can go around connecting your blocked device. The key element is knowing why you're barred from joining the Wi-Fi network. Let's dive into it.
Do a Regular Troubleshooting
If you cannot join a Wi-Fi network, please avoid jumping to the conclusion that the Wi-Fi admin blocked your Android device. It could be tons of other reasons why you cannot join. So, it's best if you try the basic troubleshooting methods as follows:
Your android device might already be tagged to another Wi-Fi network. Disconnect from the other network first, and connect to your desired Wi-Fi.
As simple as it may sound, make sure you're trying to connect to the right Wi-Fi network. Also, check if the password is correct. This is one of the first things you should do.
Forget Wi-Fi Network on an Android Phone
If the above troubleshooting methods don't work, the Wi-Fi network owner has probably blocked your Android device. The first thing you could do is contact the owner and ask why you're blocked – try asking him to unblock your device. If that's not possible or you cannot contact the owner, try the following methods.
Modify Your Device's MAC Address
There are two ways to change your device's MAC address. You can either replace your Android device network adapter or you can spoof another MAC address on the device. While changing the network adapter involves too much effort and cost, you can easily spoof the MAC address. One of the easiest methods is to use an app or software to spoof a separate MAC address for your Android device and try to reconnect to the Wi-Fi network.
Using a Proxy Device
Here's how to use a proxy device to connect your blocked Android device to the Wi-Fi network:
How to Create a Wi-Fi Hotspot on a Laptop (Share Wi-Fi Connection from Laptop)
Connect your laptop to the Wi-Fi network

. In essence, you're using your blocked Android device to do whatever you do on the internet, but it's your laptop (which is not blocked) that's connecting to the Wi-Fi network. So, the Wi-Fi network recognizes a connection with the laptop only, which has an unblocked MAC address, and not your blocked Android MAC address.
Change the Router/Network Settings
Sometimes, the blocking comes from your own network. How can that be? Yes, you may have inadvertently messed up the network settings, or maybe one of your family members or others who has access to your network changed the settings. Here's how to rectify the settings:
You will come to the router's login page.
Type in the

credentials

, which you can also find at the back of the router (normally on a sticker). If they're not on the router, you can always go to the router manufacturer's website to find the default username and password of the specific router model.
Now, you have access to the router's admin controls.
Go to the security, user access, or Access Control, and find the MAC filtering feature.
Find your Android device's MAC address on the list of blocked devices and remove it.
Now, you should be able to connect to the Wi-Fi network again.
Frequently Asked Questions
Question: Why was my device denied from joining a network?
Answer: Most likely, your device has issues, but there's a possibility that the network admin has blocked your device. You should do some basic troubleshooting first:
Restart your device – it's as simple as switching off and switching it on again after a short wait.
If you cannot join the network, try resetting your device's time and date. After that, try to reconnect and see if it works.
Check if you have upgraded your device's firmware to the latest updates. If not, perform the update first before trying to rejoin the network.
Question: Why did the network admin block my device?
Answer: It could be just an honest mistake. But it could also be because you disrespected the Terms and Conditions – you did something you were not supposed to. For example, if you've tried to download a large file or visit a website that is blacklisted by the Wi-Fi admin, the admin could decide to block your device.
Conclusion
When the Wi-Fi network blocks your Android device, it's not the end of the world. There are ways to go around it, and this guide walked you through several methods. Hopefully, one of these methods will help you connect your blocked Android device to Wi-Fi.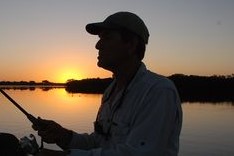 Hey, I'm Jeremy Clifford. I hold a bachelor's degree in information systems, and I'm a certified network specialist. I worked for several internet providers in LA, San Francisco, Sacramento, and Seattle over the past 21 years.
I worked as a customer service operator, field technician, network engineer, and network specialist. During my career in networking, I've come across numerous modems, gateways, routers, and other networking hardware. I've installed network equipment, fixed it, designed and administrated networks, etc.
Networking is my passion, and I'm eager to share everything I know with you. On this website, you can read my modem and router reviews, as well as various how-to guides designed to help you solve your network problems. I want to liberate you from the fear that most users feel when they have to deal with modem and router settings.
My favorite free-time activities are gaming, movie-watching, and cooking. I also enjoy fishing, although I'm not good at it. What I'm good at is annoying David when we are fishing together. Apparently, you're not supposed to talk or laugh while fishing – it scares the fishes.