Spectrum is an ISP that offers reliable service and extensive coverage in many states across the US. It has a diverse arsenal of features and internet plans that can fit the needs of any infrastructure.
Not only can you use their modems and routers, but you are guaranteed the highest compatibility, best internet speeds, and ease of use.
With all the amazing things you can do with a Spectrum modem, it's no wonder many Spectrum users are looking for the best ways to connect their own Wi-Fi router to the modem.
In this guide, we'll show you how to connect your new Spectrum modem and router in just a few minutes.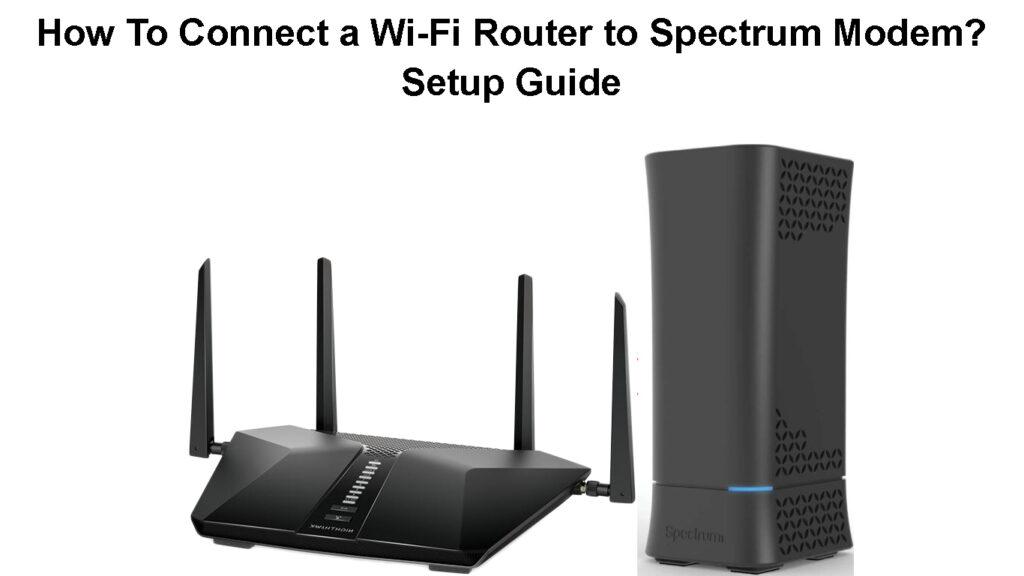 Can You Connect a Spectrum Modem to a Wi-Fi Router
Yes, users can use their own router with Spectrum as long as it's compatible with their modem. This compatibility is not a big concern for most people since most routers are generally created to be compatible with these types of ISP modems.
If you do have an incompatible router, you'll likely experience issues with your speeds and connections.
We urge you to double-check that your router is compatible with the modem you're using since this will go a long way toward ensuring a smooth installation.
Once you have verified that your devices are compatible, you can begin the process of connecting your Wi-Fi router to the modem.
Spectrum supplies you with a cable modem when you first set up your account with them. You can also use one of Spectrum's routers or you can buy your own router if you want to create a Wi-Fi network in your home.
---
Note: Some customers may get a combo unit – a modem and a router inside one device (aka gateway). The process of setting up your own router with a combo unit is different and requires putting your gateway in bridge mode.  
---
To start enjoying Spectrum services, you'll first need to get their modem and use the credentials printed on it to set up your network. This modem is free, and it can support all of Spectrum's services, including Voice, Internet, and TV.
Note that Spectrum does not encourage its customers to connect their modems with third-party routers. Therefore, you will have to connect the router to the Spectrum modem without the company's technical assistance.
How to Connect a Router to Spectrum Modem?
There are many routers that you can use with a Spectrum modem. The good thing is that the process of connecting these devices is more or less the same, regardless of the router model.
In this section, we'll provide a step-by-step guide on how you can connect your Nighthawk NETGEAR router to the Spectrum modem.
Ensure that the wall internet outlet has an internet connection before you start the setup process. Oftentimes, Spectrum will send their own technical team to help you confirm.
After you have confirmed that the wall internet port has an internet connection, connect it to your Spectrum modem's "cable" port using the long coax cable provided by Spectrum.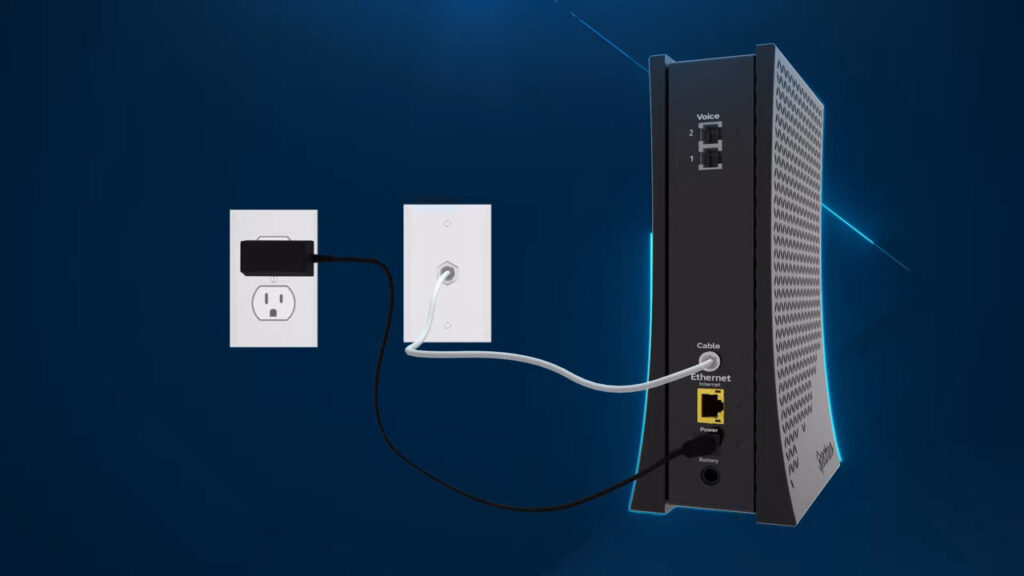 Next, take the Ethernet cable that came with your router and plug one end into the "WAN" port on the router and the other end to the yellow "Internet" slot at the back of your Spectrum modem.
Now, it's time to connect the power cords to both devices and plug them into an electric socket. Once they are powered on, give them a minute or two to connect.
After the devices have been given time to connect, download the NETGEAR Nighthawk app.
Watch the color of the lights flashing on the Nighthawk router. If it's green, it means that the router-modem connection has been successful.
Now go to the Nighthawk router mobile app and follow the prompts to set up your Wi-Fi network.
Recommended reading:
Once you have completed the setup process, test your internet connection by opening a web browser. If you were using mobile data to set up your account on the Nighthawk app, turn the data off. Your phone may continue using your mobile data even when it's connected to the newly created Wi-Fi network.
If you can access the internet without any issues, it means that your router is now successfully connected to the Spectrum modem.
However, if your phone is saying there is no internet connection, check to see if the cables are properly connected and that both gadgets are switched on. If the problem persists, restart your Nighthawk router and your Spectrum modem and try again.
If that doesn't help, reset your Nighthawk router and start the setup process from scratch.
Watch the attached video on how to connect your NETGEAR Nighthawk router to a Spectrum modem.
How to Set Up Your NETGEAR Router with a Spectrum Modem
How to Choose the Right Router for Your Spectrum Modem
Now that you know how to connect a router to your Spectrum modem, it's time to learn how to select the right router for the job.
When choosing a router for your Spectrum modem, there are three main factors that you need to consider:
The Router's Compatibility with Your Spectrum Modem and Your Internet Service
Although most ISPs work with routers, it's a good idea to double-check compatibility before you buy a router, especially if it's a combo deal.
For example, you can't use a DSL modem with fiber-optic or cable technologies because they're incompatible.
The Router's Speed and Your Spectrum Plan
Secondly, you need to consider the router's speed. You need to make sure that the router can handle the speeds offered by your Spectrum plan.
For example, if you've subscribed to a 100Mbps plan, you'll need a router that can deliver speeds of at least 100Mbps.
The Router's Range and Wireless Protocols Used
The third thing you need to consider is the router's range. If you have a large home, you'll need a router with a good range so that you can get a strong signal in every room.
You may also want a router that supports the newest wireless technologies, such as 802.11ax (Wi-Fi 6) or 802.11ac (Wi-Fi 5).
Frequently Asked Questions
Question: Can I use my own Wi-Fi router with a Spectrum modem?
Answer: Yes, you can use your own Wi-Fi router with a Spectrum modem. This is only possible if the two are compatible with each other. To check compatibility, please consult your router's manual or visit the manufacturer's website.
Question: Why is my router not connecting to Spectrum Internet?
Answer: There could be a few reasons why your router is not connecting to the internet. The first thing you should do is check all the cables to make sure they are plugged in properly. The second thing you should do is reboot your modem and router to fix most issues. If that doesn't work, check if your Wi-Fi is enabled and if you have a strong signal. Finally, try moving closer to the router.
Question: Do you need a router and a modem?
Answer: To connect more than one device or use Wi-Fi, you'll need a modem and router. Most Spectrum modems only have one Ethernet port, which limits the number of computers that can be connected at any given time. Additionally, routers provide a higher level of protection than modems alone.
Question: What is the difference between a Spectrum router and a modem?
Answer: A modem creates an internet connection in your home that is broadcasted by a router as a Wi-Fi signal. This allows electronic devices such as laptops, smartphones, or tablets to connect to the internet wirelessly.
Question: Can I get internet with just a router?
Answer: The router is responsible for directing traffic to different devices on your network. However, a router cannot connect you directly to the internet–you need a modem for that. 
Conclusion
In conclusion, a Spectrum modem is a great way to get high-speed internet, but you need to make sure that you have the right router for the job. While Spectrum will not guide you on how to connect your modem to a third-party Wi-Fi router, we hope this article helped you do that.
If you are still having trouble, we suggest that you contact the router manufacture's customer support or a professional to help you set up your Wi-Fi network.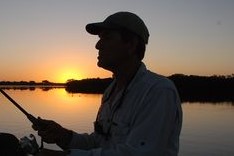 Hey, I'm Jeremy Clifford. I hold a bachelor's degree in information systems, and I'm a certified network specialist. I worked for several internet providers in LA, San Francisco, Sacramento, and Seattle over the past 21 years.
I worked as a customer service operator, field technician, network engineer, and network specialist. During my career in networking, I've come across numerous modems, gateways, routers, and other networking hardware. I've installed network equipment, fixed it, designed and administrated networks, etc.
Networking is my passion, and I'm eager to share everything I know with you. On this website, you can read my modem and router reviews, as well as various how-to guides designed to help you solve your network problems. I want to liberate you from the fear that most users feel when they have to deal with modem and router settings.
My favorite free-time activities are gaming, movie-watching, and cooking. I also enjoy fishing, although I'm not good at it. What I'm good at is annoying David when we are fishing together. Apparently, you're not supposed to talk or laugh while fishing – it scares the fishes.