Are you a fan of one of the most popular and best-selling video game consoles ever – PS4? If so, it will not surprise you that there's an increasing number of gamers who do not want to be separated from their favorite console, even when they go on a trip or vacation. The good thing is that PS4 is not too big and you can easily pack it in a suitcase.
When you take it on a trip, you will probably want to use Wi-Fi on your PS4. If you're staying in a hotel, you may even want to connect your PS4 to hotel Wi-Fi, even though it's not the most secure type of network. 
Connecting to a hotel Wi-Fi (or public Wi-Fi in general) is not always hassle-free, especially when Wi-Fi is not free or when it is password protected. Connecting to hotel Wi-Fi is often more complicated than anticipated and is accompanied by certain issues.
In this article, we will do our best to show you how to successfully connect your PS4 to the hotel's Wi-Fi network and how to deal with potential problems.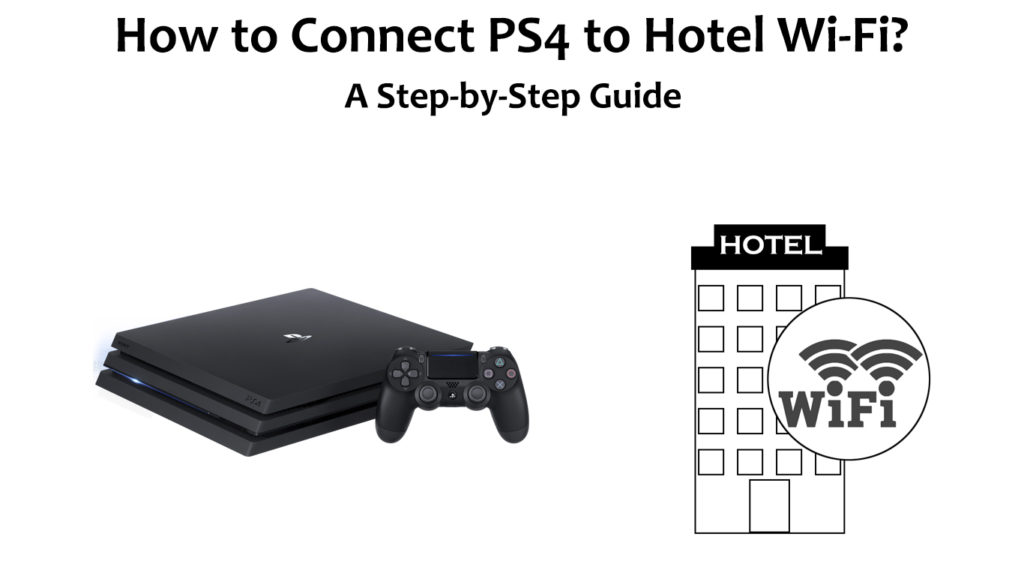 Check the Following Before Traveling
If you are an experienced gamer, you probably know this, but for those who want to use their PS4 at the hotel for the first time, before you go, be sure to pack the following: power cords, PS4 controller, and HDMI cable.
How to Connect PS4 to Hotel Wi-Fi?
Below is a step-by-step guide that should help you connect your PS4 to the hotel's Wi-Fi:
As always, your PS4 must be connected to the TV.
Go to the "Settings" and open it by pressing X on your PS4 controller.
From the toolbox, open the "Network" option.
Now tap "Set Up Internet Connection".
Two options will appear: "Use Wi-Fi" and "Use LAN cable". Choose first – "Use Wi-Fi".
Select the "Easy" option.
You will see the question "Which Wi-Fi network do you want to use?" The available Wi-Fi networks will be listed below. You need to find and choose the name of your hotel's Wi-Fi network. 
---
Note: Many hotels have multiple Wi-Fi networks, but only one is for guests. Look around the room – the name of the Wi-Fi network is usually indicated somewhere.
---
Now click on the "Test Internet Connection" option to test the hotel network.
There is a good chance that the test will show "

Failed"

when trying to test the internet connection. Don't worry too much because we'll show you the next steps you need to take.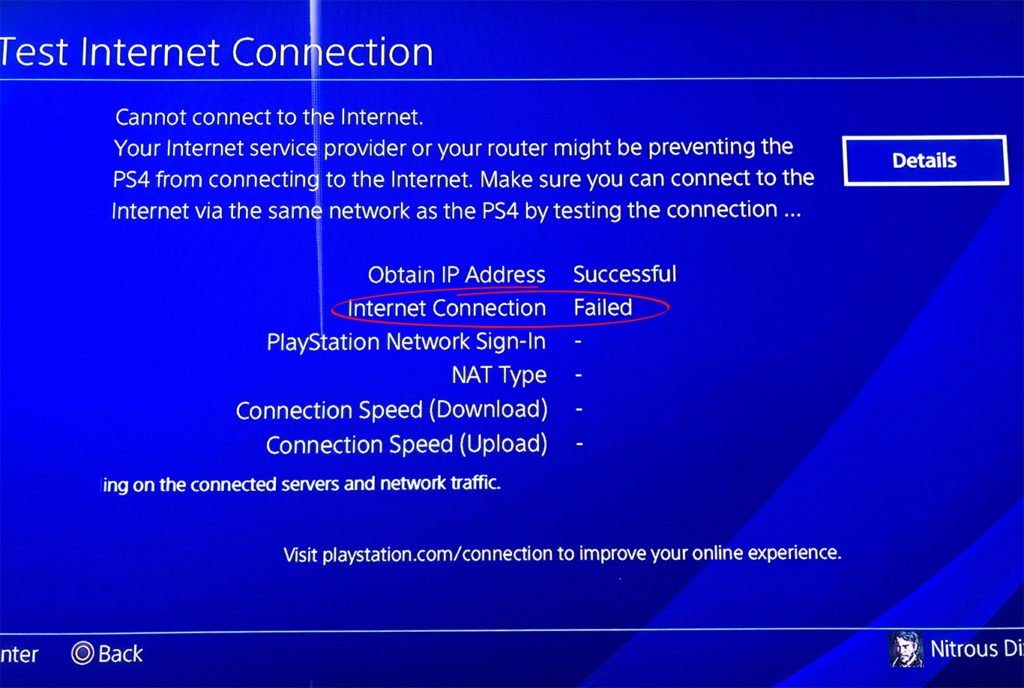 On the right side of the screen, tap "Details".
Click "Suggested Actions".
The browser window you need to log in to (using your hotel's Wi-Fi credentials) will appear in this step. Enter the appropriate credentials and tap "Connect". If the login window doesn't appear, return one step and select "Search playstation.com Support". The login window should appear now.
Once you've established a connection, you'll need to return to the network screen.
Let's test the connection again to see what the situation is now. Tap "Network" > "Test Internet Connection".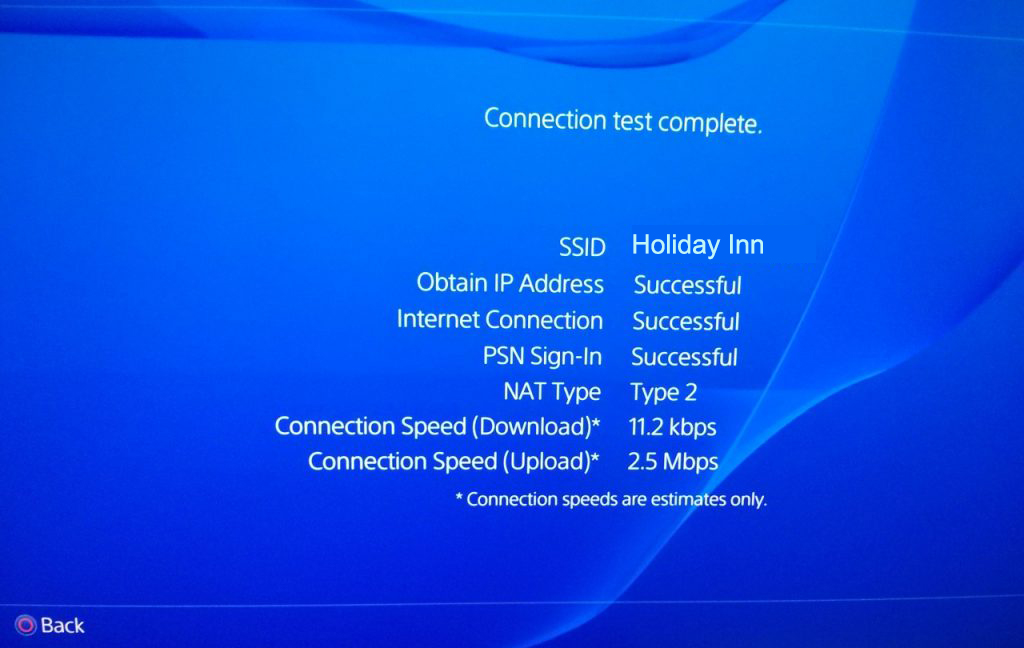 If everything is fine now, when testing, next to the Internet connection, there should be "Successful", which means that you can

enjoy playing games online

using hotel Wi-Fi.
How to Connect PS4 to Hotel Wi-Fi
How to Connect PS4 to Hotel Wi-Fi Using Custom Settings (Custom DNS Server)
If you still can't establish a wireless internet connection, you can try another way to connect your PS4 console to Wi-Fi. Here's how to do it:
Select "Set Up Internet Connection". After that, the options "Use Wi-Fi" and "Use LAN cable" will appear. Choose "Use Wi-Fi".
Now select "Custom" (located under "Easy" you selected in the previous method ").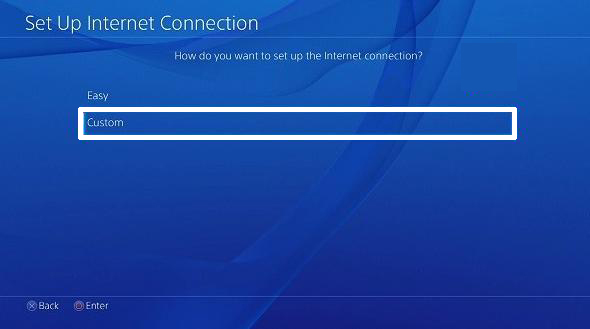 You will now see a list of available Wi-Fi networks. Find and click on the name of your hotel network.
Enter your hotel's Wi-Fi password. If you have previously tried to connect to Wi-Fi using the first method, the password is probably remembered.
IP address should be assigned automatically (set to Automatic)
Don't specify the

DHCP

hostname.
Set the

DNS

settings to Manual. You can use various DNS servers, like Google's DNS servers, OpenDNS servers, Cloudflare servers, etc. For the primary DNS, you can use 8.8.8.8 (alternatively, you can try 208.67.222.222). Set 8.8.4.4 as the secondary server (alternatively, try 208.67.220.220).
After manually setting up DNS, tap Next.
Set MTU settings to "Automatic".
Set proxy server to "Do Not use".
After making these manual adjustments, test the Internet again (Settings – Network – Test Internet Connection). If the test is successful this time, you can use Wi-Fi on your PS4.
Bonus Method – Connect your PS4 to the Internet with an Ethernet cable
If for some reason, you can't connect to the hotel Wi-Fi, there might an option to connect your console to the Internet via Ethernet cable.
Of course, this is possible in hotel rooms that have an Ethernet port. It is best to ask at the reception if there is an Ethernet port in the room and where it's located so that you do not waste too much time searching.
Recommended reading: How to Make Hotel Wi-Fi Faster? (Ways to Speed Up Hotel Wi-Fi)
Here's what you need to do to connect your PS4 to the hotel's Internet using an Ethernet cable:
Once you find it, connect the Ethernet port to your PS4 using an Ethernet cable. (In case you have not brought an Ethernet cable with you, the hotel staff can likely provide it for you).
Now select "Settings" on your PS4.
Select the "Internet connection settings" option.
In this step, select "Use LAN cable" (instead of "Use Wi-Fi")
Tap "Easy" and then, if prompted, enter the Wi-Fi password for your hotel.
Tap "Test Internet". Now, the PS4 is testing the internet connection. If the connection i "Successful", you can start playing your favorite games. Otherwise, you have to apply a few more steps.
From your PS4's home screen (return to your console's web browser beforehand) and click on: Library > Applications > Internet Browser.
Click on the address bar, enter any internet address, and press Enter. The browser will not open the page you wanted immediately. Instead, it will redirect you to the hotel's Wi-Fi login page.
Enter your login credentials. You will probably be asked to enter the room number or perhaps your name. That way, the hotel wants to prevent anyone who is not a guest of the hotel from using its internet.
You should now have access to the Internet and be able to play your favorite games online or download them from the Internet. In the Network section, you can test the Internet again.
Final Thoughts
Connecting your PS4 to a hotel Wi-Fi is not always an easy task. Sometimes, you may experience issues when trying to connect, but you should know that there's a workaround for most issues. You just need the right advice. 
Hopefully, our article provided you with the advice you needed and helped you connect your PS4 to the hotel's Wi-Fi. Keep playing your favorite games, and enjoy!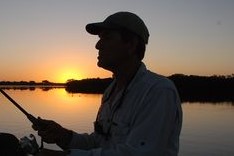 Hey, I'm Jeremy Clifford. I hold a bachelor's degree in information systems, and I'm a certified network specialist. I worked for several internet providers in LA, San Francisco, Sacramento, and Seattle over the past 21 years.
I worked as a customer service operator, field technician, network engineer, and network specialist. During my career in networking, I've come across numerous modems, gateways, routers, and other networking hardware. I've installed network equipment, fixed it, designed and administrated networks, etc.
Networking is my passion, and I'm eager to share everything I know with you. On this website, you can read my modem and router reviews, as well as various how-to guides designed to help you solve your network problems. I want to liberate you from the fear that most users feel when they have to deal with modem and router settings.
My favorite free-time activities are gaming, movie-watching, and cooking. I also enjoy fishing, although I'm not good at it. What I'm good at is annoying David when we are fishing together. Apparently, you're not supposed to talk or laugh while fishing – it scares the fishes.