Owning one of the top brands of a smart TV like Samsung must be a satisfying experience. Like other TVs, a Samsung TV comes with a remote to navigate the TV programs. Sadly, we all misplace and lose remotes, and that's when the problems start.
We don't really think that much about our remotes until they are gone. So, what can you do without your TV remote? Can you change channels, switch from one source to another, adjust the volume? What if you have to connect your Samsung TV to Wi-Fi without a remote? Do you know how to do that? No? Well, don't worry, we are here to help!
Sit back and keep reading this post. We will show you in detail how to bypass the remote and connect your Samsung TV to a Wi-Fi network. Basically, there are three ways to fix this problem. Let's get to it.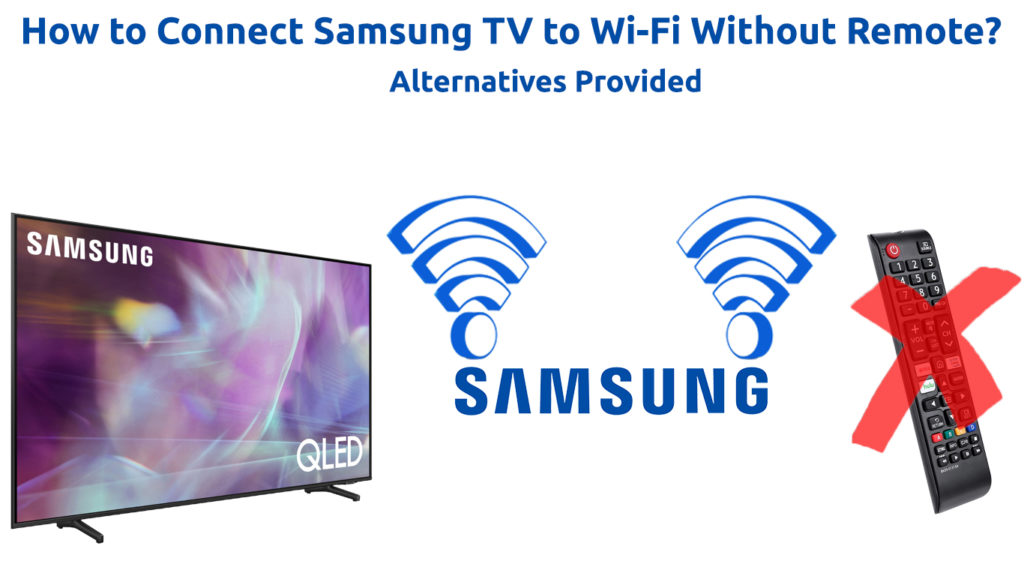 The quickest method to navigate your Samsung TV without a remote is to use the physical buttons (or, in some cases, just one button or a joystick). However, this native method is pretty restricted. Firstly, look for the Power On/Off button at the back or bottom-center of the TV panel. Once you press the toggle, the TV will switch on.
On most models, the physical button on the TV will allow you to adjust only some basic settings (change the channel, adjust the volume, select source), but you won't be able to navigate through the menu and connect to an unknown Wi-Fi. However, if you just want to connect your TV to a previously memorized Wi-Fi network and you just can't turn on your TV without the remote, then use that one button on the bottom or back of your TV.
Samsung Smart TV App – SmartThings
Samsung is a big consumer brand, and it has a dedicated app called SmartThings to control home appliances, including Samsung smart TVs. In order to use this app, your TV and your phone (the one with the app in it) must be connected to the same Wi-Fi. So, you can't really use the app to connect the TV to a new Wi-Fi network, but there's a workaround that you can try. For this workaround, you need two phones – your phone with the Samsung Smart TV app and another phone that's going to be used as a mobile hotspot.
Now setting up the hotspot is the crucial step for this method. You can't just enable Mobile Hotspot on that phone – you have to change the name and password for the hotspot so that they match the name and password of a Wi-Fi network that was previously memorized by your TV (it can be the last known network your TV was connected to or any other network that your TV used in the past). We're doing this so that your TV can connect to the hotspot's Wi-Fi automatically.
Recommended reading:
Once you install the SmartThings app on your phone and set up a hotspot on the other phone, you can enable the hotspot and turn on your TV. The TV will connect to the hotspot. You should connect your phone (the one with the SmartThings app) to the same hotspot Since your phone and your TV are now on the same network, you can use the app to control your TV.
You can open the app, go to Dashboard, and see if your TV is listed in the app. If it's not, tap on Devices and then Add New Device. Once the app adds your TV to the list of devices that you can control, you can navigate through your TV settings, find the Wi-Fi settings, scan for available networks, and connect your TV to your home Wi-Fi network.
How to Set Up a Samsung Smart TV with the SmartThings App
When your Samsung TV connects to a new Wi-Fi network, you can turn off your hotspot, and then connect your phone to that same network to regain control over your TV.
---
Note: Instead of using another phone as a hotspot, you can just change the SSID (Wi-Fi name) and password of your new Wi-Fi network so that it matches your old Wi-Fi network's name and password. You can do that in your router's settings.
---
Wired Keyboard and Mouse
Using a wireless or wired keyboard and/or mouse is one of the best cheap alternatives. It's like buying a universal remote, but with more features. The only problem is that not all keyboards and mouses can work with Samsung TVs.
So, if you have a compatible one (preferably Samsung Smart Wireless Keyboard), here are the steps to follow if you want to connect your Samsung smart TV to Wi-Fi using a keyboard and mouse in the absence of the remote: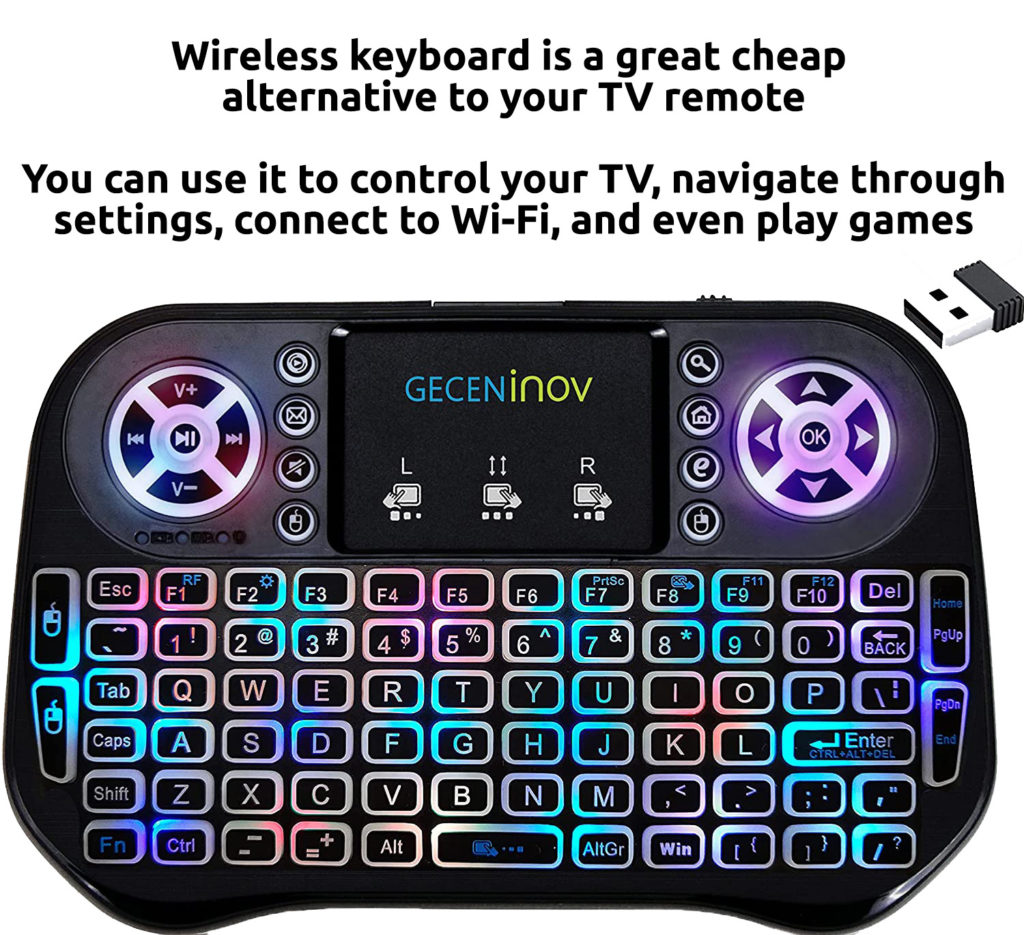 Link the keyboard and mouse to the TV by connecting a USB transmitter that comes with the keyboard/mouse to one of the USB ports on the TV. Pair your keyboard/mouse and you're ready to go.
Once the keyboard is linked to your TV, you can use it to navigate through settings. Open Settings, scroll down to General, select Network, and then Network Settings. You will be asked whether you want to connect to a Wireless or Wired network. Select Wireless.
So, now you have your TV connected to the Wi-Fi network, and you can control your TV using the keyboard and mouse.
Note: if you don't have a mouse, you can still navigate using the keyboard's arrow buttons / Enter / Esc (Home).
Connect With Ethernet Cable
There is nothing to worry about if you cannot find any wired or wireless keyboard and mouse. Another method to connect to Wi-Fi is using the Ethernet cable (assuming that your TV has an Ethernet port). The Ethernet connection is definitely a lot more powerful, speedier, and provides a more stable signal. You can use it as a permanent or just a temporary solution, depending on where your router is located.
If the router is too far away and you don't want to deal with wiring, you can just bring your TV close to your router and connect it using a short Ethernet cable. Don't worry – you're not going to leave your TV there. This is just the first step.
When you connect your TV to your router using an Ethernet cable, you can plug in your TV, and turn it on (use that physical button on your TV). The TV will be automatically connected to the internet since a wired connection doesn't require a password.
Now, you need the Samsung SmartThings app. Download it to your phone and install it. Go through the initial settings and sign-in process to gain control over your TV. Once the initial app setup is done, you can use the app to control your TV and navigate through settings. Go to network settings and connect to your Wi-Fi.
Once you connect your TV to Wi-Fi, the Wi-Fi network will be memorized. You can turn off your TV, disconnect it from the router, and bring it back to its original spot. When your turn it on again, it should connect to Wi-Fi automatically.
Conclusion
By now, can you still say you don't know how to connect Samsung TV to Wi-Fi without remote? If you have come to this stage, losing a Samsung remote should no longer pose a problem. Try following the steps listed and explained above and you should have no more problems.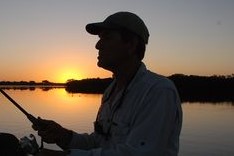 Hey, I'm Jeremy Clifford. I hold a bachelor's degree in information systems, and I'm a certified network specialist. I worked for several internet providers in LA, San Francisco, Sacramento, and Seattle over the past 21 years.
I worked as a customer service operator, field technician, network engineer, and network specialist. During my career in networking, I've come across numerous modems, gateways, routers, and other networking hardware. I've installed network equipment, fixed it, designed and administrated networks, etc.
Networking is my passion, and I'm eager to share everything I know with you. On this website, you can read my modem and router reviews, as well as various how-to guides designed to help you solve your network problems. I want to liberate you from the fear that most users feel when they have to deal with modem and router settings.
My favorite free-time activities are gaming, movie-watching, and cooking. I also enjoy fishing, although I'm not good at it. What I'm good at is annoying David when we are fishing together. Apparently, you're not supposed to talk or laugh while fishing – it scares the fishes.