The Wi-Fi Protected System (WPS) is a way of establishing a fast connection between the router and broadband modem. Skyboxes have this feature, and it is relatively easy to set up and use with other Wi-Fi-capable devices.
However, not all Skybox models have the feature, as some are outdated. Some users might also prefer alternative connection methods that do not involve pressing the WPS button.
Have no worries, as we will look at the alternative methods to establish a connection between your Sky box and a Wi-Fi router.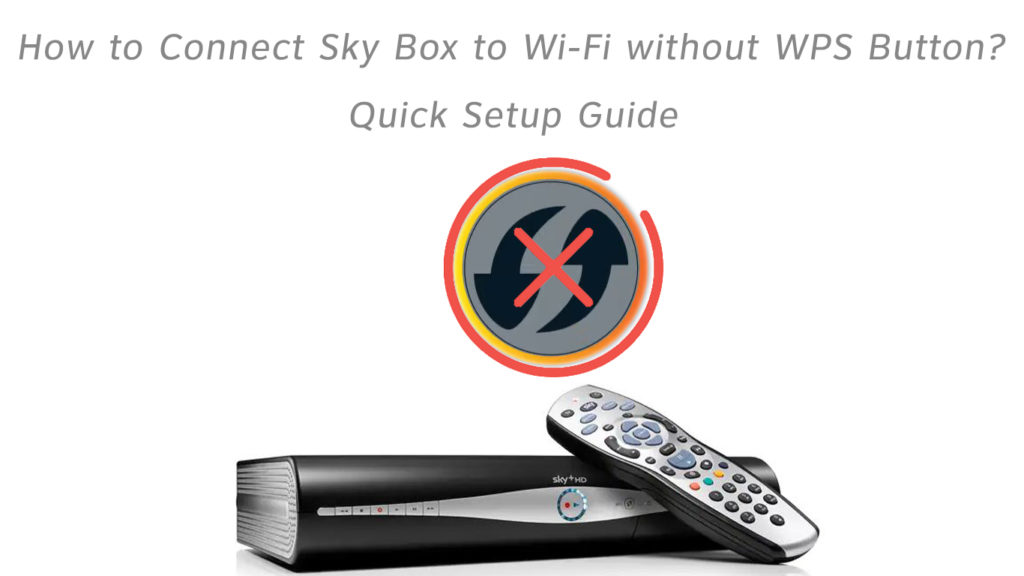 What is WPS?
The Wi-Fi Protected System (WPS) is a technology for making wireless connections without using a password. It allows the router to automatically share the security key with various Wi-Fi-enabled devices on the condition that they are close.
Notably, WPS handles sending of information between two devices sharing a connection. It does not manage the connection.
The WPS button is found on all Sky boxes that have inbuilt Wi-Fi. The button is used to connect the Sky box to the router, other WPS devices, or Sky Wi-Fi booster.
Press the

WPS button

on your router for

2 seconds

to use it. 
Then press the WPS button on your Sky box within a minute. The devices should connect automatically.
If the connection is successful, the Skybox LED will light in a solid amber color.
First Things First!
Before you embark on establishing a connection, it is prudent that you check your firmware version. The purpose of this is to see if you are eligible for a free equipment upgrade from Sky.
Press Service on the Sky remote to check your software version, then go to settings. Once there, select system details and, if your software version starts with 4E30, contact customer support for an upgrade at no cost.
There are various ways to connect the Sky box to Wi-Fi without using the WPS button. They depend on whether your Sky box has the WPS button or not. 
They are;
You can connect your Sky box to Wi-Fi by entering the Wi-Fi password after following the steps below. 
Press

Services

then

0

, then five on your remote, and it will take you to the

Network

tab. Alternatively, press

Services

on the Sky remote then

Settings>Network.
Under network, there are three options for connecting your Sky box to the

Sky internet

, select

Connect with Password

.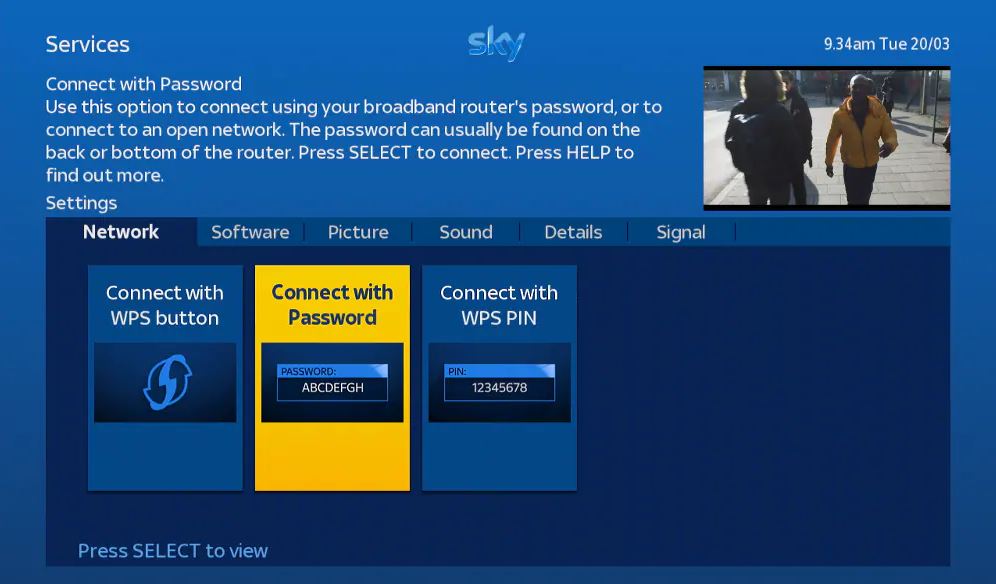 After you select this option, your Skybox will search for all the wireless networks available around you. Find your network name and

Select

.
Next, a prompt will require you to enter your

Wi-Fi password

. If you do not know your password, you can find it on the label on your router together with your Wi-Fi name.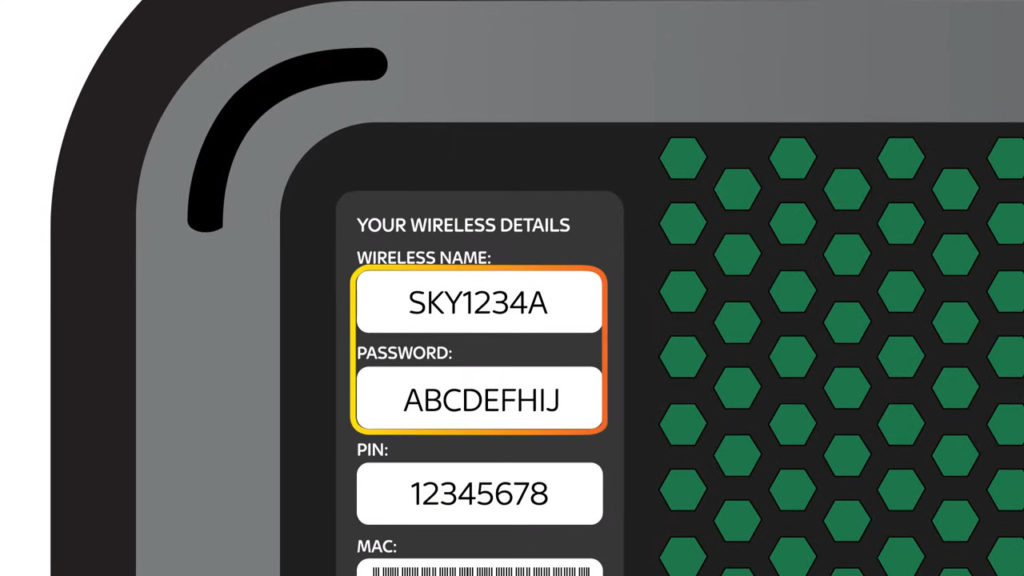 Also, remember that Wi-Fi passwords are case sensitive; therefore, carefully enter yours.
A notification will appear on the screen if the connection is successful. Press the

red

button on the remote and select

catch up

to enjoy the Sky services.
Using the Wireless Connector
If your Sky box doesn't have Wi-Fi capabilities, and you still wish to use WPS to set up a connection, there is a way. However, it will require you to dig a little deeper into your pockets.
The other option is to purchase a Sky wireless connector box. It is a companion device that enables Sky boxes without inbuilt Wi-Fi to access the internet.
The connector box can connect to Wi-Fi with or without using its WPS button. You can use the WPS connection if your router has a WPS button.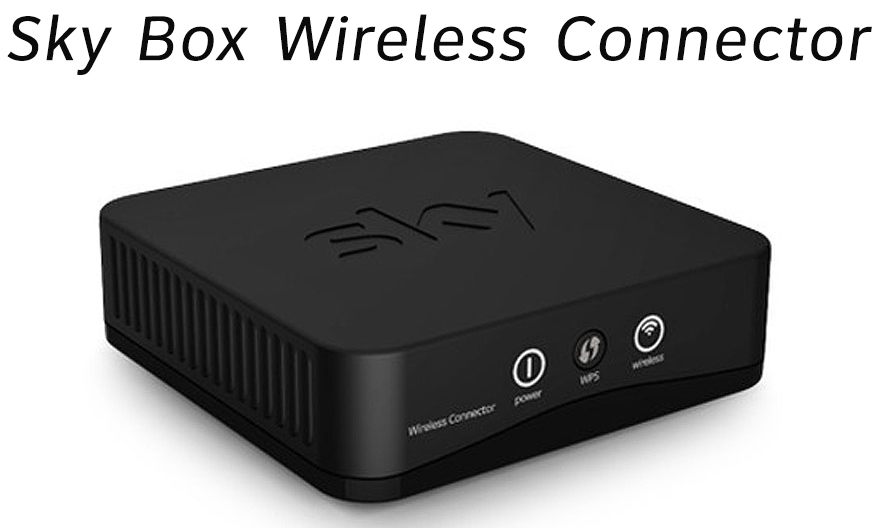 To set up the box:
Plug one end of the

Ethernet cable

into the Skybox and the other end into the connector box. Both ports are green.
Then plug the

power cable

into the blue port of the wireless connector and the other end into a power socket.
For the

SD501

model, connect the bigger end of the

USB cable

into the Skybox and the smaller end into the wireless connector box.
Turn on your TV, and you will see a message notifying you of a broadband connection detection.
Wait for approximately two minutes, and you will see a list of the available wireless networks.
Select your network and enter the password using your remote keys.
After, a notification screen will appear with your connection details. Hit the backup button, and you are ready to go.
When using a wireless connector, place it close to your Sky box and ensure it is off the floor. You can put it on the Skybox or beside it as long as there are no obstructions between it and the Skybox.
It is important to note that the SC201 box model requires a power adapter and an ethernet cable to work. The SD501model, on the other hand, uses a USB cable as a power and data sharing cable.
It is also worth noting that Sky no longer produces the wireless connector units. Therefore, if you want to purchase them, you will have to settle for second-hand ones.
Alternatively, if both your Sky box and router support WPS, you can use it without necessarily touching the WPS buttons on either device.
To connect using the WPS PIN on your Sky remote press Services.
 Then go to settings>network, choose to connect with WPS PIN, and follow the prompts on your screen.
Some routers do not necessarily have a WPS button but have the WPS functionality. To access it visit the routers administration page via your router's IP address. The most common ones are 192.168.0.1 and 192.168.1.1.
The WPS settings are most likely under Advanced Settings. If you cannot spot the settings, they might be under the names; Quick Secure Setup (QSS), Push 'n' Connect, or Wi-Fi Simple Config.
Using the WPS PIN method is less secure as it is easy to use a brute force attack to gain access to your connection. 
VIDEO TUTORIAL – Ways to Connect Your Sky Box to Wi-Fi
Points to Note
There is a difference between a Sky box or a Sky+ HD box and a Sky Q box. Among the differences is that the Sky Q is slimmer and smaller with a WPS button. 
Sky HD boxes are the predecessors of Sky Q boxes; therefore, you should consider upgrading to the newer Sky Q version. An upgrade would ensure you have up-to-date features with all security loopholes patched.
Recommended reading:
Albeit the WPS push button method is easier and faster to use, it has a few disadvantages. Among them are that it is not very secure, and anyone with physical access to your router can gain access to your connection.
Also, should the methods above not help, you can use an Ethernet connection. It is the most reliable and fastest way of connecting Sky and other wireless devices to your router.
Final Thoughts
Hopefully, the above information is a beacon for understanding the confusing world of WPS connections and Sky boxes. As you connect your devices using alternative methods, ensure that every other cable connection is made correctly. All you have to do now is bear the burden of choosing safety over convenience when using the Wi-Fi-protected setup.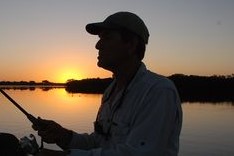 Hey, I'm Jeremy Clifford. I hold a bachelor's degree in information systems, and I'm a certified network specialist. I worked for several internet providers in LA, San Francisco, Sacramento, and Seattle over the past 21 years.
I worked as a customer service operator, field technician, network engineer, and network specialist. During my career in networking, I've come across numerous modems, gateways, routers, and other networking hardware. I've installed network equipment, fixed it, designed and administrated networks, etc.
Networking is my passion, and I'm eager to share everything I know with you. On this website, you can read my modem and router reviews, as well as various how-to guides designed to help you solve your network problems. I want to liberate you from the fear that most users feel when they have to deal with modem and router settings.
My favorite free-time activities are gaming, movie-watching, and cooking. I also enjoy fishing, although I'm not good at it. What I'm good at is annoying David when we are fishing together. Apparently, you're not supposed to talk or laugh while fishing – it scares the fishes.