The home infotainment scene has always been one of the most exciting developments in IoT innovations. The home equipment manufacturers frequently come up with improvements in the compatibility and interconnectivity between different devices.
However, some households don't always buy new devices and prefer to keep using their old items because they can still work fine. But, eventually, everybody has got to keep up with the times. With the advent of smartphones, users can do almost everything online with their phones – their new 'life companions', including sharing their phone media on the TV.
It's challenging if you don't have a smart TV to connect your phone. But, here's the good news – you can still connect your phone to a non-smart TV. The question is, how to connect your phone to a TV that is not a smart TV?
Firstly, you need to inspect your TV to find out its features. Sometimes a non-smart TV has a wireless capability, but most of them can connect to other devices with certain cables and through certain ports (usually HDMI). Don't be surprised if your old TV has a built-in feature that is compatible with Google cast.
Read on if you want to learn more about how to connect your phone to your old TV. Let's get started.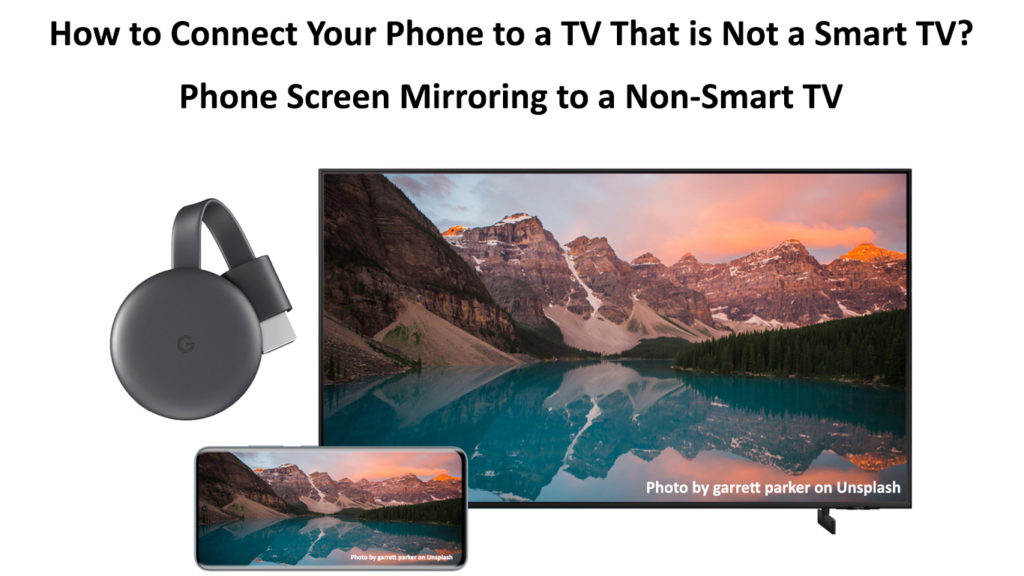 Inspect Your TV
Inspect your old TV first before trying to connect your phone. The features available on your non-smart TV depend on what brand and when they launched the TV.
When you know and understand what your TV does and doesn't have, it's easier to start looking for the best ways to connect your phone. Also, based on what your TV support (or doesn't support), you will know what additional equipment or apps you need to start connecting. For instance, some older TVs don't have HDMI ports, so you need to get additional equipment, like an adapter. The following section walks you through how to do it.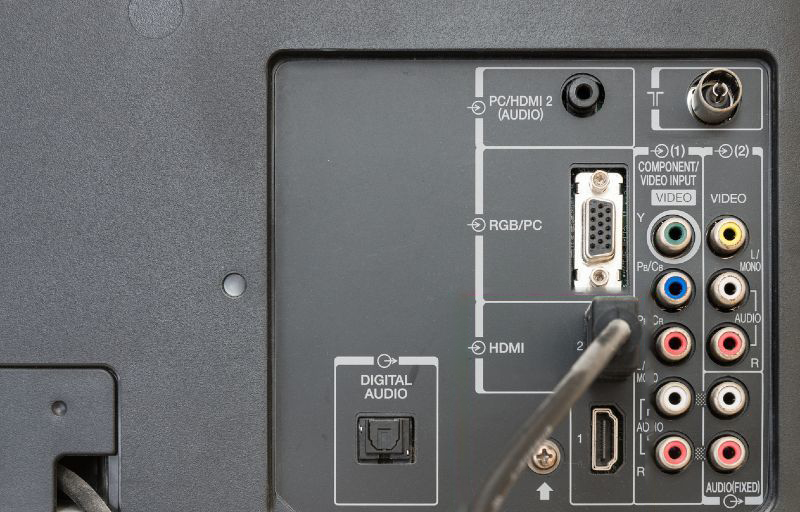 Check Your TV's Connections and Supported Features
TVs Without HDMI Ports
You will typically use an HDMI cable if you want to link your TV to another device. But, if you have an older, non-smart TV without the HDMI port, you will have to look for other ways to hook up devices. Well, they say there's a solution to every problem – you can get the job done with HDMI alternatives.
How do you link your phone to the TV without an HDMI cable? Usually, older TVs use Component Video Audio Connection (CVAC) for connections. Luckily, you can use an HDMI converter adapter to connect your phone to the non-smart TV.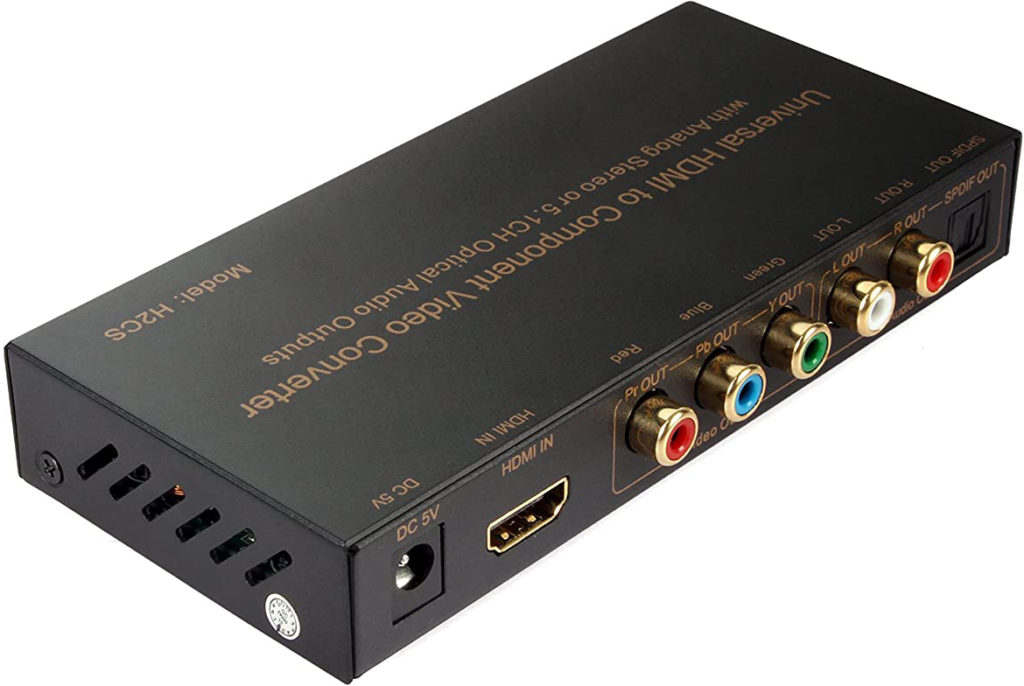 HDMI to Component Video Converter
To start with the connection, switch on the TV and make sure you attach the adapter to the correct input on your TV. Look for the jack that says 'Component', or you can guide your connection using the colors. The HDMI input on the converter will be used for connecting devices that will allow you to cast or mirror your phone to your non-smart TV. We will talk about those devices in the next section.
TVs With HDMI Ports
Your non-smart TV will be in better shape if it has an HDMI port because it's simpler to connect your phone to it compared to a non-HDMI connection. You have several popular dongles, such as Amazon Firestick, Google Chromecast, Roku, Apple TV, and many more, that can
cast your phone media to your HDMI-equipped non-smart TV.
Recommended reading: How to Connect Phone to Smart TV Without Wi-Fi? (How to Mirror Phone to TV Without Wi-Fi?)
In order to cast anything from your phone to the TV using one of those dongles, your phone and the dongle of your choice have to be on the same Wi-Fi. Otherwise, it won't work.
In the next section, we will guide you on how to install Google Chromecast. The procedure is very similar for other sticks and dongles.
Get a Google Chromecast
Many streaming devices can help you connect your phone to your non-smart TV. Amazon Fire Stick, Google Chromecast, Roku, and Apple TV are the most popular ones. These devices/dongles can work with any TV as long as you can connect them. In this post, we will show you how to connect and set up Google Chromecast.

Start Connecting
Unbox your newly bought device and be ready to install it. Plug the device/dongle into the HDMI port. If your TV has at least one free HDMI port, connect it to that port. If it only has component video inputs, you will need that converter we've talked about. Then, plug the Chromecast into a power source. Switch on your TV. You will only see a notification saying it is not connected to a Wi-Fi network. Proceed to the next step.
How to Set Up Google Chromecast 3
Link it to Your Smartphone
Firstly, download the Google Home app on your phone. When you complete the download, follow the on-screen instructions to install it. It may prompt you to allow a few permissions.
The process is pretty straightforward and will only take a few minutes to complete.
Next, go to the drop-down menu at the top section of the Google Home app. It will let you cast your phone's screen or audio. In other words, it will allow your phone to connect to the TV.
How to Set Up Google Chromecast with Google TV
Connecting with the Non-smart TV's Built-in Functions
Non-smart TVs do not necessarily mean TVs with no technological features at all. They may not be as smart as computers or modern TVs with all the compatibility and inter-connectivity features, but they may have some advanced features to offer excellent viewing pleasure. You will find that some TVs can support the casting element by Google so that you can directly connect without additional equipment.
However, downloading the Google Home app is a must. In addition, remember to connect both devices to the same Wi-Fi network, or else it won't work. Once you have the connection, you can directly cast your phone's content to the TV screen.
iPhone users can still use AirPlay to connect to non-smart TVs. Naturally, they will still need some kind of a bridge between the non-smart TV and the iPhone. That bridge could be the Apple TV or, if you're looking for something cheaper, the Roku stick. Amazon FireStick and Google Chromecast don't have Airplay support.
Conclusions
You might be thinking about dumping your old but functional TV because new electronic devices can only work with new smart TVs. Well, you might want to think again. This post proves that you can still make use of your old non-smart TV.
Although a few additional steps are involved in setting up the connection, you don't have to be a 'MacGyver' to connect your phone to a non-smart TV. This post serves as a good guide on how to connect your phone to a TV that is not a smart TV. Connecting a TV with an HDMI port will be easier, but don't throw out your TV if it doesn't have HDMI because you can make it HDMI-compatible if you buy an HDMI-to-Component converter.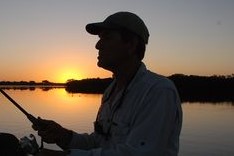 Hey, I'm Jeremy Clifford. I hold a bachelor's degree in information systems, and I'm a certified network specialist. I worked for several internet providers in LA, San Francisco, Sacramento, and Seattle over the past 21 years.
I worked as a customer service operator, field technician, network engineer, and network specialist. During my career in networking, I've come across numerous modems, gateways, routers, and other networking hardware. I've installed network equipment, fixed it, designed and administrated networks, etc.
Networking is my passion, and I'm eager to share everything I know with you. On this website, you can read my modem and router reviews, as well as various how-to guides designed to help you solve your network problems. I want to liberate you from the fear that most users feel when they have to deal with modem and router settings.
My favorite free-time activities are gaming, movie-watching, and cooking. I also enjoy fishing, although I'm not good at it. What I'm good at is annoying David when we are fishing together. Apparently, you're not supposed to talk or laugh while fishing – it scares the fishes.