Brief outline
This article will guide you through the DIGISOL router login steps using the official default router username and password. When you login to your DIGISOL router you can change the default router settings like the Network name and wireless password, upgrade your router firmware and much more.
DIGISOL Router Login Steps
STEP 1: Connect to your home network
Connect to your network using an Ethernet cable. Also, if you are trying to login using your smartphone or laptop you can use your wireless connection. Devices which are not part of the network can't access the login page.
STEP 2: Visit 192.168.2.1 using your browser
Launch your browser. It's not important whether you use Edge, Firefox, Chrome or any other browser. In the address bar type the default DIGISOL login IP 192.168.2.1 and press Enter on your keyboard.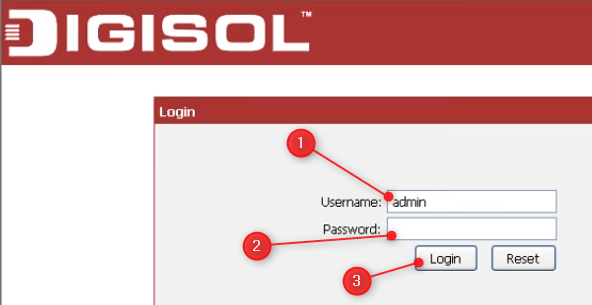 STEP 3: Enter the default DIGISOL username and password
If the IP address was correct in STEP 2 you will be asked to enter the default DIGISOL username and password and press the Login button.
The default DIGISOL router login details are:
Username "admin"
Password "1234" or "admin"
*make sure to type these in lower case letters
NOTE: If the DIGISOL login page doesn't show up it is possible that 192.168.2.1 isn't the default IP. So you can try the 192.168.1.1 or 192.168.1.254 IP address. If none of these work you can easily find the default router IP using the Command prompt and the ipconfig command.
If the username password combination is wrong you will have to reset the router to factory settings but we recommend you to leave this as a last solution.
Basic DIGISOL Router Configuration
Every router comes with already configured default router IP, default username and password, as well as a default network name and passphrase. It is highly recommended to change these first because they represent a security risk for your home network.
Therefore let's see what you should change first.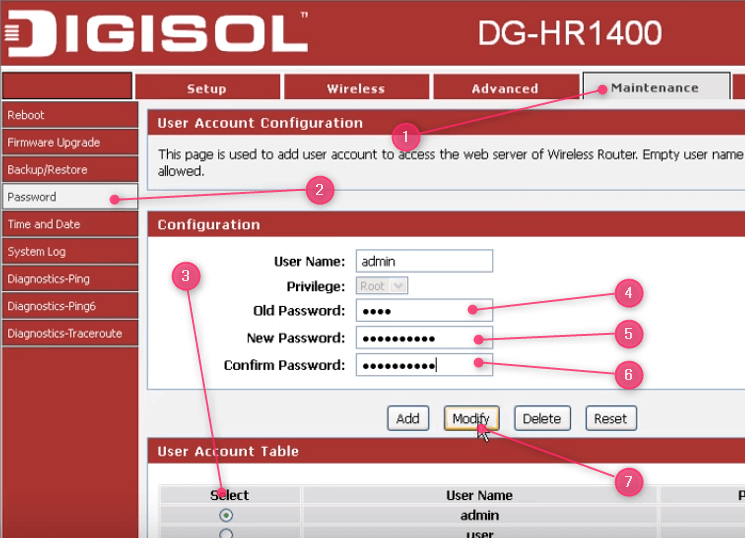 Change the default DIGISOL router password
Leaving the default router password unchanged is something you have to avoid. When someone connects to your network he can access the router settings as well. The same person can easily find the default DIGISOL login details and access your router settings. If he or she changes the wireless password for example, and then the router password, you will be locked out from the network. The only solution will be to reset the router to factory settings and set it up from scratch.
Here are the steps needed to change the router password.
Login to your DIGISOL router following the steps given above.
Click on the Maintenance
Then click on Password in the menu on the left.
In the User Account Table check admin.
Enter the old (default) password in the Old Password field above.
Enter a new password in the New Password
Type the new password again in the Confirm Password
Click on Modify.
Change the DIGISOL router SSID and Wi-Fi password
Another important thing to do is to protect your network with a strong wireless password.
Just like other routers, the DIGISOL router comes preconfigured with a default SSID and wireless password. These have to be changed as soon as possible.
When you want to change the DIGISOL router SSID and password go through the next steps.
Click on the Wireless
Then click on Wireless Basics in the menu on the left.
In the Mode drop-down menu select AP
Check Enable SSID Broadcast
In the Name (SSID) type the desired network name.
In the Security Options select WPA-PSK/WPA2-PSK AES
Then in the Pre-Shared Key type your wireless password.
IMPORTANT: When creating a new wireless password you have to make sure it's strong and hard to guess. Use a combination of numbers, capital and small letters and special characters.
Final Words
The DIGISOL router login steps are easy to follow and once you gain access to the router settings you will see all the options available.
Just make sure to take notes of all the changes you make. By doing this you will know what to change back in case something goes wrong.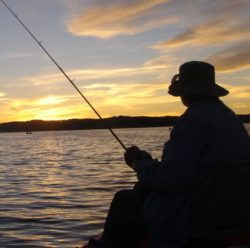 Hey, I'm David. I've been working as a wireless network engineer and a network administrator for 15 years. During my studies, I also worked as an ISP field technician – that's when I met Jeremy. 
I hold a bachelor's degree in network engineering and a master's degree in computer science and engineering. I'm also a Cisco-certified service provider. 
In my professional career, I worked for router/modem manufacturers and internet providers. I like to think that I'm good at explaining network-related issues in simple terms. That's exactly what I'm doing on this website – I'm making simple and easy-to-follow guides on how to install, set up, and troubleshoot your networking hardware. I also review new network equipment – modems, gateways, switches, routers, extenders, mesh systems, cables, etc. 
My goal is to help regular users with their everyday network issues, educate them, and make them less scared of their equipment. In my articles, you can find tips on what to look for when buying new networking hardware, and how to adjust your network settings to get the most out of your wi-fi. 
Since my work is closely related to computers, servers, and other network equipment, I like to spend most of my spare time outdoors. When I want to blow off some steam, I like to ride my bike. I also love hiking and swimming. When I need to calm down and clear my mind, my go-to activity is fishing.