One of the ways to improve your Wi-Fi network range and performance is setting up an eero mesh system. This is a sure way to get a stable and working internet connection in every corner of your home. Although there is a large number of satisfied eero system users, some of them experience problems with their eero devices. One of the issues they see from time to time is the eero blinking blue light.
In this article, we are going to explain what the eero blinking blue light means and what steps you should take to fix it.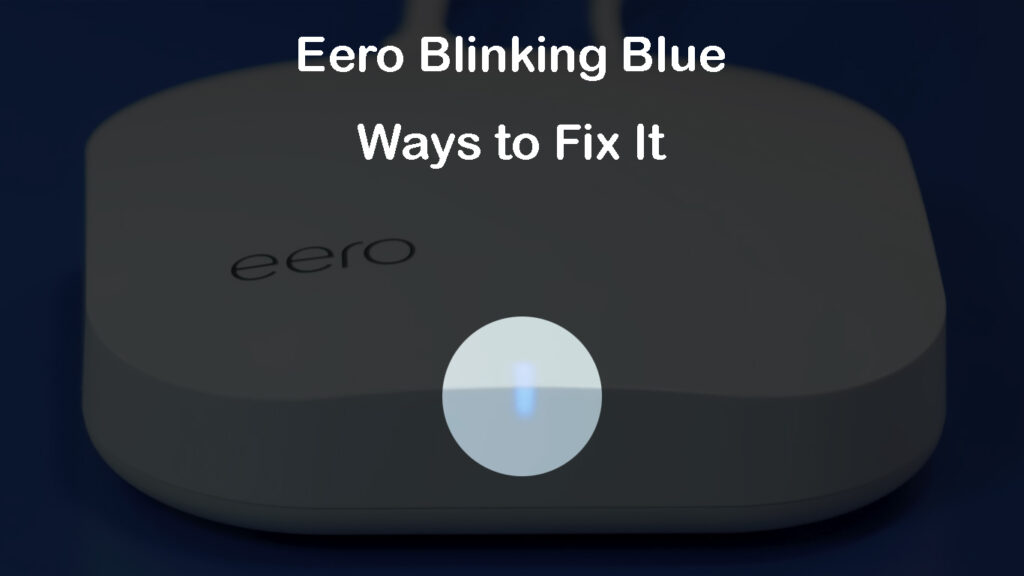 Why Is My Eero Blinking Blue Light?
The official explanation of the eero blinking blue light is that Bluetooth is broadcasting at the moment. Practically seeing this light on the eero node indicates that it's in pairing mode and ready to be added. Also, on some models, the pulsing blue light during the initial setup indicates the device is ready to be set up – you just need to open the eero app and start setting it up.
Generally, the blue blinking light on your eero device is not an indication of a problem, but if this behavior continues for a longer period of time, it definitely requires our attention and needs to be fixed.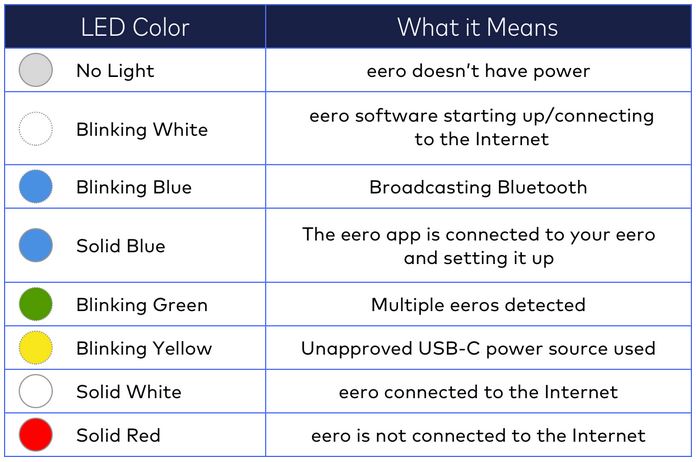 The meaning of the lights on eero Wi-Fi (source – eero support)
How to Fix Eero Blinking Blue Light?
If you are experiencing the eero blinking blue light issue, you will be glad to know that there are several things you can do to fix it. However, if you are not tech savvy, or if you are worried that you might mess things up, we recommend getting in touch with support. They can assist you in fixing this issue either remotely or by sending a technician to your address. This is probably the safest way to fix network issues like this.
On the other hand, if this happens during the weekend, when you are in a hurry, or if eero support isn't available for some reason, here are a few things to try. Waiting for support is always an option, but fixing it on your own is way more satisfying.
Hopefully, one of the solutions presented below will do the job and help you fix the eero blinking blue light issue.
Check the Cables
Loose connections and damaged/malfunctioning cables are common causes of various connectivity problems. If you're using a damaged cable and don't replace it, the problem will persist no matter what fix you try. Every fix will fail because of a damaged cable or a loose connection. Therefore, before you start troubleshooting your eero, check all the cables and connectors and confirm that everything is firmly and properly connected.
Is Your Internet Service Down?
Just in case, check whether your internet service is down or not. If they have changed their network configuration, or if they are working on their network, or experiencing a power outage, your eero won't be able to connect to the internet, and you may see a blinking blue light on it (you will more likely see a steady red light in this scenario).
So, either contact your ISP support or log in to your ISP account, and see whether there is a message informing you about an ongoing outage. There are also sites like downdetector where users report issues with their ISPs.
In case of an outage, be patient. Everything will be fixed soon. However, if you confirm that there is no outage at all, try the following fixes.
Power Cycle Your Eero
The first troubleshooting step is always the same for every networking device – you should power-cycle your eero (restart it). You don't have to restart every eero device in your home – you can restart only the one that's been causing problems.
To do this, you just need to disconnect the power cable from the eero. Leave it disconnected for 30-60 seconds, and then plug the power cable back in. When the eero boots up completely, check if it's still blinking blue. If it's still blinking, then try the following step.
Restart Your Eero Network
If restarting one eero device doesn't help, you may need to restart your entire eero network (all eero devices). You can easily do it using the eero app.
We suppose that you already have the eero app on your mobile device and also have an account. In that case, you need to unlock your device and launch the eero app.
After that tap on Settings.
Scroll down a little and tap on Advanced options.
Scroll down again and tap on Restart.
From this menu select Restart Network and confirm your selection by tapping on Restart Network again.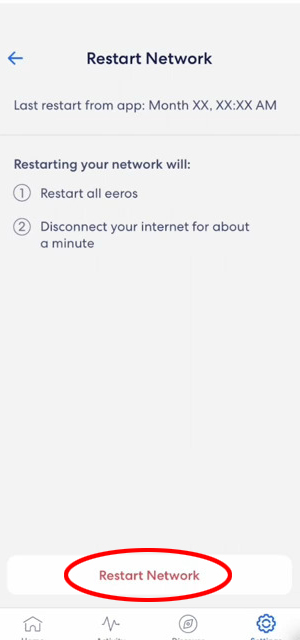 During the restart, you will go offline so don't be surprised when that happens.
Note: If your eero is currently not online, you will not be able to restart it using the app. In that case, you need to unplug all your eero devices, including the eero gateway. After a minute or so, plug in the eero gateway and give it 2 minutes to boot up. After that, plug in other eero devices (additional points/satellites). 
Reset the Eero(s)
One of the common troubleshooting tips that can also help with the blinking blue light is resetting the eero nodes.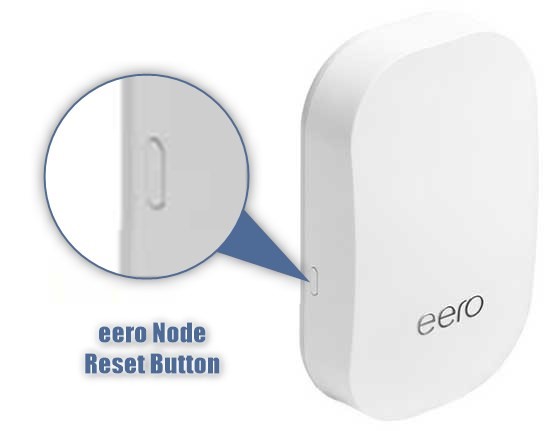 This can be easily done through the eero app or using the reset button on the eero. Again, if your eero is not online, you can only reset it using the button – you can't use the app. 
Depending on the generation of eero you are using, the reset button can be on the back or on the bottom of the eero device. The reset button on the eero nodes (beacons) is usually located on their left.
TIP: Your eero needs to be on for at least 1 minute before you try to reset it.
If you decide to use the reset button, you need to know that there are two types of reset – a soft reset and a hard reset.
SOFT RESET
This one clears the network configurations but keeps the eero on the network, and your custom settings will be saved.
Press and hold the eero reset button for around 7-10 seconds and release it when you notice the yellow flashing light. Soon, the light on your eero will turn to solid white.
HARD RESET
This type of reset clears all the network configurations, removes the eero from the network, and deletes all the custom settings. After this step, you will have to set up your eero network again.
Press and hold the eero reset button for 20 seconds. Release it when you see a flashing red light on your eero. When the device reboots completely it should start blinking blue indicating that you can set it up again.
Final Words
Hopefully, you have managed to resolve the eero blinking blue light issue successfully. However, if the issue persists even after trying everything, maybe you are dealing with a faulty device. In that case, we highly recommend contacting eero support or your ISP support and explaining the problem in detail. We are sure they will find a working solution and help you fix the problem.
Frequently Asked Questions
Question: What is the meaning of the blue blinking blue light on my eero?
Answer: The blinking blue light on your eero could mean that the device is in Bluetooth pairing mode. The blue blinking light is also a standard part of the eero bootup process – once you see it, you can start setting up your eero. If the blue light is blinking for too long and you can't access the device through the app and set it up, there's some kind of connectivity problem with your eero.
Question: How do I stop my eero from blinking blue?
Answer: If the blue light keeps blinking without connecting to a Bluetooth device or if you can't set it up using the app, you can try one of the following solutions:
Check for service outages
Check your cables and connections
Restart the problematic eero device
Restart your entire eero network
Reset your eero (try soft reset first and, if the soft reset doesn't help, try hard reset)
Question: How do I reconnect my eero after a hard reset?
Answer: Hard reset restores all the settings to factory default values. This means that you have to set up your eero mesh system from scratch. So, connect the eero gateway to the modem, open the eero app, tap on Start Setup, and follow the on-screen instructions.
How to Set Up eero mesh Wi-Fi system
Question: What light should be blinking on my eero when everything is working?
Answer: If everything is in order, the LED light on your eero should not blink – it should be solid white. When you open your app, your eero devices will have a green icon (within the app). If there's a problem or some ongoing process, the LED light on your eero could be blue, white, yellow, green, or red (it could blink or be solid).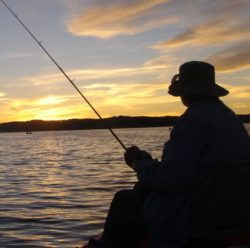 Hey, I'm David. I've been working as a wireless network engineer and a network administrator for 15 years. During my studies, I also worked as an ISP field technician – that's when I met Jeremy. 
I hold a bachelor's degree in network engineering and a master's degree in computer science and engineering. I'm also a Cisco-certified service provider. 
In my professional career, I worked for router/modem manufacturers and internet providers. I like to think that I'm good at explaining network-related issues in simple terms. That's exactly what I'm doing on this website – I'm making simple and easy-to-follow guides on how to install, set up, and troubleshoot your networking hardware. I also review new network equipment – modems, gateways, switches, routers, extenders, mesh systems, cables, etc. 
My goal is to help regular users with their everyday network issues, educate them, and make them less scared of their equipment. In my articles, you can find tips on what to look for when buying new networking hardware, and how to adjust your network settings to get the most out of your wi-fi. 
Since my work is closely related to computers, servers, and other network equipment, I like to spend most of my spare time outdoors. When I want to blow off some steam, I like to ride my bike. I also love hiking and swimming. When I need to calm down and clear my mind, my go-to activity is fishing.