When an electronic device connects to a network, the network provider gives the device a unique number for identification. The number is known as an Internet Protocol address, commonly known as the IP address.
The primary purpose of an IP address is to identify a device in a network interface. It also gives the device a location address, allowing the service provider to locate the device within the network.
When using an iPhone to connect to the Internet, you can retrieve its IP address from your network settings. When your iPhone is not connected to any Wi-Fi, it won't have an IP address. IP addresses are exclusively network-related – they are not the same thing as MAC addresses. Every Wi-Fi-enabled or Ethernet-enabled device has a unique MAC address assigned by the manufacturer. IP addresses, on the other hand, are only assigned when you connect to some kind of network.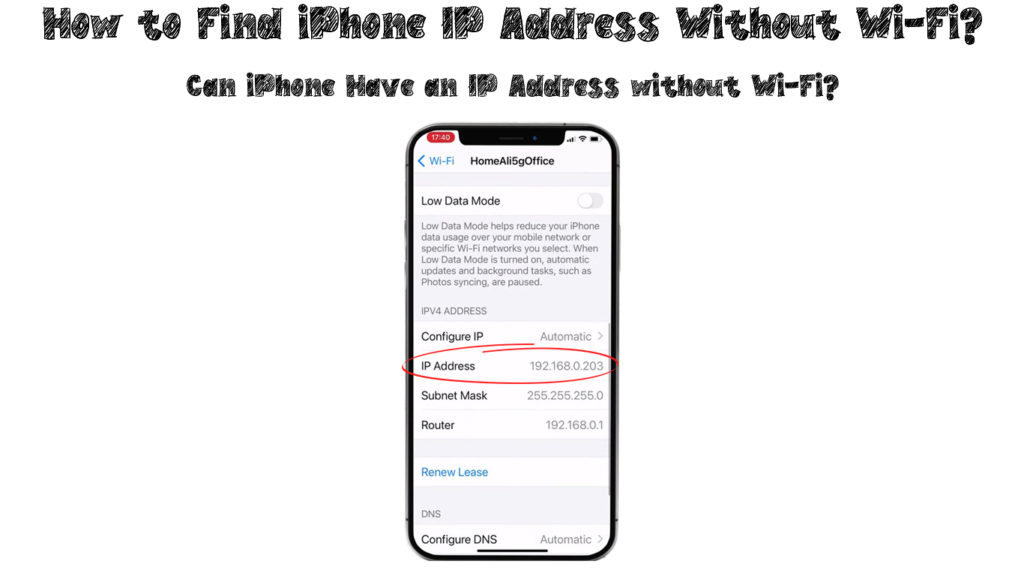 How Does an IP Address Work?
Whenever you connect your phone to the Internet, your network will always provide an IP address for identification purposes. Therefore, your iPhone will communicate with other devices within the network and the network provider.
As you use the Internet, your service provider will track and link your online activities to your network (your router), and your router will then link it to your device.
The public IP address comes from the Internet service provider and is visible outside your iPhone. All other devices which connect to the same network as your iPhone will share the same public IP address.
However, the private IP address is unique among devices within the network since it identifies specific devices. The router will assign a private IP address to each device, making it invisible to the public.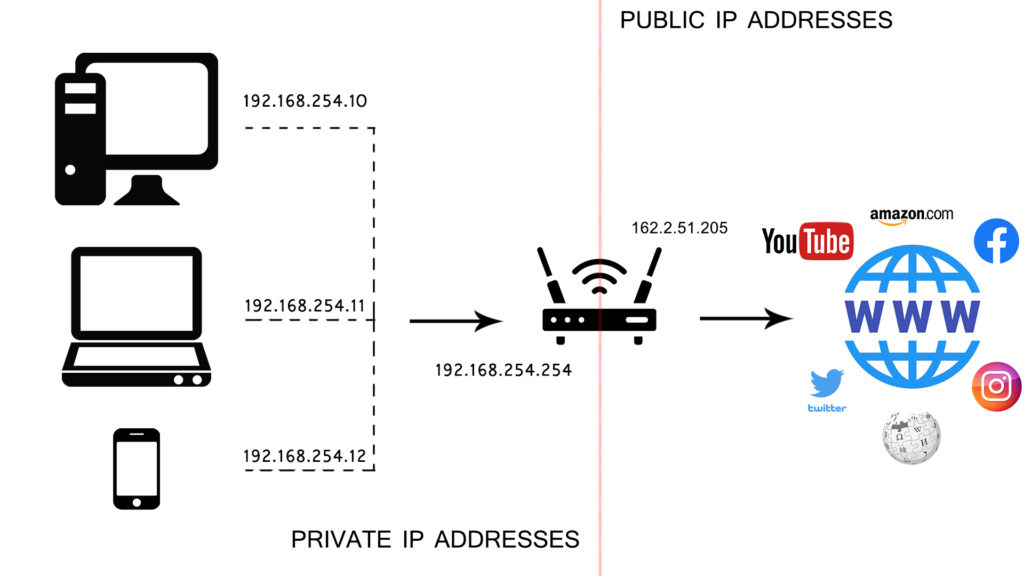 Several devices can have the same IP address at a time, but not on the same network. On one network, only one device can have one IP address. If there're two devices with the same IP, there's will be an IP address conflict. You can change your IP address or restart the router to restore a good Wi-Fi connection within the network.
It is important to note that the IP address over cellular data will differ from the IP address over a Wi-Fi network. Different network providers operate the cellular data and Wi-Fi networks, bringing about separate IP addresses.
However, when connecting to the Internet using cellular data, your network provider will offer you a temporary IP address. The address will change if your iPhone does not have regular online activity when using cellular data.
Additionally, there are two types of IP addresses: static and dynamic. Most devices will use dynamic IP addresses – these addresses can be assigned to other devices when you disconnect your device.
Static IP addresses do not change and remain constant whenever you connect your device to Wi-Fi. You must reserve an address through your settings to ensure the device retains the same IP address.
How to Find the IP Address on Your iPhone?
You can easily identify the IP address on your iPhone after connecting to a Wi-Fi network through your Wi-Fi settings. However, you cannot have an IP address without a connection to the Internet since the network (your router) cannot provide one.
If you want to check your IP address, you can use the following steps:
Go to

Settings

on your iPhone

Select your

Wi-Fi

network and connect to it

Then, select the "

i

" icon on the network name to see the IP address under the IPv4 address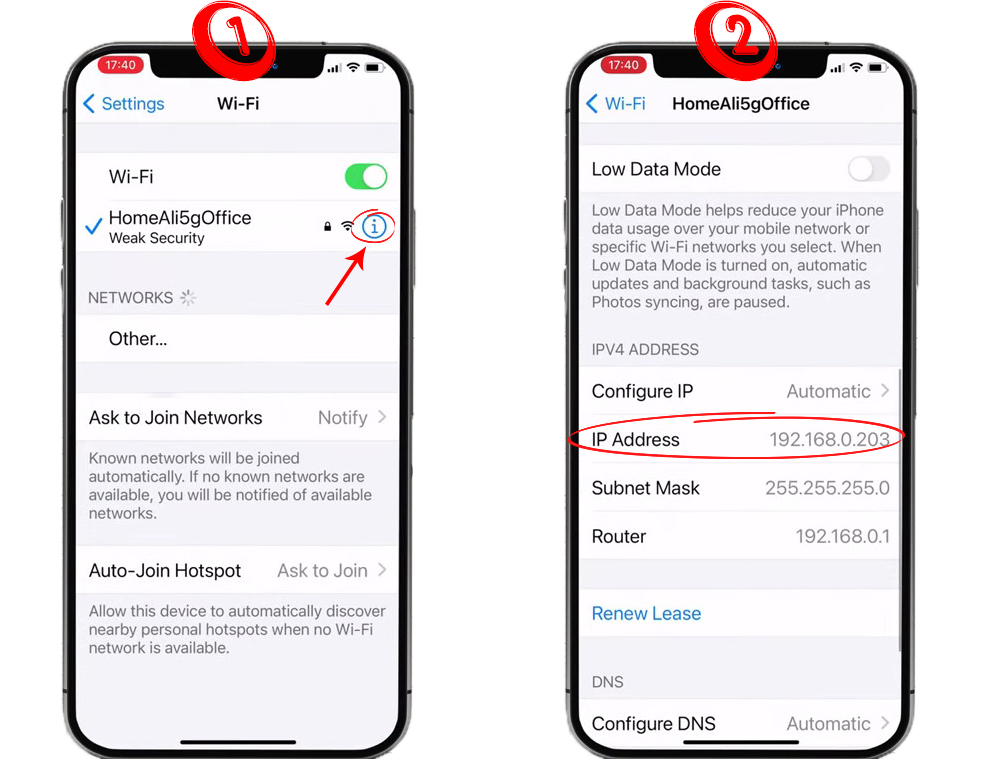 If you want to see your iPhone's IP address without using the Wi-Fi settings, you will need a third-party app. Applications such as IP Utility will be beneficial in finding and sharing your public and private IP addresses.
The third-party apps will show you the iPhone's IP address according to the Wi-Fi network you are currently on. Additionally, you can use your Network Utility app, which is compatible with iPhones with iOS 15, using these steps:
Open the app

Then, select the

Network

option from the screen

Select the

Status

option to view your IP address
If you have a cellular connection, you can also access the IP address given by your network carrier. You can use the following steps to obtain the IP address:
Launch the browser you use on your iPhone

Go to the whatismyipaddress.com website

You will see your IP address, whether you are using IPv4 or IPv6
While manually changing your IP address, you can also get a chance to see the IP address belonging to your iPhone. Changing your IP address is useful when two or more devices share the same IP address in a network, and you want to resolve this conflict.
You can use two methods to change your IP address on your iPhone. They are:
Using Static IP Address on Your iPhone
Go to the

Settings

of your phone

Select the

Wi-Fi

option to find your network and connect

Open the Wi-Fi setting and write down the subnet mask and your IP addresses

Then, select the

Configure IP

option to change the settings to manual

Type in the subnet mask and IP address you had written down, then type in your router IP address

The router IP address

can be found written on the back of your router

Change the last number of the IP address to get the new IP address

Type in the same subnet mask and router IP as you did before

Ensure you save the changes and exit
How to Assign a Static IP Address to Your iPhone
Renewing the IP Address
From your

Settings

, select the

Wi-Fi

option

Connect to your Wi-Fi network, then select the blue information "

i

" icon

Select the

Renew Lease

option

From the prompt, choose

Renew Lease

again

Your network provider will offer you another IP address

Refresh your page to see the new IP address
How to Renew Your iPhones IP Address
Conclusion
The IP address is a set of unique numbers assigned to every device connected to Wi-Fi or some other type of network for identification purposes.
All devices connecting to the same LAN network have the same public IP address, which is seen from outside the network. The private IP address identifies individual devices within the network.
You can only identify your IP address once you connect to a network – your iPhone doesn't have an IP address if it's not connected to Wi-Fi.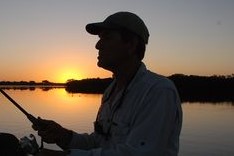 Hey, I'm Jeremy Clifford. I hold a bachelor's degree in information systems, and I'm a certified network specialist. I worked for several internet providers in LA, San Francisco, Sacramento, and Seattle over the past 21 years.
I worked as a customer service operator, field technician, network engineer, and network specialist. During my career in networking, I've come across numerous modems, gateways, routers, and other networking hardware. I've installed network equipment, fixed it, designed and administrated networks, etc.
Networking is my passion, and I'm eager to share everything I know with you. On this website, you can read my modem and router reviews, as well as various how-to guides designed to help you solve your network problems. I want to liberate you from the fear that most users feel when they have to deal with modem and router settings.
My favorite free-time activities are gaming, movie-watching, and cooking. I also enjoy fishing, although I'm not good at it. What I'm good at is annoying David when we are fishing together. Apparently, you're not supposed to talk or laugh while fishing – it scares the fishes.