Most operators have a not-so-new and very interesting feature called Wi-Fi Calling. It's the same with H2o wireless. They have the feature, and it's a pretty good one when you're stuck with no signal but you have Wi-Fi.
In this article, we're going to discuss what H2o Wireless Wi-Fi Calling is, but we're also going to discuss H2o Wireless as an MVNO (Mobile Virtual Network Operator), how to set up Wi-Fi Calling, and which devices can support the feature.

What Is H2o Wireless Wi-Fi Calling?
Like with most MVNOs, the Wi-Fi Calling feature has a lot to do with wireless networks, as the name suggests. However, this doesn't mean that you get free calls over wireless whenever you're connected to Wi-Fi.
It's not the same as using a messaging app like WhatsApp, Messenger, or Viber where you can enter the app and make voice calls or video calls while you're connected to the internet. The feature is something that simply enables you to make calls when you have bad or no reception.
What the feature does is it connects you to your operator through the internet and you can make phone calls. This means that you'll still use your data plan or your subscription to your provider, so the bill is still coming. This is how H2o Wireless Wi-Fi Calling works.
That's why not all smartphones are configured for Wi-Fi Calling, and you get the configuration with the SIM card. So, the feature doesn't entirely depend on the device you're using, it also depends on the operator's SIM.
H2o Wireless Wi-Fi Calling Review
The quality of H2o Wireless regular calling is not extremely good, but this is what you get from low-cost services. It's the same as getting onto a flight with a low-cost company, the ticket is cheap, but the service is very different from the one you can get at other companies.
This is because H2o uses cell towers from AT&T, and they perform the same services so it's like borrowing something from your competitors, and they will surely not allow you to have a better service than them.
This is where the Wi-Fi Calling feature is a huge compensator. With it, you won't experience disconnections or signal loss. Also, with good Wi-Fi, you'll have better call quality in terms of lags and voice.
Wi-Fi Calling Setup
There's a possibility to set up the Wi-Fi Calling feature on smartphones that support it. Most iPhones and some brands that use Android support the Wi-Fi Calling feature, and now we'll explain how to check and set it up.
iPhone Wi-Fi Calling
To enable the Wi-Fi Calling feature on your iPhone, you need to unlock it and tap on Settings. Then swipe down and tap on Phone. Once you're there, you'll see the Wi-Fi Calling option, tap on it and toggle it On.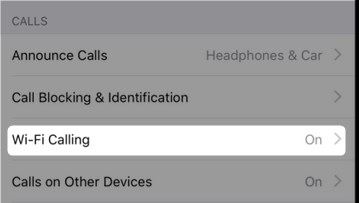 A screen appears where you need to tap Enable and Continue after that. Then, you'll need to read the important information for Wi-Fi Calling, and tap on I agree. Next, you need to enter your emergency address and Verify it. Your iPhone Wi-Fi Calling feature is set up.
Android Wi-Fi Calling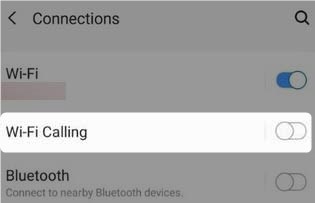 It's more or less the same for Android phones. You need to go to your Settings and tap on Connections. There, you'll see the Wi-Fi Calling feature. Tap on it, go through the important information, and tap I agree.
You still need to set your 911 emergency address. This is a very important step, obviously, and you need to tap on Verify address. Finally, you'll see the screen that says "Setup complete," tap on Done, and it's all set up.
H2o Wireless Wi-Fi Calling Supported Devices
Not all brands or all devices have the Wi-Fi Calling feature, especially the older ones because it wasn't available until 2014. However, the brands that have smartphones that offer the feature are Apple, LG, Motorola, Nokia, Samsung, and Cricket.
Recommended reading: Does Consumer Cellular Support Wi-Fi Calling?
Apple devices that are Wi-Fi Calling enabled are all phones released after iPhone 6 because it was Apple that first introduced the feature in 2014. After that, other brands followed suit, and Wi-Fi Calling was made available on multiple smartphones. Smartphones with the feature are:
Samsung

: Galaxy A01, Galaxy A02s, Galaxy A03s, Galaxy A51 5G, Galaxy A52 5G, Galaxy A6, Galaxy A10e, Galaxy A11, Galaxy A12, Galaxy A32, Galaxy Amp Prime and Amp Prime 3, and Galaxy S7 and later.
Motorola

: e5 cruise, e5 supra, Moto g6 Forge, Moto g7 SUPRA, Moto g POWER, Moto g play, Moto g pure, Moto g stylus 5G, and moto one 5G.
Cricket

: Icon 2, Icon 3, Influence, Ovation, Ovation 2, Debut, and Dream 5G.
Nokia

: 31. C, C2 Tava, and C5 Endi.
LG

: Escape 3, Escape Plus, Fortune 2, Fortune 3, Harmony 3, Harmony 5, K92 5G, X Charge, Stylo 4, Stylo 5, and Stylo 6.
Conclusion
Having the Wi-Fi Calling feature on your phone that's supported by your mobile network operator is quite a useful thing when you find yourself in places where you have easy access to Wi-Fi, but bad or no reception at all.
Plus, the quality can be much better, but you still have to pay for your subscription. Finally, you know what H2o Wireless Wi-Fi Calling is all about and how to set it up. So, you can enjoy the benefits of this amazing feature.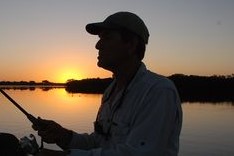 Hey, I'm Jeremy Clifford. I hold a bachelor's degree in information systems, and I'm a certified network specialist. I worked for several internet providers in LA, San Francisco, Sacramento, and Seattle over the past 21 years.
I worked as a customer service operator, field technician, network engineer, and network specialist. During my career in networking, I've come across numerous modems, gateways, routers, and other networking hardware. I've installed network equipment, fixed it, designed and administrated networks, etc.
Networking is my passion, and I'm eager to share everything I know with you. On this website, you can read my modem and router reviews, as well as various how-to guides designed to help you solve your network problems. I want to liberate you from the fear that most users feel when they have to deal with modem and router settings.
My favorite free-time activities are gaming, movie-watching, and cooking. I also enjoy fishing, although I'm not good at it. What I'm good at is annoying David when we are fishing together. Apparently, you're not supposed to talk or laugh while fishing – it scares the fishes.