Streaming services have taken center stage in entertainment, allowing you to stream and download content online. From movies to series and even documentaries, streaming services offer a wide range of viewing content.
Netflix is the leading streaming service currently available globally, offering viewers content matching their preferences. You only need a Netflix account and a stable Internet connection to enjoy viewing your content.
Therefore, it is common to wonder exactly how much Internet you need to watch your favorite shows. You should consider several factors before settling in and streaming from Netflix.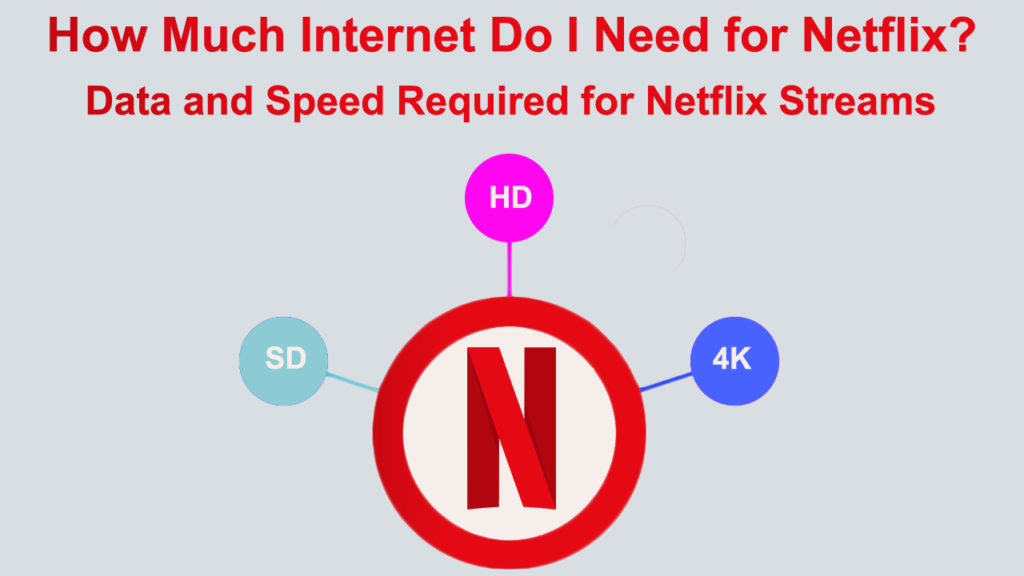 What to Consider When Streaming Content on Netflix
You can readily stream your content from Netflix using your cellular data or Wi-Fi connection. However, there are certain recommendations that Netflix sets to ensure you stream quality content.
Additionally, several settings help save your data, especially if you use limited data plans. Thus, Netflix considers its users' needs when they stream or download different types of shows.
There are more factors that you should take into consideration to avoid any buffering while streaming your content. They include:
The Speed of Your Internet Connection
Your internet speeds will greatly affect the video quality you will use for streaming and downloading videos. Low speeds will give you videos of low quality, while high speeds enable higher video quality.
Additionally, the number of streaming devices connecting to your network significantly affects your speeds. Many devices streaming at the same time will lower Internet speeds since they share the same network.
The bandwidth rate influences your Internet speeds because it affects how much data you can download. If your network uses a small bandwidth while transmitting Wi-Fi signals, you will experience lagging and buffering.
The greater the bandwidth of your network connection, the greater the speeds will be. There will also be minimal lagging due to minimal network congestion while carrying out multiple online activities.
According to Netflix, you will need about 3 Mbps speeds to stream SD quality which offers average video quality. You will need 5 Mbps to stream HD, which provides better video quality.

Netflix offers its users the capability of checking if they meet the set requirements by using your account. Follow these steps to check your Internet speeds for Netflix:
Go to your Netflix account, and from the right top corner, click on

My Account

and select the

Settings

menu
Select the

Diagnostics

option 
Then, select

Internet Speeds

to check the speeds in your network 
You can also use your Netflix App in case you do not have some options in the steps above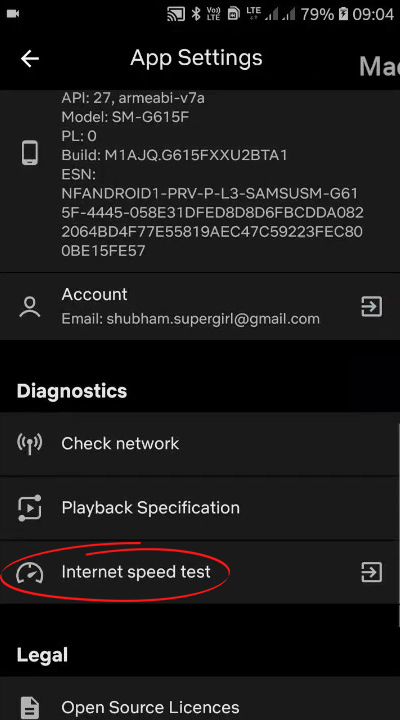 However, you should take into account other factors, such as the number of devices streaming at the same time. Moreover, you may use your Internet connection to carry out various online tasks that limit streaming.
Thus, you will need higher speeds for your Internet package to ensure you have the best video quality while streaming. With higher speeds, you will keep doing other online activities and stream content on multiple devices simultaneously.
You will need 5 Mbps to stream SD quality content and about 25 Mbps for HD quality on several devices. UHD quality offers the highest video quality for UHD TVs, and it will require speeds between 50 Mbps and 100 Mbps.
Netflix will indicate the type of video quality to stream shows, which can vary from one show to another. Thus, you will know what speeds the shows require for streaming to offer you the best viewing experience.
The Amount of Data to Use for Streaming or Downloading
The Netflix App is readily available on Android and Apple mobile phones, which you can download for free. You can still log into your account and enjoy your shows even when you are not near your TV.
Additionally, you can download your content and watch it later. Therefore, even when you run out of mobile data, you can still watch your shows on your mobile phone.
Netflix has set several recommendations for using your mobile data for streaming, depending on the time spent and video quality. Each device will use the set amount of data even if multiple devices are on the same data plan.
Netflix indicates that you will need 1 GB of data per device for one hour of streaming SD-quality videos. For HD and UHD content, you will need 3 and 7 GB of data, respectively, per hour for each device.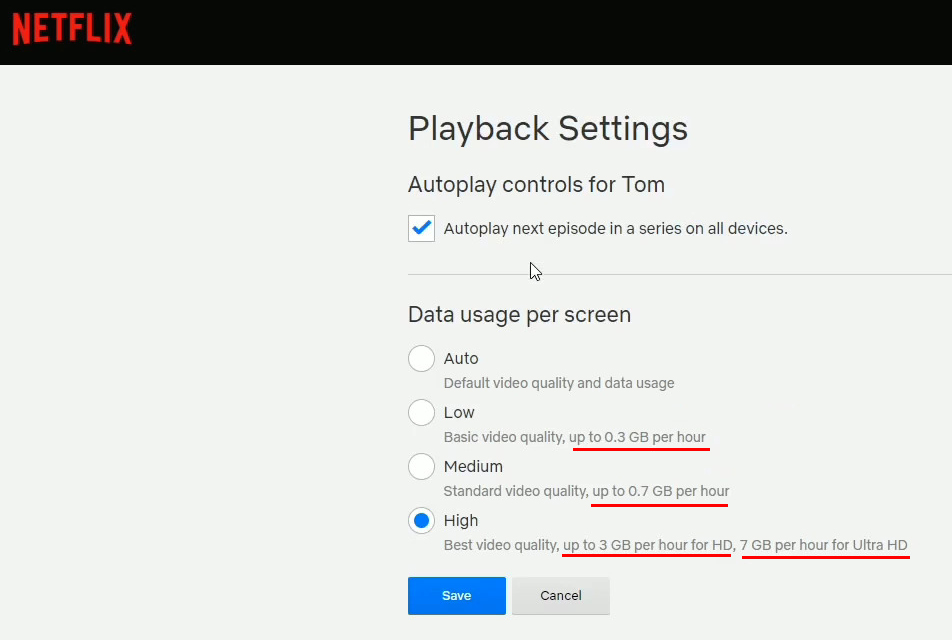 Additionally, Netflix offers data-saving settings on the app to minimize data usage while providing good quality videos. Therefore, you will no longer worry about using too much data to watch the latest shows on your mobile phone.
It is important to note that using hotspots will use up more of your mobile data than using data directly. Unless your network carrier offers extra data to use hotspots, save more data by avoiding turning on your hotspot.
Since streaming and downloading data use the same amount of data, you will apply the data saving settings on both. The data saving settings are necessary if you have a limited data plan which attracts charges for passing data limits.
Streaming UHD content on your mobile phone will not be necessary, which requires more data from your plan. You can save data by navigating the data saving settings on your app using the following steps:
Go to the Menu on your Netflix app
Navigate to Settings and select Cellular Data Usage
Then, select the option you would like from the four alternatives, which are:

Wi-Fi Only

,

Automatic

,

Save Data

, and

Maximum Data
You can also change video quality from these settings, choosing between

Standard

and

High

options.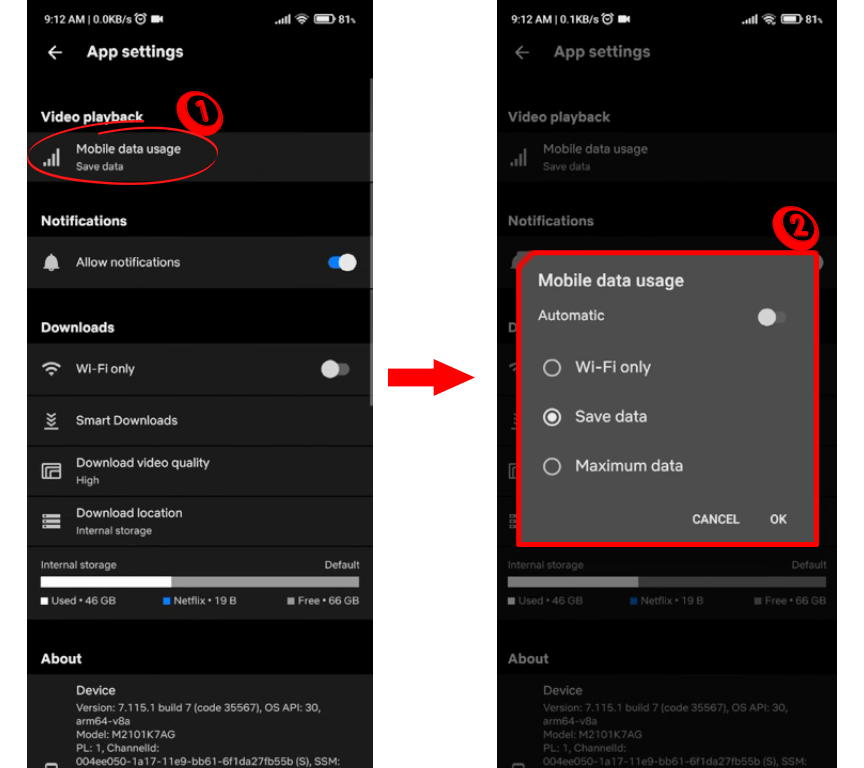 From the options, you can select the one that best suits your mobile data plan since they meet different needs. 
Wi-Fi Only

allows you to stream and download content over

Wi-Fi

; thus, you will not use any mobile data
The

Automatic

option will use about 1 GB of data for four hours of content on average quality
Save Data

option will squeeze in six hours of content at 1 GB of data, albeit at low video quality 
The

Maximum Data

option requires about 1 GB for every twenty minutes, and you will have the best video quality
Furthermore, you can save on more data by changing the resolutions of your content while streaming. Videos of high resolutions will use more data than videos of lower resolutions.
Netflix allows its users to change the playback settings using the following steps:
Log into your account and select your profile
Select

Settings

and click on the

Playback Settings

option
Choose a resolution, then click

Save

to save the changes and exit
The resolution options are as follows:
Auto

offers you the resolution that best matches your available data
Low resolution

offers you low video quality, streaming at 0.3 GB for every hour
Medium resolution

uses 0.7 GB to stream videos of SD quality per hour 
High resolution

uses 3 GB to stream HD content and 7 GB for UHD content per hour 
The playback settings will also apply when downloading your videos.
Conclusion
With Netflix being one of the leading streaming services, you may wonder how much Internet you will need for streaming. Netflix highlights the minimum amount of data and Internet speeds required to enjoy watching shows online.
However, you must consider several more factors to ensure streaming and downloading without buffering. The number of devices streaming simultaneously and video quality will directly influence how much data you use.
Netflix also offers its users data-saving settings to help save their data when using limited data plans.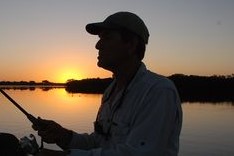 Hey, I'm Jeremy Clifford. I hold a bachelor's degree in information systems, and I'm a certified network specialist. I worked for several internet providers in LA, San Francisco, Sacramento, and Seattle over the past 21 years.
I worked as a customer service operator, field technician, network engineer, and network specialist. During my career in networking, I've come across numerous modems, gateways, routers, and other networking hardware. I've installed network equipment, fixed it, designed and administrated networks, etc.
Networking is my passion, and I'm eager to share everything I know with you. On this website, you can read my modem and router reviews, as well as various how-to guides designed to help you solve your network problems. I want to liberate you from the fear that most users feel when they have to deal with modem and router settings.
My favorite free-time activities are gaming, movie-watching, and cooking. I also enjoy fishing, although I'm not good at it. What I'm good at is annoying David when we are fishing together. Apparently, you're not supposed to talk or laugh while fishing – it scares the fishes.