In the last few years, routers have become some of the most important devices in our households. Today, it is almost impossible to imagine a modern household without a router. That's why it's important to know how to take care of your router. One of the things that must be done on the router, at least occasionally, is to reboot it.
When talking about rebooting, a question that often arises among users is how often you should reboot your network router. If you are also interested in this topic, don't miss reading this post, because you will learn some important facts related to this topic.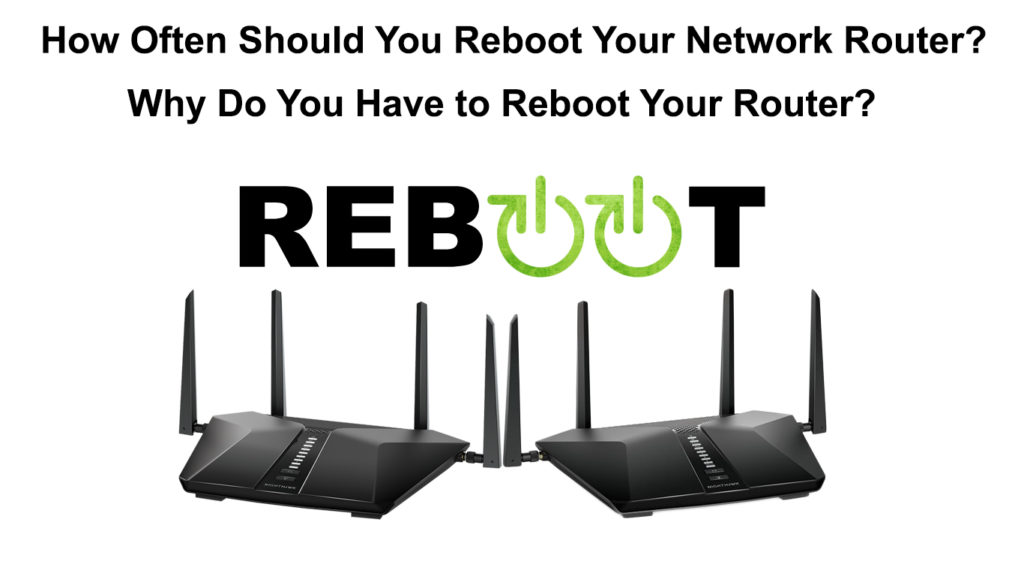 How Often Should You Reboot Your Router?
There is no precise number or answer to how often you should restart your router.
You will find various information on the Internet. Some router manufacturers advise to do it once a month, others advise users to do it once every couple of months, and so on.
What you need to know is that rebooting your router, even frequently, doesn't cause any negative consequences, so feel free to restart it whenever you suspect there's a problem with your router or your Wi-Fi.
If everything works as it should, it is enough to reset the router as a preventive measure once every two or three months.
Reasons Why it's Recommended to Restart Your Router Periodically
Although rebooting is an extremely simple procedure, it can eliminate some problems in the functioning of your Wi-Fi connection. Below are just a few of the beneficial things you can get from rebooting your router.
Fix Problems with Slow Wi-Fi Connection
You have probably had a few problems with your Internet connection in the past. One really frustrating problem is the slow internet connection.
This is the most common reason for rebooting the router. So, as soon as you notice that your internet speed is slower than usual, reboot your router. This should fix the problem and restore the connection to full speed.
Improve Network Security
Every time the router reboots, in most cases, the firmware will be updated (in case there's an update pending). It is known that every new firmware comes with new options and capabilities, many of which are related to router security and Wi-Fi network security.
Hackers, who pose a major threat to the security of your network (and you personally because they can access your personal information), can exploit some flaws in security protocols. Each firmware contains bug fixes, so you get a higher level of network security if you reboot it periodically.
Cooling the Router After Overheating
Although it doesn't happen too often, certain parts of the router could overheat, which can cause your router to malfunction.
When you perform the reboot procedure, the router turns off at least briefly, but long enough for its overheated parts to cool down.
Ways to Reboot the Router
A router can be rebooted in several ways: by turning the router off and on again manually, utilizing a router-compatible app, through the web interface of the router, or using a smart plug.
Manual Reboot
Rebooting the router manually is really simple, and even beginners can do it easily. Here are the steps to reboot your router:
First, you need to find the power cables located on the back of the device.

Now unplug the power cord.

Wait a few minutes.

Connect the power cords once again.
Pretty simple, right?
Alternatively, if your router has the ON/OFF switch, you don't have to unplug the cables – just press the switch.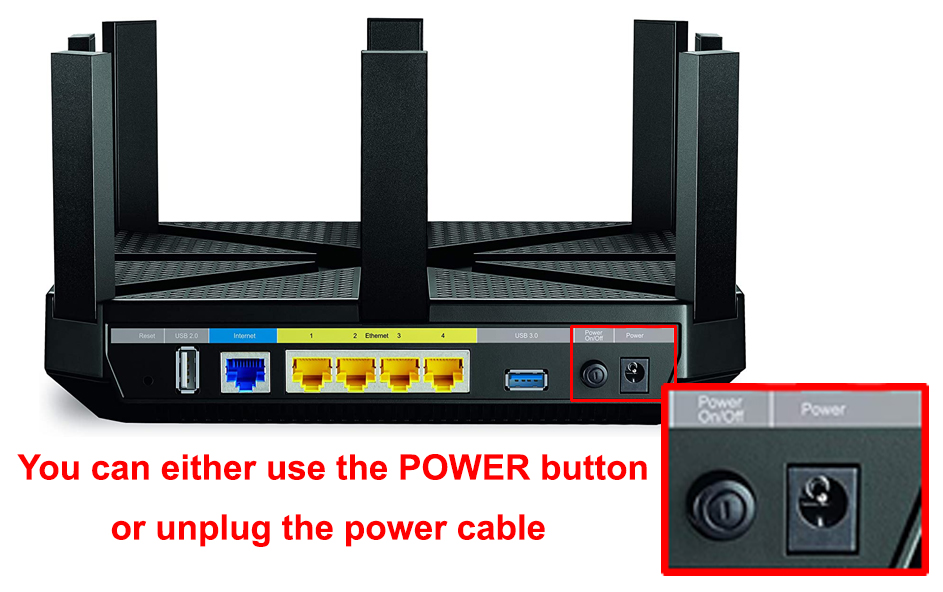 Using an App
Newer routers usually also have mobile apps that allow you to manage various settings. Usually, there is an option within the application to restart the router. This process may differ depending on the router manufacturer, and we'll show you through it using the Linksys app. Follow the steps below:
In the lower right corner, click the "Internet Slow" option.

Now, click the "Restart Your Router" option.
Here's another way to reboot the router through the app:
Select the

"

hamburger

"

symbol (in the upper left corner of the menu).

Click "Router Administration".

Select the "Restart Router"

option.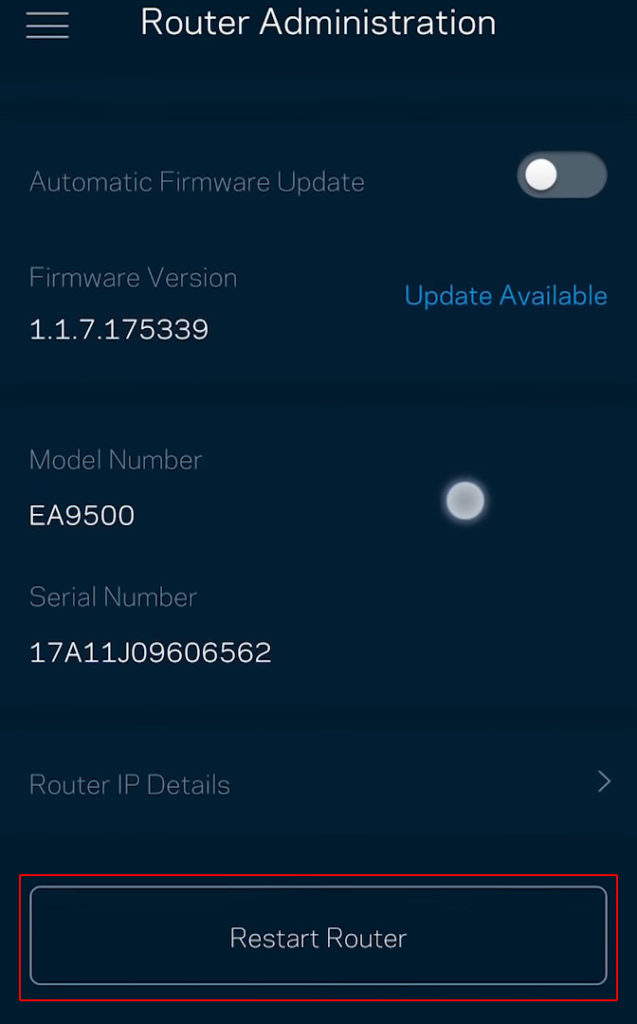 Rebooting your Linksys router through the Linksys Smart Wi-Fi app is really simple
Using the Web Interface
With a large number of routers, there is an option to reboot the router through the web interface. Of course, this procedure differs depending on the manufacturer. We will show you how to do it on the example of a Linksys router:
In your Internet browsers, enter the

router's IP address

(you can find it on the sticker on the back of the router) and press enter.
On the left, under Router Settings, select the

"

Troubleshooting

"

option.
Now, tap on the

"

Diagnostic

"

.
To restart your router, click the option that says

"

Restart Router

"

.
How to Reboot Your Router Using Smart Plug
A great thing that you can use to schedule a restart at a certain time is the smart plug. You usually get a remote with the smart plug, and there is often an application for it, so you can control the smart plug from anywhere in your household.
Recommended reading:
Thanks to the smart plug, you can set the reboot of the router at a certain time, for example, once a week or twice a month – whenever you want.
We'll show you how to schedule a router reboot using Xiaomi's Mi Smart Plug. For this procedure to be possible, you must download the Mi Home app:
Open the app, then find and click on the "Set time" option.
Click on "Start time". Now you need to set the time when you want the router to turn off, or more precisely when you want the smart plug to cut off the power supply.
A window will appear where you need to select the "Custom" option. Now set the day you want the router to turn off.
To save the changes, click on the checkmark in the menu.
Finally, you have to click on the "End time" option to set the day and time when the smart plug will start powering your router again.
Xiaomi Mi Smart Plug Setup and Review
Frequent Misconception
It very often happens among users, especially among those with less experience, that they confuse the two terms: reboot and reset. It is useful to know the difference between the two. We have highlighted for you the key facts about these two procedures, which will allow you to clearly distinguish reboot from reset:
Reboot is a very simple procedure. Whenever you have a

problem with your router

(or with other devices), it is always recommended to start with a restart. So, let's conclude – a reboot is just turning off the device from the power source and then reconnecting it. Reboot doesn't affect any custom-made configuration settings.
Conclusion
We tried to show you the most important facts related to rebooting the router, including how often you should restart your router. Choose the method that is easiest for you and feel free to reboot the router whenever you notice some interference or a problem. Also, don't forget to restart your router preventively to eliminate potential problems and improve speed and security.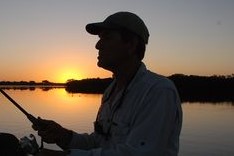 Hey, I'm Jeremy Clifford. I hold a bachelor's degree in information systems, and I'm a certified network specialist. I worked for several internet providers in LA, San Francisco, Sacramento, and Seattle over the past 21 years.
I worked as a customer service operator, field technician, network engineer, and network specialist. During my career in networking, I've come across numerous modems, gateways, routers, and other networking hardware. I've installed network equipment, fixed it, designed and administrated networks, etc.
Networking is my passion, and I'm eager to share everything I know with you. On this website, you can read my modem and router reviews, as well as various how-to guides designed to help you solve your network problems. I want to liberate you from the fear that most users feel when they have to deal with modem and router settings.
My favorite free-time activities are gaming, movie-watching, and cooking. I also enjoy fishing, although I'm not good at it. What I'm good at is annoying David when we are fishing together. Apparently, you're not supposed to talk or laugh while fishing – it scares the fishes.