The UPnP (Universal Plug and Play) protocol is enabled by default on most routers. However, UPnP is somewhat dangerous when it comes to security, and that's why it's disabled by default on many Spectrum routers.
It can also be very useful when you want to integrate a new device into your network without the extra configuration. So, this article covers what UPnP is, how to enable UPnP on Spectrum Routers, and other useful information regarding the topic.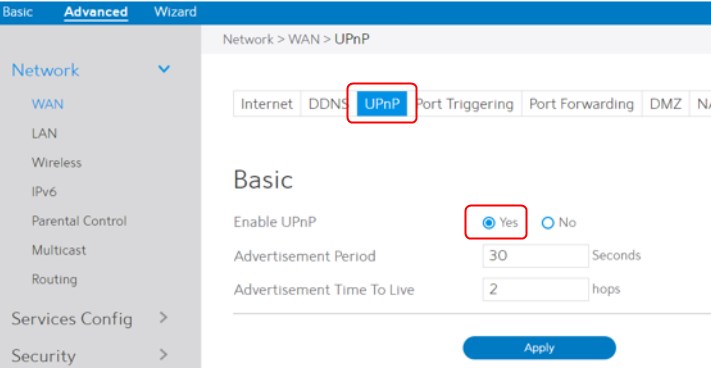 What Is UPnP?
Plug and play technology allows us to connect a gadget to our devices, such as a USB mouse or keyboard, and immediately use it. The UPnP is an extension of plug and play, and it's a group of protocols that helps residential and small business networks.
Once you connect any device such as a printer, scanner, or something similar, the UPnP allows the device to create a working configuration to connect to all other devices. That's the beauty of UPnP, but it's also something that makes it insecure. So, how does it work?
How Does UPnP Work?
The UPnP uses a group of protocols that our devices normally use to connect, stay connected, and transfer data over the network. So, the UPnP automatically provides the ID data to the device connected to a network.
Recommended reading: 
This means that the device gets an IP address, and it's now visible to the rest of the network, but we also see what the device does, if it's a printer, an IP camera, a scanner, etc. It also gives us control over the device, e.g. record a video, stop recording, pause, etc. So, it gives us ease of access to our devices. This is why we might want to enable it, and let's see how.
Enable UPnP On Spectrum Routers
If you're still interested in how to enable UPnP on Spectrum routers because you need it to make your connected devices ready to use on your network easily, follow these few steps to do it on the My Spectrum app:
In the app, you need to tap on the Services tab.
Find the Equipment section and tap on Router.
Once there, tap on Advanced Settings, and you'll see UPnP.
Select it, and then you can toggle it on and off.
Finally, go back to save the settings.
If you don't want to use the app to enable UPnP, you can go directly through most of the router's settings depending on the router you've been provided by Spectrum. So, let's look at these.
How to enable UPnP on the Sagemcom router?
The first thing you need to do is log into the Sagemcom router. You need to go to the Advanced tab from there, and you'll see the Network section. Once there, we need to select WAN, and when the third tab in the middle of the screen is UPnP.
Click on UPnP, make sure that it says Yes next to the Enable UPnP line. Next, we need to set an Advertisement Period, this is the time your router broadcasts the UPnP information, and the Advertisement Time To Live is the number of hops on the network. Click on Apply, and you'll have enabled your UPnP on Spectrum's Sagemcom router.
How to enable UPnP on the Netgear router?
Once we log into Netgear's router, we need to go to the ADVANCED tab in the interface. You'll see the section on the left pane that says Advanced Setup. Click on it. Once you click on it, you need to click on UPnP.
You need to check the Turn UPnP On checkbox. Once you do that, you can set up the advertisement period, and you can set the advertisement time to live. So, this is how you enable UPnP on Spectrum's Netgear router.
How to enable UPnP on the SMC router?
Once you log into Spectrum's SMC router, you can look at the left pane and find UPnP click on it, and you'll be able to click on Enable or Disable. After that, save the settings, and you'll have UPnP enabled on Spectrum's SMC router.
UPnP Enabled in App But Not Working
If you've enabled UPnP using the My Spectrum app, and it's not working, something probably happened during the setup. So, before you continue, try restarting the app, and just switch UPnP off and on again in the app.
The reason might be that your smartphone wasn't connected to the network when you turned it on, or there was an interference around the time you enabled UPnP. Try doing it manually through your router's user interface.
Conclusion
Now you know that what UPnP is and how it works, and you know how to enable UPnP on Spectrum routers. Before you decide to use UPnP, make sure to check with your provider whether they recommend it or not.
There's a reason UPnP was disabled in the first place. Also, if you're having issues configuring your router using the app, make sure you contact Spectrum's customer support, they might be able to help.