Seeing the Asus router Power light blinking is an issue Asus router users have experienced on some occasions. The good thing is that this issue is easy to fix and we are sure that the solutions presented in this article will help you fix the problem without the need to contact support.
However, before we start fixing the problem it is good to know what this status light actually means. The status lights on the router are a good indicator of the status of our network and connection and being able to tell what each color and behavior (solid color or blinking slowly or rapidly) is telling us.
Asus Router Power Light Blinking: What Does It Mean?
According to Asus the blinking Power light has two patterns:
When it is blinking slowly it indicates the router is in Rescue mode.
If it is flashing rapidly, it means that WPS is processing.
Now when we know this we can head in the right direction in fixing our issue.
How To Fix The Asus Router Power Light Blinking Issue?
Since most users today are not tech savvy, the good thing here is that the following solutions don't require special tech knowledge in order to perform them. Keeping that in mind, let's see what you can do to fix this issue.
Upgrade Your Router Firmware Manually
Upgrading the router firmware may sound too technical but in reality, it is pretty simple and straightforward. We'll have to do it manually just in case.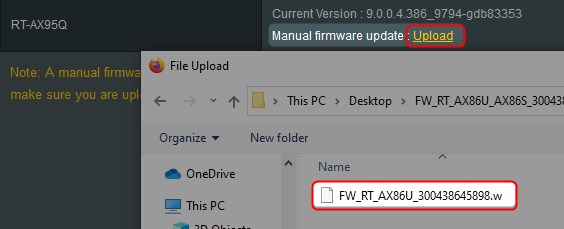 Download your firmware from the Asus official website. Use their search function, enter your router model, when you see it click on Support.
Now navigate to Driver & Utility, and then select BIOS & Firmware.
Click the blue Download button and save the zip file on your desktop.
Unzip the file.
Login to your ASUS router. We have a detailed guide on how to access the ASUS router settings.
In the left-hand menu scroll down to Administration.
Select Firmware Upgrade in the horizontal menu.
Scroll down to the Manual firmware update and click on Upload.
Select the unzipped firmware file.
The firmware upgrade process will start.
When it completes, you will see the Asus router login page and you'll be asked to login to your router again.
Enter the admin username and password and click on Sign in.
Restart Your Network
Restarting the network is a tested way to fix networking problems, including the Asus router Power light blinking. However, it is important to do it properly and in the following order:
Turn off your network modem and unplug it from the power source.
Turn off your Asus router and devices.
Connect the modem to the power source and turn it on.
Wait till the modem boots up completely. It takes approximately 2 minutes.
Now turn on the router and wait till it boots too.
Turn on your devices like PC, tablet, smartphone.
Now check whether the Asus router Power light is still blinking. If it is, move to the next step.
Restore the Firmware Using the Firmware Upgrade Utility Tool
In case the firmware upgrade fails, your Asus router will activate Rescue mode automatically and you will see the Power light blinking slowly.
If that happens you will have to restore the firmware. It is a process that uploads a specified firmware but before you use it rescue mode needs to be activated. Please keep in mind that the utility can't be used to upgrade the router firmware regularly and you shouldn't use it on a working Asus router.
Install the utility.
Launch the utility.
Select the firmware.
Click on Upload.
The process should end in 3-4 minutes.
IMPORTANT: In case you are getting an invalid IP warning you need to set up a static IP on your PC. Use the following TCP/IP settings: – IP address: 192.168.1.x (replace x with a number) – Subnet mask: 255.255.255.0 – Default Gateway: 192.168.1.1
Disable WPS on Your Asus Router
Try disabling your WPS option in the router settings to see whether it will fix the Asus router Power light blinking issue. Here is how to do it properly.
Login to your Asus router
In the left-hand navigation menu select Wireless.
In the horizontal menu select WPS.
Set Enable WPS to OFF.

Defective Router
At this point, after trying all of the solutions given in this article and the issue is still present, maybe your router has become defective. In that case we recommend investing in a new wireless router. But, to be sure it is recommended to connect another router and see whether the issue will be still present or whether it will go away. If you have this possibility, don't forget to use it.
Recommended reading:
Final Words
We hope that the solutions described in this article have helped you fix the Asus router Power light blinking issue. However, if nothing else gives results, feel free to contact support. They will guide you through the basic troubleshooting steps and help you restore your network functionality in no time.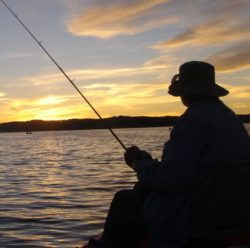 Hey, I'm David. I've been working as a wireless network engineer and a network administrator for 15 years. During my studies, I also worked as an ISP field technician – that's when I met Jeremy. 
I hold a bachelor's degree in network engineering and a master's degree in computer science and engineering. I'm also a Cisco-certified service provider. 
In my professional career, I worked for router/modem manufacturers and internet providers. I like to think that I'm good at explaining network-related issues in simple terms. That's exactly what I'm doing on this website – I'm making simple and easy-to-follow guides on how to install, set up, and troubleshoot your networking hardware. I also review new network equipment – modems, gateways, switches, routers, extenders, mesh systems, cables, etc. 
My goal is to help regular users with their everyday network issues, educate them, and make them less scared of their equipment. In my articles, you can find tips on what to look for when buying new networking hardware, and how to adjust your network settings to get the most out of your wi-fi. 
Since my work is closely related to computers, servers, and other network equipment, I like to spend most of my spare time outdoors. When I want to blow off some steam, I like to ride my bike. I also love hiking and swimming. When I need to calm down and clear my mind, my go-to activity is fishing.