Do you want to change the WiFi password on your iiNet router? Or maybe you want to set up Port Forwarding or block a device from your network? Well, this and much more can be done from the iiNet router settings.
This is why you need to learn the iiNet router login steps. By following the explanations in this article, you will be able to access the iiNet router admin dashboard and protect your router from unauthorized access and keep your personal files and data safe.

You Will Need:
A device connected to your iiNet router network either wirelessly or using a wired connection.
The default iiNet admin login IP, username and password.
What Are The Default iiNet Admin Login Details?
iiNet routers, just like wireless routers other manufacturers produce, come with default login details predefined in the factory. This makes it easy for us to access the admin dashboard and configure the router, but it is recommended to change these default values as soon as possible. These are the default login details, but you can use custom ones if the default ones have been changed.
iiNet uses different routers and modems for their customers so please check these login details based on the router or modem brand:
| Model | Default IP Address | Default Username | Default Password |
| --- | --- | --- | --- |
| TG-789 Broadband Gateway | http://10.1.1.1/ | admin | test01234 |
| TP-Link VR1600v | http://192.168.1.1/ | admin | admin |
| Smart Modem Gateway (VX420-G2H) | http://192.168.1.1/ | / | admin |
| VX420-G2V Modem | http://192.168.1.1/ | / | admin |
| Sagemcom 5866 | http://192.168.1.1/ | admin | admin |
| Nokia FastMile 5G Modem | http://192.168.1.254/ | userAdmin | check the sticker for the barcode |
How To Access The iiNet Router Settings?
Here is a step by step explanation on how to gain access to your iiNet router settings.
STEP 1 – Make Sure Your Device is Connected To The Network
If you are using a device that can be connected using the network cable like a laptop or a computer, you can plug the Ethernet cable directly to the yellow port at the back of the router. However, if your device can be connected only through WiFi you can use your wireless connection to connect it. This is very important because if the device isn't connected, the iiNet router login process will be unsuccessful.
STEP 2 – Launch Google Chrome, Firefox Or Some Other Browser
Your device has a web browser already installed on it. A web browser is necessary when you want to login to the router's admin dashboard. You can use the browser you already use on your device, but it is important to check whether the browser is updated. This will ensure there are no conflicts between the router's admin dashboard and the browser.
STEP 3 – Type The iiNet IP In The Browser's URL Bar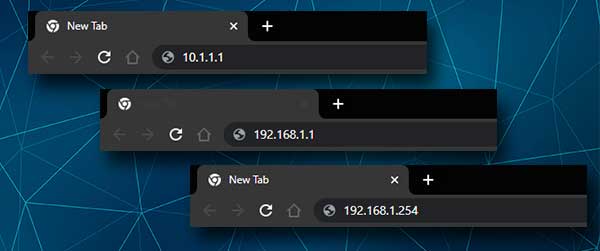 Now you should type the router IP in the URL bar. Enter the IP carefully and hit the Enter button on your keyboard. If it's the right IP you will be requested to enter a username and a password. However, if you don't see the router login page, please check whether it is the correct router IP. Also, make sure that you are typing the IP correctly (numbers and dots only) and that you are typing it in the URL bar.
STEP 4 – Enter The iiNet Admin Login Details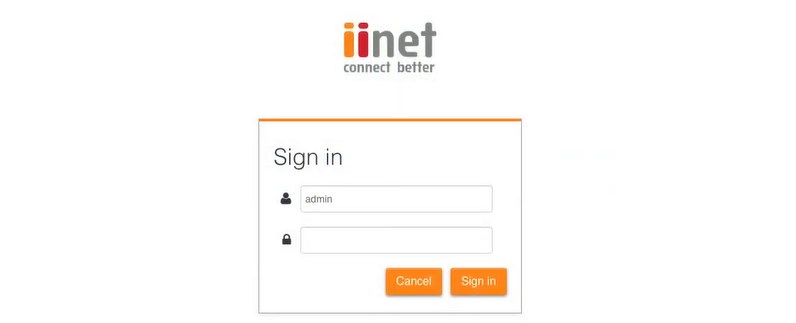 When you are asked to enter the admin username and password, please pay attention because they are case-sensitive. The default iiNet router admin username and password are already given in the table above. If you have custom admin login username and password, use them to access the router settings.
Type these login details and click on the Sign In button.
STEP 5 – You Are Logged In
If everything was correct, you should see the router's admin dashboard now. Feel free to go through the settings. Everything should be pretty clear and there should be no problems for you to find the settings you would like to modify.
Since you have accessed the router settings here are a few changes you should make in order to secure your wireless network at a basic level.
Recommended reading:
Change The iiNet Admin Password
The admin password is the first change we usually recommend and it needs to be changed when you set up your network for the first time, or immediately after that. In case you haven't changed it here is how to do it properly.
Since you have accessed the router settings, it won't be difficult to find where you can change the admin password. Depending on the router model take a look at the following:
For iiNet TP-Link routers click on Advanced, then on System tools, and finally on Administration.
If you are using the TG-789 Broadband Gateway click on Management, then in the Users list section click on Edit.
Sagemcom 5866 users should search for Access Control, and then click on User.  
In case you are using a Nokia FastMile 5G Modem click on Maintenance and then on Password.
When you reach the page in most cases you will have to enter the old admin password first. After that you will need to type in the new password and retype it again just to make sure you didn't make any typos the first time.
Don't forget to save your changes and you are done. The next time you will have to use the new admin password if you want to access the iiNet router settings.
Change The iiNet WiFi Password
In case your wireless network is unsecured it is very important to encrypt your WiFi network. This will prevent anyone from connecting to the network without your permission and stealing your bandwidth or personal files and data.
On top of everything, changing the wireless network password is something you should do every few months. Here is where you can find the necessary settings.
When you access the iiNet router settings you should see the admin dashboard.
What you need to find here is the Wireless section.
When you click on it, you should see the 2.4 and 5GHz networks. Make sure to change the network names and passwords for both of them. The network names should be different, but you can use the same wireless password.
Click on the network you want to modify. In the new panel you will see the SSID field. You can change your network name here.
Now as a Security mode select WPA2-PSK.
In the Wireless Password field type in the new WiFi password. Make sure it is a strong one.
If you see WPS on this page, make sure to disable it. It is one of the recommended security settings so make sure to apply it.
Click the Save button and you should see a message saying Changes saved successfully!
Final Words
Keeping your wireless network secured and well maintained is really important and in order to do it, you need to know the iiNet router login steps. We hope that this article has helped you access the iiNet router settings and apply the changes we have recommended. We would also like to point out that you need to save the default and custom admin login details for further use.
In case you forget the custom ones you will have to reset the router to factory settings and login with the default ones. Saving the admin login details will save you from this trouble.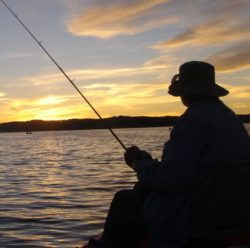 Hey, I'm David. I've been working as a wireless network engineer and a network administrator for 15 years. During my studies, I also worked as an ISP field technician – that's when I met Jeremy. 
I hold a bachelor's degree in network engineering and a master's degree in computer science and engineering. I'm also a Cisco-certified service provider. 
In my professional career, I worked for router/modem manufacturers and internet providers. I like to think that I'm good at explaining network-related issues in simple terms. That's exactly what I'm doing on this website – I'm making simple and easy-to-follow guides on how to install, set up, and troubleshoot your networking hardware. I also review new network equipment – modems, gateways, switches, routers, extenders, mesh systems, cables, etc. 
My goal is to help regular users with their everyday network issues, educate them, and make them less scared of their equipment. In my articles, you can find tips on what to look for when buying new networking hardware, and how to adjust your network settings to get the most out of your wi-fi. 
Since my work is closely related to computers, servers, and other network equipment, I like to spend most of my spare time outdoors. When I want to blow off some steam, I like to ride my bike. I also love hiking and swimming. When I need to calm down and clear my mind, my go-to activity is fishing.