If you are seeing the red light blinking on your Jio Fiber router, you have nothing to worry about. You are in the right place because this article will explain the meaning of the Jio Fiber red light blinking and also recommend several different solutions to this problem. While most of them can be done by the user, others will have to wait for the technician. However, there is something you can do to fix the issue on your own, and if nothing works, you can always ask for assistance.
So, let's begin!
Jio Fiber Red Light Blinking: What's The Meaning Of It?

In most cases the red blinking light on your Jio Fiber router means that there is an interruption in the signal somewhere, i.e. the router is not receiving a signal.
This can be because of a service outage, scheduled maintenance, a damaged fiber cable, loose cables and connectors and similar.
Some of these can be fixed by the user itself, while for others we either need to be patient until our ISP fixes the issue on their side or someone from the tech support fixes the problem.
For now, let's focus on the steps you can take to fix this issue.
Fix The Jio Fiber Blinking Red [Step By Step]
At the moment, there are not too many options, but you can still do something to fix the issue. Take your time and go through the steps one by one. Hopefully, one will fix the issue before you get to the point where you need to ask the Customer Support for help,
Reboot Your Jio Fiber Router
This is a very simple and also very effective quick-fix solution you should try whenever you experience some problems with your network.
Disconnect the router power cable from the outlet. Leave it disconnected for a minute. The router will clear its cache memory during this time. Connect the router's power cable back and give the router some time to boot up. In most cases this is enough to fix the red blinking light.
If the red light is still blinking after this step, you need to check the connections.
Check All The Cables And Connections
When we say to check the cables and connections you should pay attention to the following:

Always check both ends of the cables.
Check whether the cables are properly connected to the right ports. It is not unusual to connect a cable to the wrong port when we are moving or replacing our equipment.
Check whether there is visible damage on the cables or whether any of them is bent extremely. The fiber cable is very sensitive and unnatural bending can easily damage it which will lead to the red blinking light on the router.
Check whether the connectors are in place and firmly connected. Loose connections can cause loss of signal causing the router to behave strangely.
You can restart your router as described after you check all the cables. If you notice that the fiber cable has been extremely bent, try to replace it with a new one and see what happens.
Is Jio Down?
The red blinking light on your fiber router can be a result of a service outage or scheduled maintenance. In order to make sure this is the reason of your problem, there are several different ways to check that:
You can contact the Jio Customer Service and ask whether there is an outage in your area.
You can visit Downdetector.in or other similar sites and see whether other users are experiencing similar problems.

If you get a confirmation that there is an outage or Jio tech teams are maintaining the network, then you need to wait till they get it fixed. Normally, they are working on fixing it as soon as possible, so we really don't expect to wait too long until the connection is up and running again.
Contact Support Via The Jio App
Although we can't say that contacting the support is a quick-fix solution, it is still something we can do in order to get rid of the red flashing light on our Jio Fiber router.
The Jio App offers several options when it comes to getting in touch with support.
When you install the App and sign in you need to fix the Jio Care icon. When you click on it you will see all the available contact options so choose one of them: You can browse through the Frequently asked questions and try to find an answer to your issue. You can also use the Chat option to get assistance over chat by one of their executives. You can also choose the Call Now option to call customer care and finally, you can choose the Service request. It is a good way to ask for assistance in fixing the issue, and you can also track the status of your request.
Recommended reading: Jio Fiber Router Login And Basic WiFi Network Security
Final Words
We certainly hope that some of these solutions have helped you fix the Jio Fiber red blinking light, before contacting the support. Although some users can't say that their customer support is top notch, it is still an option, even if you have to go to the local Jio service center and give them the service request number and your registered mobile phone number.
We know how important it is to have a working internet connection these days so make sure to remember these steps the next time you run into some issues with your connection.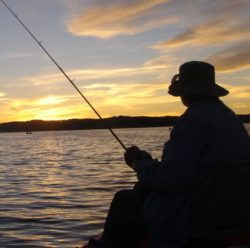 Hey, I'm David. I've been working as a wireless network engineer and a network administrator for 15 years. During my studies, I also worked as an ISP field technician – that's when I met Jeremy. 
I hold a bachelor's degree in network engineering and a master's degree in computer science and engineering. I'm also a Cisco-certified service provider. 
In my professional career, I worked for router/modem manufacturers and internet providers. I like to think that I'm good at explaining network-related issues in simple terms. That's exactly what I'm doing on this website – I'm making simple and easy-to-follow guides on how to install, set up, and troubleshoot your networking hardware. I also review new network equipment – modems, gateways, switches, routers, extenders, mesh systems, cables, etc. 
My goal is to help regular users with their everyday network issues, educate them, and make them less scared of their equipment. In my articles, you can find tips on what to look for when buying new networking hardware, and how to adjust your network settings to get the most out of your wi-fi. 
Since my work is closely related to computers, servers, and other network equipment, I like to spend most of my spare time outdoors. When I want to blow off some steam, I like to ride my bike. I also love hiking and swimming. When I need to calm down and clear my mind, my go-to activity is fishing.