Wi-Fi network use has become more convenient than a luxury, prompting network companies to improve their products. Therefore, major companies must meet customers' needs and regularly keep up with new technology.
With many companies introducing Wi-Fi mesh network systems, there have been significant advancements in the provision of Wi-Fi networks. Such a system ensures great connection and fast speeds in all corners of your house or office.
This article will highlight Luma Wi-Fi as a good example of Wi-Fi mesh network systems you can use for your convenience.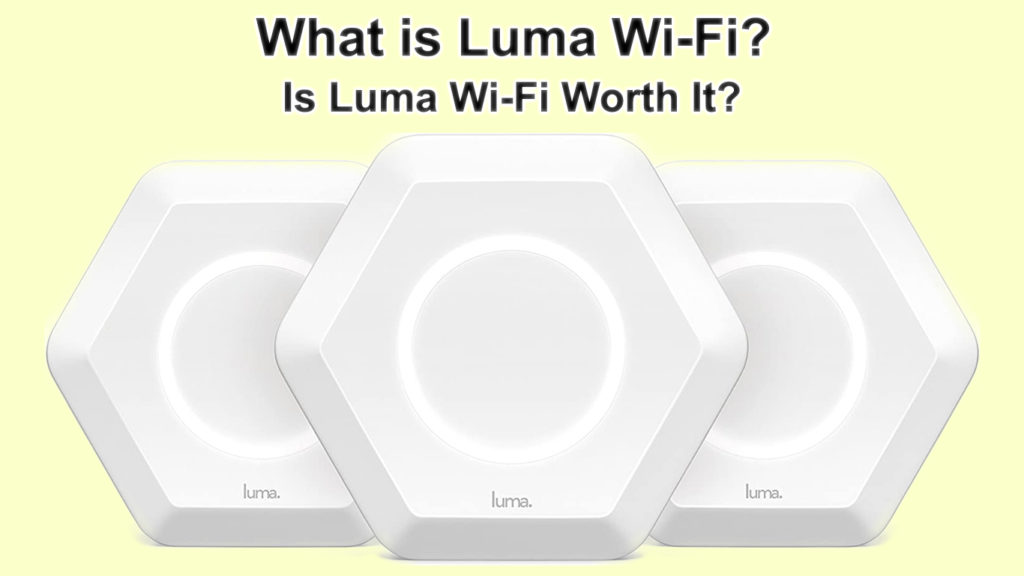 What is Luma Wi-Fi? 
Luma was a company initially set up by two founders, Mike Van Bruinisse and Dr. Paul Judge, in 2014. The two were working in the cybersecurity field but in different firms.
The founders saw a massive gap in consistent Wi-Fi quality that they would fill by introducing Luma Wi-Fi. However, they sold the company to Newell Brands in 2018 for unclear reasons. 
Even though Luma Wi-Fi ran its course for a short while, it brought about remarkable improvements to Wi-Fi networks. Its main selling point was mesh Wi-Fi network technology, a cheaper alternative to improve network connection.
Recommended reading: What Is Wi-Fi Direct Printing? (Wi-Fi Direct Printing Explained)
This form of technology was only available to large companies and corporations. However, Luma has ensured that many enjoy this technology, even in their homes.
Mesh networking technology works by extending the network signal from the router or modem to further parts of the house. It does not compromise signal strength and maintains proper connection by using nodes that attach to the main router.
Using traditional range extenders cuts signal strength by half while using a cable to extend Wi-Fi coverage is more expensive. Therefore, the Luma Wi-Fi network mesh system works to eliminate such problems, offering a more convenient solution for a Wi-Fi network.
Introducing Luma Surround Wi-Fi
How Does Luma Wi-Fi Work?
Luma Wi-Fi uses several devices which work together to form a complete network system in a given setting. The most common package of Luma is a three-kit pack that contains one central router and two nodes.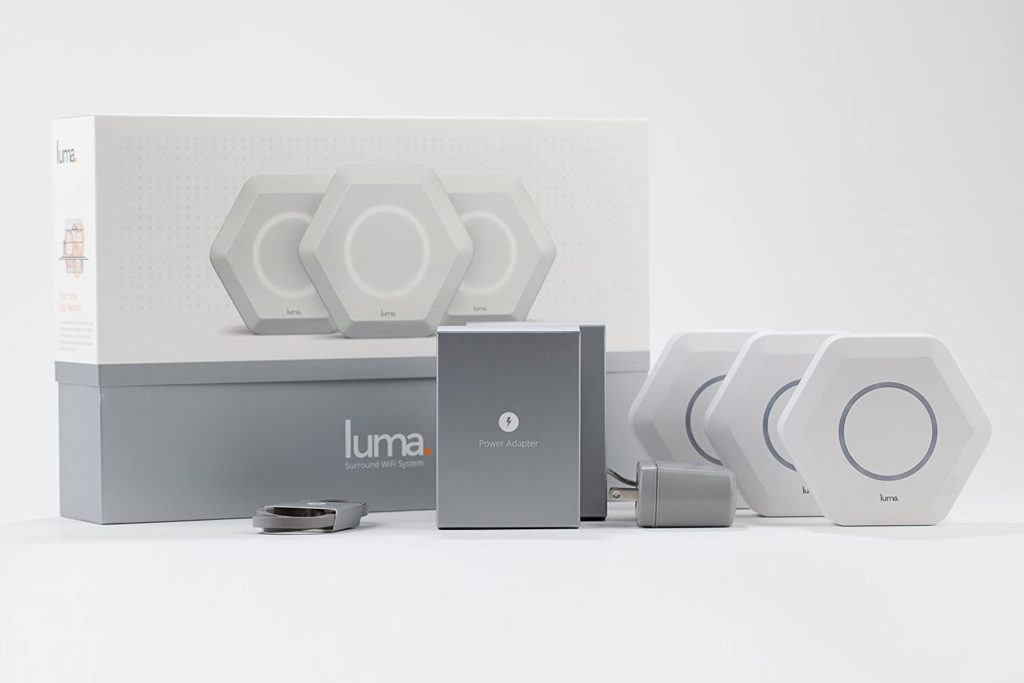 The main router connects to the modem from your Internet Service Provider through an Ethernet cable. Then, the other nodes connect to the main router or each other through the Luma app on your smartphone.
Depending on how far you would like to extend your signal range, you can add several more nodes. Therefore, there will be minimal signal interference from obstacles such as walls.
Recommended reading: What is VZW Wi-Fi? (Do I Want VZW Wi-Fi Calling ON or OFF?)
Additionally, if one node fails, it will not affect the system's performance or the signal strength within the network. It is a great advantage of using Luma Wi-Fi over more traditional forms of Wi-Fi.
You will need the Luma app to set up your network since the app assists in configuring the network settings. The app is available on Android and iOS, and you can connect to Luma devices via Bluetooth or Wi-Fi. 
Setting Up Luma Wi-Fi Using the Luma App
You cannot access these settings any other way, such as using a web browser; thus, the Luma app is paramount.
Therefore, it is necessary to set up a Luma account to offer you help and support for your Wi-Fi network. The account requires you to fill in some information that makes setting up the devices in your household easy.
Once you set up your Luma Surround Wi-Fi, you can fully control your network through your mobile phone.
Advantages of Using Luma Wi-Fi
Luma Wi-Fi has great features which improve the customer experience while using the Wi-Fi network system. Some of its main advantages include:
Luma supports gigabit speeds while using Ethernet, and it has two Wi-Fi bands, that is, the 2.4 GHz and 5 GHz bands. The 2.4 GHz band offers speeds up to 400 Mbps, while the 5GHz band provides speeds up to 867 Mbps.
Therefore, the network will choose the best Wi-Fi band to connect to a device at any given point. However, you cannot choose a specific bandwidth to connect to your device.
Voice Commands through Alexa
The Luma Wi-Fi mesh system integrates Amazon's Alexa, which allows you to use the voice command feature. Therefore, you can perform specific tasks such as pausing the Internet on particular devices or prioritizing devices.
Voice commands offer someone convenience in adjusting these settings without going through your phone. 
Alexa Meets Luma Wi-Fi
Luma Wi-Fi has a distinct in-built feature known as Network Secure, one of its main selling points. The security feature can alert you or automatically block any malicious activity on your network.
Therefore, while using your app, you will control and monitor any activity on your network to protect it from malware. 
You need to set up a Luma account through the Luma app on your phone while setting up your network. The app will help you place your network devices in your house for better connection.
The mobile app will also make other settings changes without any hitches. Thus, the network is easy to set up without having significant complications.
Additionally, the router's compact design and the nodes allow easy movement within the house. The devices are not heavy and do not occupy much space, saving you time and energy while setting up.
Also, you do not have to use other nodes in your Wi-Fi system for it to work. You can only connect the main router to the modem to complete your network system.
Once you connect the main router to the modem, the remaining nodes connect to the router. Therefore, you will minimize the use of ethernet cables which can be messy and more expensive.
The main aim of Luma is to offer incredible Internet speeds using mesh network technology at affordable prices. The company made it possible for households to have such an elaborate technology without paying extra for traditional range extenders.
Luma beats other competitors since it offers lower prices than other companies. Luma offers the same features without the consumer paying extra; hence, it is an excellent option for many.
With Luma, you can filter and restrict online content on several levels, acting as parental control. The levels are: unrestricted, R-rated for adult content, PG-13, PG for parental guidance, and G for general audience viewing.
Therefore, it will be easy to monitor content on the devices in the entire network or on a few devices. However, you will not be able to block out specific websites, which only works if they pose a security threat. 
Disadvantages of Using Luma Wi-Fi
Despite having many advantages, there are a few disadvantages you will need to look out for during use. Some of the main disadvantages are:
The Luma app has very few options to manage and control the Wi-Fi network system. Its menu has a few basic options that restrict other configuration settings, such as selecting a Wi-Fi band.
Therefore, you can only control the devices on your network, use parental controls, and set up a guest network.
The Minimal Range Between Nodes
The nodes need to be set up between 30 to 40 feet from each other to maintain high speeds. The further the nodes are from each other or the main router, the slower the speeds get, affecting network performance.
Therefore, you should set up the nodes closer to the main router to improve speeds even when extending signal strength. 
Challenges Concerning the Product
Since Luma now operates under a new name, First Alert, consumers must foresee several challenges after the sale. Newer products from the new company may not necessarily match older products still in the market.
Therefore, you might experience difficulties maneuvering through the significant company changes, especially with customer care. 
Minimal Options for the Luma App
The Luma app can only work on a smartphone that runs on Android and iOS. Therefore, it limits the devices you can use to access your network settings.
The app is not available even on Windows or Mac, and you cannot access any settings from a web browser. Thus, you cannot control more advanced features in your network.
Luma App Feature Overview
Is Getting Luma Wi-Fi Worth It?
Luma got into the market with high hopes of introducing great features to all its consumers. Their primary purpose was to bring mesh network systems to all households at an affordable price.
Since the two co-founders were into cybersecurity before creating the company, they also brought about massive improvements to network security. Therefore, the network has a remarkable and unique security feature that prevents hackers from causing harm by spreading malware.
However, the founders sold the company due to several uncertain reasons, including a lack of a foothold in the market. The sale has brought about several challenges, such as integrating older products with newer ones. 
So, is Luma Wi-Fi worth it? Maybe not, mostly due to the better overall performance of other mesh network systems made by prominent companies, such as Google Wi-Fi and Orbi by Netgear.
Also, many of its competitors offer much cheaper prices currently and better features for a wireless mesh network in households. Thus, many companies offer better customization settings and better operation in a mesh network system.
Therefore, we think it's not worth getting the Luma Wi-Fi system now when there are so many other options to choose from. Unless you are looking for a system with a moderate connection, it is advisable to keep your options open.
Conclusion
Luma Wi-Fi came into the market scene to revolutionize the use of mesh network systems, making it available in households. Even though the company had a run of four years, it brought about an excellent product for consumers.
The Luma Wi-Fi system is easy to set up and manage through the Luma app available for Android and iOS. All you need is your Luma account for controlling devices in your network and activating parental controls.
Despite several downsides of the product, Luma Wi-Fi remains one of the best mesh networks of its time.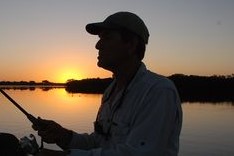 Hey, I'm Jeremy Clifford. I hold a bachelor's degree in information systems, and I'm a certified network specialist. I worked for several internet providers in LA, San Francisco, Sacramento, and Seattle over the past 21 years.
I worked as a customer service operator, field technician, network engineer, and network specialist. During my career in networking, I've come across numerous modems, gateways, routers, and other networking hardware. I've installed network equipment, fixed it, designed and administrated networks, etc.
Networking is my passion, and I'm eager to share everything I know with you. On this website, you can read my modem and router reviews, as well as various how-to guides designed to help you solve your network problems. I want to liberate you from the fear that most users feel when they have to deal with modem and router settings.
My favorite free-time activities are gaming, movie-watching, and cooking. I also enjoy fishing, although I'm not good at it. What I'm good at is annoying David when we are fishing together. Apparently, you're not supposed to talk or laugh while fishing – it scares the fishes.