Look, like every other machine you have ever bought, MacBook fumbles every now and then. So, if after connecting to Wi-Fi your MacBook isn't instantly hooking you up with your favorite complaint forums or Twitter, then let's hurry and try all the methods listed below one by one. Hopefully, one of them will work for you and you won't have to call your ISP.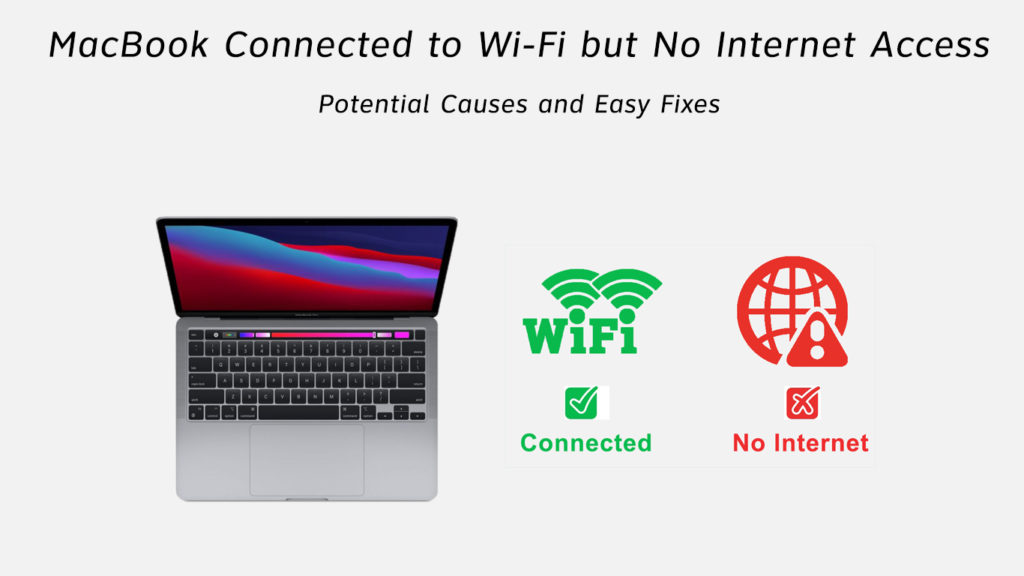 Basic Things First
Before we bring out the big guns, let's just check the basics first. Maybe those basic troubleshooting steps will solve the no internet issue for you, and you won't have to read the rest of the article.
Check if

the power is out

. Also, check your fuses.

Maybe try

turning your MacBook off,

and then wait a couple of seconds before restarting it. Sometimes, a simple restart solves all the problems.  

Check if all the

cables

going to and from the modem/router are

connected properly

, if in doubt, pull them out, wait a bit, and then plug them back in.

Turn off your MacBook's Bluetooth

– see if that helps

Go to your

system preferences > Sharing

and see if

Internet Sharing

is disabled or not. If it's disabled, enable it.

Here is another possible solution – go to your

System Preferences > Software Update > Update Now

. if there are any updates available, install them and see if that solves the

no internet issue

Remove any connected external accessories

like a wireless mouse, keyboard, dongles, etc. See if doing this helps with your no internet situation.
If none of them are working, let's just start with weeding through the possible solutions. Hopefully, one of the following solutions will work. 
Internet Service Subscription
Maybe you didn't recharge your subscription (in case you are using prepaid internet). Maybe there is an outage in your entire area. 
If everything seems fine on your end, check with the app or support team of your internet provider company.
If you are in a place where there are too many free/open or known Wi-Fi networks, then your Mac may be connected to the wrong network with no internet in it. To check this issue, click the Wi-Fi from your top menu bar, and see if your Mac is connected to the right network.
If you use macOS Big Sur or later, then look for the Wi-Fi icon inside the macOS control center.
If there is an exclamation mark then there is no internet for you to use there, connect to another network. Then try the 3rd step.
Disconnecting and Reconnecting to Wi-Fi
Click on that Wi-Fi icon from the top menu bar while pressing the option key. Ok, now click on Disconnect. After a few seconds reconnect to this network or to some other known network.
Turn Wi-Fi Off and then On
Click that Wi-Fi icon from your Mac's top menu bar/Control Center. Turn off the Wi-Fi, wait at least 15 seconds, and then turn it on again. Once your Mac is connected to the right network, things should work fine again.
Check Wi-Fi Router and Cables
Yeah, we've just talked about it in the preliminaries, but here is more to that point. Press the power button on your router, wait a whole minute, and press it again.
Second, see if all the cables are attached perfectly to the modem/router.
If you are using an Ethernet connection, make sure that your Ethernet cable is connected properly to your Mac's Ethernet port (or to the Ethernet adapter).
You'll probably have to check the status of your Wi-Fi, Ethernet, or iPhone USB connections. Follow these steps:
Go to

System Preferences

Select

Networks

In there, for a network, seeing a green-colored dot means things are fine

If there is a yellow dot, then the network is active but your Mac is not connected to it. In that case, try disabling other networks or turning that network off

If there is a red dot, then it is either not set up or not connected. 
Remove Multiple Network Entries for the Same Network
If there is no internet on your Mac despite being connected to Wi-Fi, then you should consider deleting multiple entries of the same network.
Go to

System Preferences > Network

Select network you want to remove

Now, click on the

minus (-) icon

Hit

Apply
For adding a new network, you need to click on the plus (+) icon.
If you continuously swap between multiple types of connections (Ethernet, mobile hotspot, Wi-Fi) then you should try rearranging the order of networks.
Your Mac will automatically select the preferred network.
Suppose, you are alternating between Ethernet and Wi-Fi – you could set the Ethernet on top, and your Mac will look for an Ethernet connection first, even if Wi-Fi connections are available. It will connect to Wi-Fi only after it determines that there's no Ethernet connection. 
Go to

System Preferences > Network

Click on that

Three Dots Icon

(or

Settings

) from the bottom left

Select

Set Service Order

Now, drag the desired network type on top and hit

OK

Hit

Apply
Before using this one, make sure you have the password for this network!
Go to

System Preferences > Network

Choose

Wi-Fi

from the sidebar, and then hit

Advanced

From that Wi-Fi tab, select the

network

.

Now click the

minus icon > Remove > OK > Apply

Restart MacBook 

Click the

Wi-Fi

icon from the Top Menu Bar, select the Wi-Fi network, enter the password, and reconnect

This should make things all fine now.
It is weird but having the wrong Date, Time, and Location entries in your Mac could hinder your internet access.
Go to System Preferences > Date & Time
Time Zone > Set Time Zone Automatically
How to Set Date and Time Zone on macOS
If your Mac has the wrong location, you should change it.
Go to System Preferences > Security & Privacy > Privacy

Hit

Location Services

in the sidebar

Check the box

Enable Location Services
Sometimes this works, sometimes it doesn't. Let's see if it does in your case.
Close your web browser

Apple Menu > System preferences > Network

Hit

Wi-Fi,

and then select

Advanced

Click

DNS

tab

Under the DNS Server column, click

plus (+)

button

Now, Enter the IPv4 or IPv6 address for the DNS server you want to use
Examples:
8.8.8.8 and 8.8.4.4 for Google Public DNS

1.1.1.1 and 1.0.0.1 for Cloudflare

208.67.222.222 and 208.67.220.220 for OpenDNS

8.26.56.26 and 8.20.247.20 for Comodo Secure DNS
Once you have added the server, tap on OK
How to Change DNS Server on macOS
In your Mac, there is a Wireless Diagnostics Tool, it can't help solve most of your problems but it could direct to your cause of the problem! Here is how to use that –
Hold on the

Option

key and then click on the

Wi-Fi

icon in the menu bar

Select

Open Wireless Diagnostics

from the drop-down menu

You can now follow the onscreen prompts to finish the diagnostic process

If there is an error code, try searching on that online
How to Use Wireless Diagnostics Tools on macOS
The Dynamic Host Configuration Protocol allows your interconnected devices to 'talk' to one another. A problem with the DHCP server could be the reason why your internet is not working on your Mac despite being connected to Wi-Fi. Here's how to fix that (your IP address might change when you do this though)
Go to System Preferences > Network

Click

Wi-Fi

on the sidebar

Hit the

Advanced option at the bottom 

Go to

TCP/IP

tab and click on

Renew DHCP Lease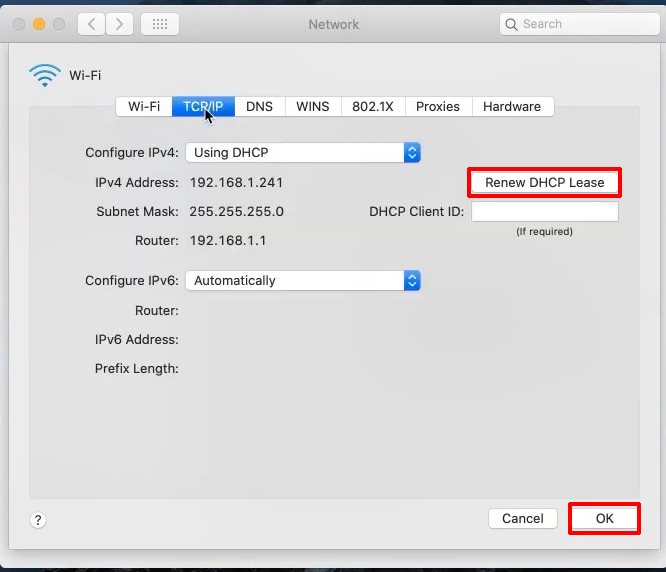 Try Creating a New Network Location
The network location is set automatically by your Mac, but if there is an error with that, here are the steps to fix it:
Go to

System Preferences > Network

Open up the

Location

drop-down menu from the top window

Select Edit

Locations…

and use the

Plus (+)

button to add a new one

Click

Done

and

Apply

 
Many websites or apps ask you to install profiles, but bad ones in them can affect your Mac processes and could lead to no internet access issues.
Go

to System Preferences

and look for

Profiles

Delete Every Custom Profile

Restart Mac and Try connecting to Wi-Fi again
Reset Network Preferences (Delete Preferences)
Sheesh, this one is getting too long, but we need to give you ALL the choices before telling you to contact tech support.
If you delete all preference files related to wireless settings from the System Configuration folder, you may restore your internet connection. Don't worry about these files – they will be regenerated once you restart your Mac. 
Turn off your

Wi-Fi

Go to

Finder

Click

GO

and go to

Folder

(or use

Command+Shift+G

)

Enter the following:
/Library/Preferences/SystemConfiguration/
You can select all the plist files except for the apple.Boot.plist 

Either put these into a new folder for backup or send them to the trash

Now, restart your Mac 

Turn the Wi-Fi on, and try connecting to the Internet now. You won't be connected automatically – you'll need to enter the password. 
How to Delete Wireless Setting Preferences
This usually isn't the problem, but if nothing else seems to be fixing your issue, then you should try this one as well.
Using Spotlight or Utilities on your Mac, open up

Activity Monitor

Go to

Network

and click

Process Name

to sort all processes alphabetically 

Find and tap on

mDNSResponder

Click on that octagonal

Stop

button in the top-left corner of your window
Doing this one could be worth your efforts. Here are the steps:
Reset PRAM or NVRAM
Turn Off your Mac (

Apple Menu > Shut Down

)

Turn it on

Immediately press and hold the

Option, Command, P, and R keys

altogether

Stay like that for 20 seconds

Then release the Keys
How to Reset SMC, PRAM and NVRAM
Finally, Contact Apple Support
Yup, we have reached the dreaded contact customer support point. So, do that if nothing else seems to be working.
In Conclusion
This was all we could tell you. We are 99% sure that reading our article will help you restore internet access on your Mac. Hopefully, you won't have to go to the last resort.  Thanks for stopping by.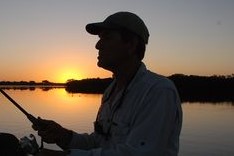 Hey, I'm Jeremy Clifford. I hold a bachelor's degree in information systems, and I'm a certified network specialist. I worked for several internet providers in LA, San Francisco, Sacramento, and Seattle over the past 21 years.
I worked as a customer service operator, field technician, network engineer, and network specialist. During my career in networking, I've come across numerous modems, gateways, routers, and other networking hardware. I've installed network equipment, fixed it, designed and administrated networks, etc.
Networking is my passion, and I'm eager to share everything I know with you. On this website, you can read my modem and router reviews, as well as various how-to guides designed to help you solve your network problems. I want to liberate you from the fear that most users feel when they have to deal with modem and router settings.
My favorite free-time activities are gaming, movie-watching, and cooking. I also enjoy fishing, although I'm not good at it. What I'm good at is annoying David when we are fishing together. Apparently, you're not supposed to talk or laugh while fishing – it scares the fishes.