Have you ever envisioned that you could stream, cast, or mirror your phone screen and watch everything on a TV screen?
Nowadays, screen mirroring and casting are perfectly normal things and almost every phone can do those things. You can now use your iPhone to view any media on your TV, even in situations when there's no Wi-Fi connection.
Fortunately, you have found the right site if you are looking for information on how to mirror an iPhone screen to a TV without a Wi-Fi or internet connection. Read this post carefully until the end, and learn how to mirror your iPhone screen to your TV.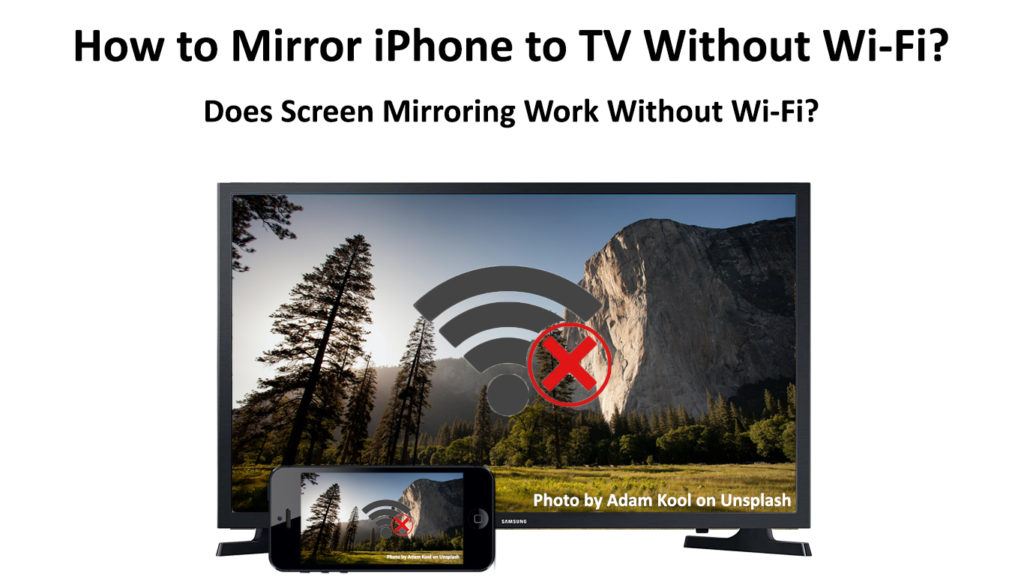 What Does Screen Mirroring Mean?
Screen Mirroring is a technique similar to screen sharing. This procedure allows your phone, tablet, computer, or laptop screen to be displayed on your TV. It is possible to perform Screen Mirroring wirelessly or using a wired connection.
Today's smartphones such as iPhone have upgraded wireless display technology, thanks to which screen sharing can be done without a single cable, completely wirelessly. Therefore, a wireless screen mirror has a great advantage over wired one, because you are not burdened by added cables.
The most common way of mirroring an iPhone screen wirelessly to compatible TVs is AirPlay.
The only equipment required to utilize AirPlay is a compatible smart TV or a wireless adaptor that can be linked to a TV. 
Many TVs, including those made by Vizio, LG, Samsung, and Sony, include built-in AirPlay 2 functionality. With simple controls that will show on your lock screen, control center, and applications, you can easily use this function to mirror your iPhone screen. However, Airplay relies on Wi-Fi.
iPhone Wireless and Wired Screen Mirroring Options
Do You Need an Internet Connection to Use Screen Mirroring?
In some cases, yes. But, luckily, not always.
If you use screen mirroring to mirror content stored on your iPhone, then you don't need an internet connection.
On the other hand, you will need an internet connection if you want to stream content on your phone (using Netflix, for example) and then cast it to your TV. 
Most screen mirroring techniques require a Wi-Fi connection, but there are always workarounds you can try. 
How Do You Mirror Your iPhone to a TV?
First, we will show you how to mirror your iPhone to TV using Wi-Fi. Follow the instructions:
Ensure that your iPhone is connected to the same wireless network as your AirPlay-compatible TV.
Start by opening the Control Center (If you use iPhone X just slide down from the top-right corner of your screen.
When the menu opens, select Screen Mirroring by tapping it.
You will get a list of available devices.

Choose your smart TV (AppleTv or AirPlay-compatible TV).
If your TV displays an Airplay passcode, you must input it on your iPhone.
When you no longer want to mirror the screen, go to the Control Center, select Screen Mirroring again, and just press Stop Mirroring.
How Can You Screen Mirror Your iPhone to TV Without Wi-Fi?
As we mentioned, there's an alternative or two if you don't want to use Wi-Fi or don't have a Wi-Fi connection.
The first one – Make use of Apple Peer-to-Peer Airplay
The second – Connecting Apple Lightning Connector and HDMI Port
Ways to Mirror iPhone to TV without Wi-Fi
Make Use of the Apple Peer-to-Peer Airplay
With the Apple Peer-to-Peer AirPlay option, you will surely be able to mirror your phone's screen without Wi-Fi. It is only important that your TV can use this feature. There are new-generation TVs such as Apple TV 4K from 2021 (second generation), Apple TV HD (fourth generation), or Apple TV Rev A third generation that support Peer-to-Peer AirPlay.
Additionally, you must use an iOS device with iOS 8 or later. In previous models, Peer-to-Peer Airplay is not implemented. With these older devices, you will only be able to mirror the screen using a Wi-Fi connection.
Here's how to do it:
Since

Airplay Peer-to-Peer

operates without a

Wi-Fi network

, it is important that both devices (iPhone and Apple TV) are disconnected from all other Wi-Fi networks. Wi-Fi has to stay enabled on both devices, but you need to forget the networks they were previously connected to. That way, you will prevent them from automatically connecting to Wi-Fi.

(Keep in mind that forgetting the network removes the password, so the device will not automatically connect to this Wi-Fi again).
The next step is to turn on Bluetooth on both devices

. The Peer-to-Peer function needs Bluetooth for devices to interact with each other. The Apple TV typically has Bluetooth turned on. However, you must confirm that it functions on an iOS device. To activate Bluetooth on an iPhone, scroll down to reach Control Center and press the Bluetooth icon.
Now switch on your

iPhone's Wi-Fi

. Although you won't utilize the

Wi-Fi connection

, this function will make it easier for the two devices to communicate. It must be switched on but you don't have to be connected.
In your iPhone's control center, the AirPlay controls will show up along with a screen mirroring. If it still isn't visible, try to put your devices closer to one another or just restart your iPhone.
When you select the screen mirroring option, your Apple TV will appear in the list of compatible devices. On the TV screen, you will find a password that you need to input on your phone. The connection will now be established.
How to Mirror iPhone to Apple TV Without Wi-Fi (AirPlay Peer-to-Peer)
Connecting Apple Lightning Connector and HDMI Port
By using an Apple Lightning-to-HDMI adapter, you can mirror your iPhone to a TV. This process is very simple, and you will have the desired outcome right away. For this connection to work, you will also need an HDMI cable. It's not wireless, but it will work.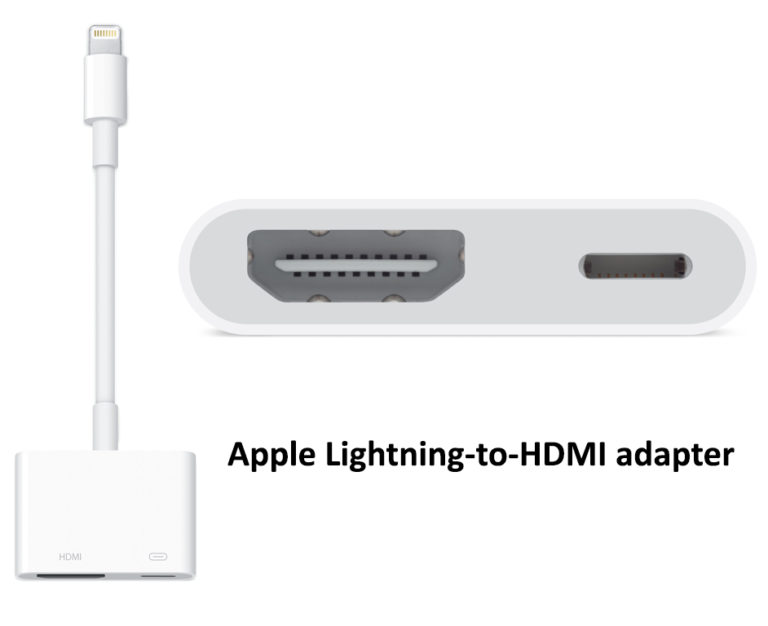 Start by connecting your iPhone to the Apple adapter. Next, connect the HDMI cable to the Apple adapter, and then plug the other end of the cable into your TV's HDMI port. Select the right HDMI source on your TV, and voila. 
Recommended reading:
The advantage of this technique is that it works with all kinds of TVs – you don't need an Airplay-compatible device. If you want to stop mirroring, you just need to unhook the cords. 
Alternatively, you may use other third-party connection cables to mirror your iPhone. However, it is advised that you use the official Apple adapter for the optimal outcome.
Conclusion
Using an iPhone and Apple's AirPlay technology, you can now watch your favorite video content on your TV. Fortunately, you can utilize this capability even if there is no Wi-Fi connection.
In this post, we have presented you with two options – one wireless and one wired. Choose the option that suits your needs and start mirroring your iPhone to TV without Wi-Fi right away!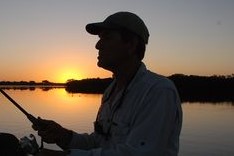 Hey, I'm Jeremy Clifford. I hold a bachelor's degree in information systems, and I'm a certified network specialist. I worked for several internet providers in LA, San Francisco, Sacramento, and Seattle over the past 21 years.
I worked as a customer service operator, field technician, network engineer, and network specialist. During my career in networking, I've come across numerous modems, gateways, routers, and other networking hardware. I've installed network equipment, fixed it, designed and administrated networks, etc.
Networking is my passion, and I'm eager to share everything I know with you. On this website, you can read my modem and router reviews, as well as various how-to guides designed to help you solve your network problems. I want to liberate you from the fear that most users feel when they have to deal with modem and router settings.
My favorite free-time activities are gaming, movie-watching, and cooking. I also enjoy fishing, although I'm not good at it. What I'm good at is annoying David when we are fishing together. Apparently, you're not supposed to talk or laugh while fishing – it scares the fishes.