Managing and securing your Net Link router is something everyone can do if he or she knows the Net Link router login steps. In the next few paragraphs we are going to tell you how to access your Net Link router settings using the default admin login details and how to apply some basic security changes to keep your network safe.
But, first let's see what you need to prepare first.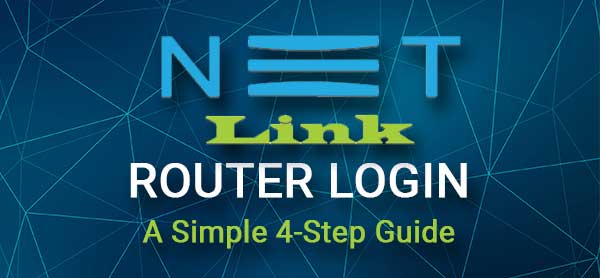 Before We Begin:
Before you start logging into your Net Link router, make sure of the following in order to make the login process smooth.
Get a computer (laptop or desktop) and a mobile device.
Connect the device to your network.
Get the default Net Link admin login details.
What Are The Default Net Link Router Details?
The default Net Link router admin login details can be found printed on a sticker on the router. Besides the SSID (Network name) and the wireless password, this sticker should have the following admin login details printed on it.
Default Net Link router IP: 192.168.1.1
Default username: admin
Default password: password
How To Login To Net Link Router?
Follow these steps to access the Net Link router admin dashboard.
STEP 1 – Are You Connected To The Network?
Your device has to be connected to the local network or accessing the router admin dashboard will be impossible. Having this in mind, connect your device either directly to the router with a network cable or connect using the wireless connection. After you confirm that the device is connected, you can continue.
STEP 2 – Launch Google Chrome
If you have Google Chrome installed on your device, launch it. If not, you can use any other web browser. The web browser helps you access the router's web-based interface. Even complete beginners won't have problems finding the settings they want to modify or configure.
STEP 3 – Enter The Net Link IP In The Address Bar

The Net Link default IP address is 192.168.1.1. Type it into the browser's URL bar and when you press Go or Enter on your device the router login page will appear, if the IP is correct.
In case the router login page doesn't appear, it is possible that you have mistyped the IP or the user is not using that IP. In that case, retype the IP first, and if it still doesn't work, find the correct IP address and try again.
STEP 4 – Enter The Net Link Admin Username And Password

When the router login page appears, you need to enter the admin username and password. So, type admin in the first field, password in the second and then enter the verification code. After that click the Login button.
If you have typed the correct login details and verification code, you should see the Device Basic Information page now.
And that's it. You have accessed the Net Link router admin dashboard successfully. Since you have full control over the router configuration now you should start by making some tweaks in the settings that will help you secure the router and the network.
These include changing the admin password and the WiFi name and password.
Why And How To Change The Net Link Admin Password?
When you change the router admin password you can be sure that you are the only one who has access to the router settings. Keeping the default admin password is a mistake, and it is recommended to change it as soon as possible. The reason for this is that the default values can be found pretty easily and then anyone who is connected to our network can access the router's admin dashboard. Here is how to prevent this from happening.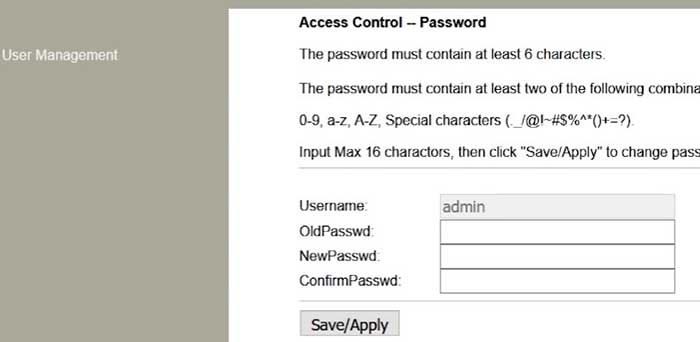 1. Login to your router as described above.
2. Click on Management in the top menu, and the User Management page will be selected automatically.
3. Enter the current admin password in the OldPassword field.
4. Now enter the new admin password in the NewPassword field and retype it again in the ConfirmPassword field.
5. Click on Save/Apply to save the new admin password.
6. You will be asked to login again to your Net Link router. Enter the new admin login details and the verification code and click on the Login button.
Why And How To Change The Net Link WiFi Settings?
Keeping the default WiFi name and password is another mistake we want to avoid. Change the network name to make it more personal and easily recognizable. And set up a new strong wireless password that will keep anyone away unless you share the password with them.
NOTE: It is recommended to change the wireless password occasionally and here is how to do it in your Net Link router.
1. Login to your Net Link wireless router.
2. Click on Network in the main menu, and then on WLAN in the sub-menu.
3. The WLAN Basic page will open automatically and you will see the SSID field. You can enter your new network name there if you want to change the current one.
4. Now click on WLAN Security in the side menu.
5. If you are using more than one network name, from the SSID Type list select the network name you want to modify.
6. As Encryption select WPA2 Mixed.
7. As Authentication Mode check the Personal (Pre-Shared key) radio button.
8. Pre-Shared Key Format should be set to Passphrase.
9. You can now enter the new wireless password in the Pre-Shared Key field.
Always make sure that the new password is strong and unique. It is best to make a combination of digits, special characters and small and capital letters.
10. And finally, click on the Save/Apply button to save the new wireless settings.
NOTE: You will be disconnected now if you have been connected over WiFi. Just login back in with the new wireless password and don't forget to reconnect your other wireless devices to the network. In case you can't connect now, please forget the network first and then try to connect again.
Recommended reading:
Final Words
We hope that the steps described in this article have helped you login to your Net Link router. Also, just changing the default admin password and the WiFi name and password will keep your network safe from most intrusions. Of course, there are some additional changes you can make to secure the network even more. You can read about that in this article.
After you login successfully for the first time, we recommend saving the admin login details that worked for you somewhere safe. This will help you access the router settings again when you need to do it. And if you forget the admin login details, a simple factory reset will allow you to login with the default login details. But in that case you will have to set up your network again and it is definitely something we want to avoid.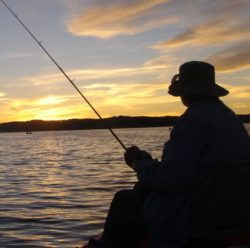 Hey, I'm David. I've been working as a wireless network engineer and a network administrator for 15 years. During my studies, I also worked as an ISP field technician – that's when I met Jeremy. 
I hold a bachelor's degree in network engineering and a master's degree in computer science and engineering. I'm also a Cisco-certified service provider. 
In my professional career, I worked for router/modem manufacturers and internet providers. I like to think that I'm good at explaining network-related issues in simple terms. That's exactly what I'm doing on this website – I'm making simple and easy-to-follow guides on how to install, set up, and troubleshoot your networking hardware. I also review new network equipment – modems, gateways, switches, routers, extenders, mesh systems, cables, etc. 
My goal is to help regular users with their everyday network issues, educate them, and make them less scared of their equipment. In my articles, you can find tips on what to look for when buying new networking hardware, and how to adjust your network settings to get the most out of your wi-fi. 
Since my work is closely related to computers, servers, and other network equipment, I like to spend most of my spare time outdoors. When I want to blow off some steam, I like to ride my bike. I also love hiking and swimming. When I need to calm down and clear my mind, my go-to activity is fishing.