Netgear has two versions of Nighthawk X6, it's the AC3200 Tri-Band Wi-Fi router and the AC3000 Tri-Band Wi-Fi router. Netgear is a good manufacturer, but as with any other excellent piece of hardware, we experience some issues.
So, we're going to discuss why our Netgear Nighthawk X6 is not connecting to the internet, how to set it up properly, the best-recommended settings for the router, and the fixes for this specific issue.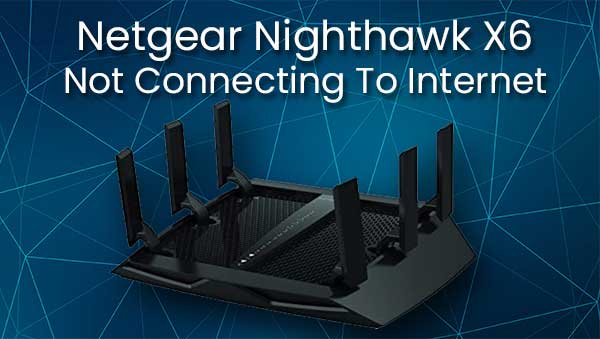 Netgear Nighthawk X6 Not Connecting To Internet – Reasons
There are many reasons a router is not connecting to the internet. It's usually something wrong with the modem provided by your ISP (Internet Service Provider), or the cable connecting the modem and router. So, the most common reasons are:
Interrupted power supply: A very common reason we're experiencing any kind of connection issue. It might be an interrupted power supply at our home, or it could be something wrong with one of our ISP's nodes.
IP conflict: Another reason a device within a network doesn't work properly is the inability to communicate with other devices within the network. This happens when we have the wrong IP (Internet Protocol) address configuration on one device.
Damaged Еthernet: Physical damage to the Еthernet cable is the usual suspect when there's an issue with no internet access between the modem and the router. We can easily check this by trying out another Еthernet cable to see if the problem is fixed.
Firmware glitch: This can happen because an interruption in the power supply occurred, and some part of the firmware update for our router didn't get downloaded and sorted. So, we need to do a factory reset to get it back to the original settings when everything was working just fine.
Netgear Nighthawk X6 Correct Setup
The correct setup of any router involves us messing with different cables and turning devices on and off. If we want to be sure that everything will work fine, we need to:
Turn off the modem first and connect the router to the modem via Еthernet cable.
Turn on the modem and wait for it to establish all necessary connections.
Turn on the router and wait for it to establish a connection to the modem.
Next, connect to the network of your router wirelessly or via Еthernet cable.
Type www.routerlogin.com or www.routerlogin.net to enter the settings page of the router. There are alternative ways to do this. You can do it via the Nighthawk app or by using the IP address of your router.
We need to type the username and the password, usually admin and password.
Go to the Advanced tab and select Setup from the left pane.
Wireless Setup is the next thing we need to click on.
From there, we need to set our network name and the password.
Finally, click Apply and everything should work perfectly.
Netgear Nighthawk X6 Recommended Settings
Now that we know the correct way to set up our Netgear Nighthawk X6, we might want to check out the recommended settings for the best functionality. However, there are two aspects of setting up a router, the router's settings and the settings on your device.
Set up the router
We need to go to our Netgear Nighthawk X6 settings page. If you're having trouble logging in using the regular method, look at a more detailed Nighthawk login guide. Once you've logged in, there are some settings we can play with.
We need to select the Wireless section on the left pane, and then we go to Mode and set the speeds to maximum. We need to save the settings by clicking on Apply. Once we do that, we can switch to the Advanced tab.
Then, we need to go to Advanced setup, and we need to select Wireless settings. We can notice the 2.4 and 5 GHz wireless bands, the 2.4 GHz band needs to have the 20/40 MHz coexistence option disabled. We can also disable the Router PIN for security.
You can also enable the MU-MIMO, the technology that splits the bandwidth into equal streams. Another thing you can do is enable Airtime Fairness. Finally, click Apply to save the settings.
Set up the connection
To set up the best functionality from our Windows device, we need to go to Settings > Network & Internet > Wi-Fi > Change adapter options. From there, we need to double-click on our wireless network.
Next, click Properties > Configure > Advanced. From there, select the Preferred band, and make sure that there's no preference. However, if you prefer using a 5 GHz band because of the speed, you can select it.
Finally, you need to set up the Roaming aggressiveness to the Highest value and the Wireless Mode to 12 – 11 a/b/g/n/ac. Click OK, and you've finished setting up the connection.
Netgear Nighthawk X6 Not Connecting To Internet Fixes
Now that we know how to set up the Netgear Nighthawk X6 and the connection correctly, we can move on to fixing the issue with our Netgear Nighthawk X6 not connecting to the internet. There are five things we can do.
Netgear Nighthawk X6 restart
As always, a good power cycle might mean the world to your router and connection. We've already mentioned the steps in the setup, but here's how you should do it. First, turn off all the devices in the network and wait for at least 30 seconds.
Second, turn on the modem and wait for it to establish a connection with your ISP. Then, turn on your router and wait for it to establish the wireless signal. Finally, turn on your device and connect to the Nighthawk X6 router.
Network reset
You can do a reset of the entire configuration of your network settings on your Windows 10 PC. All you need to do is go to Settings > Network & Internet. Scroll down, you'll notice Network reset. Click on it, and then click on the Reset now button. This should do the trick if something was wrong with your device.
Windows troubleshooter
The good old automated troubleshooter almost always does the trick. All we need to do is right-click on the connection in the bottom right corner of the screen and select Troubleshoot problems. We need to go through the prompts and everything should work out just fine.
Netgear Nighthawk X6 factory reset

Like any other Netgear router, the Nighthawk X6 also has a Reset button on the back. We need to press that button with a paperclip for at least 30 seconds. Once we let go, the router reverts all its settings to the original, and we need to enter the SSID and password provided on the router to connect to the network.
Conclusion
Now we know why our Netgear Nighthawk X6 is not connecting to the internet, and we know how to fix it. Also, we know how to set up the router and the connection for best functionality. If none of the fixes work, there might be something wrong with our ISP.
Finally, you can always contact Netgear's support to see if they can help. Then again, it just might be a compatibility issue between the router and the modem. If that's the case, we recommend getting a better modem or a different router.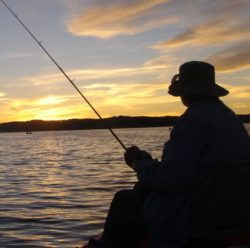 Hey, I'm David. I've been working as a wireless network engineer and a network administrator for 15 years. During my studies, I also worked as an ISP field technician – that's when I met Jeremy. 
I hold a bachelor's degree in network engineering and a master's degree in computer science and engineering. I'm also a Cisco-certified service provider. 
In my professional career, I worked for router/modem manufacturers and internet providers. I like to think that I'm good at explaining network-related issues in simple terms. That's exactly what I'm doing on this website – I'm making simple and easy-to-follow guides on how to install, set up, and troubleshoot your networking hardware. I also review new network equipment – modems, gateways, switches, routers, extenders, mesh systems, cables, etc. 
My goal is to help regular users with their everyday network issues, educate them, and make them less scared of their equipment. In my articles, you can find tips on what to look for when buying new networking hardware, and how to adjust your network settings to get the most out of your wi-fi. 
Since my work is closely related to computers, servers, and other network equipment, I like to spend most of my spare time outdoors. When I want to blow off some steam, I like to ride my bike. I also love hiking and swimming. When I need to calm down and clear my mind, my go-to activity is fishing.