When everything is working properly and there are no issues on the network you should see the internet light on your modem being lit up. Depending on the modem manufacturer, you will see this light being solid green, blue, or white. Generally, we should see it all the time. 
However, there are situations when there's no internet light on the modem. If this is the case with you, here are the most common reasons for this issue and a few suggestions on how to fix it by yourself.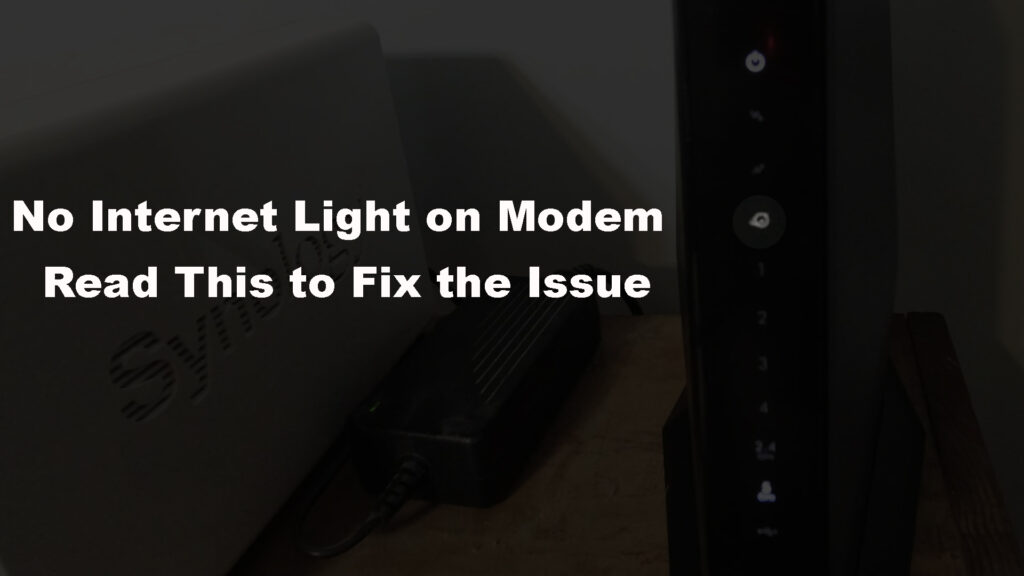 Why Is There No Internet Light on My Modem?
If you have noticed that the internet light on your modem is off, the following things might be causing this issue:
Issues with the cables and connectors
The good news is that you may be able to fix this problem by yourself by checking one reason at a time. 
So, let's get started!
No Internet Light on Modem? Try These Fixes!
Is Your Neighborhood Affected by a Power Outage?
If there is a power outage in your area, your modem will be off and the internet light will be off as well. If this is the case, you will have to wait until the power gets back. When that happens, the modem will turn on, and after it boots up completely, the internet light should be on indicating that it is connected and ready for use.
While we are talking about power issues, it would be smart to check the power cable and whether it's connected to the electrical outlet or the modem. Check the connection and fix it if necessary.
In case there is no power outage and the power cable is firmly connected, you should try the following solution. 
Problems with Your Equipment
If there is no internet light on your modem, the next step is to check your modem and wireless router. If either of these devices is not working properly, the modem may have problems connecting to the internet. 
To isolate the problem, you may have to log in to your modem and check the downstream/upstream power levels and SNR ratings. Each manufacturer publishes recommended values for their modems. If any of the channels is out of the recommended range, you will need to contact your ISP and ask them to check for problems on their end. If there're no problems on their end, the problem could be in the cabling connecting your modem to the internet.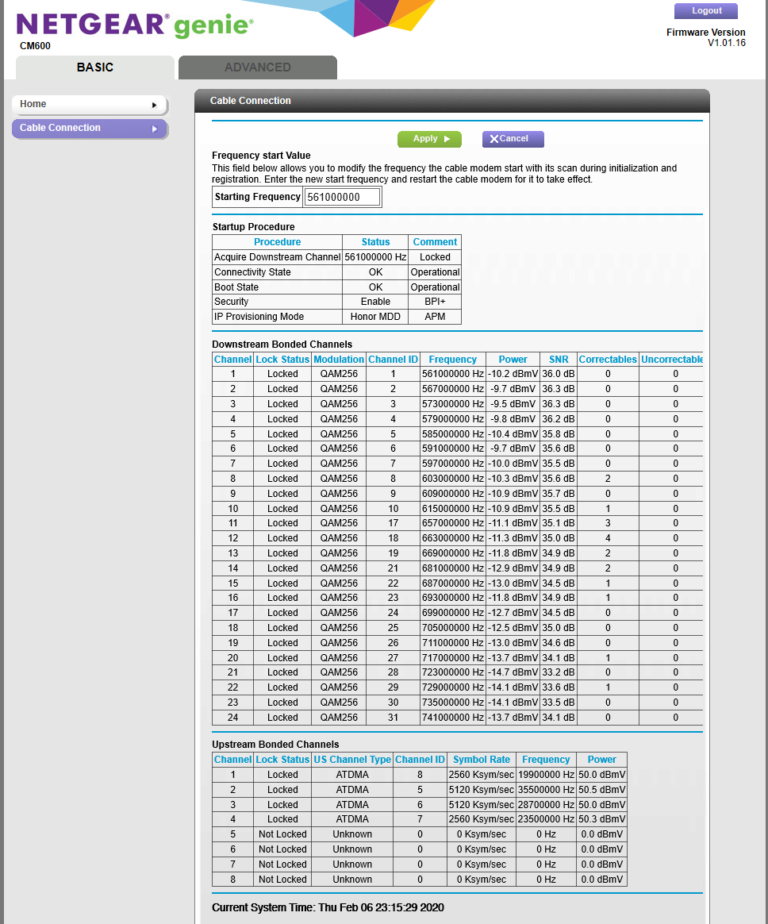 NETGEAR Modem Power Levels
The problem could also be caused by some of the settings on your modem/gateway. Because of these settings, your ISP's DHCP server may refuse to issue an IP address to your modem. Without an IP address, the modem won't be able to connect to the internet.
Is Your ISP Down?
In case your ISP is experiencing some technical difficulties or some other problems, your modem won't receive the signal and won't be able to connect to the internet. As a result, there will be no internet light on your modem.
To verify that an internet service outage is causing the problem, you can do several things.
You can visit the ISP's official website, especially their Outage or Status page. See if there are any alerts or announcements about internet outages. Some ISPs will require you to log in to your account and after that, you will see the notifications if there are any.
Alternatively, you can use their dedicated app if they have one.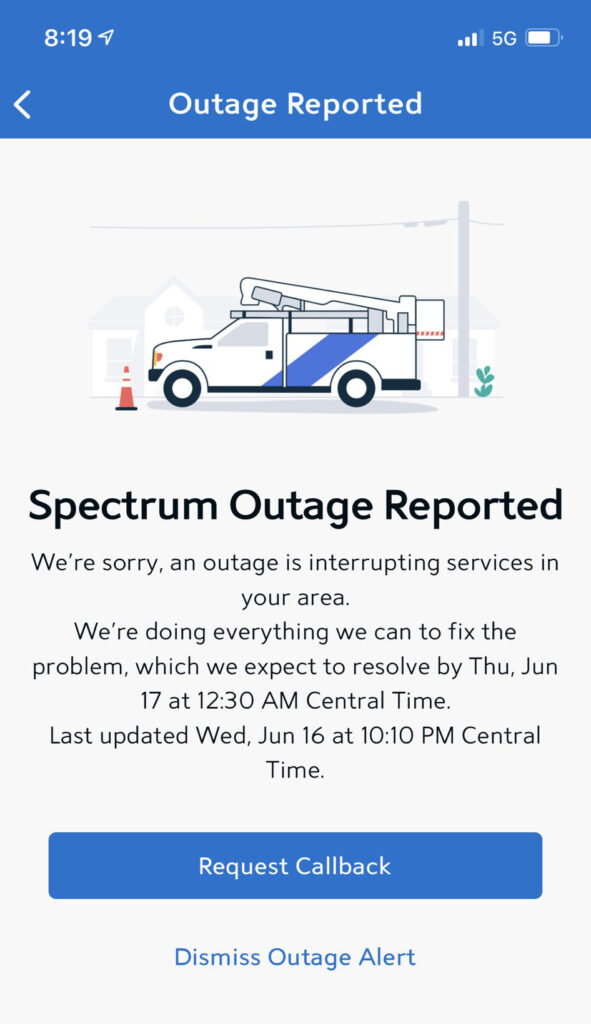 Another way to check this is to contact your ISP directly and ask them if there are any issues in your area.
Finally, you can find info about internet outages on forums or websites like DownDetector. 
If you find out that your area is affected by an outage, you will have to wait until your ISP fixes the issue. When that happens, all your services should be up and running and the internet light on your modem will be on again.
Check the Ethernet Cable
The Ethernet cable connects the modem and the router and if it's damaged, loose, or improperly connected you can expect connectivity problems, as a result, your modem won't be able to connect to the internet and the internet light will be off.
This is why we have to make sure that the Ethernet cable is properly connected to the modem and to the router. It also has to be firmly connected. You can check this by gently pulling the Ethernet cable out. If it disconnects, it means the connection was loose. 
Just plug it into the port, and you should hear a clicking sound. This indicates the Ethernet cable is firmly connected. 
Finally, check whether there is visible damage on the cable. If there is, you will have to replace it and you can expect to have the problem fixed after that.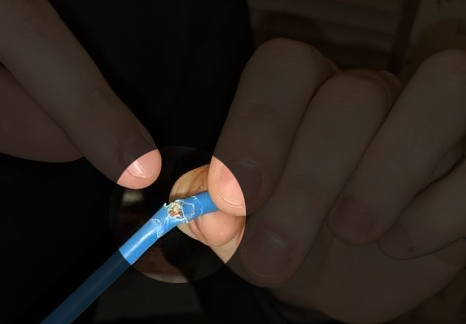 Power Cycle the Modem
Power cycling or restarting the modem is a simple and quick solution that fixes most minor networking issues. It's something you should always try when are experiencing any issues with your network.
To power cycle the modem, all you need to do is to disconnect it from the power source and then connect it again after a few minutes. During that time, the modem's cache memory should clear and resolve any conflicts that have been causing the internet light to go off.
Ask Your ISP Customer Support for Assistance
If none of the suggestions presented in this article helped you fix the issue, it is necessary to ask your ISP for help. Hopefully, they will diagnose the issue properly and fix your internet connection in no time. 
They can easily check for an outage in your area, they can check the connection to your modem, and remotely troubleshoot the issue. Finally, they can send a technician to diagnose and fix the issue.
Frequently Asked Questions
Question: Should the internet light be on?
Answer: The Internet light on the router can be labeled differently: WAN, Internet, or represented by a globe icon. Generally, this light should be on when the router is connected to the internet. Depending on whether there is an activity or not, the Internet light should be either solid or blinking. 
Question: Is the internet light supposed to blink on my modem?
Answer: While using the modem, you may notice that the internet light blinks and flickers. This indicates that data is being sent and received. You shouldn't be worried if you notice this, especially if everything is working as it should.
Question: Why are all the lights on my router on, but there's no internet?
Answer: If none of your devices can connect to the internet even though the Wi-Fi light is on, it's recommended to check whether your ISP is down. In most cases, internet outages happen because your ISP is experiencing some issues or an outage. So, make sure to check this before you start troubleshooting the issue. 
Final Words
Seeing the internet light being off on your modem can be pretty frustrating. That's why it's good to know the most common reasons for that issue. 
Knowing about common issues makes diagnosing and fixing the problem much easier. So, start by checking whether you have electrical power. Then check for internet outages in your area. Once you cover the basics, you can move on to troubleshooting your equipment and connections. You could also try restarting and resetting your equipment. 
Eventually, if nothing works, contact your ISP and ask them to help you fix the problem. We are sure they will restore your internet connection in no time.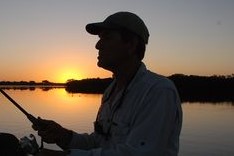 Hey, I'm Jeremy Clifford. I hold a bachelor's degree in information systems, and I'm a certified network specialist. I worked for several internet providers in LA, San Francisco, Sacramento, and Seattle over the past 21 years.
I worked as a customer service operator, field technician, network engineer, and network specialist. During my career in networking, I've come across numerous modems, gateways, routers, and other networking hardware. I've installed network equipment, fixed it, designed and administrated networks, etc.
Networking is my passion, and I'm eager to share everything I know with you. On this website, you can read my modem and router reviews, as well as various how-to guides designed to help you solve your network problems. I want to liberate you from the fear that most users feel when they have to deal with modem and router settings.
My favorite free-time activities are gaming, movie-watching, and cooking. I also enjoy fishing, although I'm not good at it. What I'm good at is annoying David when we are fishing together. Apparently, you're not supposed to talk or laugh while fishing – it scares the fishes.