If you want to experience fast and stable Internet connection in every corner of your home, we recommend the Netgear Orbi Home WiFi System. However, if you want to maintain and secure your home wireless network, it is important to know the exact Orbi router login steps.
This procedure is easy and requires no previous technical knowledge. Just follow the steps given in this guide to successfully login to your Orbi router.
Recommended Reading:
How to login to your Orbi router
STEP 1: Connect to your wireless network
As we have mentioned in our other router login guides, it is important to connect to the network first. There are two ways to do it (wired using the network cable, and a wireless one using your WiFi network). Whichever way you choose is OK, although we recommend using the wired connection. However, if you are using a smartphone or a tablet this type of connection won't be possible.
This step is also important because in order to login to your Orbi router, you have to do it from a device which is part of the network. Otherwise, it won't be possible.
STEP 2: Launch the browser on your device
The router settings page can be accessed via the web browser installed on your device. Don't let this confuse you if your Internet connection is not working properly. You are not visiting an actual website so working internet connection is not necessary.
STEP 3: Visit the Orbi router login page
When you launch the web browser you need to visit http://orbilogin.com
When you press Go or hit the Enter button on your keyboard, the Orbi admin login page will open and you will be asked to enter the default username and password which leads us to the next step.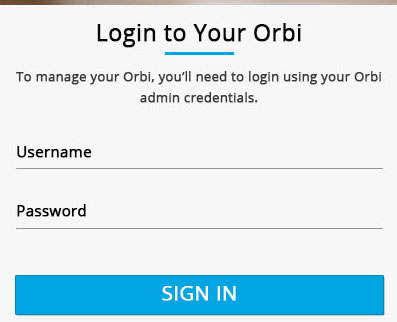 STEP 4: Enter the default Orbi router login details
The default username for your Orbi router is: admin
The default password is: password
Of course, these login details will work if you haven't changed them before. Also, they are case sensitive, so be careful when typing them.
STEP 5: Tweak your Orbi router settings!
If there were no problems during the Netgear Orbi login process you will now see the admin home page. There you can start modifying the Orbi router settings and setting up your Orbi network.
Orbi Router Admin password recovery
One of the recommended security tweaks you should do in order to secure your router and wireless network as well is to change the router admin password.
However, this puts you into risk of forgetting that admin password. Because of that it is highly recommended to enable the admin password recovery.
Note: the admin router password recovery can't be done using the Safari browser. Because of that if you need to do it use any other browser like Google chrome, Mozilla Firefox or Internet Explorer.
How to enable the Orbi router admin password recovery
STEP 1: Launch any of the browsers we have mentioned (except Safari) from a device already connected to the network
STEP 2: Go to http://www.routerlogin.net and enter the default router username (admin) and password (password).
STEP 3: When the BASIC homepage appears click on Advanced, then on Administration and finally choose Set Password.
STEP 4: At the Set Password page check the box next to Enable Password Recovery.
STEP 5: Choose two security questions and provide answers.
STEP 6: Click Apply to save the changes.
How to recover the Orbi router admin password
STEP 1: Launch any of the browsers we have mentioned (except Safari) from a device already connected to the network
STEP 2: Go to orbilogin.com
STEP 3: When the login page appears click Cancel.
STEP 4: If you have enabled Password recovery before now you will be prompted to provide answers to the two security questions mentioned above.
STEP 5: Enter the required answers and the router's serial number. You can find it on the label on the router itself.
STEP 6. Click the Continue button and the recovered password will appear in a new window.
STEP 7: Click the Login button and continue with the Orbi router login steps.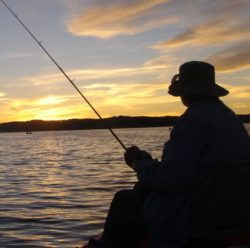 Hey, I'm David. I've been working as a wireless network engineer and a network administrator for 15 years. During my studies, I also worked as an ISP field technician – that's when I met Jeremy. 
I hold a bachelor's degree in network engineering and a master's degree in computer science and engineering. I'm also a Cisco-certified service provider. 
In my professional career, I worked for router/modem manufacturers and internet providers. I like to think that I'm good at explaining network-related issues in simple terms. That's exactly what I'm doing on this website – I'm making simple and easy-to-follow guides on how to install, set up, and troubleshoot your networking hardware. I also review new network equipment – modems, gateways, switches, routers, extenders, mesh systems, cables, etc. 
My goal is to help regular users with their everyday network issues, educate them, and make them less scared of their equipment. In my articles, you can find tips on what to look for when buying new networking hardware, and how to adjust your network settings to get the most out of your wi-fi. 
Since my work is closely related to computers, servers, and other network equipment, I like to spend most of my spare time outdoors. When I want to blow off some steam, I like to ride my bike. I also love hiking and swimming. When I need to calm down and clear my mind, my go-to activity is fishing.