Hacking is no longer a preserve for computers and mobile devices. Hackers have upped their game and are now breaking into wireless routers and cable modems. 
Their primary objective is to eavesdrop on you and steal your sensitive info. Some hackers could want to monitor or interfere with your HTTP connections and install router malware before launching an advanced attack on your network.
If you don't make concerted efforts to protect your network, your router could become an easy target for hackers, which in turn might affect your entire Wi-Fi network. 
Fortunately, this does not have to be the case. Here are the top tips on how to protect your router from hackers.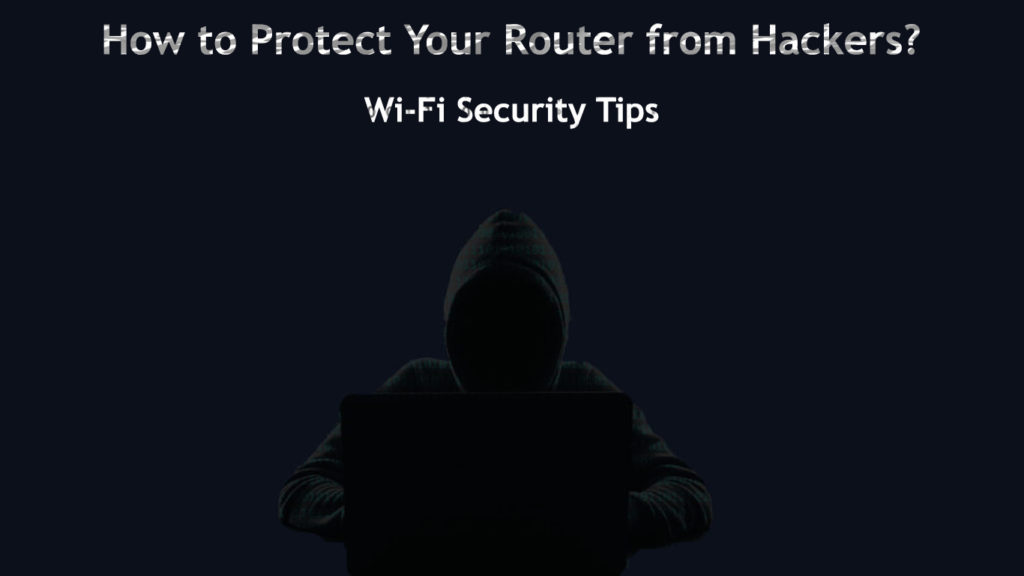 Reset Your Router
Resetting your router can help thwart a cyberattack by wiping out malicious software infections. The FBI advised consumers in 2018 to reboot or reset their routers to help prevent potential attacks from hackers.
While rebooting your router is an effective way of dealing with malware infections, a reset is the ultimate method of erasing all configurations on a hacked router, restoring your device to default settings.
Follow these steps to reset your router:
Locate the reset button on your router

Press and hold the reset button for about 10 seconds

Release the button when the indicator lights on the router blink

Allow your router to reboot

Configure your network settings afresh
Change Your Admin Password
After resetting your wireless router, the device remains vulnerable to hacking attempts since it uses a default username and password. The default credentials are usually blank, so you have to log in and change them immediately to protect your device.
Avoid using your name or your family members as a password since this is easy for hackers to decipher.
Ensure you create a strong password that is easy to remember but hard for hackers to guess. Use alphanumeric characters with uppercase and lowercase letters to change the password into something long and complex. 
Turn on Your Router's Firewall
A firewall is a piece of security software that filters incoming and outgoing traffic between your ISP, router, and computer. Turning on your router's firewall can help protect the device from hackers.
Here are the steps:
Access your router's control panel

Locate the firewall page

Select Enable

Click Save to apply changes

Reboot your router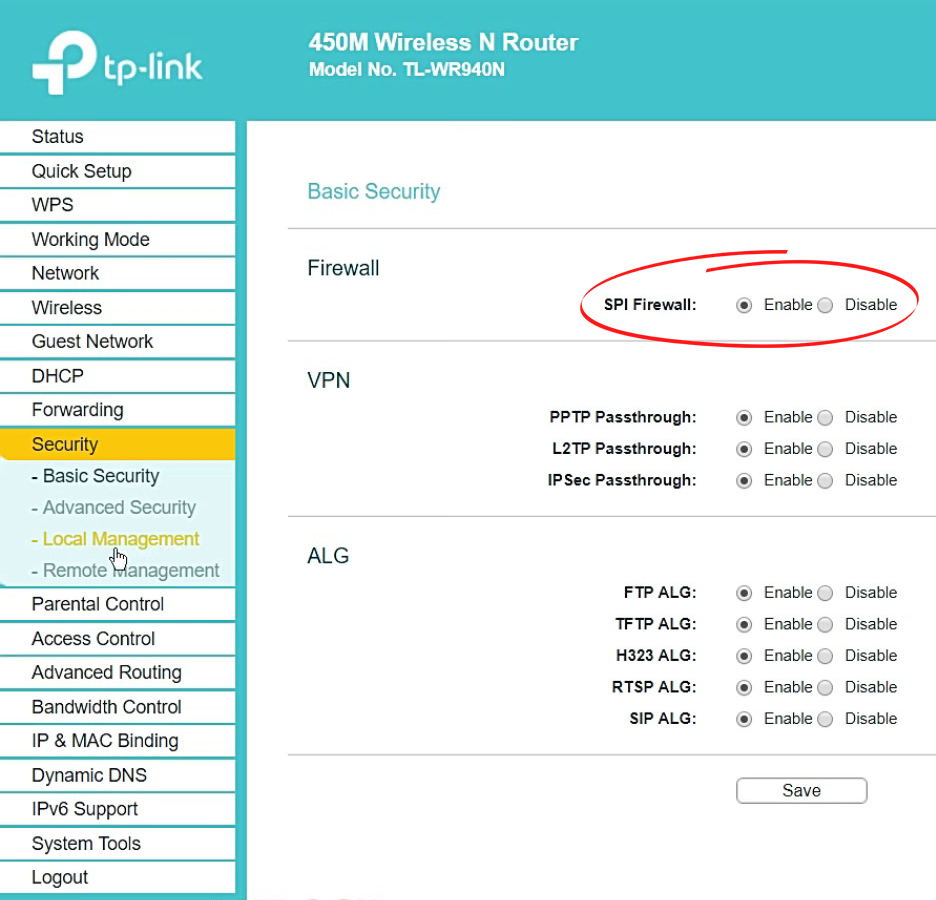 Update Your Router's Firmware
Ensure you regularly upgrade your router's firmware to protect your device from hackers. Most modern routers can download updates automatically without your intervention.
If you have an older router, you may update the router software manually. Here are the steps:
Connect your router to your PC using an Ethernet cable

Visit your router's official website and download the firmware update

Log in into your router's web interface or control panel

Select the downloaded firmware to start the update process

Allow the upgrade to complete before rebooting your router
How to Update a NETGEAR Router
Use an Encrypted VPN Service
Another way to protect your router from hackers is to use an encrypted VPN service. A Virtual Private Network (VPN) enhances your privacy when accessing the internet, ensuring hackers cannot monitor your online activities.
An encrypted VPN service encodes your network traffic and hides your location using a proxy IP address, ensuring a hacker does not spy on you. It makes it harder for them to know what you are doing online, and they cannot redirect you to a malicious website. To safeguard your online activities from hackers and malicious websites, it's important to use an encrypted VPN service – click here to learn more.
Previously, encrypted VPN was a preserve for big companies, but this is no longer the case. You can now subscribe to a personal VPN service at an affordable rate.
VPN Explained
Create a Strong Wireless Network Name
A weak network name can make your router vulnerable to cyberattacks. Hackers can easily crack your password either by guesswork or through the various hacking tools at their disposal.
Leaving your router's default network name, such as Linksys, TP-Link, or Netgear, is leeway for hackers to invade your router and wireless network. They can use rainbow tables to crack your wireless encryption without you knowing.
Recommended reading:
To protect your router, create a long and complex wireless network name to make it hard for hackers to crack. Remember to include a unique password for enhanced security.
Disable WPS Functionality
Each router has a default Wi-Fi Protected Setup (WPS) that allows you to connect to your wireless network without requiring a username and password. You only have to press the WPS button on your router to join the network effortlessly.
As you can see, WPS makes your router incredibly vulnerable to attacks from hackers. Intruders can invade and access your network without your knowledge, leaving a trail of destruction.
Consider disabling WPS functionality to protect your wireless router and network from hackers. Here are the steps on how to go about it:
Open your preferred browser on your PC

Enter your

router's IP address

to open the control panel

Select Advanced Setup

Choose Wireless Settings

Under the WPS Settings page, select disable

Select Save to apply changes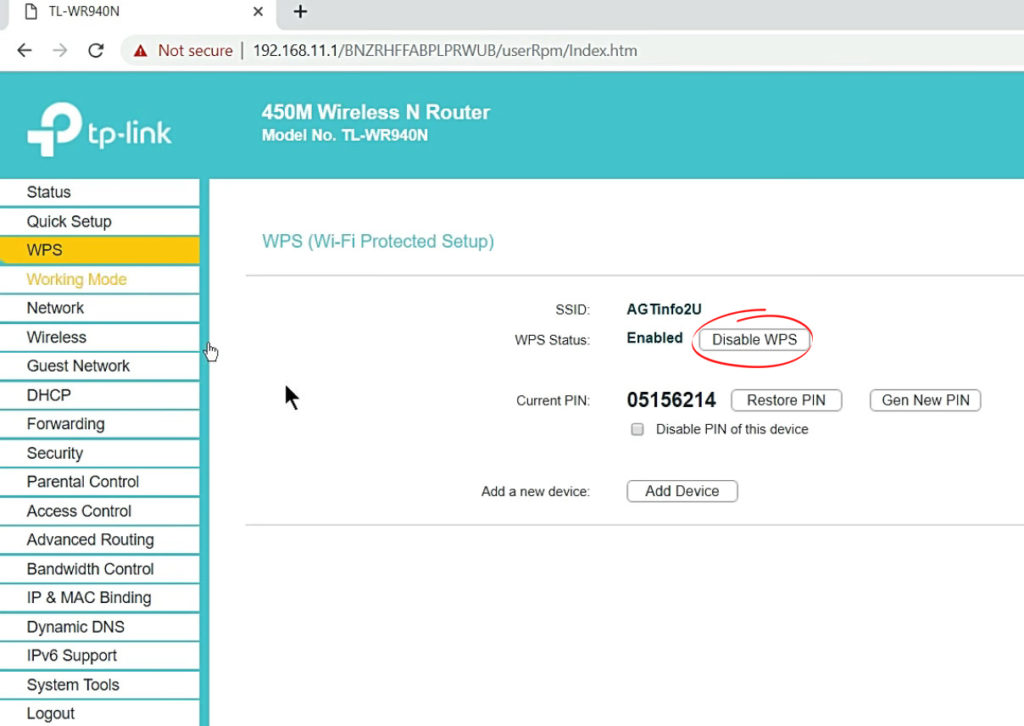 Disable Remote Access (Admin via Wireless Feature)
The admin via wireless setting allows you to connect to your router remotely. You do not have to physically present near the device to complete a connection as long as you are within range.
As much as this feature might seem cool, it badly exposes your router and network to hackers. Consider disabling remote access to ensure that only someone physically connected to the router via an Ethernet cable can access admin features.
Stop SSID Broadcast
SSID or Service Set Identifier is essentially your wireless network name. It differentiates your home or office network from other nearby networks.
By enabling SSID broadcast, your router will send your wireless network name to Wi-Fi-compatible devices within range. Exposing your network name to the public makes your router susceptible to cyberattacks.
Consider disabling SSID broadcast to protect your routers from hackers and thwart any hacking attempts. This step will prevent your router from sending your network name to other devices, subsequently enhancing your online security.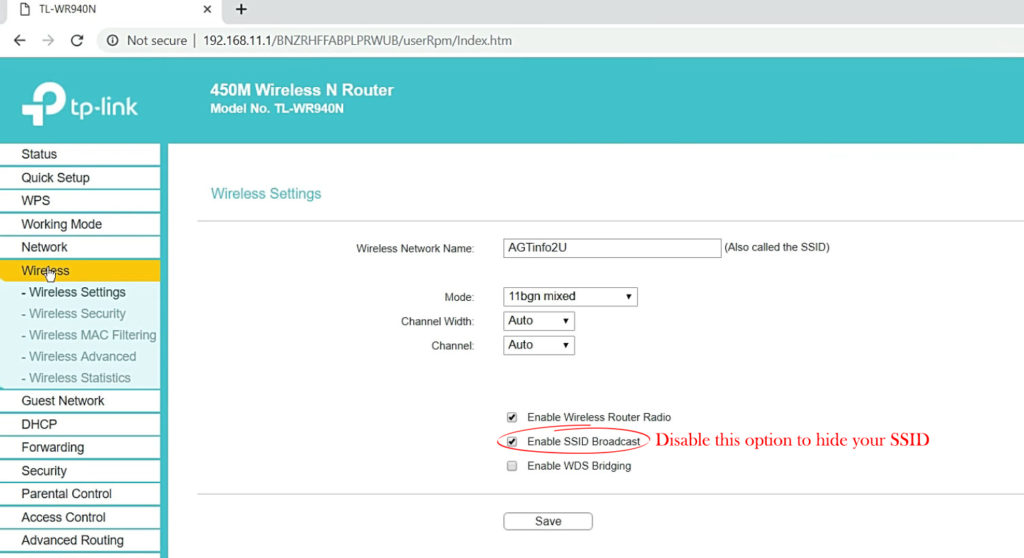 Optimize DNS Settings
Sometimes changing the DNS settings of your network can help protect your router from hackers. One of the objectives of hacking is to alter your DNS settings (without your knowledge) to redirect your traffic, subsequently setting up an advanced pharming attack.
You can avoid this situation by changing the DNS settings long before the hacker can access your network. 
Follow these steps to optimize your DNS settings:
Open your preferred browser on your PC

Enter your router's IP address to open the control panel

Enter the admin username and password to log in

Select the Setup page

Select Basic Setup

Enter the primary DNS server and secondary DNS server you intend to use

Select Save to apply changes
Conclusion
Hackers can take control of your router and make your life miserable by stealing your data and using it maliciously, leading to financial losses, identity theft, and loss of integrity.
Fortunately, you can avoid being a victim of hacking using our proven tips above. Enforce these steps today to secure your router and wireless network from hackers. You can also use a cybersecurity tool to monitor your Wi-Fi network and keep intruders at bay.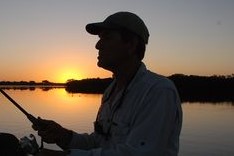 Hey, I'm Jeremy Clifford. I hold a bachelor's degree in information systems, and I'm a certified network specialist. I worked for several internet providers in LA, San Francisco, Sacramento, and Seattle over the past 21 years.
I worked as a customer service operator, field technician, network engineer, and network specialist. During my career in networking, I've come across numerous modems, gateways, routers, and other networking hardware. I've installed network equipment, fixed it, designed and administrated networks, etc.
Networking is my passion, and I'm eager to share everything I know with you. On this website, you can read my modem and router reviews, as well as various how-to guides designed to help you solve your network problems. I want to liberate you from the fear that most users feel when they have to deal with modem and router settings.
My favorite free-time activities are gaming, movie-watching, and cooking. I also enjoy fishing, although I'm not good at it. What I'm good at is annoying David when we are fishing together. Apparently, you're not supposed to talk or laugh while fishing – it scares the fishes.