Arris is an American company that manufactures telecommunications equipment. It's been one of the biggest players in the modem/router market for 27 years (since 1995). Since 2019, it's been owned by the network provider – CommScope.
Arris manufactures a wide range of modems, routers, and gateways. In this article, we will show you how to reset the password on your Arris router.

Do You Know What a Reset Is and What It Does?
Before we start explaining the procedure itself, we will first answer some basic questions about resetting.
What is a Reset and What is Achieved by its Application?
For a router reset, you can find many definitions on the internet, but here is one that best describes it:
---
Reset (also known as hard reset and factory reset) is a procedure that deletes absolutely all changes and settings (including the router password) made on the router and returns them to the default – factory settings. 
---
When Do You Have to Reset the Router Password?
When you forget your router password, the only way to log in is to reset it and then log in with the default password. Also, when you forget your Wi-Fi password and can't find it in any other way, reset is a viable option. 
What to Do After the Reset?
After the reset, you log in to the router using the default username and default password, and you must also reconfigure all settings. The default credentials are on the labels located on the router.
Does the Reset Only Apply to the Router?
Absolutely not! The reset can be applied to almost all electronic devices. In all of them, the reset should eliminate some current disturbances and problems related to their operation, and return them to the factory settings.
How to Distinguish a Reset from a Restart?
Very often, when reset is discussed, you will hear another term that sounds very similar. It's a restart. We are sure that many of you are convinced that reset and restart are the same, or at least that you do not know the difference between these two procedures.
Recommended reading:
You should know clearly when and which procedure you need to apply. We have already defined the reset, here is one definition for restart:
---
Restart is a procedure performed by disconnecting the device from the power source, and then reconnecting it (or turning off the device, and then turning it on using the power button).
---
Restarting is usually done when there are some problems with the Internet. A very important difference, compared to the reset, is that after the restart, all settings remain exactly the same.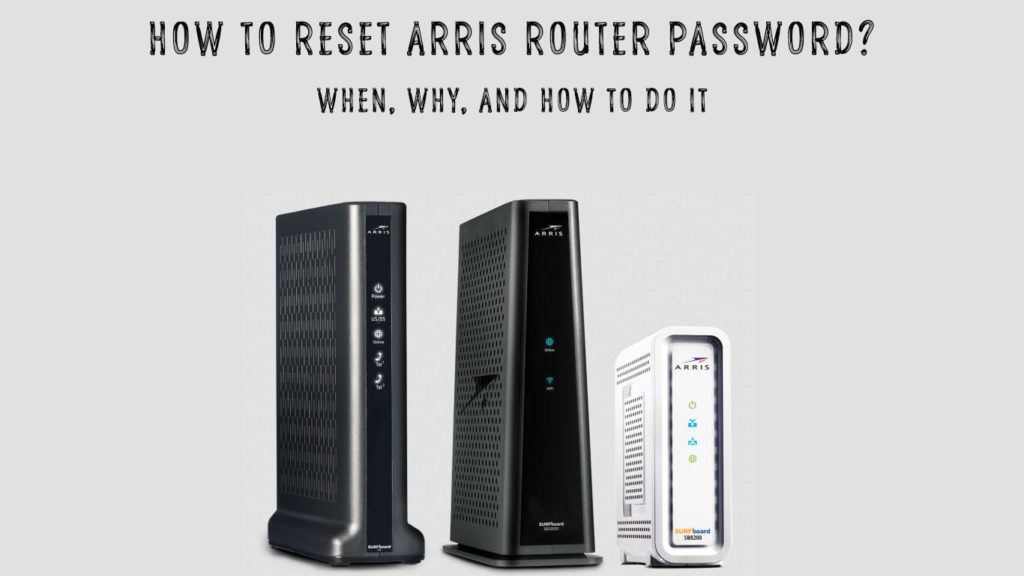 How to Reset Arris Router Password?
We hope that, by now, you have a complete understanding of reset and restart procedures. Let's see now how to perform the reset procedure on an ARRIS router. Just follow our step-by-step guide, and you will successfully reset your router: 
The first step is to find the Reset button. Look at the back of your router. You will see one small hole (it looks like a missing button). The reset button is inside this hole.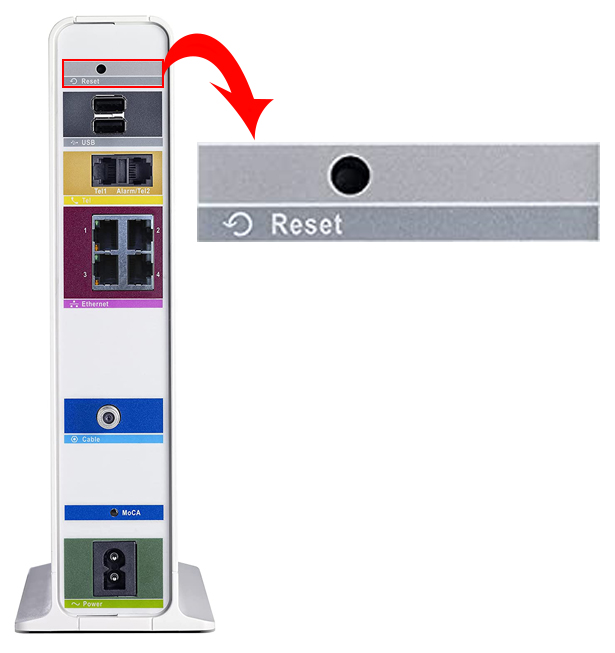 Since the button is in the hole (retracted), get an object that will allow you to press it (it's best to use a paper clip or something similar).
You found the button, got the paper clip, and now you can reset the router. Press the button with the tip of the paper clip and hold it for 15 seconds. 
After this, your router is reset. You can log in again using the default password and username.
Conclusion
There is no doubt that resetting is a really useful method because, among other things, it allows you to log in when you forget your password. However, remember that a reset is the last action you should take because you will have to reconfigure the entire network and all other settings afterward.
This is not easy – you may even need the help of a provider, and it will definitely take time. We recommend that you write down the password you create and keep it in a safe place.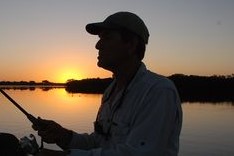 Hey, I'm Jeremy Clifford. I hold a bachelor's degree in information systems, and I'm a certified network specialist. I worked for several internet providers in LA, San Francisco, Sacramento, and Seattle over the past 21 years.
I worked as a customer service operator, field technician, network engineer, and network specialist. During my career in networking, I've come across numerous modems, gateways, routers, and other networking hardware. I've installed network equipment, fixed it, designed and administrated networks, etc.
Networking is my passion, and I'm eager to share everything I know with you. On this website, you can read my modem and router reviews, as well as various how-to guides designed to help you solve your network problems. I want to liberate you from the fear that most users feel when they have to deal with modem and router settings.
My favorite free-time activities are gaming, movie-watching, and cooking. I also enjoy fishing, although I'm not good at it. What I'm good at is annoying David when we are fishing together. Apparently, you're not supposed to talk or laugh while fishing – it scares the fishes.