Amazon's Alexa is undoubtedly the ultimate home automation system and the epitome of smart living.
This digital virtual assistant uses voice commands to control thousands of tech gadgets and smart devices from Amazon and third-party manufacturers.
From entertainment to infotainment, there is practically nothing that Amazon's Alexa cannot do.
You can use Alexa to stream news reports, play music, check the weather, set alarms, control lighting systems, receive traffic updates, send text messages, or even place calls.
Introducing Amazon Alexa
If you are an avid gourmet enthusiast, you can get cooking ideas and recipes and set timers on your oven or cooker for perfectly cooked meals.
Besides, you can train and customize Alexa to do virtually anything else that comes to mind to make your life easier and more comfortable.
You only need to install the Alexa app on your smartphone or tablet and have an active Wi-Fi connection to make the most of this innovative device.
But like any other device, your Alexa might malfunction and have network connectivity issues.
A malfunctioning Alexa can halt all your home functions, as it has proven to be the backbone of wireless connectivity.
Resetting Wi-Fi on Alexa can help restore the device to optimal functionality and re-establish its internet connection.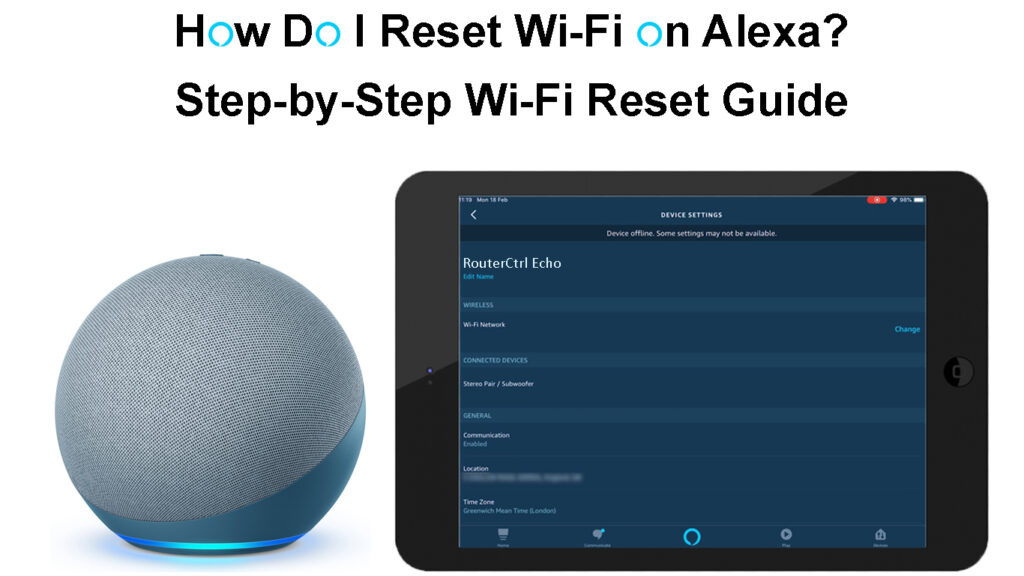 So, How Does Alexa Work?
Alexa is a cloud-based voice service that receives and sends voice commands over the internet to Amazon servers for interpretation.
The device records your voice instructions before converting them into meaningful and contextual computer language commands.

After interpretation, the Amazon cloud-based servers send the relevant outcome back to your device.
The gadget connects to all Alexa-enabled devices via a smartphone app or the Alexa website for easy setup and control.
You can also set up and utilize Alexa on your computer to control compatible smart devices in your home.
How Does Alexa Work?
Does Alexa Require Wi-Fi?
Alexa is fast becoming the backbone of wireless connectivity as it connects, manages, and controls all your smart devices with a few voice commands.
It has numerous impressive features and specifications for all your home automation needs.
However, this digital voice assistant is not a standalone platform since it requires an active Wi-Fi connection to function optimally.
When you command Alexa to do something, the device will send your instructions to Amazon's cloud-based servers for processing over your Wi-Fi network.
After processing and interpreting your voice commands, Alexa will fetch your processed request before delivering your desired output.
How to Set Up Amazon Echo Dot and Use Alexa
How to Use Alexa – Beginner's Guide
Ways to Reset Wi-Fi on Alexa?
If your Wi-Fi network is problematic, Alexa may have issues submitting your requests to Amazon cloud-based servers, and you might notice persistent connection drops and device malfunctions.
When you check the device on the Alexa app on your smartphone, it will appear as if it is offline.
If Alexa is offline, you'll definitely not be able to control most devices, ask questions, or send voice commands.
One of the easiest ways you can solve the problem is by restarting your device. Here are the steps:
Unplug the power adapter from the wall outlet or the device
Wait for about 10 seconds
Plug the power adapter back into the wall outlet or device
If a restart does not solve Wi-Fi connectivity issues, you need to reset the device to restore the configured settings to factory defaults.
You can reset Wi-Fi on Alexa using the Alexa smartphone app or manually by pressing a reset button or a combination of buttons.
How to Reset Wi-Fi on Alexa via the Alexa App
Open the Alexa app on your Android or iOS device
Log in to your Amazon Alexa account
At the bottom right corner, tap the Devices icon
Select the device you want to reset
Tap Factory Reset again to confirm your selection
The interface of some Alexa apps might vary depending on your version of Alexa.
Launch the Alexa app on your smartphone
Log in to your Amazon Alexa account
Tap the three horizontal lines to open the main menu
Select the device you want to reset
Tap Yes to confirm your selection
Press and hold the action button on the Alexa speaker for 5 seconds until the lights turn orange
Reconnect your device to your preferred Wi-Fi network
How to Factory Reset Your Amazon Echo Through the Alexa App
Locate the reset button on your Alexa device (a tiny pinhole underneath the gadget)
Plug the Alexa device into a power outlet
Using a pin or paper clip, press and hold the reset button until the orange light turns solid blue
Wait for the blue light to turn off and on again
The blue light will turn orange as the device enters setup mode
Register the device afresh to your Amazon account
Press and hold the microphone off and volume down button simultaneously for 20 seconds
Wait for the light ring to turn off and on again
Your device will reset and enter setup mode
Open the

Alexa app

on your smartphone or tablet
Register your device to your Amazon account
Reconnect to your

Wi-Fi network

or search for a new wireless network
Conclusion
Amazon's Alexa is a game-changer as far as smart home automation and wireless connectivity are concerned.
But as much as Alexa is a top-of-the-line device, it is not exempt from Wi-Fi connectivity issues and technical malfunctions.
The good news is that resetting Wi-Fi on Alexa can help resolve most issues, including unresponsiveness and internet connection problems.
Try the tips above and let us know how it goes!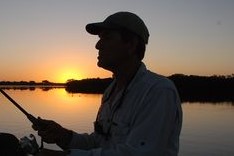 Hey, I'm Jeremy Clifford. I hold a bachelor's degree in information systems, and I'm a certified network specialist. I worked for several internet providers in LA, San Francisco, Sacramento, and Seattle over the past 21 years.
I worked as a customer service operator, field technician, network engineer, and network specialist. During my career in networking, I've come across numerous modems, gateways, routers, and other networking hardware. I've installed network equipment, fixed it, designed and administrated networks, etc.
Networking is my passion, and I'm eager to share everything I know with you. On this website, you can read my modem and router reviews, as well as various how-to guides designed to help you solve your network problems. I want to liberate you from the fear that most users feel when they have to deal with modem and router settings.
My favorite free-time activities are gaming, movie-watching, and cooking. I also enjoy fishing, although I'm not good at it. What I'm good at is annoying David when we are fishing together. Apparently, you're not supposed to talk or laugh while fishing – it scares the fishes.