This article is going to help you login to your Sky router using its default router IP, username and password. In order to make some changes in the router settings like changing the Wi-Fi name and password or anything else you will have to know the exact Sky router login steps.
So, let's begin!
What do you need:
Access to your personal home network
A Sky router
A laptop or desktop computer, tablet or smartphone
How to login to your Sky Router?
The next few paragraphs will help you access your Sky router settings in a few easy steps.
Step 1 – Connect to your home network first
If you want to login to your Sky router you will have to connect to your network first. You can do this either using a network cable or the wireless connection. However, if your device allows it, it is always better to use a wired connection to login to your Sky router.
Step 2 – Type the Sky router login IP in the browser
The default Sky router IP is 192.168.0.1. You need to type this IP in the browser's URL bar in order to access the router settings. Please note that you are not actually visiting a website to make the changes so you don't need a working internet connection.
Step 3 – Enter the Sky router login details
The default username for your Sky router is admin. As a password you can type sky or you can find it printed on the back of the router. In case you have changed the password earlier, use the new one to login to your Sky router. Please note that these login details are case sensitive so pay attention when you type them.
Step 4 – You are ready to change the router settings
Now you should see the Sky Router Status page.
As we have mentioned earlier, you can change many things here. In order to make your wireless network more secure you can change the default router password, change the wireless network name and password, disable some features if you are not actively using them. However, whatever you choose to change in the settings, either make a backup of the settings before you change them or simply take a note of the changes you have made.
Now, since you have successfully logged into your router let's see what changes you can make.
How to change the Wi-Fi name and password?
Before you make this change please note that you will need to update this password to the devices connected to your Wi-Fi, like your smartphones, tablets, smart TV etc.
Changing the Sky router Wi-Fi network name and password is also one of the basic security measures you need to take in order to keep your network secure.
1. If you haven't already, go through the Sky router login steps as described above.
2. In the router configuration menu, select Wireless and scroll down to Wireless Network.
3. You can change your wireless network name in the Name (SSID) field.

4. After you type the new network name scroll down to Security Options.
5. Now select WPA2-PSK (AES)
6. In the WPA2-PSK Security Encryption section, in the Network Key enter the new wireless password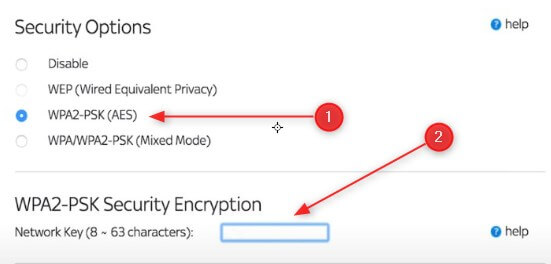 7. Click the Apply button to save the changes.
How to change the Sky router login password?
Changing the default router login password is one of the steps you need to take to make your network more secure. Leaving the default password will make it possible for anyone who connects to your network to login to your router and change the settings without your authorization.
To change the Sky router login password, follow these steps:
1. Login to your router first.

2. In the top menu click on Maintenance.
3. Scroll down to Set password.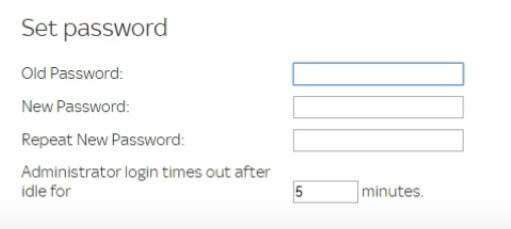 4. Type the old password in the appropriate field.
5. Type the new password in the required fields.
6. In the last field Administrator login times out… you can leave the default time to 5 minutes or make it shorter. This means that if you are logged into the router settings and leave your PC unattended it will log you out after the specified time.
7. Click Apply to save the settings.