Are you seeing the Spectrum modem Online light blinking? Well, if you are, you are at the right place. This article will explain what this light indicates on your Spectrum modem and, at the same time, give you a few tested solutions if you want to try and fix it on your own.
So, let's begin!

Spectrum Modem Online Light Blinking: What Does It Mean?
The status of our network connection is displayed over the status LED lights on the modem. The Spectrum modem has several different lights that tell us more about what's going on at the moment. If you know what each light means, it will be easier to determine the problem and fix it in case you start experiencing some connection issues.
Depending on the router model you have Technicolor, Ubee, Motorola etc, the blinking online light can indicate that the modem is connecting to your ISP's network, it's obtaining an IP and a configuration file or it's just scanning for the configuration parameters. In other words, registration is not complete or network access is denied.
Fix The Spectrum Modem Online Light Blinking
If you want to fix the Online light blinking issue without contacting the Spectrum support, here are some tested solutions you can apply to fix the problem. If nothing helps, or you want them to assist you, move to the last step.
And now, let's start with the easiest solutions.
Give It Some Time
When we connect the modem, it will automatically try to connect to our broadband network. This can last for 5 minutes and when it succeeds, the Spectrum online light will stop blinking and it will become solid.
Therefore, give it some time and see whether the Online light will stop blinking. If it continues, then try the following solution.
Reboot Your Spectrum Router
There are great chances that your attempts to fix the blinking Online light on your Spectrum router will end here. Rebooting the modem is a highly effective and rather simple solution that works almost every time.
Simply unplug your Spectrum router's power cord from the electrical outlet.
Leave it unplugged for a few minutes.
Connect it back to the electrical outlet.
Wait till it boots up again.
Simple and effective – that's all we can say now. Check the Online status light and in case the problem persists move to our next solution.
Check The Cables
Although it is pretty unlikely that you have touched the cables and connectors it is always recommended to check the cables, especially if you have changed a piece of your equipment, or moved the equipment to a new place and so on.
Recommended reading:
What we have to do here is to check the cables for any visible damage and unnatural bending. After that we need to make sure that all the connections sit firmly in the correct ports. For example, when you plug in an Ethernet cable into a port, you should hear a click. So, check all the cables on both ends, and also check whether they are properly connected.
If you confirm that everything is fine, but the Online light is still blinking, move to the next step.
Try Another Coax Outlet
This solution is actually a simple inspection to confirm whether there is a problem with the coax outlet that triggers the Online flashing light issue. Connect the modem to a different outlet in your house and in case the Online light stops blinking, you can get in touch with Spectrum support to get it fixed for you.
Are You Affected By A Service Outage?
Although your ISP is doing everything to keep their services at the highest level, there are some situations that can easily cause connection issues. For example, if your ISP has been affected by a power outage, a hardware failure or they are simply running some scheduled maintenance, this can trigger the Online light to start blinking.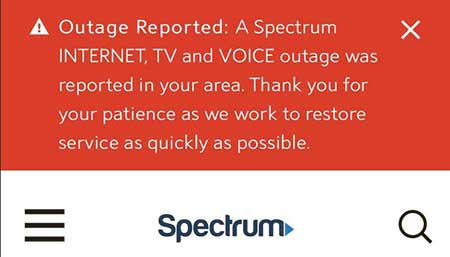 In order to make sure that a service outage is causing you trouble you can either contact Spectrum support directly or check if there is an outage in your area through their outage page. Simply Sign in with your Spectrum account details, and you can see if there is an outage right now and you can also opt in to be notified when the outage ends.
Contact Spectrum Support
Although we believe that some of the steps described above have helped you fix the problem, you can contact the Spectrum support to assist you in resolving the issue. They can easily test your connection, reboot your network, guide you through the troubleshooting steps, and even send a technician to come and check the problem personally.
Final Words
Having a fully functional, steady and fast internet connection is extremely important today and when you see the Spectrum modem Online light blinking, it is definitely a problem. Since we often don't have time to wait, it's best to know a trick or two to try and fix it on your own. Most of them are explained in this article and in case nothing helps, you can always get in touch with support. But it's good to try and fix it alone first.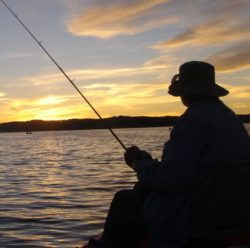 Hey, I'm David. I've been working as a wireless network engineer and a network administrator for 15 years. During my studies, I also worked as an ISP field technician – that's when I met Jeremy. 
I hold a bachelor's degree in network engineering and a master's degree in computer science and engineering. I'm also a Cisco-certified service provider. 
In my professional career, I worked for router/modem manufacturers and internet providers. I like to think that I'm good at explaining network-related issues in simple terms. That's exactly what I'm doing on this website – I'm making simple and easy-to-follow guides on how to install, set up, and troubleshoot your networking hardware. I also review new network equipment – modems, gateways, switches, routers, extenders, mesh systems, cables, etc. 
My goal is to help regular users with their everyday network issues, educate them, and make them less scared of their equipment. In my articles, you can find tips on what to look for when buying new networking hardware, and how to adjust your network settings to get the most out of your wi-fi. 
Since my work is closely related to computers, servers, and other network equipment, I like to spend most of my spare time outdoors. When I want to blow off some steam, I like to ride my bike. I also love hiking and swimming. When I need to calm down and clear my mind, my go-to activity is fishing.