Are you unable to access the Spectrum On Demand content? Luckily, we're here to help you get back to binge-watching your favorite program in no time! Today, we prepared a list of the On Demand issues users frequently experience and the easiest ways to fix them!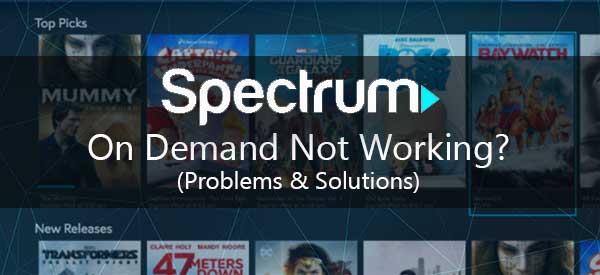 Five Most Common Spectrum On Demand Problems
In most cases, the "On Demand is Unavailable" message is temporary and you won't have to do anything about it. It usually appears when there is too much traffic on the On Demand platform. Thus, you should wait for a few minutes for the traffic to clear out before you try to access the platform once again.
Other Reasons You Are Not Able to Enter the On Demand Platform
There are two ways to access the On Demand platform. You could either do it by pressing the On Demand button on the remote or going through the main menu of the Spectrum Guide. If one method of accessing the platform doesn't work, you could always try the other one.
In case you're still not able to enter On Demand, there may be an outage in your area. You can check what is happening around you by visiting the Weather Center section of the official Spectrum website.
Rebooting the Receiver
If the outage is not your problem, you can simply reboot the receiver and try to access the content again. You'll do that by unplugging it from the power source and giving it a minute or two. Then, you can plug it back in. You shouldn't turn the receiver on for another ten to twenty minutes. After that, you can try re-accessing the On Demand platform.
Recommended reading:
Another way to restart the receiver is via the Spectrum website. You should sign in to your account and go to the Your Services menu. Then, you'll have to click on the TV tab and choose your receiver from the list of devices. After that, you should click on Restart Equipment and wait for the receiver to reboot.
Lastly, you can restart your receiver via the My Spectrum app. This option is available under the Services menu. Once you tap on Services, you should go to the TV section and select the receiver from the list. Next, tap on Restart Equipment.
2. You Are Not Able to Fast the Content Forward
You won't be able to fast all of the content from the On Demand platform forward. So, the chances are that this problem is related to the specific title you're watching. To double-check whether that's your case, you should simply try fast-forwarding something else. If you succeed, then the particular content you were trying to view did not have this option due to programming restrictions.
3. The Error 3006 Appears
Error 3006 informs you that the content you purchased has expired. Alternatively, it could mean that the content is not available on the platform. Therefore, you will have to choose something else to watch.
4. On Demand is Locked
Not all subscription plans give you the ability to access all of the Spectrum content. If a certain title is locked, that means that it's not included in your particular TV subscription. You'll differentiate between the content you're able to watch from the one you aren't by looking for a gold key icon. If you see it, that means the content isn't available for viewing. You can select the Upgrade option to purchase the plan that allows you to watch it.
To make the process of finding a title you can watch easier, you can use the On Demand Filter feature. The feature will allow you to filter out content that is available for your TV package.
Parental Controls and On Demand Lock
Another reason why you're not able to access a particular title is due to that kind of content being blocked or restricted for your account. The common culprit for that is your parental control settings. Parental controls allow you to restrict any type of content, from adult titles, violence, nudity, to graphic or adult language. You can also create channel and rating restrictions as well as enter times of day the content won't be available via On Demand.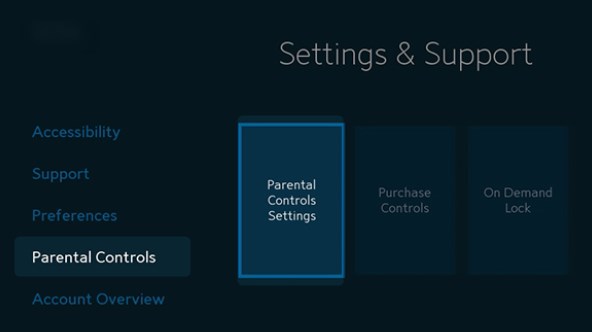 If it's you're first time hearing about these settings, the chances are that is not your problem. In case you think your family could benefit from them, you can find parental controls by pressing the Menu button on the remote. Then, go to Settings & Support. Then, you should find the Parental Controls menu and press OK. You will then be able to choose parental control settings. When you go to the settings for the first time, Spectrum will ask you to create a four-digit PIN. Once you create it, you'll be able to poke around the settings and restrictions.
Recommended reading:
Another thing that could restrict your On Demand content is the On Demand Lock feature. Unlike parental controls, On Demand Lock prevents you from watching any kind of content without entering your PIN. Thus, you'll need to type your code whenever you want to view anything. You can find the On Demand Lock feature in the Parental Controls menu. 
5. On Demand Rental Cannot Be Ordered
Your parental controls could also be the cause of you not being able to order the On Demand Rental content. If you checked those restrictions and didn't see any setting that could prevent you from ordering these titles, the issue might be in the purchase controls. There's a chance that the program you want to order exceeds your purchase limit. 
To check what is happening in your purchase controls, you should press the Menu button on the remote. Then, find Settings & Support, choose Parental Controls, and click on Purchase Controls. You can then see your purchase limits, turn them on and off, and set your purchase controls PIN.
Conclusion on Fixing the Spectrum on Demand Not Working Problem
Different things can cause your On Demand platform to stop working. We hope that you were able to find your problem in our list of the top five most common ones users experience and that you can now access your favorite content! As most other issues are a bit more complex, we advise you to contact Spectrum customer service if you're still unable to watch On Demand titles.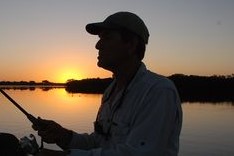 Hey, I'm Jeremy Clifford. I hold a bachelor's degree in information systems, and I'm a certified network specialist. I worked for several internet providers in LA, San Francisco, Sacramento, and Seattle over the past 21 years.
I worked as a customer service operator, field technician, network engineer, and network specialist. During my career in networking, I've come across numerous modems, gateways, routers, and other networking hardware. I've installed network equipment, fixed it, designed and administrated networks, etc.
Networking is my passion, and I'm eager to share everything I know with you. On this website, you can read my modem and router reviews, as well as various how-to guides designed to help you solve your network problems. I want to liberate you from the fear that most users feel when they have to deal with modem and router settings.
My favorite free-time activities are gaming, movie-watching, and cooking. I also enjoy fishing, although I'm not good at it. What I'm good at is annoying David when we are fishing together. Apparently, you're not supposed to talk or laugh while fishing – it scares the fishes.