Spectrum's services stand out among their peers thanks to their service versatility and reliable connections. Spectrum account owners often wish to transfer their accounts to new people for various reasons. Spectrum provides an elaborate procedure that you can follow, and the transfer will happen in no time.
Keep reading as we look at how you can transfer your Spectrum service to anyone of legal age. Also, we will look at an alternative way of transferring ownership that is less demanding than the one provided by Spectrum.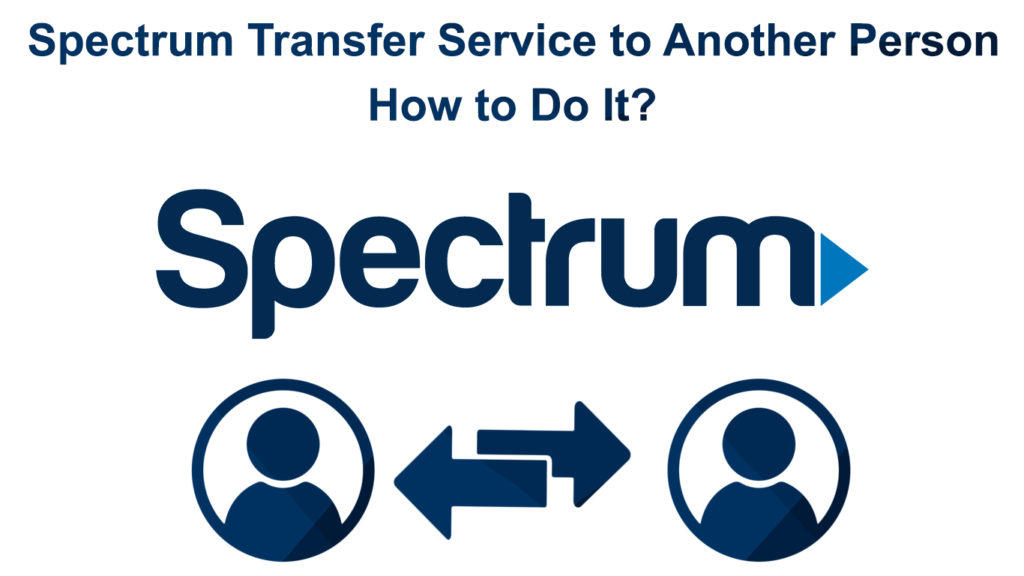 When Can I Transfer Spectrum Service to Another Person?
You can transfer your Spectrum account to another person for various reasons. Some of the common reasons include;
A Divorce
Suppose this is the reason for the change of account ownership. You will either have to visit the nearest Spectrum office (both parties) or send an email with a Customer Change Form attached.
If you want to mail the document, you will have to attach a court order, a divorce certificate, or a copy of your divorce decree.
Military Duty
If this is your reason, you would need to mail a copy of the deployment order or an active-duty certificate. Or both parties could go in person.
Deceased Account Owner
A copy of the death certificate of the deceased.
Inability to Manage the Account (Disability)
A signed conservatorship or power of attorney.
When Changing Residence (especially for roommates)
In-person with a government-issued ID and with the account's new owner.
There could be other reasons, but the above are the major ones. Hence if your reason is not listed above, you will be required to go in person with your government-issued ID card and any necessary documents.
Also, most other reasons can fall into any one of these categories.
Consequently, you can do the following to transfer a Spectrum's account ownership:
Submit an Online Form
Spectrum being an internet provider, it makes sense that they have this as one of the ways you can transfer account ownership.
There are different forms depending on what purpose they serve. It includes:
A transfer of ownership

Change of account name

Transfer of Spectrum email
To use the online forms, you need to:
Visit the Spectrum Website
Use your preferred browser and device to access Spectrum's website. On the website, there will be a link to access the forms; however, you will have to log in to your Spectrum account first to access the document.
Carefully Read the Form and Fill It Out
Once you access the appropriate form for your needs, ensure you carefully read it before you start filling it. Confirm you have copies of the required files that should be attached.
Once you are sure you understand the form, fill it out.
If one of the parties cannot sign, have no worries as long as you have attached the necessary valid documents.
Once done, submit the form through the various channels availed by Spectrum.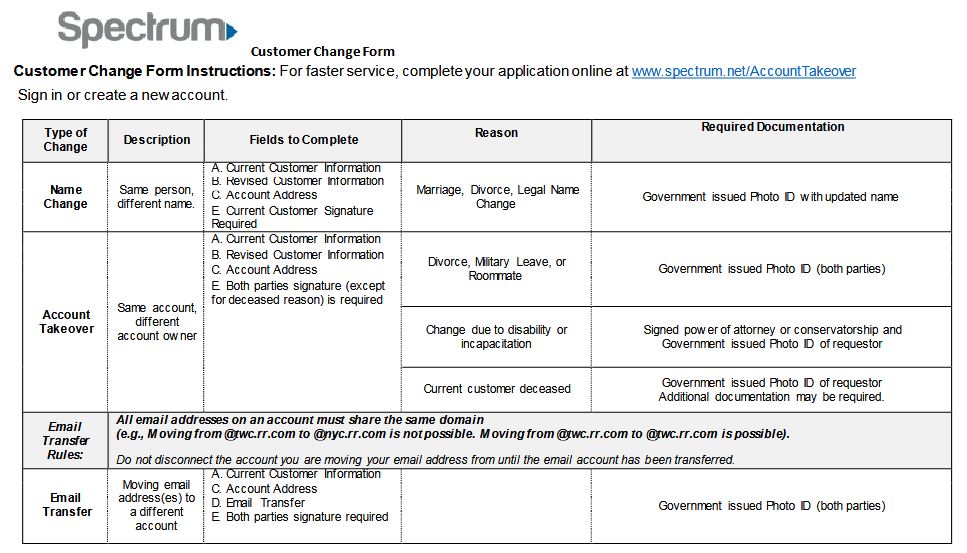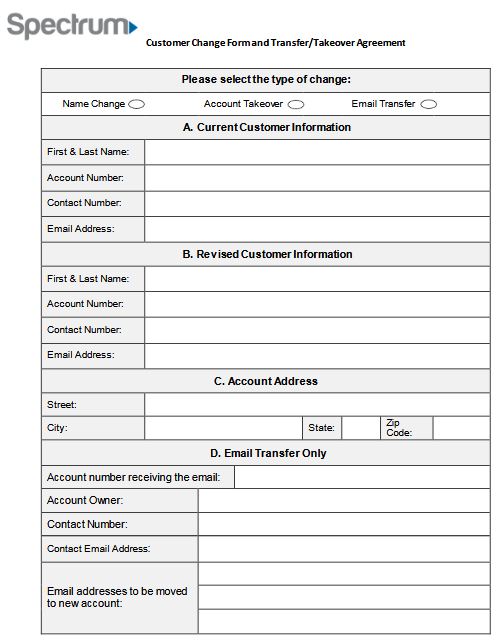 Service Transfer Underway
Once you submit the form, Spectrum will send you a confirmation email. You might keep using the account until the service is discontinued on your end if you were the one transferring the service to someone else.
If you were the one receiving the service transfer, it might take some time before the service is available for you.
Call Spectrum
You can also call Spectrum's customer representatives via (833) 267-6094 to confirm your transfer of service request.
This is necessary because Spectrum will continue charging the initial owner until they receive the transfer request.
If they confirm they have received it, ask for the reference number in case you have to follow up on the issue at a later time.
If they say they have not received the request, talk to an agent to help you go through the process again.
Ensure you call during business hours (9 to 5) so that you can talk to an agent and not an automated system.
Send Mail to Spectrum
If the process takes longer than you are comfortable with, you can download the form, print it, attach the necessary files and send it to Spectrum via mail.
Spectrum's address is:
Strategic Accounts 11
Commerce Road Newtown, CT 06470
Fax: (203) 491-2186
Ensure you include your contact details like email and phone number.
Visit a Spectrum Store
You can also visit a Spectrum store near you to facilitate service transfer, especially if you notice a delay with the other methods above.
Since you have all the necessary documents, ensure you carry them with the form you downloaded from Spectrum's website.
Also, remember to ask for a reference number if you have to follow up with the matter later.
Cancel the Service Instead
You could consider canceling the Spectrum service and then asking whoever you want to have ownership of the account to apply as a new customer.
The approach is better and faster than the whole filling forms procedure of changing ownership.
Also, if the new owner applies for a new Spectrum account, they are more likely to receive the first-time customer discount.
The downside of canceling the Spectrum service is you would have to return the equipment to the nearest Spectrum office. The new owner would have to return to the offices to get the necessary Wi-Fi equipment.
Hence changing ownership is preferred because it reduces the trips one has to make to the Spectrum offices.
However, we must note the change of account ownership form is necessary to prevent rogue people from changing the details of accounts that do not belong to them.
Recommended reading:
Also, note that Spectrum only allows a single account per address; therefore, it would be next to impossible to register for a new account when you have an already existing account at your address.
If you choose to cancel your account, ensure you do so before a new billing cycle starts. And remember to return Spectrum equipment before the billing cycle starts, or you will have to pay for the equipment.
Conclusion
Indeed, you can transfer your Spectrum services to another person using the steps described above. If you are a new Spectrum customer receiving a transferred account, ensure it has no outstanding charges, especially the equipment fee, because all those charges will be transferred to you.
The initial account owner should also note that their information will still be attached to the Spectrum account even if they are no longer the owners. Also, the new owner can access the primary owner's information.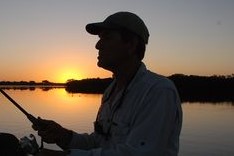 Hey, I'm Jeremy Clifford. I hold a bachelor's degree in information systems, and I'm a certified network specialist. I worked for several internet providers in LA, San Francisco, Sacramento, and Seattle over the past 21 years.
I worked as a customer service operator, field technician, network engineer, and network specialist. During my career in networking, I've come across numerous modems, gateways, routers, and other networking hardware. I've installed network equipment, fixed it, designed and administrated networks, etc.
Networking is my passion, and I'm eager to share everything I know with you. On this website, you can read my modem and router reviews, as well as various how-to guides designed to help you solve your network problems. I want to liberate you from the fear that most users feel when they have to deal with modem and router settings.
My favorite free-time activities are gaming, movie-watching, and cooking. I also enjoy fishing, although I'm not good at it. What I'm good at is annoying David when we are fishing together. Apparently, you're not supposed to talk or laugh while fishing – it scares the fishes.