Internet services are essential in these times. The most popular ways to access internet services are through Wi-Fi and cellular data. Consequently, it is hard to imagine going without the internet because that could mean potential losses, especially for businesses.
Therefore, Spectrum is among the best internet service providers worldwide, especially in the United States. The Spectrum hotspot services are publicly available in various public parks and grounds. Essentially, individuals with Spectrum mobile can access the internet via these hotspots. Millions of Spectrum Wi-Fi and hotspot users enjoy countless streaming services.
However, despite all the benefits, users may occasionally face challenges when connecting to Spectrum hotspots when on the go. Therefore, this article looks at the Spectrum Wi-Fi profile, essential for connecting to Spectrum hotspots.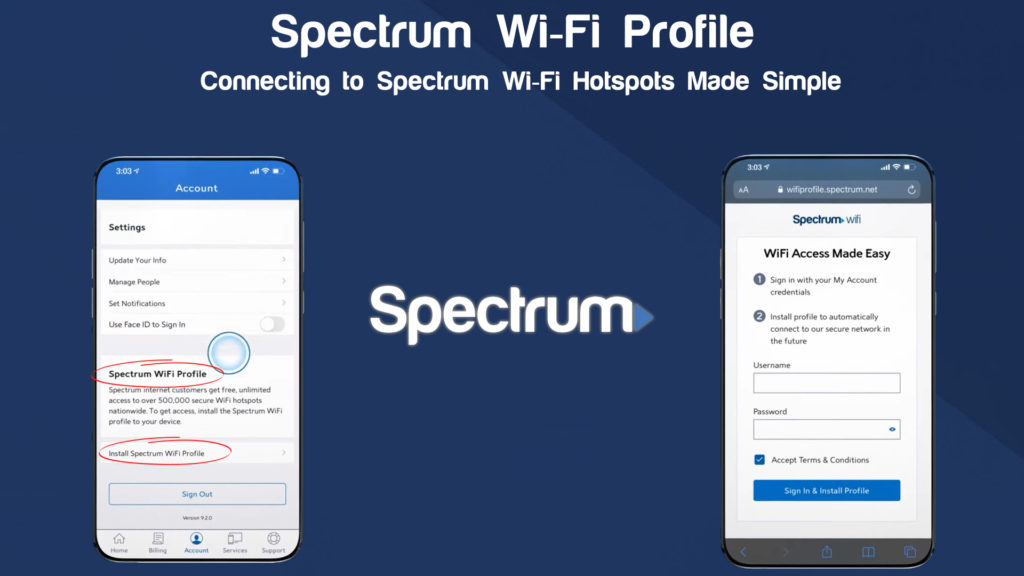 What is the Spectrum WI-FI Profile?
Spectrum mobile gives the customer the chance to access Spectrum WI-FI hotspot network freely. Hence, it greatly benefits the customer since it reduces the cost incurred on their cellular data usage plan.
A Wi-Fi profile is a set of network settings in a device; these can be custom or user-defined settings. 
Additionally, a spectrum WI-FI profile is a software or system that must be configured and installed onto a mobile device. It allows users to connect to the Spectrum WI-FI hotspot easily. The profile's correct configuration automatically authenticates your device to the closest available hotspot.
The WI-FI profile can be configured on both – Android and iOS devices. It allows the configured machine to connect wirelessly to an available network hotspot. It works similarly to a regular mobile hotspot.
Hence, the WI-FI profile is established when a user connects the public network to the personal network. The shared network is detected as Wi-Fi. Alternatively, the profile acts as a hotspot.
Spectrum WI-FI vs. Spectrum Hotspot
WI-FI and hotspot are usually used interchangeably, but they have different meanings. It is essential to differentiate the two because they entail various features. 
WIFI is a wireless internet connection technology that uses radiofrequency waves to connect smartphones, laptops, and smart devices to the internet. 
Wi-Fi is wireless, meaning there is no use of an actual internet cable. 
Depending on the context, the hotspot has two interpretations. In the context of Spectrum, a Wi-Fi hotspot is a physical location that serves as an access point through which different devices connect to WI-FI. 
On the other hand, your smartphone can create a Wi-Fi network using cellular data by turning on the hotspot option.
What Is the Cost?
For the subscribed users, spectrum Wi-Fi hotspot services are free nationwide. It is unlimited, and subscribers can access internet connectivity without any limitations.
Once activated, Spectrum comes with an automatic feature that connects your device to the available WI-FI hotspots. All you have to do is ensure you customize your device's network settings to join an available Spectrum hotspot.
NOTE: Before accessing the Spectrum network services, a user must be authenticated and authorized. Security and privacy are critical aspects of these services. Therefore, the primary authentication method is through login credentials (your Spectrum password and username). 
The password is encrypted with various 128-bit encryption techniques like those in banking firms.
How to Install Spectrum WI-FI Profile
The steps involved in installing the Spectrum Wi-Fi profile are pretty simple. The installation process also includes the installation of the My Spectrum app and authentication. 
Here're step-by-step instructions on how to install Spectrum Wi-Fi Profile using Android and IOS devices.
Install Spectrum WI-FI Profile on Android Devices
Before installing, you must download the Spectrum application from Google Play. 
The steps are:
Open My Spectrum app after installing it.
If you are a new user, it will prompt you to sign in.
Select the desired

WI-FI profile

account
Select the install spectrum WI-FI profile option.
Be patient for installation to be a success.
Spectrum benefits Android users because there's an auto-connect option that connects automatically to the Spectrum WI-FI profile.
Install Spectrum WI-FI Profile in IOS Devices
 Before installing, you must download the Spectrum application from the App store. Follow the steps below to install your Spectrum Wi-Fi profile on an IOS device.
Open my Spectrum application.
Sign in using the login credentials, the

password

, and the

username
Choose the

Manage Spectrum WIFI Profile

option; this will display a pop-up screen that shows your other available profile settings. Feel free to close the pop-up screen.
Choose the

install profile

option

.

The safari browser

will open automatically.
Provide your spectrum credentials, that is, the

password

and

username

.
Check the

Accept Terms and Conditions

option.
Choose the

sign-in and install profile

option.
Next, choose the

Allow and Close

option.
Next, Navigate to settings > general > profile > spectrum WIFI
Provide your device password.
Select the

Install and Finish

option.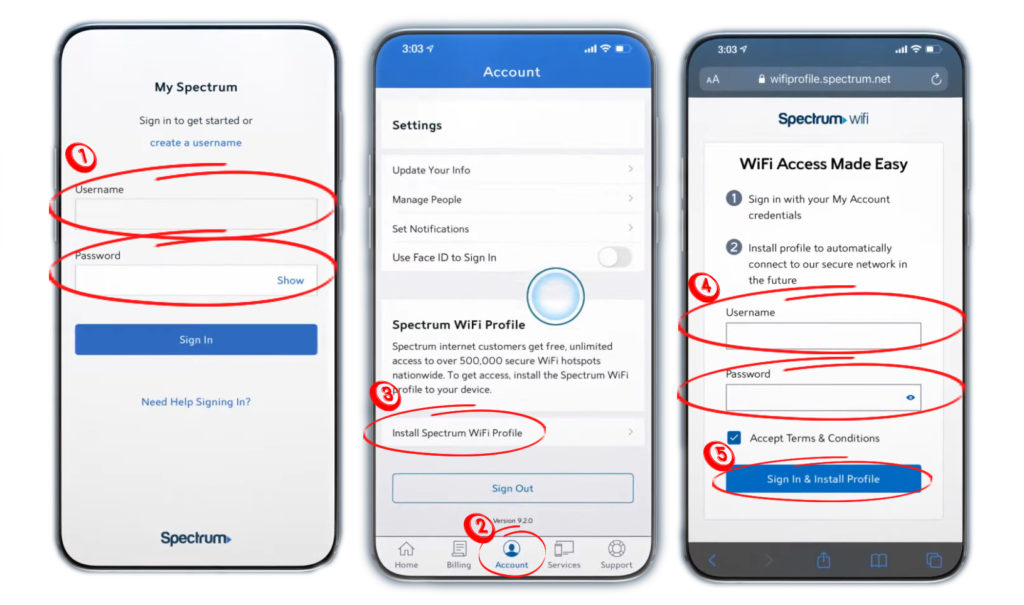 Remember, the only way to install the WI-FI profile is by using the My Spectrum app. Other external Spectrum Wi-Fi profile download options are probably malicious sites with malware. Therefore, ensure you install your profile from the spectrum app for security reasons.
Advantages of Installing Spectrum WI-FI Profile
The primary benefit of using Spectrum Wi-Fi profile is improved security, but that's not the only advantage.
For instance, everyone likes staying connected. The Spectrum Wi-Fi profile allows you that – you will stay connected even when you are not at home.
Additionally, the Wi-Fi profile helps Spectrum monitor and control the data usage of a specific user. Monitoring is essential to compare your cellular data plan and the public hotspot data usage. 
Also, the profile enables auto-connection to any spectrum Wi-Fi hotspot available nationwide. Therefore, it eliminates logging in every time you want to access the internet.
Recommended reading:
There is no limit on the number of connected devices to your home Spectrum account. Spectrum allows one to stream on as many devices as possible while at home. 
However, one is limited to only two devices per Spectrum subscriber when connecting to a public hotspot.
 Once you have the spectrum WIFI profile on your device, you will be able to connect to any spectrum WIFI hotspot. In addition, internet access is free and unlimited.
Management of Spectrum WI-FI profile
You can control your Wi-Fi profile information and credentials, or deactivate the account at any moment. Android devices have a  more straightforward process of managing profile information. Therefore this section will provide the necessary information required to handle profiles in IOS devices.
Change Profile Login Credentials
It is possible to change the information related to your profile; the profile's name, password, and username. The following steps will guide you through the process. 
Log in

to the My Spectrum app.
Navigate through the menu to the

WIFI options (under Services)

.
Click on Your Wi-Fi Network. 
Choose the

Edit Network Information

option.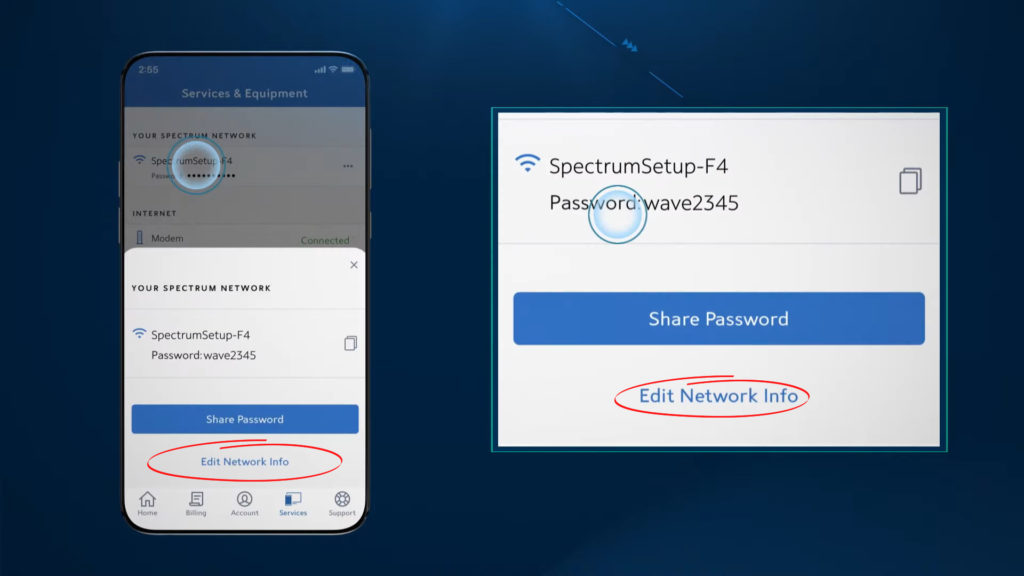 Make the necessary adjustment as preferred and

click Ok

to apply the changes.
Mute Connectivity
Sometimes, unauthorized users might gain access to your connection, or you may want to pause the internet connectivity for some time. The steps below will help you mute the connection.
Open

Settings > Network

on your device.
On the menu, select the devices on your network
Choose the

Connected

or

Not Connected

option.
From the provided device list, disable the device you would like to pause
On the next screen, click on

the

pause

option.
The same steps are used to unmute a device or connectivity.
Summary
As you have seen, Installing and using the Spectrum WIFI profile is super-easy. An average Spectrum user, will not need any documentation or manual for guidance. 
The profile is integrated with an Auto-Connect option for Android and IOS devices mobile devices. 
It is essential to consider your security while using internet services, especially when connecting to public hotspots like Spectrum Wi-Fi hotspots; authentication using a password and username is necessary and that's a good thing.
However, we recommend that you introduce some additional security measures while browsing – try using Virtual Private Network and disabling the file sharing option. That's the best way to stay completely safe when connecting to public Wi-Fi.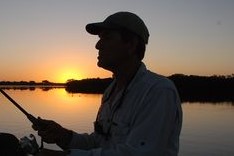 Hey, I'm Jeremy Clifford. I hold a bachelor's degree in information systems, and I'm a certified network specialist. I worked for several internet providers in LA, San Francisco, Sacramento, and Seattle over the past 21 years.
I worked as a customer service operator, field technician, network engineer, and network specialist. During my career in networking, I've come across numerous modems, gateways, routers, and other networking hardware. I've installed network equipment, fixed it, designed and administrated networks, etc.
Networking is my passion, and I'm eager to share everything I know with you. On this website, you can read my modem and router reviews, as well as various how-to guides designed to help you solve your network problems. I want to liberate you from the fear that most users feel when they have to deal with modem and router settings.
My favorite free-time activities are gaming, movie-watching, and cooking. I also enjoy fishing, although I'm not good at it. What I'm good at is annoying David when we are fishing together. Apparently, you're not supposed to talk or laugh while fishing – it scares the fishes.