T-Mobile and AT&T are among the top 10 mobile telecommunication network companies globally. They have expansive coverage and affordable rates, making them suitable for customers. Additionally, the two network companies are at the forefront of offering 5G networks to their consumers. 
However, T-Mobile has better and cheaper mobile data plans with better coverage between the two. Therefore, many choose to switch from AT&T carrier to T-Mobile services to receive better offers. The process is easy to complete without facing any complications from both network carriers.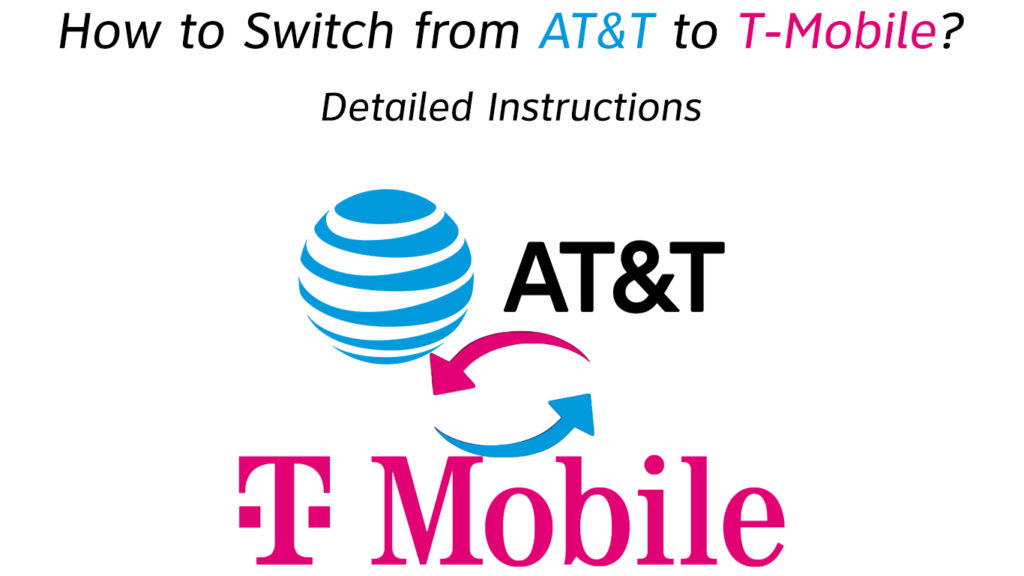 Why Should You Switch to T-Mobile?
T-Mobile has seen a rise in subscribers from other network providers while offering different mobile services. Many people value their low rates and extensive network coverage and therefore prefer the network. 
T-Mobile data plans are relatively cheaper than other leading network carriers since they offer massive discounts when upgrading your plan. The network coverage is outstanding since they also have a 37 percent 5G coverage while AT&T has 16 percent. 
Since it is the sixth-largest network globally, T-Mobile offers services in many countries globally. The customer service both online and in their stores is beneficial to customers facing network problems globally. 
Also, T-Mobile has reimbursement offers on Early Termination Fees and device payment rebates, making switching to their network cheaper. 
Additionally, switching from other network carriers to T-Mobile is a smooth task since T-Mobile offers help through the entire process. Customer care is always ready to help, and their online support is constantly accessible at any time. 
Generally, T-Mobile is an outstanding network provider, and switching to the network has never been easier. 
T-Mobile VS AT&T
Steps You Need to Take to Switch from AT&T to T-Mobile Network
Switching from AT&T to T-Mobile takes about three weeks to complete the entire process. However, if you need reimbursements, you will have to wait eight weeks after the activation to receive your funds. 
There are several easy steps to take for switching from AT&T to T-Mobile. They are: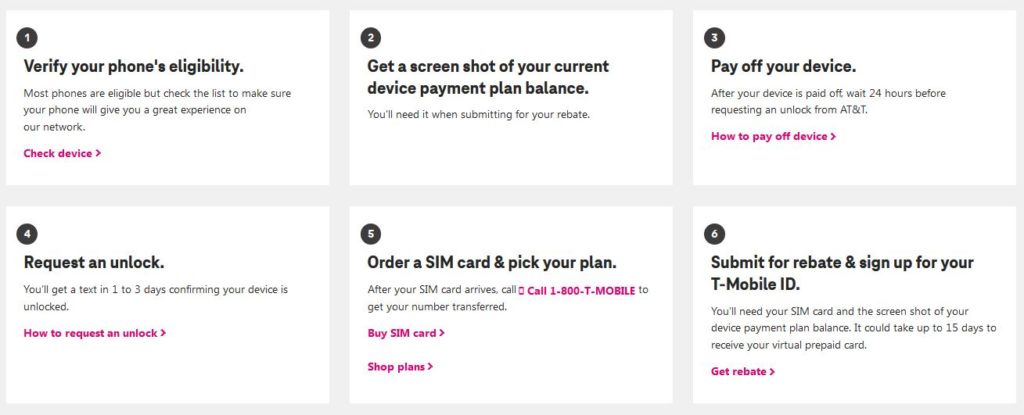 Verify Your Current Phone's Eligibility
T-Mobile offers a range of phones, both Apple and Android, eligible and compatible with its network. When you want to switch your carrier network, you should first check its eligibility in T-Mobile stores. 
The current phone you have may be eligible, and you can keep it for use after switching. Also, you can decide to buy or trade your current phone for a new one. 
T-Mobile offers a Keep and Switch claim, a device payment reimbursement from your previous carrier. However, the application for a refund is open 30 days after activating your T-Mobile line. Also, there are several qualifications you will need to meet for the network to approve your request.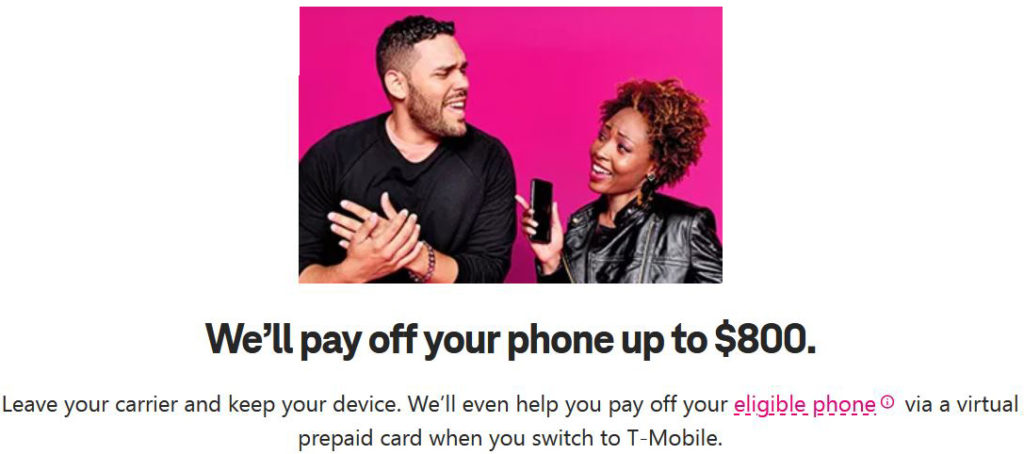 Screenshot Your Current Device Payment Plan Balance from AT&T 
During the switching process, you will need to show the payment plan of your device while you were using AT&T. T-Mobile network requires this information to keep track of your device payment during trading-in or buying from the network.
The network will also require the payment plan to apply for a rebate on your device when you submit it. 
Pay Off Your Device to AT&T
When you complete paying your device off to AT&T, you may request for unlocking of the device. You can check the installment payment plans from your AT&T account to know how much you have left. Paying off your device fully increases your chances to receive reimbursements, allowing T-Mobile to track device payments after switching. 
Once you finish paying, wait for 24 hours to request unlocking the device from AT&T. 
Request Unlocking of the Device from AT&T
AT&T SIM locks their devices to protect them from theft, making sure these devices only work on the AT&T network. Therefore, you will need to unlock the device from the AT&T network when switching to T-Mobile. 
To unlock your phone, go to their website and select unlock your device to follow the instructions for unlocking your device. After the request, you will receive a text in 1 to 3 days to confirm that the process is complete. 
Order Your SIM Card from T-Mobile
After completing the unlocking process, you can now pick your line or SIM card and select your data plans. Call the network to receive your number when you receive the SIM card so that they activate your new network. 
Sometimes, you may need to retain your number from your previous carrier as a personal preference. T-Mobile can help you transfer the number to their network service when you submit your ID, account number, and PIN. 
The ID can be either a state-issued ID or driving license, your passport, or a military ID card. You can find the account number in your current carrier bill. Your PIN is the last four digits of your mobile number or social security number, not in your online account. 
However, if you still have issues finding the necessary information, contact T-Mobile customer care to direct you. 
Submit Your Request for a Rebate as You Sign Up for a T-Mobile ID
The request for a refund is set for 30 days after activating your line. Additionally, there are several needs the network requires you need to meet to be eligible for reimbursement. You will also need to submit your new SIM card and the screenshot of your device's payment plan.
After qualifying for reimbursement, you will receive a virtual prepaid card within 15 days to pay the necessary funds. It will take 24 to 48 hours after the 15th day for your account to top up.
Therefore, you will receive a T-Mobile ID alongside the funds after successfully switching to T-Mobile. 
How to Switch to T-Mobile
How to Apply for a Rebate while Switching from AT&T to T-Mobile?
It is important to note that there are two types of reimbursements T-Mobile offers for their customers while switching networks. Early Termination Fees and device payment balance are the only rebates you can receive from T-Mobile.
AT&T, like many other network companies, has an Early Termination Fee (ETF) charge in its subscription contract. The customers pay the ETF charges if they cancel services from the company before the contract expires. 
Device payment reimbursements are only paid if you trade in your phone while switching to T-Mobile. You should also clear your payment with AT&T to access the reimbursement funds.
Additionally, T-Mobile can only offer both rebates if you switch multiple lines at once. If you are switching one line, T-Mobile can only accept the request for one type of fund according to your qualification. 
Early Termination Fees Reimbursement
ETF rebates are only applicable for switching up to 5 lines at a time from a postpaid contract with AT&T. You should also be switching to a postpaid contract with T-Mobile. 
Other qualifications may include:
You Should Trade in Your Device and Transfer Your Current Number to T-Mobile
A single line will take two business days for number transfer, while multiple lines will take six days. However, the transfer process might take ten business days to complete. 
Also, check if your existing number is eligible for transfer through the T-Mobile website or physical stores. Do not cancel services from AT&T before you get a text from T-Mobile to notify you of the transfer completion. 
T-Mobile will check for your phone's eligibility, compare it to their devices, and match the market value for trading. 
Make Complete Payments to Your Device for at least 90 Days Prior
It would be best to have a good standing with AT&T for at least 90 days before switching to T-Mobile. Also, make sure you submit the payment plan of your device from AT&T as you request for reimbursement. 
Activate Services on Your New Device on a Postpaid Plan
After you activate your services on your new network, you can apply for an ETF rebate. 
The steps taken to apply for an ETF reimbursement are:
Ensure you transfer your numbers and trade-in phones at the T-Mobile customer support section
You will receive the final bill from AT&T, including ETF, and send it to T-Mobile or online at

switch2tmobile.com

.
When you qualify, you will receive a virtual prepaid MasterCard card within eight weeks after switching to T-Mobile
Device Payment Reimbursement
T-Mobile offers these funds under the name Keep and Claim, and you will need to meet some qualifications as shown:
It would help if you had a domestic carrier payment plan with good standing with the network for 90 days prior.
Trade in your device with a screenshot of the AT&T payment plan of the device
Confirm the compatibility and eligibility of your device
Ensure your payment to AT&T is complete to unlock your device 
After you meet all the qualifications, you can submit the request for reimbursement after 30 days of line activation. 
Switching from AT&T to T-Mobile – Is it Worth It?
Conclusion
T-Mobile is an efficient network company offering excellent wireless communication services. It has very affordable data plans and extensive network coverage, offering 5G speeds. Also, their customer care and support to its customers are commendable. 
Therefore, many people switch to this network service from other leading network carriers like AT&T. additionally, T-Mobile has made it easier for customers to switch from AT&T to their network company. 
The switching process is cheaper since you can apply for reimbursements which you will receive if you qualify. Therefore, switching to T-Mobile from AT&T is a smart move for many customers.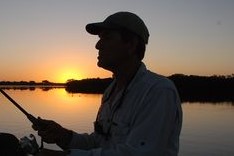 Hey, I'm Jeremy Clifford. I hold a bachelor's degree in information systems, and I'm a certified network specialist. I worked for several internet providers in LA, San Francisco, Sacramento, and Seattle over the past 21 years.
I worked as a customer service operator, field technician, network engineer, and network specialist. During my career in networking, I've come across numerous modems, gateways, routers, and other networking hardware. I've installed network equipment, fixed it, designed and administrated networks, etc.
Networking is my passion, and I'm eager to share everything I know with you. On this website, you can read my modem and router reviews, as well as various how-to guides designed to help you solve your network problems. I want to liberate you from the fear that most users feel when they have to deal with modem and router settings.
My favorite free-time activities are gaming, movie-watching, and cooking. I also enjoy fishing, although I'm not good at it. What I'm good at is annoying David when we are fishing together. Apparently, you're not supposed to talk or laugh while fishing – it scares the fishes.