Verizon FiOS internet is, according to speedtest.net among the best in the US when it comes to both – internet speed and connection reliability. The fiber optic connection deviates from traditional cabling connections that carry lesser information and are slower. However, since Fios uses relatively unfamiliar equipment, some might find it challenging to operate. Therefore, we look at the various methods for disabling the wireless connection on Verizon FiOS.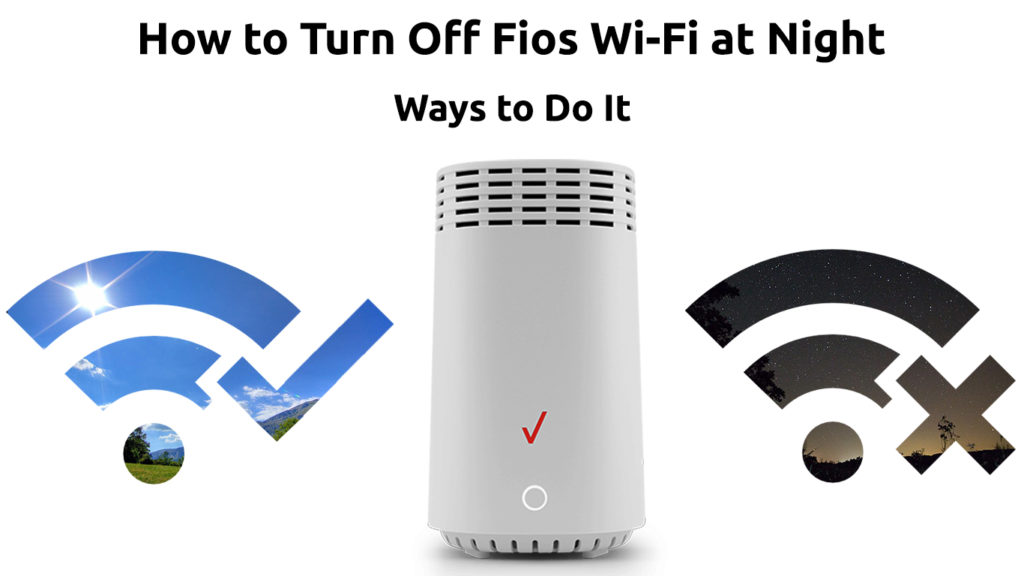 Ways to Turn off Fios Wi-Fi at Night
There are three distinct ways to turn off Verizon Wi-Fi. They are: 
Using the Router's Management Page
Log into your router management page using a Web browser on your computer using the address 192.168.1.1 (which is the default IP address for most Fios routers) or mynetworksettings.com. 
To access Verizon's 5G router management page, you can also use http://my.router/.
As you log in to the user interface, your browser might warn you that the connection is not private. Click on the Advanced button and proceed to the user interface site.
Use the username and password on the side of the FiOS router to access the router's settings. Next, Go to the Wi-Fi option.
Click on the Primary Network option to access your network settings. It will show you both the 2.4 GHz and 5 GHz bands. 
At this point, you can either disable one or both of the network bands, depending on your needs.
Uncheck both boxes and click apply to finalize the settings.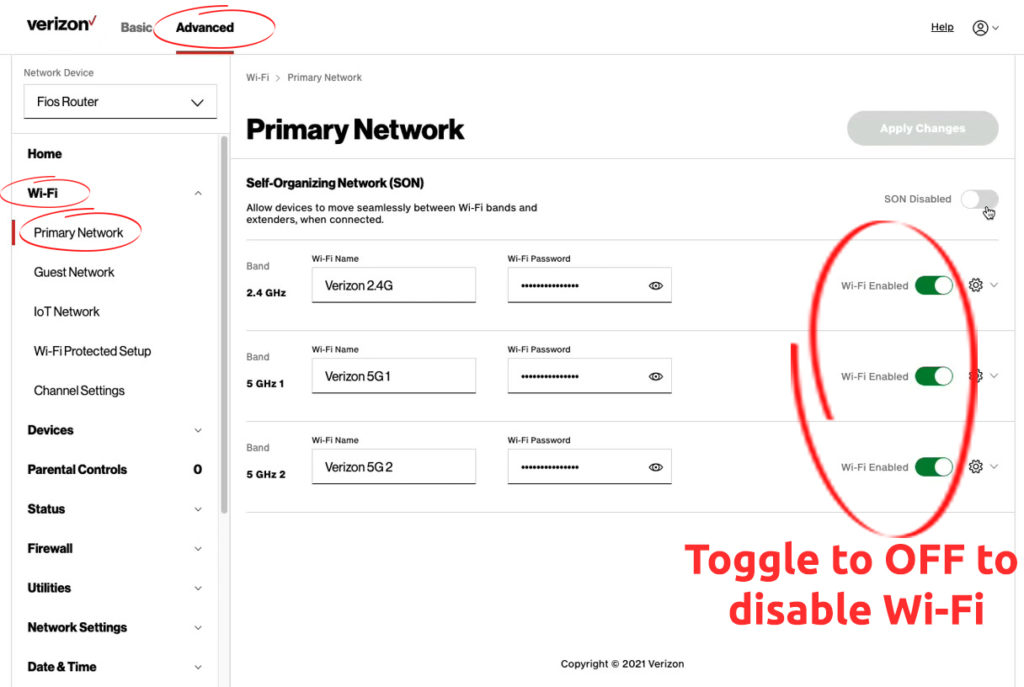 On some routers, you can also switch both (or all three) Wi-Fi bands off simultaneously by clicking on the Wi-Fi enabled option and moving the selector to off. The option is at the top right corner of the user interface page.
The broadcasting option under the primary network tab also allows you to switch to Wi-Fi, although not in the usual sense. If you uncheck the broadcast option, devices will not find your network name when searching for Wi-Fi.
Therefore, the option will not switch off Wi-Fi, but it will hide your network name, preventing additional unauthorized connections. 
If you wish to kick out particular devices from the network, you can also do that. Click on the device access list option or Access Control option (depending on the router model). Then you have options to allow or deny devices from connecting to your FiOS router.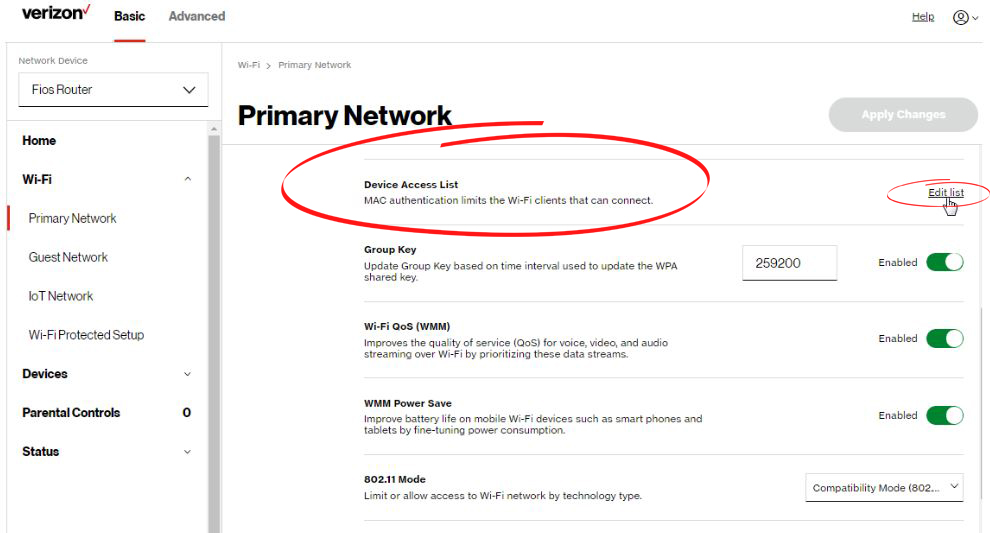 The device access list allows you to add the MAC addresses of particular devices, and you can either block or allow them to access the internet.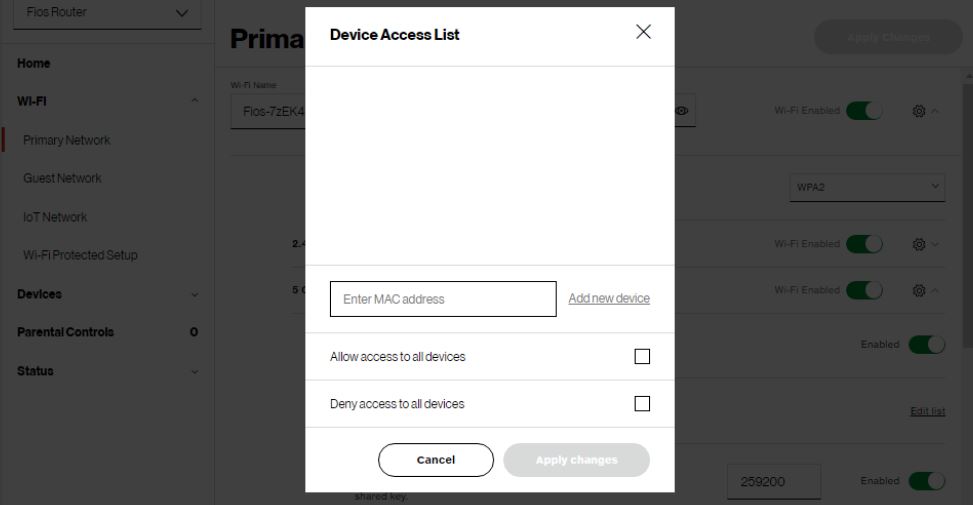 Be careful when dealing with these settings and if they become challenging, ask for help from a well-versed technician. Alternatively, click here for the FiOS router user manual.
Under the basic settings tab, you can activate or deactivate various Wi-Fi configurations by shifting the slider to either way. Such configurations include IoT and the Guest Network.
After updating the settings, always remember to click on apply changes to make the settings effective.
Recommended reading:
Another way to control the Wi-Fi radio is to use the parental control settings. However, the procedure is cumbersome and has no benefit if your only intention is to switch off Wi-Fi.
Alternatively, one can use Verizon apps to control Wi-Fi connectivity. Also, note that Changing either your network's SSID or password will require devices to reconnect using the new details.
Using Verizon App or My Verizon Account
The Verizon apps are particularly essential when dealing with the Fios Quantum Gateway or the Fios Advanced Wi-Fi Router.
to switch Wi-Fi off using the My FiOS App, do the following:
Go to the

Internet

option 

Select

the My Networks

option from the menu 

You will see your enabled Wi-Fi networks (2.4 and 5 GHz) and you will have to disable them.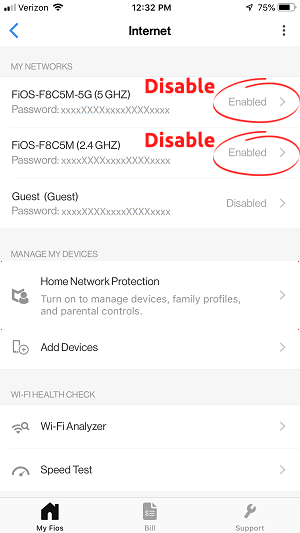 Click on

Save Changes

to save the changes on your settings. 
To use My Verizon Account: 
Sign in to

My Verizon

by using your account 

Go to the

Services

option 

Click on the

Internet

option from the menu 

Select

the My Network

option to access your Wi-Fi network connection 

Select

Manage Network

option 

Select

Enable Wi-Fi Access

and switch it off. Your network connection is now off. 

Click on

Save Changes

to ensure your network connection is completely off 
Remember these settings do not undo themselves. Therefore, to reactivate the Wi-Fi follow the same steps and undo your changes.
The steps are relatively identical for the FiOS Quantum Gateway, Verizon router, and the FiOS router. However, note that there might be a slight difference in their settings procedure, but the terminology is similar; therefore, this article acts as a guide for all those Verizon devices.
More Ways of Turning off Wi-Fi
Since Verizon is an electronic gadget like any other, there are different ways to disable Wi-Fi. 
For instance, one can just cut the power supply to either the router or the gateway, and there would be no wireless network.
The downside to such methods is that the sudden switching off might reduce the lifespan of the electrical equipment. The software in the gadgets might also not boot properly, leading to problems connecting.
One can also use an outlet timer to switch off the power supply to the Wi-Fi source automatically.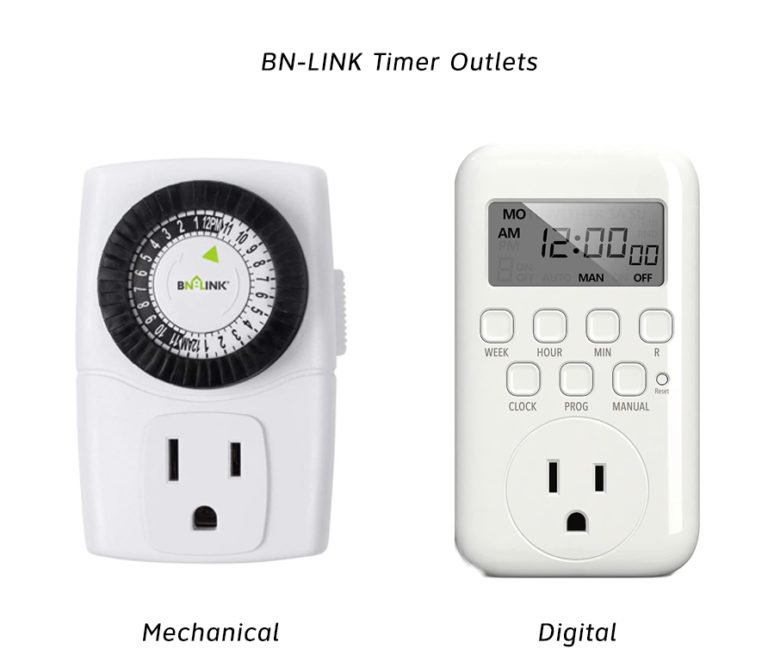 Should I Disable My Wi-Fi at Night?
Routers and Gateway modems are built to stay connected to power sources for long periods without facing any significant damage. The circuitry can withstand regular power surges; therefore, take a breath if you worry about the router's health.
The most compelling reason to disable Wi-Fi at night is to improve the quality of your internet connection from the same Wi-Fi sources. If internet speeds are low, you can increase them by switching to a wired connection. 
Other significant reasons can range from the need for a good night's sleep to conserving the electricity the router utilizes. Also, people who intend to be away for long should systematically shut down their devices.
Conclusion
The most effective and appropriate way to switch off FiOS Wi-Fi is remotely using the App, administration page, or the My Verizon page. Those facing challenges when trying to switch off Verizon's Wi-Fi can now have a sigh of relief.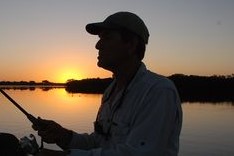 Hey, I'm Jeremy Clifford. I hold a bachelor's degree in information systems, and I'm a certified network specialist. I worked for several internet providers in LA, San Francisco, Sacramento, and Seattle over the past 21 years.
I worked as a customer service operator, field technician, network engineer, and network specialist. During my career in networking, I've come across numerous modems, gateways, routers, and other networking hardware. I've installed network equipment, fixed it, designed and administrated networks, etc.
Networking is my passion, and I'm eager to share everything I know with you. On this website, you can read my modem and router reviews, as well as various how-to guides designed to help you solve your network problems. I want to liberate you from the fear that most users feel when they have to deal with modem and router settings.
My favorite free-time activities are gaming, movie-watching, and cooking. I also enjoy fishing, although I'm not good at it. What I'm good at is annoying David when we are fishing together. Apparently, you're not supposed to talk or laugh while fishing – it scares the fishes.