Often, we use Spectrum's Wi-Fi for months without restarting the router or turning the Wi-Fi off overnight. You can remotely turn the Wi-Fi off on all Spectrum routers; the only problem is – not many people know how to do it. 
The process of turning off Spectrum Wi-Fi varies depending on the router brand you have. The procedures we are about to describe should work on most Spectrum routers. But first, let's discuss the benefits of turning your Wi-Fi off at night.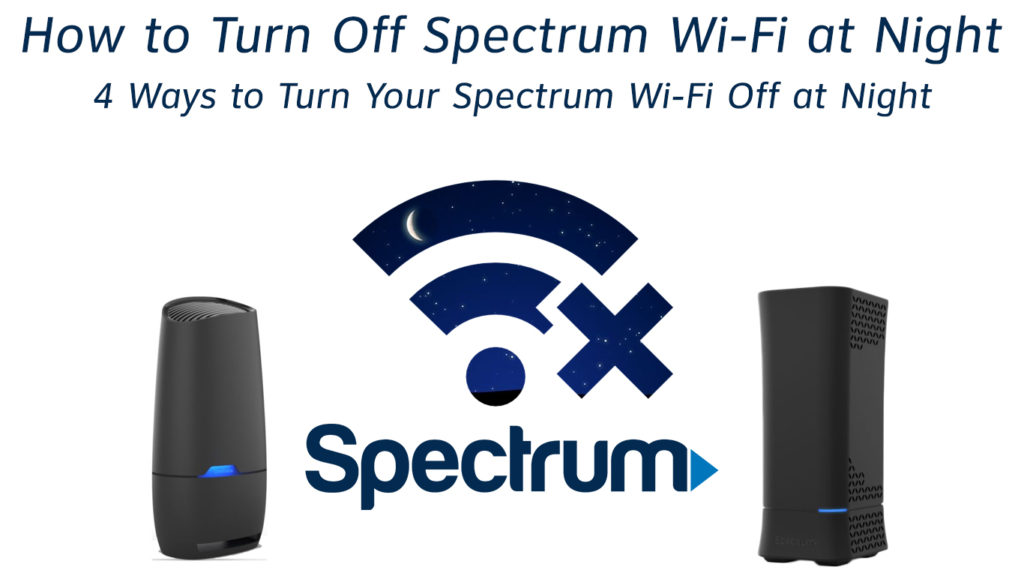 Should I Turn Off my Spectrum Wi-Fi?
If you have no use for Wi-Fi when going to sleep, there is no need to leave it on. However, most firmware updates for your router happen overnight when there is much less traffic on the network. Always check that your router firmware is up to date if you are used to switching it off at night.
Spectrum Internet is sometimes slow at night due to system maintenance. Therefore, you will not be missing much by disabling it. 
Switching off the Wi-Fi saves on the power that would otherwise be a waste of energy. It also helps family members get better sleep free from distractions from their mobile devices.
Recommended reading:
If felt alone, children will not regulate their screen time. Thus, switching off Wi-Fi encourages them to sleep at suitable hours.
It is important to note that there is no significant risk if you leave the Wi-Fi turned on. Routers are built to stay powered for long hours and can protect themselves against power surges should they occur.
How to Schedule Automatic Switching
Fortunately, you can save yourself the hassle of always following procedures to disable Wi-Fi. Spectrum has a parental control feature that allows you to automatically set the Wi-Fi to switch itself off and on at times of your choosing.
---
Note: Creating a Wi-Fi schedule in parental control settings doesn't actually turn your Wi-Fi off – it just prevents selected devices from connecting to Wi-Fi.
---
Before you do anything, ensure to download the My Spectrum App from the Google Play Store or the Appstore. This app allows for extensive control of your advanced home Wi-Fi remotely from your phone.
The process is by far the easiest and most convenient way to control access to your Wi-Fi. To activate automatic switching off, follow these steps:
Launch the My Spectrum App. Use Spectrum username and password to sign in. If you do not have a password or username, tap on

Create a username.
Enter either the phone number or email address linked to your Spectrum account and follow the prompts from the app. Here are

Spectrum username guidelines

.
Assuming everything is set up, go to the

services

tab from the app home screen.
 Next, under the internet tab, select

Devices

. 
You will have to tap on

manage devices

to link your router to your app for first-time app users.
Tap on the router name. Under

device details,

select

create a pause schedule

.
Set the time limits to fit your preferences. Now, your Wi-Fi will go off within the times you set.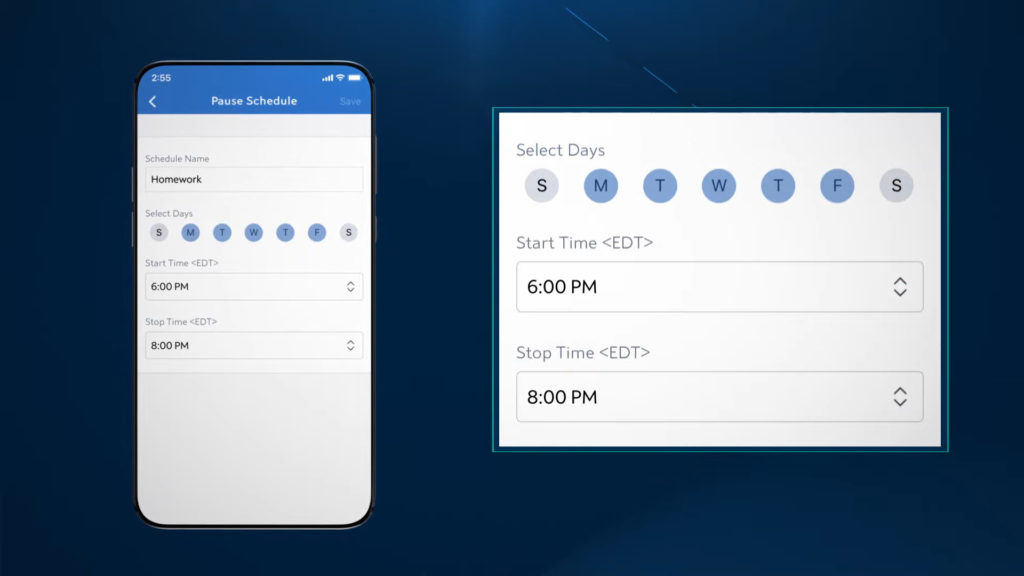 Wi-Fi Pause Scheduling (source – Spectrum YouTube Channel)
You can control devices that use Wi-Fi under the connected devices tab. That way, there is no need to switch off Wi-Fi if you want particular devices not to use your Wi-Fi.
Under the same settings, you can permanently block devices from accessing the Wi-Fi connection. You can also set a schedule for a particular device or multiple devices that connect to your network.
Unfortunately, not all routers have this Wi-Fi auto-scheduling feature. The older routers do not have these capabilities. 
How to Switch Off Wi-Fi on Spectrum Wave 2 – RAC2V1K Askey
Enter the address

192.168.1.1

into your browser to access the router administration page.
Next, use the password and username on a label at the back of the router. 
If you cannot locate them, the default password and username are

"admin." 

Go to

Advanced > Connectivity

and select the

gear

icon under 2.4Ghz, and under the basic settings, change

Enable 2.4GHz Wireless

to Off.
Click

Apply

and follow the same procedure for 5Ghz. 
You can follow the same steps to enable Wi-Fi in the morning.
The steps also work with the Spectrum Wave 2 – RAC2V1S Sagemcom, Sagemcom F@st 5620, and Spectrum Wave 2- RAC2V1A Arris routers. 
For the Netgear 6300 and Netgear WND 3800/4300 routers, use the address http://www.routerlogin.net/ to access the user interface page. The default password and username are password and username, respectively.
The procedures are similar across routers, with slight differences in the naming. 
If you cannot see your router name, fear not, for the procedure is the same – go to wireless settings and disable them. 
There are more ways to switch off Wi-Fi at night that do not require you to access the router's management page. 
Unplug the Router
You can choose to cut the power supply to your router. Please do this by unplugging it from the wall socket whenever you go to bed or do not need the Wi-Fi. 
However, it is better to disable Wi-Fi from your management page, especially if you plan on using an ethernet connection and do not need the Wi-Fi. Also, remember to check if the router has a switch that turns it off. The switch or button is usually on the rear panel of the router.
Use a Timer
Alternatively, you can use an outlet timer. To set it up, connect it to a wall socket and enter when you want it to cut power to the router.
They are efficient as they are automatic, and there is no possibility to forget switching off your Wi-Fi.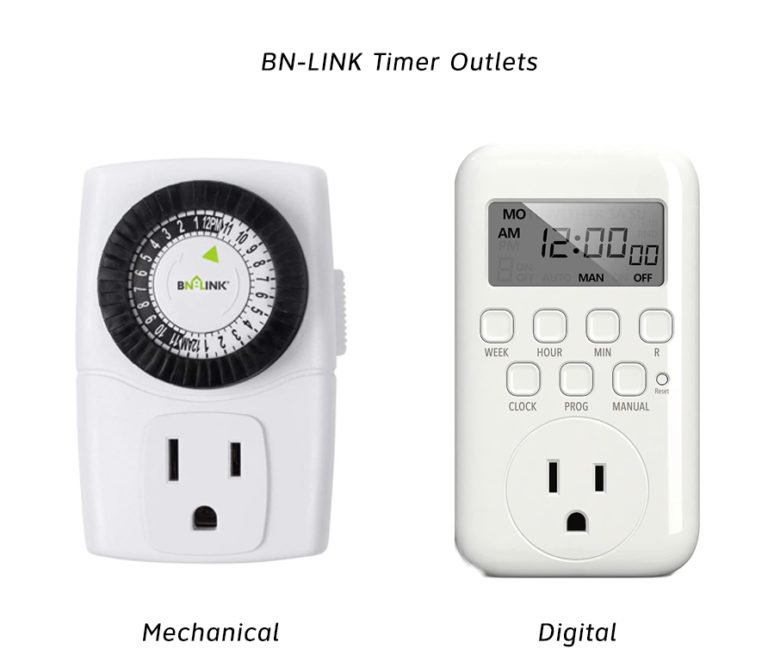 How to Know if Spectrum Wi-Fi is Off
It is easy to know if the Wi-Fi is off. The fastest way is to check on the router's lights. The router's flashing LEDs indicate the status of your wireless connection. There're always separate lights for 2.4 and 5GHz bands. 
Another option is to use a Wi-Fi-capable device and see if your router is still broadcasting.
Conclusion
You should now find it easy to switch off your router at night. The methods listed above are efficient and should work for you. Always remember to turn off your idle electrical appliances as it benefits the environment and prolongs the equipment's lifespan.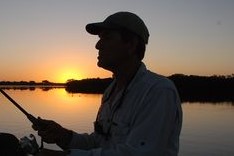 Hey, I'm Jeremy Clifford. I hold a bachelor's degree in information systems, and I'm a certified network specialist. I worked for several internet providers in LA, San Francisco, Sacramento, and Seattle over the past 21 years.
I worked as a customer service operator, field technician, network engineer, and network specialist. During my career in networking, I've come across numerous modems, gateways, routers, and other networking hardware. I've installed network equipment, fixed it, designed and administrated networks, etc.
Networking is my passion, and I'm eager to share everything I know with you. On this website, you can read my modem and router reviews, as well as various how-to guides designed to help you solve your network problems. I want to liberate you from the fear that most users feel when they have to deal with modem and router settings.
My favorite free-time activities are gaming, movie-watching, and cooking. I also enjoy fishing, although I'm not good at it. What I'm good at is annoying David when we are fishing together. Apparently, you're not supposed to talk or laugh while fishing – it scares the fishes.