Although our wireless network is extremely useful and almost all of the devices we use most frequently depend on the Wi-Fi connection, not many people care about the effects of our wireless network on our health.
The truth is that our Wi-Fi network and all the devices in our household that are connected to it expose us to EMF Radiation all the time. If we think a little, we can conclude that the best way to protect ourselves from this exposure would be to turn off Wi-Fi. But since our devices can't perform at their best without an internet connection, let's start small. For example, let's try to answer the question – Should I turn off Wi-Fi on my phone at night?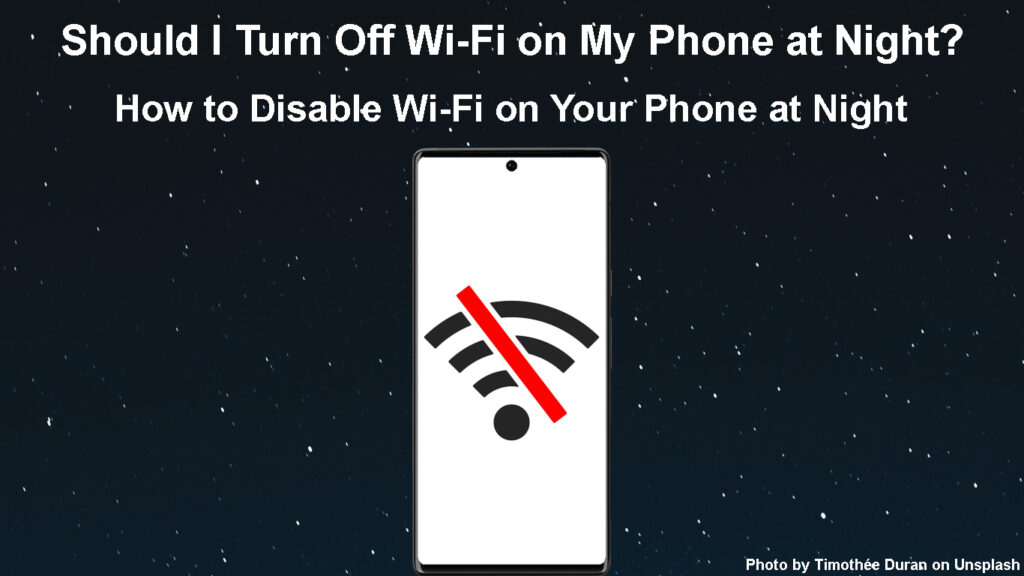 Reasons to Turn Off Wi-Fi on Your Phone at Night
There are several different reasons why you should turn off Wi-Fi during the night. As you can guess, most of them are health-related.
The

EMF Radiation

exposure is drastically reduced when we turn off Wi-Fi at night.
You won't have to check your phone before or when you go to bed.
Some studies have proved that there is less anxiety when you

turn off Wi-Fi

on your phone at night.
There is no doubt that you will sleep better if you turn it off at night. There will be no notifications, vibrations and so on that can disturb you while sleeping.
Different Ways to Turn Off Wi-Fi On Your Phone at Night
Here are the different ways to turn off Wi-Fi at night so use the one that suits you best or the one you feel that protects your health the most.
Just Turn It Off on Your Phone
This is pretty basic and it is perhaps what most people would do.
iPhone
Follow these steps if you are an iPhone user
Unlock your iPhone. Swipe up with your finger on the Home screen and tap on the Wi-Fi icon. This will disable Wi-Fi, but not completely (it will disable it temporarily).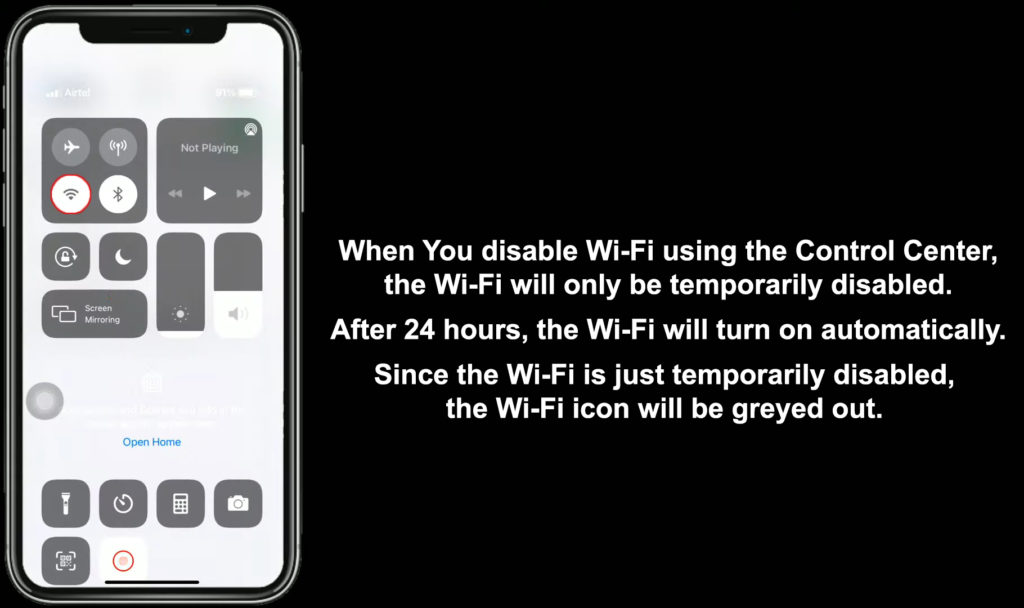 To completely disable it, you will have to go to Settings, then tap on Wi-Fi.  Now tap on the Wi-Fi ON/OFF swipe button.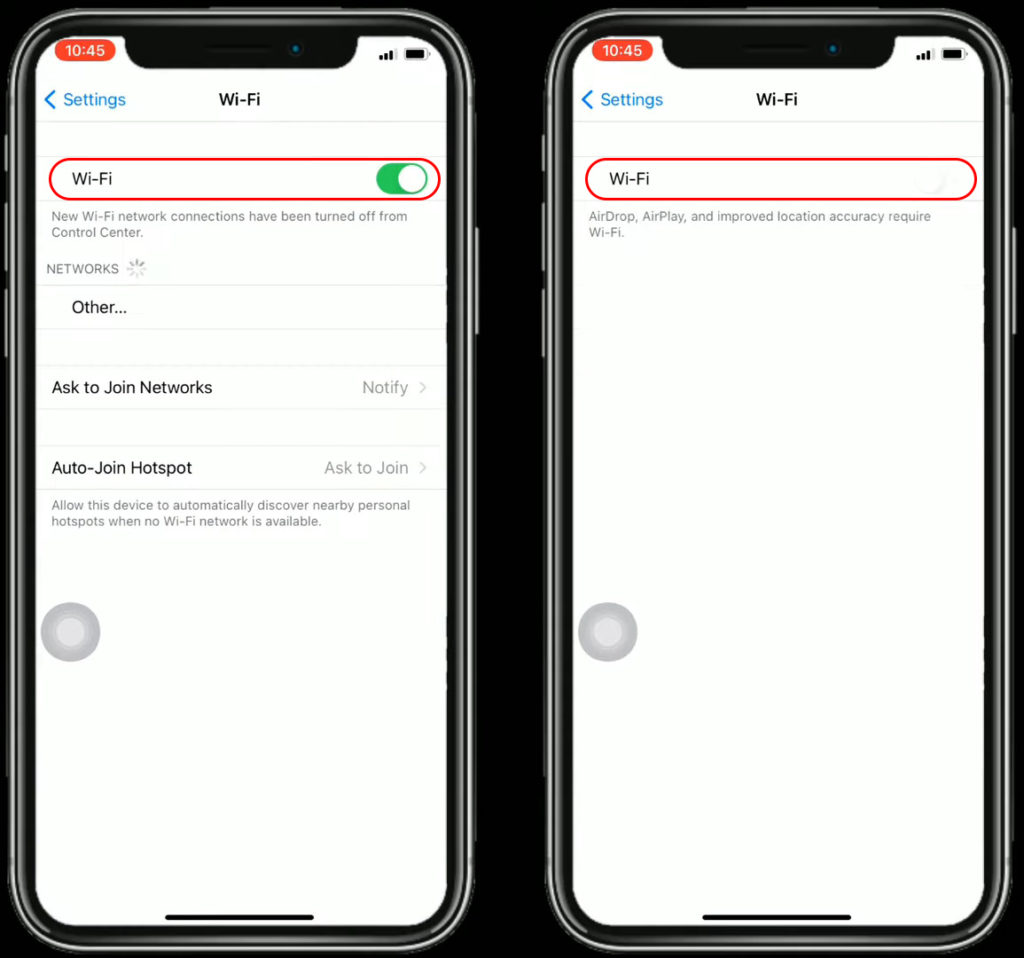 Android
If you are using an Android-powered phone follow these steps.
Unlock your Android phone. Swipe down with your finger from the Home screen and then tap on the Wi-Fi button.
Another way would be to swipe down from the Home screen and tap on the Settings icon (the little gear icon).  Then tap on Connections, and tap on the Wi-Fi ON/OFF swipe button to disable it.
Enable/Disable Wi-Fi on a Samsung Phone
Unplug Your Router
When we just disable Wi-Fi on our phone, other devices remain connected to the router and the EMF Radiation is still present.
Therefore, you can unplug the router from the electrical outlet. This will definitely turn off Wi-Fi on all your devices. 
In case the electrical outlet is hard to reach, you can use a mechanical outlet timer that can be used to set schedules when you want the router to be turned off and on.
Turn Off Wi-Fi Using A Dedicated App on the Phone
If your router or ISP has a dedicated app that can be installed on your phone, you can use it to turn off Wi-Fi with a single tap on the screen.
Simply download the app on your smartphone and connect it to the network. If necessary, log in with your account details. 
When you decide that it's time to turn off the Wi-Fi, do that using the app and that's it. Some apps also allow you to set specific times when the Wi-Fi can go off and on again.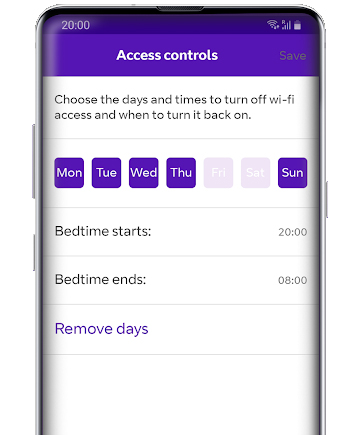 Disable Wi-Fi From the Router's Admin Dashboard
This method might seem a bit complicated, but the truth is that it is pretty straightforward.
You need to access the router settings from your computer, tablet, or smartphone. You need to know the router IP, and the admin username and password for this. These can be found printed on a label on the router or in the user's manual. You can also try to find the login guide for your router on our website.  
Recommended reading:
Open the web browser on your device, enter the router's IP in the URL bar, and when asked enter the admin username and password. If these are correct you should see the router's admin dashboard. Find the Wi-Fi section and then turn off Wi-Fi or just disable the 2.4 and 5GHz networks.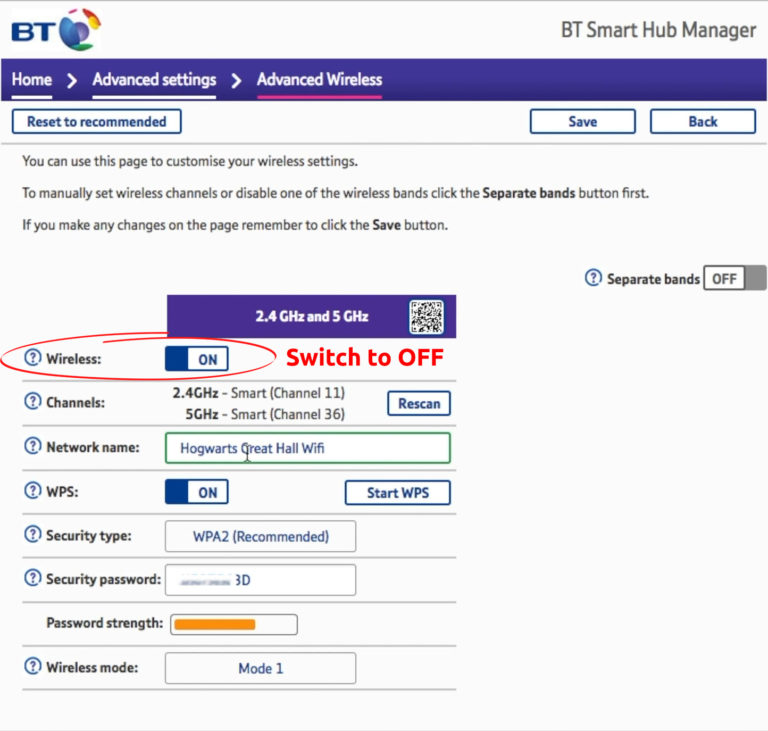 Please note that you will be disconnected when you save the changes if you have decided to connect and log in wirelessly. To enable Wi-Fi again, you will have to log in from a computer or a laptop that is connected to the router with an Ethernet cable.
Use Parental Controls for All Your Devices
Although this doesn't disable Wi-Fi entirely, it will make you stop checking your phone before bedtime and during the night. If you set the time limits for all the devices in your household this will have a much better effect than just limiting your phone.
After accessing the router admin dashboard, check the Parental Controls section. 
You can set up a Bed Time profile for specific devices to block internet access between certain times. For example, you can choose to set up School Nights time limits and block internet access at night (for example 22:00) and allow internet access in the morning. 
How to Prevent Wi-Fi Access at Night on Xfinity Router (Xfinity Parental Controls)
Final Thoughts
Disabling Wi-Fi completely and going wired is definitely not an option. Although it will be really beneficial for our health, we would have trouble connecting every smart device to the internet. Most devices just can't be connected via Ethernet cable, or it is just weird or impractical to do it.
If you still want a definite answer to the question "Should I turn off Wi-Fi on my phone at night?", we can say Yes. We have already mentioned that you will be less exposed to EMF Radiation, you will sleep better, and feel less anxious.
As explained above, it's easy to disable Wi-Fi, although we can't completely protect ourselves from the EMF radiation because our neighbors don't turn their wireless routers off during the night. However, it is usually enough to do whatever it takes on our side. It is much better than doing nothing.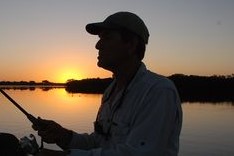 Hey, I'm Jeremy Clifford. I hold a bachelor's degree in information systems, and I'm a certified network specialist. I worked for several internet providers in LA, San Francisco, Sacramento, and Seattle over the past 21 years.
I worked as a customer service operator, field technician, network engineer, and network specialist. During my career in networking, I've come across numerous modems, gateways, routers, and other networking hardware. I've installed network equipment, fixed it, designed and administrated networks, etc.
Networking is my passion, and I'm eager to share everything I know with you. On this website, you can read my modem and router reviews, as well as various how-to guides designed to help you solve your network problems. I want to liberate you from the fear that most users feel when they have to deal with modem and router settings.
My favorite free-time activities are gaming, movie-watching, and cooking. I also enjoy fishing, although I'm not good at it. What I'm good at is annoying David when we are fishing together. Apparently, you're not supposed to talk or laugh while fishing – it scares the fishes.