NETGEAR is an American company that mainly deals with computer networking and networking-related hardware. They are one of the leading companies to manufacture wired and wireless technology. Their products globally include Wi-Fi routers, VPN firewalls, and Orbi mesh Wi-Fi systems.
It is important to note that this company is not an Internet Service Provider, but it offers hardware that enables the transmission of wireless and wired connections.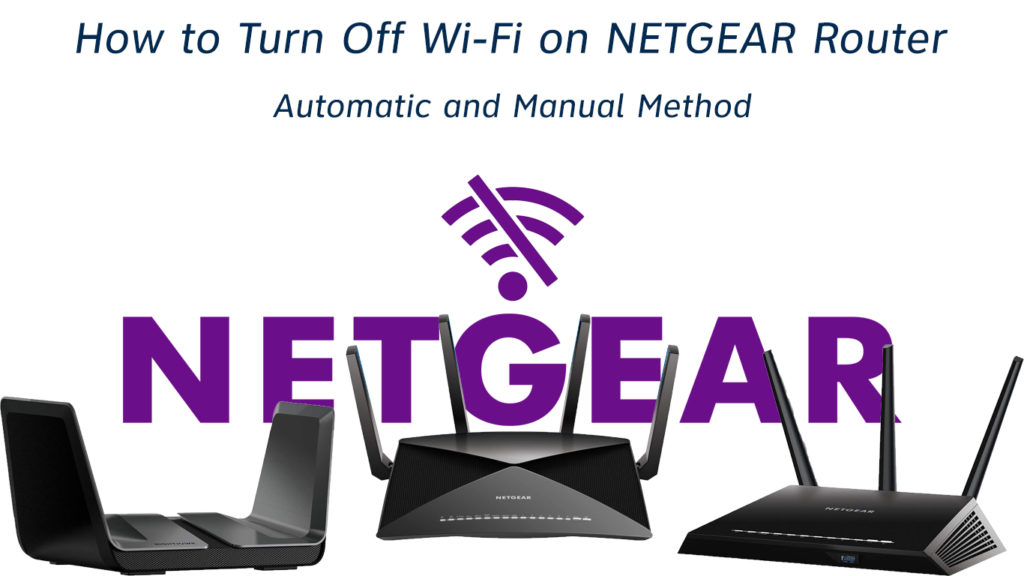 How to Switch Wi-Fi Off on NETGEAR
Switching Wi-Fi off on your NETGEAR router is a straightforward procedure. You can use both the on/off button on your router, or you can access the configuration page to manage the router's settings. You can disable one of the Wi-Fi bands or all of them, or you can schedule to disable Wi-Fi.
The NETGEAR Router
Many Internet Service Providers offer routers you can use to connect your devices to Wi-Fi. The router is essential in Internet connection since it helps manage and create the Wi-Fi network. You can either use the router the Internet Service Provider offers or a third-party router.
Many customers prefer the NETGEAR routers because they are very reliable and secure. The company manufactures routers that can support either Wi-Fi 5 or Wi-Fi 6 networks. Many devices use Wi-Fi 5, while the Wi-Fi 6 is more recent and delivers four times better performance than Wi-Fi 6.
Recommended reading:
The NETGEAR routers usually feature two bands (at 2.4 GHz and 5 GHz) that can operate independently, giving you proper connectivity. The routers mainly offer wireless connections, but they also have Ethernet ports allowing you to connect to the Internet using an Ethernet cable.
The company offers NETGEAR Armor Cybersecurity on many routers, including the Nighthawk routers, to protect the network against hacking. Other advantages of using NETGEAR routers include:
Multiple devices can share the Internet connection that the ISP supplies without signal interference
The company provides VPN and firewalls to protect your Internet network from malicious invasion, thus offering privacy and protection.
The routers support WPA, which means that the network is encrypted to prevent hackers from accessing your network.
How to Turn Off Wi-Fi on NETGEAR Router
There are several ways to turn off your Wi-Fi network. The easiest method is the on/off button on your router. The other is to access the settings on your router through the website. Either way, you will get the same results.
When using your NETGEAR router's configuration page, you can disable one or both Wi-Fi radios. When using the power button, you will disable both bands. Actually, when using the button, you will "kill" your internet connection altogether. If your router has a Wi-Fi button (more expensive routers have two separate buttons), you can turn off just your Wi-Fi without killing the internet.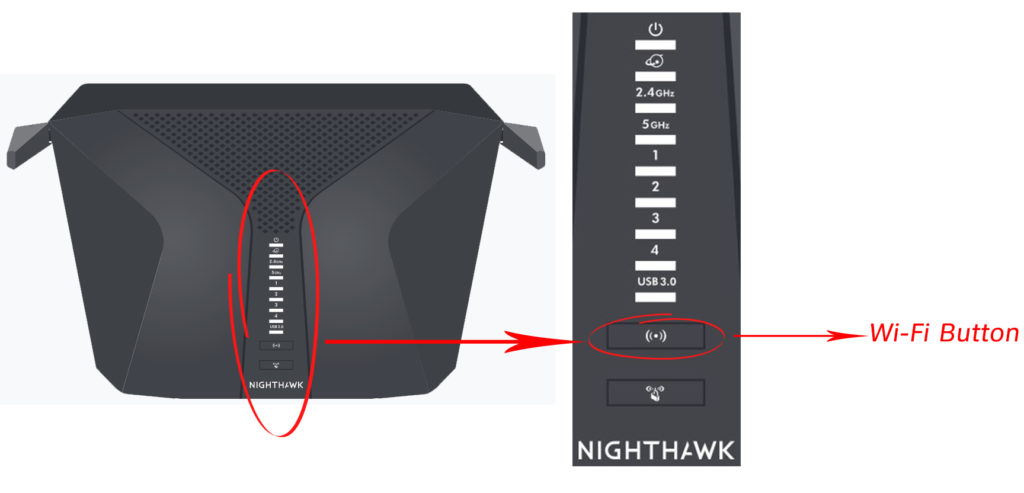 The Manual Method
If your router doesn't support Wi-Fi Auto-OFF scheduling, your only option is to do this manually every time you want to turn it off. Don't forget that you will also have to turn it back on manually. You can do this by using physical buttons or by accessing your router's settings page.
Wi-Fi Button or Power Button
This is the easiest method to use. It is a manual method since you have to switch the Wi-Fi off from the router manually. It turns both wireless radios off. Use the following steps to switch your Wi-Fi off:
Press the Wi-Fi ON/OFF button and hold it for two seconds.
The Wi-Fi LED lights on the router will go off.
The WPS LED lights will also go off. The WPS (Wi-Fi Protected Setup) is an in-built feature found within the router. It makes it easier for the router to connect to other devices within a secure wireless network.
Once the LED lights are off, the Wi-Fi is off.
As you can see, this method is super-easy to follow.
If your NETGEAR router has only one button (power button), you will have to turn your router off completely. The power button is usually found on the back.

Router's Settings
If your router doesn't have a Wi-Fi button, but you still don't want to turn your router off completely (if you still need an Ethernet connection), you can disable Wi-Fi radios in your router's Wi-Fi settings. It's an easy thing to do – just follow these steps:
Log in using your credentials.
From the Advanced tab, go to Wireless Settings.
When the Advanced Wireless Settings page opens, uncheck Enable Wireless Radio for both bands and click Apply.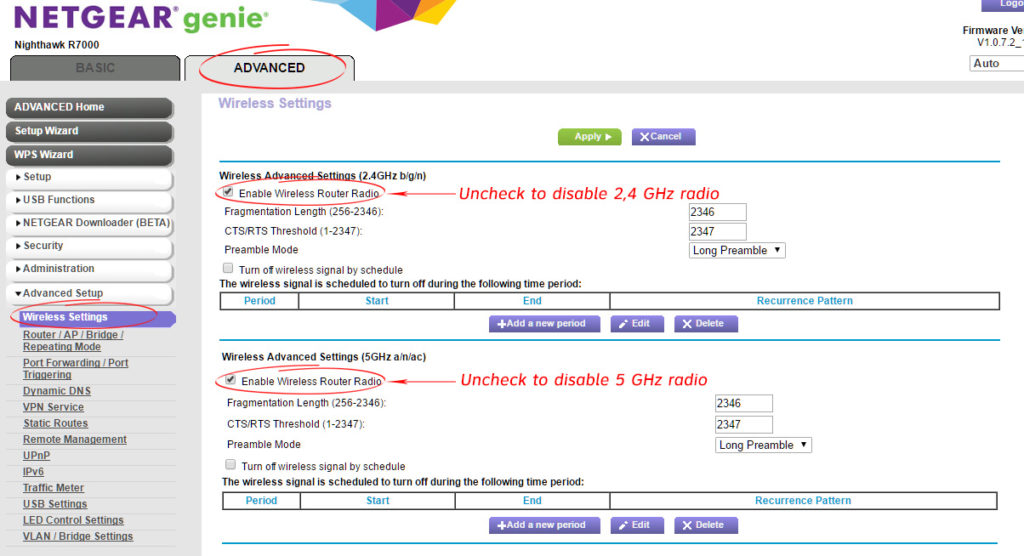 The Automatic Method
Instead of using physical buttons, you can disable NETGEAR Wi-Fi using your router's configuration page. By entering the configuration page, you get access to all the router settings. You need to connect your router directly to your computer using an Ethernet cable.
With this method, you can schedule the time when you want your Wi-Fi to go off. Once the settings are adjusted, you will not have to deal with the router setting again. The Wi-Fi will go off automatically at the exact time that you've set.
Follow these steps to access your Internet settings:
Connect your router to your computer via an Ethernet cable and open up your browser.
Type in your router's default IP address and press Enter to access the NETGEAR genie page. The most common default IP addresses for NETGEAR routers are 192.168.0.1, 192.168.1.1, and 10.0.0.1. Alternatively, you can use addresses

http://www.routerlogin.com

or

http://www.routerlogin.net

. These addresses should work for every NETGEAR router.
Go to

the Advanced

tab. Then, select

Advanced Setup

. Finally, click on

Wireless Settings

.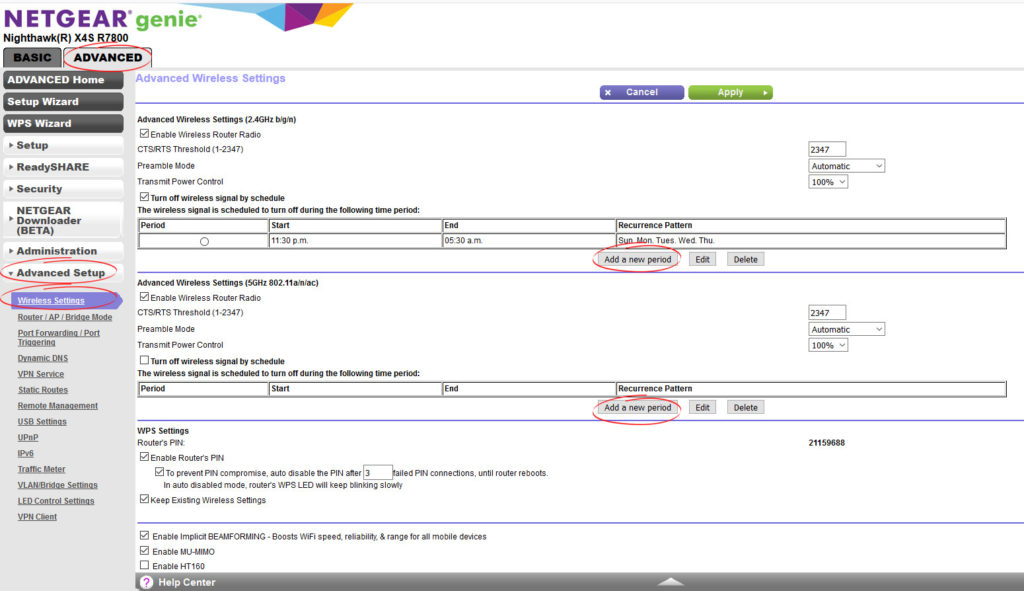 On the Wireless Settings page, click on

Add a New Period

. From here, you can use radio buttons, menus, and checkboxes to set periods of the day when you want your Wi-Fi to go off. If your router supports a dual-band feature, you will see two sections – one for 2.4 GHz and one for 5 GHz. If you want to turn both bands off, you will need to set two periods.
After setting the time and schedule, click on

Save

then

Apply Changes.

The Wi-Fi router might reboot.
Conclusion
We hope this article helped you learn all there's to know about turning off and disabling Wi-Fi on your NETGEAR router. It is, after all, a super-simple task. If you don't mind turning it off manually, it can be done in just a second. If you want to create a Wi-Fi ON/OFF schedule, it will take up to 5 minutes. With our step-by-step instructions, you'll know exactly what to do.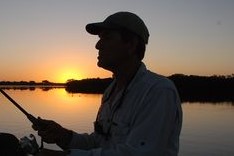 Hey, I'm Jeremy Clifford. I hold a bachelor's degree in information systems, and I'm a certified network specialist. I worked for several internet providers in LA, San Francisco, Sacramento, and Seattle over the past 21 years.
I worked as a customer service operator, field technician, network engineer, and network specialist. During my career in networking, I've come across numerous modems, gateways, routers, and other networking hardware. I've installed network equipment, fixed it, designed and administrated networks, etc.
Networking is my passion, and I'm eager to share everything I know with you. On this website, you can read my modem and router reviews, as well as various how-to guides designed to help you solve your network problems. I want to liberate you from the fear that most users feel when they have to deal with modem and router settings.
My favorite free-time activities are gaming, movie-watching, and cooking. I also enjoy fishing, although I'm not good at it. What I'm good at is annoying David when we are fishing together. Apparently, you're not supposed to talk or laugh while fishing – it scares the fishes.