Video game consoles are an extraordinary form of entertainment. The only problem with game consoles is their portability. The thing is – most of these consoles can only serve their purpose when connected to a TV or monitor. Over the years, video games console manufacturers have ensured that you have an even better experience by providing enthusiasts with multiple options to play even when you are not at home.
In this article, we will discuss Nintendo Switch and its Wi-Fi connectivity. To be more precise, we will explain how to turn Wi-Fi off on Nintendo Switch.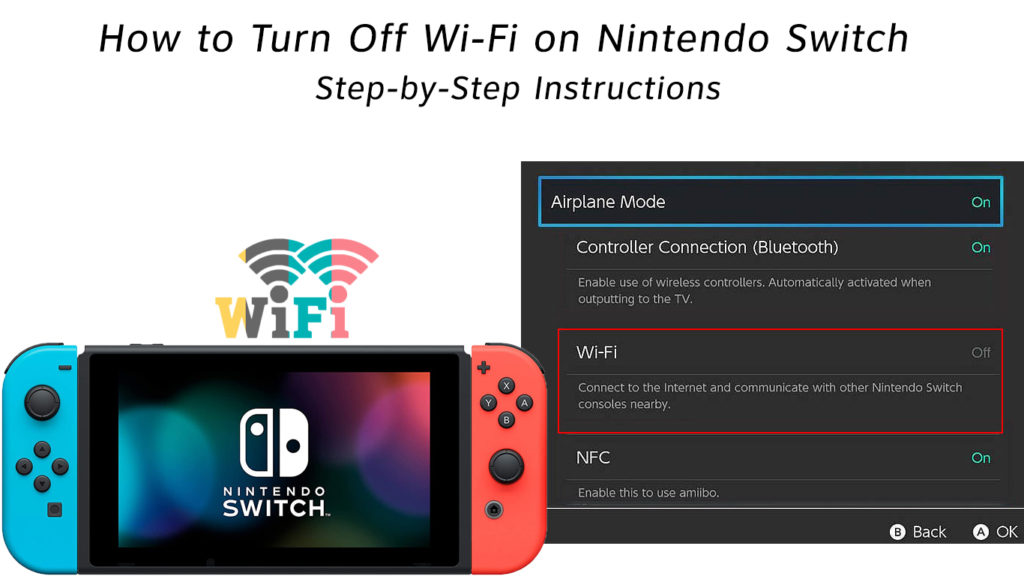 About the Nintendo Game Console
Nintendo Switch is one of the leading video game consoles, with many people preferring it since it has given their customers a wide variety of console uses.
It is a hybrid console, which means that you can use it at home (connected to the TV), and you can also use it as a portable device. It also gives you the option to play local multiplayer games when you connect it online, with up to 8 people.
There are three models – Switch OLED, Switch, and Switch Lite. The last one is only made for on-the-go use.
Switch OLED and Switch come in three modes for you to play in:
The

TV

mode limits your area of play because you have to connect the console to the TV or computer.
The tabletop mode comes in the form of a tablet that has Joy-Con controls to handle multiplayer gaming.
The handheld mode is the most convenient since it allows you to play or stream wherever you go.
All three Nintendo Switch devices can access the internet via Wi-Fi when you play online games or use streaming services. Also, there are apps available on Nintendo, such as YouTube, and streaming services like Hulu. All these require an internet connection. Therefore, it is necessary to connect to Wi-Fi to access the apps and use your Nintendo.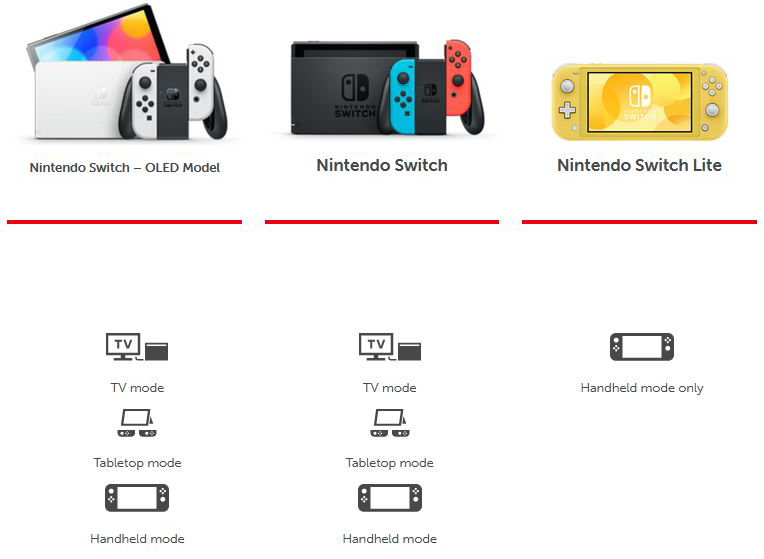 Why Would You Want to Turn Off Wi-Fi on Your Nintendo Switch?
Nintendo Switch can easily connect to Wi-Fi and Bluetooth, especially when playing online games with multiple players. Wi-Fi also gives you access to the apps found on the Nintendo device.
Turning Wi-Fi off on your Nintendo Switch is recommended in certain situations. You can switch off your Wi-Fi after you are done playing to save battery, or you can turn it off when you want to charge your console. As a parent, you can also disable Wi-Fi on Nintendo Switch to control how your children use the online services the device offers.
Below, you can find a simple step-by-step guide on how to turn off Wi-Fi on your Nintendo Switch.
Disable Wi-Fi Using the Airplane Mode
Follow these steps to turn Wi-Fi off completely using the airplane mode:
Select the home menu on the screen of your Nintendo device
Go to the system settings from the menu
Click on the airplane mode option
Tap on the toggle button to turn the airplane mode on. The airplane mode icon will appear at the topmost part of your Nintendo screen to show that the airplane mode is active.
Once the airplane mode is on, the Wi-Fi connection will go off.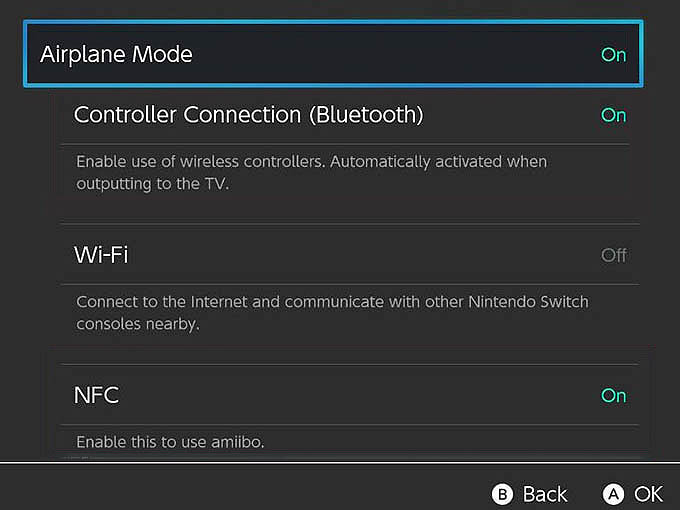 Here's a quicker way to access airplane mode:
Tap on the quick settings menu on your screen
Long press on the home button from the quick settings
The procedure will automatically set your phone to airplane mode, and that will disable your Wi-Fi connection.
As we know, to use the Joy-Con controllers from a distance, you need an active Bluetooth connection. When the airplane mode is engaged on your Nintendo Switch, the Wi-Fi connection will be disabled, but the Bluetooth connection will still be active (unless you turn it off).
Recommended reading:
The Bluetooth will automatically connect your Joy-Con controllers to the device even if your Wi-Fi is off. To turn Bluetooth off, you need to tap the Bluetooth icon located right below the Airplane Mode.
Instead of enabling the Airplane Mode, you can just tap the Wi-Fi button, located right below the Controller Bluetooth Connection.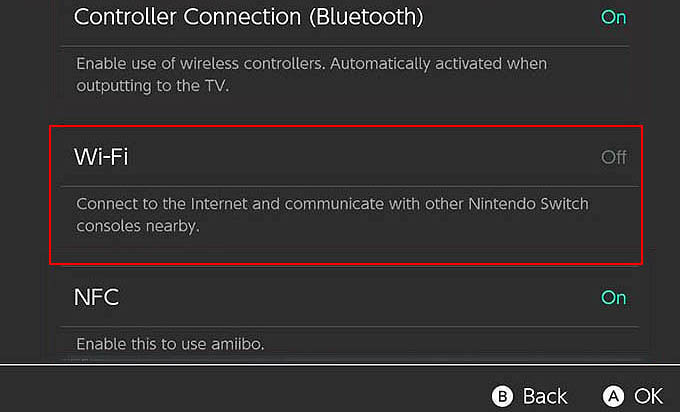 Forget the Wi-Fi Network on Your Nintendo Switch
Forgetting the Wi-Fi network from the list will not disable Wi-Fi on your Nintendo, but it will prevent it from connecting to the network.
Here are the steps:
Select the home menu on the screen
Select the settings option from the menu
Select the Internet option
Assuming your device was previously connected to a specific Wi-Fi network, you should be able to see the connection details when you tap on that Wi-Fi network. To see/change Wi-Fi settings, tap on change settings. If you, on the other hand, want to remove all details about that network, you need to tap on Delete Network.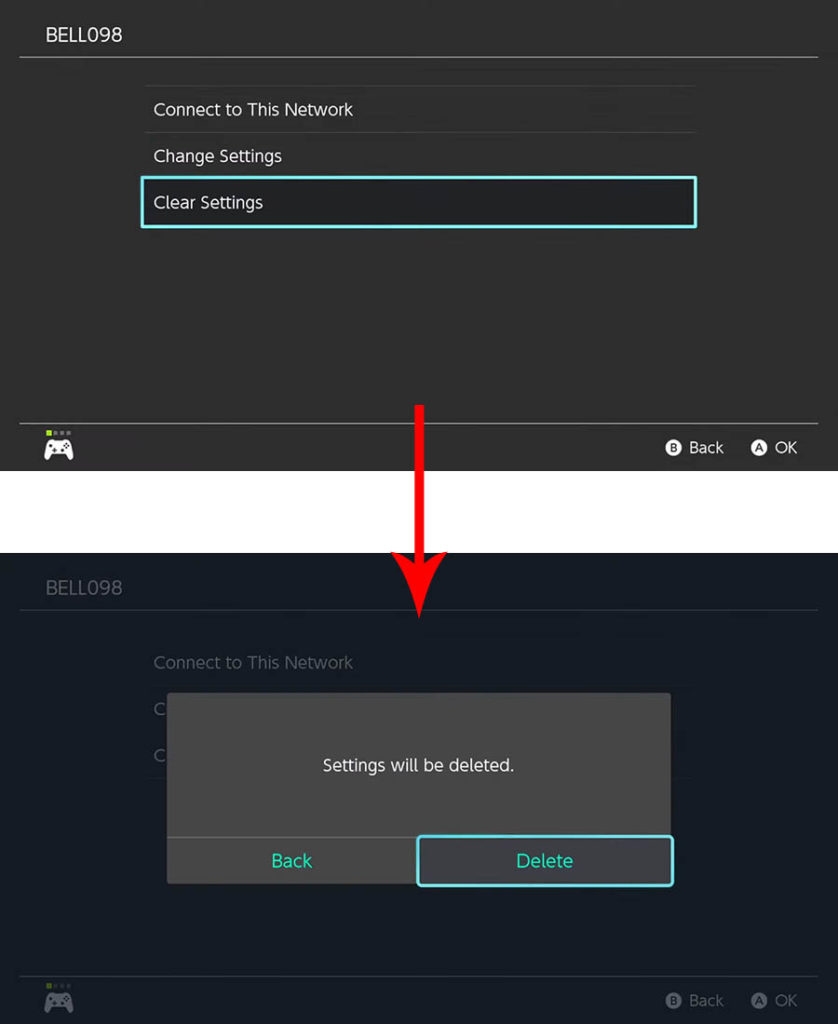 This option will forget the Wi-Fi network, including its credentials (Wi-Fi password), and won't connect to it automatically. If you want to connect to the same network in the future, you will have to enter the password.
Conclusion
Connecting your Wi-Fi network to your Nintendo Switch allows you to play online and multiplayer games. When you finish playing, it is advisable to disconnect your console and maybe even turn Wi-Fi off to prolong the battery life.
Turning Wi-Fi off on your Nintendo Switch is super-easy and can be done in just a few taps. Follow the steps from our guide, and you will disable your Wi-Fi in no time.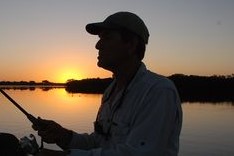 Hey, I'm Jeremy Clifford. I hold a bachelor's degree in information systems, and I'm a certified network specialist. I worked for several internet providers in LA, San Francisco, Sacramento, and Seattle over the past 21 years.
I worked as a customer service operator, field technician, network engineer, and network specialist. During my career in networking, I've come across numerous modems, gateways, routers, and other networking hardware. I've installed network equipment, fixed it, designed and administrated networks, etc.
Networking is my passion, and I'm eager to share everything I know with you. On this website, you can read my modem and router reviews, as well as various how-to guides designed to help you solve your network problems. I want to liberate you from the fear that most users feel when they have to deal with modem and router settings.
My favorite free-time activities are gaming, movie-watching, and cooking. I also enjoy fishing, although I'm not good at it. What I'm good at is annoying David when we are fishing together. Apparently, you're not supposed to talk or laugh while fishing – it scares the fishes.