Verizon is one of the most successful telecommunication companies, offering fast and affordable data plans to its customers. Over recent years, the company has brought about massive improvements to its network coverage.
Therefore, Verizon works to ensure its users receive fast speeds through wide coverage, including the recent 5G speeds.
However, the consumers have brought up several issues concerning their network connectivity. Most of the time, the users report that their Verizon cellular data does not work, ultimately limiting cellular services.
The issue has simple solutions that you can use to resolve a poor cellular connection efficiently. Below, you can find a list of proven solutions.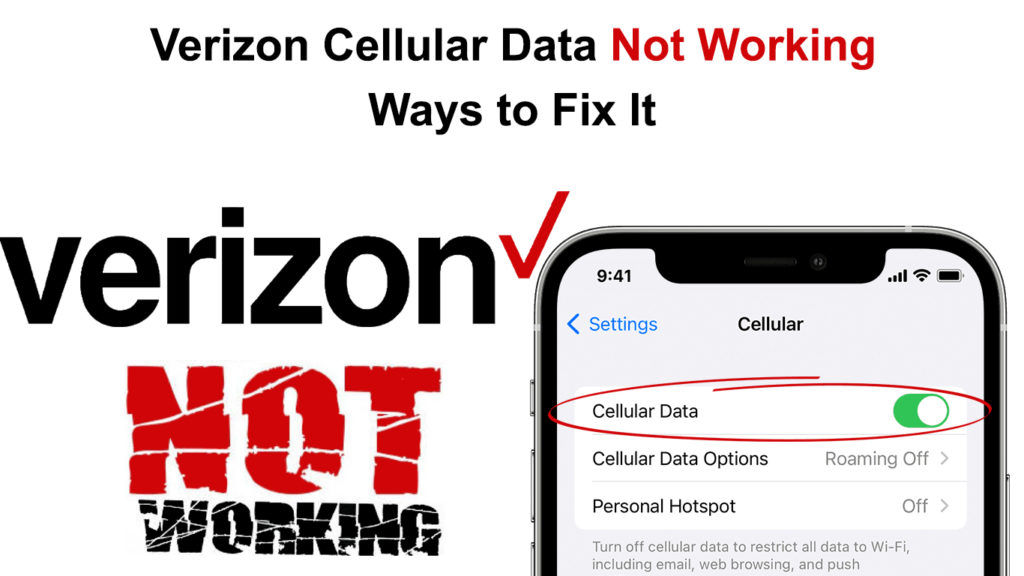 Check Your Coverage Area
Even though Verizon offers extensive network coverage, it is essential to ensure you are in the correct zone. The closer you are to an area with a Verizon connection, the stronger the connection will be.
The Verizon coverage map offers details on their network coverage to ensure that you receive a proper connection.
Since Verizon also offers a 5G network, check whether your phone supports the 5G band to receive 5G speeds. The map will show you where 5G, 4G, and 4G LTE networks are available.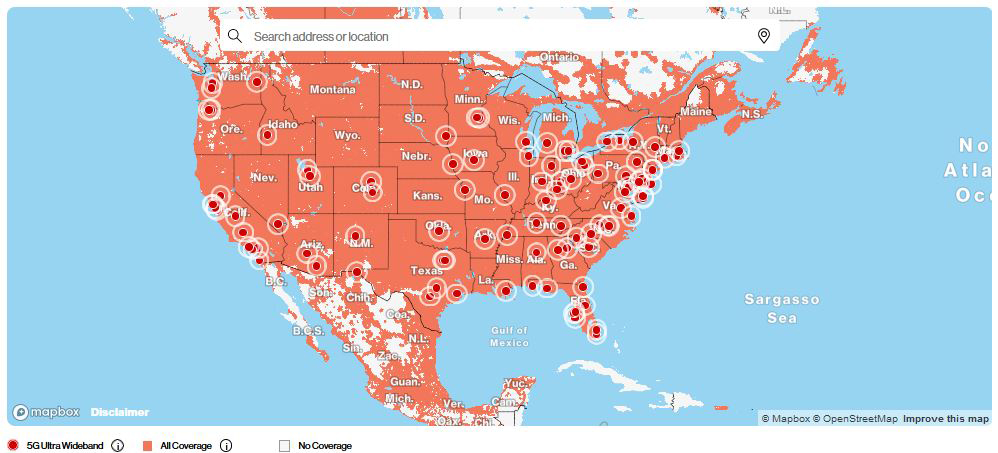 Verizon 5G/4G Coverage Map (Source – Verizon)
Verizon has set up infrastructure such as cell towers that increase cellular network coverage. Additionally, upgrades to the system infrastructure also lead to a boost in network connection among its users.
Therefore, you will need to move closer to an area shown within the coverage map to strengthen your connection. Also, try moving from a place of low altitude to a place of higher altitude.
Higher altitude places have lesser distractions, such as buildings that might cause signal interference. You will get a better connection when you are in an area with minimal interference for a stronger connection.
Toggle Your Airplane Mode ON or OFF
Toggling your airplane mode on and then off is an easy way to reset your network connection. The airplane mode will refresh all your network connections, including cellular data.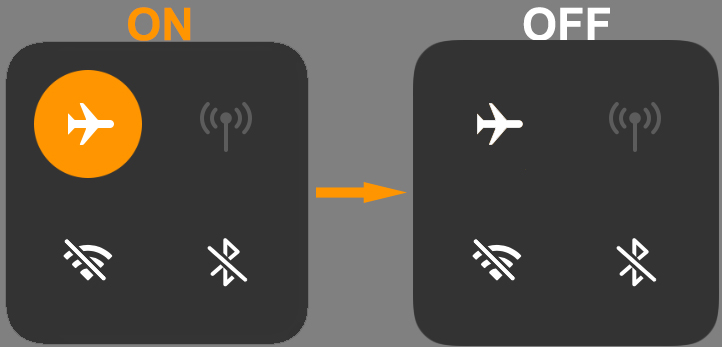 Therefore, you will be able to restore your connectivity after refreshing the network connections. Switch the airplane mode on, wait for a few seconds and switch it off to regain connectivity.
Your Verizon cellular data will work almost every time you use this trick. Try doing it twice or thrice if it doesn't work the first time.
The easiest and fastest way to toggle the airplane mode on and off is to pull down the quick access menu and tap on the airplane icon.
Alternatively, you could navigate to connection settings and then tap on the slider to activate the setting. Remember to tap on the slider again to deactivate the setting.
Enabling/Disabling the Airplane Mode on iPhone 13 Pro
Disconnect and Reconnect Your Mobile Data
First, ensure that you use cellular data and not Wi-Fi since Wi-Fi may hinder cellular data function. If you are using mobile data, try disconnecting and reconnecting to your network.
The network connection will clear up, and you will restore your connectivity to the Verizon network.
Follow these steps to disable and enable your cellular data:
Go to your

Settings

menu and select the

Connections

option
Select the

Data Usage

option and select

Mobile Data

to turn the toggle off
Wait for a few seconds before turning it on again
Alternatively, you can pull down your quick access menu to turn the mobile data off and on.
This will, hopefully, restore your Verizon cellular data. If it doesn't, try the next solution.
Check If Your Account Is Active
Sometimes, Verizon will declare your account inactive when you have not made payments for your data plan. It is crucial to constantly renew your mobile data subscription, especially if you do it manually.
Also, making changes to your account can cause a temporary network outage, and you may lose connection.
Once your data plans are paid, Verizon will restore your network connection, and your account will be active. If you still have any issues concerning your account activation, contact the Verizon customer center.
Recommended reading:
Additionally, Verizon might flag your account and render it inactive. The company mainly does this if there is some suspicious activity or fraud in your account.
However, flagging may occur even if your account is not conducting any activity against company policy. The company will restore your connection upon further investigation once they clear you from fraud.
If there are any challenges concerning your account, do not hesitate to contact the Verizon help center for further assistance. Your network connection will resume immediately after your account becomes active.
Modify Your Network Settings
Your network settings significantly affect how you receive your network connection from your service provider. If you tamper with these settings, it will be hard for you to access any services from your network carrier.
Thus, check to ensure that your network settings are set to their default values. Also, check whether your network operator reads as Verizon to show that Verizon is your network carrier.
Your network operator will be under APN settings. APN, or Access Point Name, acts as a gateway between your device and the network carrier.
Without the APN, you will not receive mobile services from your network provider, including calls and Internet access.
You can access the APN settings by following these steps:
Go to the

Settings

menu and select the

Connections

option
Then, select

the Mobile Data

option and then the

Wireless Networks

option to show you the APN
Select

Reset to Default

to ensure your device reads the default network carrier, that is, Verizon
Resetting APN Settings (iPhone)
Resetting APN Settings (Android)
Additionally, remember to check your general mobile network settings. Follow these steps to restore default network settings:
Do the following if you have an iPhone:
Go to your

Settings

menu and select the

General

option
Then, select the

Reset

option and choose the

Reset Network Settings

option
Your phone will automatically reboot to restore your network settings to default
How to Reset Network Settings (iPhone – iOS 15)
For an Android, use the following steps:
Go to the

Settings

menu and select the

System

or

General Management

option depending on your phone
Then choose

Reset Network Settings
Finally, reboot your device to restore your network settings to default
How to Reset Network Settings (Android)
Your cellular connectivity will automatically work after your network settings are restored back to default settings.
Also, ensure your phone is up-to-date to enjoy better features of your network settings that Verizon provides. Your phone's software system greatly influences your network connectivity since current software ensures your phone network works better and faster.
Check if Your SIM Card Is Working
Your SIM card allows you to receive services from your network carrier. It will be impossible to make calls, send text messages, or access mobile data on your device without it.
Therefore, you will need the SIM card to receive your mobile data subscriptions. The SIM card is unique to each person since you will have a unique number that sets up your account.
Check whether the SIM card is in its proper place within the device. There's a dedicated SIM card slot in your phone. The card has to be properly inserted for your device to read it.
Sometimes, the SIM card might become loose from the slot within your phone. You can remove it and reinsert it to put it back in place to receive your cellular connection on your device.
If there is still no connection, your SIM card may be damaged. Thus, contact Verizon customer care to help replace your SIM card and restore your connection.
How to Properly Insert a SIM Card Into an iPhone/Android Phone
Network Outage
Sometimes, Verizon carries out adjustments to its systems to improve its services. The system upgrade allows consumers to receive better connections and faster speeds for their network coverage.
However, these upgrades might cause a network outage, causing no cellular network connection within such an area. Mostly, Verizon notifies its consumers about network outages.
When the outage occurs, the only solution is to wait for the company to restore the connection to its users.
Restart and Power Cycle Your Phone
If all seems to fail, restarting or power cycling, your device will be the last remaining solution. Doing this will help clear any lingering bugs that may affect the network connection.
Restarting involves holding your power button for a few seconds and selecting the restart button. Some phones will automatically restart after holding the power button for a few seconds.
Restarting an iPhone
Power cycling involves completely shutting down your phone for about 10 seconds before powering it back on. Also, you will have to disconnect any network connections before switching them off.
When restarting or power cycling, your phone will have enough time to clear out any issues that hinder cellular connectivity. Once your phone is back on, the restoration of your network connection will come automatically.
Thus, you will boost the general network performance of your device and repair any cellular data issues.
Conclusion
Verizon offers wide coverage of several cellular network standards, including 4G, 4G LTE, and even 5G network connections. The fast yet affordable mobile data plans have attracted numerous consumers over recent years.
However, despite their exemplary performance, it occasionally happens that Verizon cellular data does not work. The issues may arise due to system maintenance by the company itself, but they can also be caused by your mobile network settings.
You can quickly restore network connection in the comfort of your own home by following the steps above. In case of any further disturbance, contact Verizon customer care for assistance.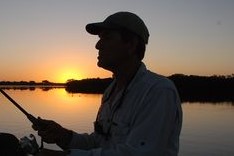 Hey, I'm Jeremy Clifford. I hold a bachelor's degree in information systems, and I'm a certified network specialist. I worked for several internet providers in LA, San Francisco, Sacramento, and Seattle over the past 21 years.
I worked as a customer service operator, field technician, network engineer, and network specialist. During my career in networking, I've come across numerous modems, gateways, routers, and other networking hardware. I've installed network equipment, fixed it, designed and administrated networks, etc.
Networking is my passion, and I'm eager to share everything I know with you. On this website, you can read my modem and router reviews, as well as various how-to guides designed to help you solve your network problems. I want to liberate you from the fear that most users feel when they have to deal with modem and router settings.
My favorite free-time activities are gaming, movie-watching, and cooking. I also enjoy fishing, although I'm not good at it. What I'm good at is annoying David when we are fishing together. Apparently, you're not supposed to talk or laugh while fishing – it scares the fishes.