Taking proper care of your Verizon Fios router and your home network is important. However, you won't be able to do that if you don't know how to login to your Verizon router. So, there is no need to wait. If you want to make any changes of the router settings you have to learn the Verizon router login steps.
Brief Overview
The following article will help you login to your Verizon Fios router using the default router IP and login details.
What do you need:
A Verizon Fios Router
Access to your network either via the network cable or Wi-Fi
A device to connect to the network like a computer, tablet or smartphone
How to login to a Verizon Fios router
STEP 1. Connect to your network
Connect your device to the network using a network cable or Wi-Fi connection. Trying to access the router settings from a device not connected to the network won't be possible. So, in order to succeed, connect to you network first.
STEP 2. Visit 192.168.1.1 from your browser
To login to your Verizon Fios router you will need a web browser. In the Address bar enter the default Verizon Fios router login IP address (192.168.1.1) or myfiosgateway.com and press Enter on the keyboard or Go on the mobile device.
STEP 3. Type in the Verizon FiOS router login details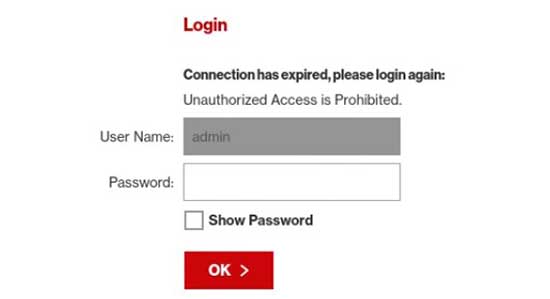 Every Verizon Fios router comes with a predefined username and password. The default Verizon router login details are:
Username: admin
Password: password or enter the Admin password/Default password which is printed on the label on the back of your router.
If you have changed these login details earlier, use the new ones.
STEP 4. You can change the settings now
If the default IP and login details were correct you will now have access to the Verizon Fios router settings and see all the devices connected to the network.
How to change the Verizon router login password
Changing the router login password is one of the things you can do to secure your wireless router and network. Unfortunately very few people bother to make this change, but you need to know that anyone who is connected to your network can easily find the default IP, username and password and access your router settings. As a result, you may lose access to your wireless home network, the router admin console and so on.
Now, when you login to your Verizon router, you can easily change the Verzion router password. All you need to do is to follow these steps.
Find Advanced in the menu and click on it
Now click on Users
Click on Admin or Administrator
This will generate the User settings page.
In the General section you can change the router admin password.
Click Save to apply the changes and try to login again with the new password.
After changing the default Verizon router password, it would be best to change the wireless network name and password as well. You can read our guide on how to change the Verizon WiFi password and SSID here.