Every wireless router today has one or more lights that indicate what's going on with the connection and the network in general. We are used to seeing them being solid or flashing but when specific issues occur it is good to know to interpret what the LED lights are telling us. This can point us to the right direction to locate the problem and fix it on our own.
What Do The Virgin Media Hub 3.0 Lights Mean?
The front of the Virgin media Hub 3.0 has four lights: the WIFI, Internet, WPS button and the Base light.
Let's see what each light means and whether we should be worried if we notice a specific behavior.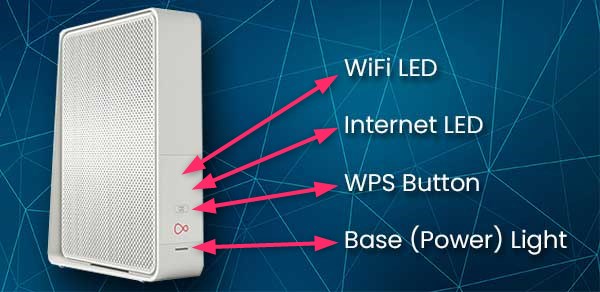 WiFi LED
When we are setting up the router we can see this light flashing, then it will turn green for around two minutes when the setup process completes and then it turns off.
Normally we won't see the WiFi LED light on. However, if there is a problem you will see that it is colored red.
Also, when we are trying to establish a WPS connection it will start flashing green when we press the WPS button.
Internet LED
Just like the WiFi light we have just described, this button will flash while we are setting up the router and when we finish it will be green for around two minutes.
Normally it is off unless there is a problem. Then it lights red.
When the Virgin Media Hub 3.0 downloads a firmware automatically, this light will start flashing green. It is pretty important to remember this because the firmware upgrade process shouldn't be interrupted or it may damage the router. If you notice the green blinking Internet light just give it some time to complete what has been started.
When we want to connect other devices like a computer or a printer to our wireless network using WPS (WiFi Protected Setup) we need to press the WPS button.
Base LED (Power LED)
When we turn on our Virgin Media Hub 3.0 the Base light will turn on. Normally it is white, but in case there is a problem it will turn red.
Virgin Media Hub 3.0 Light Problems
We have mentioned that some lights are normally off while others are red when there is a problem. However, there are some blinking patterns and colors that tell us more about a specific problem.
For example, you can see a green blinking light on your Virgin Media Hub 3.0 if it has problems connecting to the ISP or when it's rebooting.
On the other hand, if you notice that your WiFi light is blinking red it may be because the WiFi is low or there is no WiFi signal at all.
A red Base (Power) light can indicate that the hub is overheating, but if you see the Power light flashing green it may indicate that there is a loose connection in the network.
General Troubleshooting Steps
Being able to resolve some networking issues on your own is very important today. We are constantly in a hurry, and to be honest we have become addicted to the Internet. So any connectivity problems can cause stress and discomfort. Luckily, there are a few quick-fix solutions we can try before we get in touch with the customer support.
Turn It Off
This one is quick and easy. Turn the Hub off. Leave it turned off for one minute and then turn it off again. You can turn it off either using the power button at the back or by unplugging the power cord from the wall electrical outlet.

When you turn on the Hub again, give it some time to boot up and reconnect. In most cases this quick-fix solution will fix the issue you are experiencing.
Are There Any Loose Or Damaged Connections?
If there is a loose connection or a damaged cable you may experience connection problems that will trigger some of your Virgin Media Hub 3.0 lights to change color or start blinking. Therefore, carefully check all the connections and make sure everything is firmly connected.
Is Your Hub Overheating?
Although we can come to a situation where we need to hide our Hub inside a cabinet, remember that it is not a good idea. The WiFi signal will be blocked for no reason and the Hub will overheat easily.
The hub should be placed in an open, well-ventilated space. Also, make sure nothing is blocking the vent holes on the Hub. It is important to act as soon as possible in this case and move your router or you may need a new router soon.
Is The Light Red Or Magenta?
Your Virgin Media Hub 3.0 can work in a router or a modem mode. When modem mode is active, the light on the router will be magenta. It is normal to see this color, but in some cases, users see it as a red color.
Is The Virgin Media Hub 3.0 Activated?
When we receive the Hub we can expect that it is already activated. We just need to connect it and voilà, within 30 minutes everything should be working correctly. But in some cases, the activation process may fail.
Contacting support or checking the Service Status is required in this case. However, make sure you have the following information ready: the MAC address or Serial Number of your Hub, your area code and account number.
In case activation has already been performed and it is not the reason for the unusual light on your Hub, move to the following step.
Is Your ISP Down?
Extremely weak signal coming from your ISP or no signal at all, will make your Hub activate its lights. You can check if this is the main reason for the problems you are experiencing if you contact the Virgin Media support or you can sign in to their Service Status page. They can report that they are experiencing some problems or maintaining it.
However, if your ISP is not affected by an outage and has no problems, they can test your connection and perform basic troubleshooting which will fix the problem in most cases. You can even expect them to send a technician to fix the problem, if they can't do it remotely.
Final Words
The Virgin media Hub 3.0 lights are easy to understand. Applying some basic network troubleshooting steps is even easier and doesn't require any previous tech knowledge. So, checking the cables and connections, restarting the router, checking whether your ISP is down and so on is pretty easy and you can expect to fix any issue within minutes.
Sometimes it would be necessary to reset your hub to factory settings, but since this requires to set it up from scratch we didn't go into much detail here.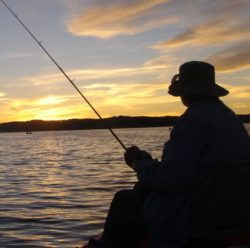 Hey, I'm David. I've been working as a wireless network engineer and a network administrator for 15 years. During my studies, I also worked as an ISP field technician – that's when I met Jeremy. 
I hold a bachelor's degree in network engineering and a master's degree in computer science and engineering. I'm also a Cisco-certified service provider. 
In my professional career, I worked for router/modem manufacturers and internet providers. I like to think that I'm good at explaining network-related issues in simple terms. That's exactly what I'm doing on this website – I'm making simple and easy-to-follow guides on how to install, set up, and troubleshoot your networking hardware. I also review new network equipment – modems, gateways, switches, routers, extenders, mesh systems, cables, etc. 
My goal is to help regular users with their everyday network issues, educate them, and make them less scared of their equipment. In my articles, you can find tips on what to look for when buying new networking hardware, and how to adjust your network settings to get the most out of your wi-fi. 
Since my work is closely related to computers, servers, and other network equipment, I like to spend most of my spare time outdoors. When I want to blow off some steam, I like to ride my bike. I also love hiking and swimming. When I need to calm down and clear my mind, my go-to activity is fishing.