If you are using your Vodacom router for a while and now you want to access the admin dashboard to customize some settings you won't be able to do it if you don't know the Vodacom router login steps.
In this article, we are going to show you how to access your Vodacom router settings properly and also what to do if you can't login for some reason.
So, let's begin!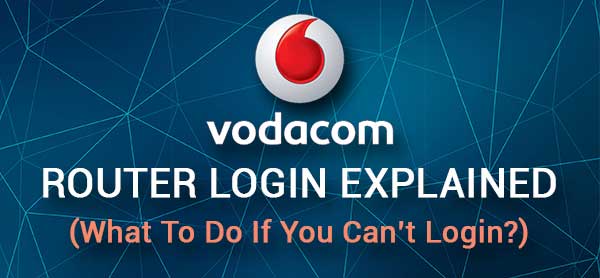 What You Need:
Before you start following the Vodacom router login steps, it is important to take care of the following:
1. You need a computer or a smartphone connected to the network. You can use a wired or wireless connection but it is important that the device and the Vodacom router are in the same network.
2. You need the Vodacom admin login details – the router IP address, admin username, and admin password.
After you make sure you have these ready, you can start following the steps and you should access the Vodacom router settings pretty quickly.
What Are The Default Vodacom Router Details?
The default Vodacom router login details are as follows:
Default Vodacom router IP: 192.168.0.1, 192.168.1.1 or use the local web address http://vodafonemobile.wifi
Default admin username and password: The common combination would be admin for both the username and the password, or leave the field blank for the username and use admin as password. You can also find these printed on the label on your Vodacom router or in the user's manual
How To Login To Vodacom Router?
And now, let's access our Vodacom router admin dashboard.
STEP 1 – Confirm That The Device Is Connected
We have already mentioned that your device needs to be connected. However sometimes people connect to the wrong wireless network, or if they connect using the network cable, the connection is loose or they connect the cable into the wrong port. Check these things and after you confirm that the device is connected, move to step 2.
STEP 2 – Use The Browser On Your Device
Now open the web browser on the device you are using. It is recommended to use Google Chrome or Edge, but any other browser should do the job just fine. In case you run into any problems, use the recommended ones.
The web browser is simply a tool that gives us a graphical user interface that makes the router management pretty user friendly.
STEP 3 – Enter The Vodacom IP In The Address Bar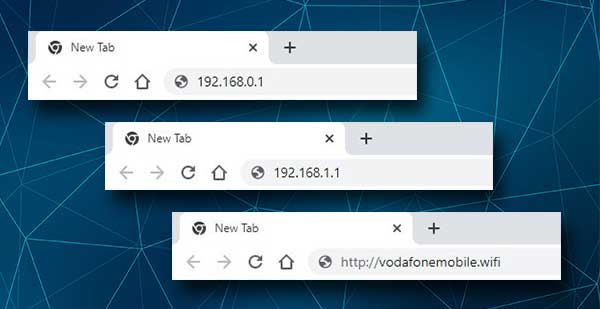 When the browser opens, type the Vodacom default IP or local web address into the browser's Address bar at the top. Press Enter on the keyboard or Go on your smartphone and you will be asked to enter the Vodacom admin username and password.
In case this doesn't happen, it is good to check what IP your router is using or simply retype the IP once again. It is possible that you have mistyped it the first time.
STEP 4 – Enter The Vodacom Admin Login Credentials
As we have mentioned above the default Vodacom admin login credentials are admin as a username and as a password. Depending on the router model you are using, you might be requested to enter the password only. It is also admin.
Type the login details carefully and press the Login button. Now you should see the Vodacom router admin dashboard and you have full admin rights to modify the router settings. You can secure your router, set up Port forwarding or Parental Controls, you can set up a separate Guest Network, add or block access to your network for some devices and so on.
Can't Access The Vodacom Router Settings?
In most cases you shouldn't have any problems accessing the Vodacom router admin dashboard. However, sometimes our attempt to access the router settings fails for some reason.
These are the most common solutions that should help you continue following the router login steps and login successfully.
1. If you have connected your device over WiFi, check whether the device is still connected. Also check whether it is connected to the right wireless network. Check whether Airplane Mode is enabled on the device. It will definitely stop you from connecting to the network.
If you have connected the device using an Ethernet cable, check whether the connections are loose or whether the cable is connected to the right port. Also check if there is any visible damage on the router itself.
After checking everything we have mentioned, you can try switching from wireless to wired connection if your device allows that. Of course, you can switch from wired to wireless and try again. In most cases this will help you continue.
2. Try using another web browser or a different device. If you have another device available try logging again using a different device. You can also install a different web browser, preferably one of the recommended ones, and try again.
3. Confirm that you are using the correct router IP address. Make sure to type it carefully, even the smallest typing error is enough to make the login unsuccessful.
4. Make sure you are using the correct admin login credentials. If you have tried the default admin username and password and you receive an error message, check the user's manual or the label on the router.
If they are different from the ones mentioned in this article, use the new ones. Also, if you know the custom login details you have to use them to access the router settings.
5. Disable your antivirus, firewall or pop-up blocker software. These programs may find your router login attempt suspicious and block it. The easiest way to fix this is to disable these programs and try to login again.
Recommended reading:
Final Words
As you can see the Vodacom router login steps are pretty easy to follow. With the correct router IP and login details ready, the entire process shouldn't last more than a minute. Also, if you can't login, the troubleshooting steps from this article should help you fix the problem and continue in no time.
After you login to your Vodacom router, configuring the basic settings is pretty simple. However, if you want to play with the advanced settings we recommend backing up the router settings first. After that you can continue. In most cases you should be able to restore these settings if something goes wrong. Or you can simply reset the router to factory defaults and set it up again. However, we don't recommend doing this if you aren't 100% sure what the default admin login details are.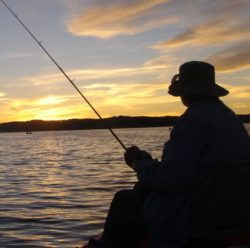 Hey, I'm David. I've been working as a wireless network engineer and a network administrator for 15 years. During my studies, I also worked as an ISP field technician – that's when I met Jeremy. 
I hold a bachelor's degree in network engineering and a master's degree in computer science and engineering. I'm also a Cisco-certified service provider. 
In my professional career, I worked for router/modem manufacturers and internet providers. I like to think that I'm good at explaining network-related issues in simple terms. That's exactly what I'm doing on this website – I'm making simple and easy-to-follow guides on how to install, set up, and troubleshoot your networking hardware. I also review new network equipment – modems, gateways, switches, routers, extenders, mesh systems, cables, etc. 
My goal is to help regular users with their everyday network issues, educate them, and make them less scared of their equipment. In my articles, you can find tips on what to look for when buying new networking hardware, and how to adjust your network settings to get the most out of your wi-fi. 
Since my work is closely related to computers, servers, and other network equipment, I like to spend most of my spare time outdoors. When I want to blow off some steam, I like to ride my bike. I also love hiking and swimming. When I need to calm down and clear my mind, my go-to activity is fishing.