The Wemo Light Switch is a nice and handy device that will allow you to control your lights wherever you are. Once you get used to it, it becomes pretty annoying when it starts causing you trouble. Hopefully, one of the steps we are going to describe in this article will help you fix the Wemo Light Switch blinking orange issue.
So, let's get started!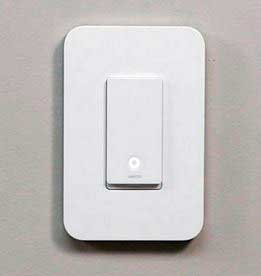 Wemo Light Switch Blinking Orange: Why?
Normally, the LED light on your Wemo light switch will be off. However, if you notice that this light is blinking, it requires your attention.
In this situation, if we notice that the Wemo light switch is blinking orange it indicates that it has problems connecting to the WiFi network or it has lost connection to the WiFi. Of course, this can happen when you have no internet connection for some reason, and in this case, everything will get back to normal once the internet connection starts working as before. Also, you can expect this if you have replaced your WiFi router and your Wemo Light Switch won't be able to connect to the network.
How To Fix the Wemo Light Switch Blinking Orange?
The following solutions are recommended if you are having problems with your Wemo light switch, especially when seeing the orange light blinking on it.
Power-Cycle Your Wireless Router
The first thing we recommend trying is to restart your wireless router. This is a simple solution and, in most cases, it will help you get rid of the issue.
In order to restart your wireless router, you have to turn the router off. Then disconnect its power cable from the electrical outlet. Leave the router disconnected for a few minutes and then plug the power cable back into the electrical outlet. Turn on the router and wait for it to boot completely. After that check the light on your Wemo light switch. In most cases this is enough to fix the issue, however, if the light switch continues to blink orange, try the following solution.
Move The Router Closer
Maybe the wireless signal your Wemo light switch receives from the router is too weak. Well, you can try to move the router closer to the Wemo device and see whether the issue remains or gets fixed.
Internet Service Outage
If this is the issue then your entire wireless network won't have a working internet connection or the signal your router sends will be too weak. If your ISP is experiencing some problems and it is working on their infrastructure, it is possible that they will deliver a signal that is too weak, or there will be no signal at all. This weak signal can trick the router to detect the connection but it won't work properly.
In order to check this, you can log in to your ISP account or the dedicated app for your ISP on your smartphone and check whether there are any notifications informing you about a possible outage. You can also contact support and check with them whether your area is affected by a service outage or something similar. You can also ask them to test your connection if there are any problems besides the orange blinking light on your Wemo light switch.
Restart The Wemo Light Switch
Restarting the Wemo device is pretty easy thanks to its Restart (Wi-Fi Reset) button.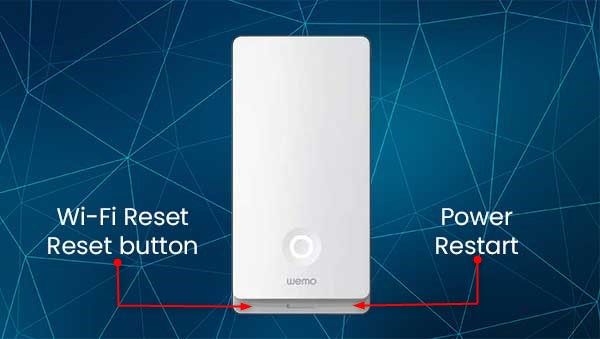 In order to restart it, you need to press the Restart button and keep it like that for just one second. After that, release it. If the Wi-Fi signal light starts blinking green it is a sign that the light switch is restarting.
If this doesn't work for some reason i.e. it doesn't restart you can turn the circuit breaker off and then ON. This will restart the device as well.
Check whether it blinks orange and if it does, you are advised to reset the Wemo light switch to factory default settings and set it up again.
Disable Your 5GHz Network Temporarily
Sometimes your Wemo Light Switch can have problems with the 5GHz network. So, we recommend disabling it for some time and seeing whether using just the 2.4GHz one will fix the issue.
You can disable your 5GHz network using the dedicated app if your router has one or simply log in to the web-based interface and disable the 5GHz network there.

Your Wemo Light Switch should connect to the 2.4GHz network and it is most likely that this will fix the issue.
Reset The Switch To Factory Defaults And Set It Up Again
READ THIS FIRST: Just like with other devices, the settings you have customized in the Wemo app will be erased when you perform a factory reset. After the reset completes, you need to set it up again.
It can be reset to factory default either from the Wemo app or you can do it manually.
Factory Reset Manually
1. Press the Restart button and keep it like that for one second. Release the Restart button and you should see the Wi-Fi signal light start flashing green.
2. Now press the Reset button instantly and hold it for 5 seconds. The Wi-Fi signal light is going to start flashing orange quickly. This is a sign that the device has been reverted back to factory settings.
It usually takes around a minute and a half for the Wemo Light switch to reset to factory settings completely. When you see the Wi-Fi signal light blinking orange and green it is a sign that you can set it up again.
Factory Reset With The Wemo App
1. Unlock your device and open the Wemo app. Make sure you are logged into your account.
2. Tap on Edit at the top of the screen and you will have the option to edit the Wemo Light Switch settings.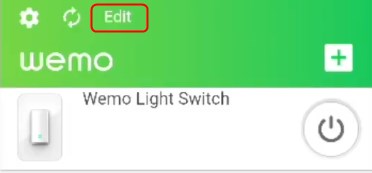 3. Now tap on the Wemo Light Switch.
4. And finally tap on Reset options and finally Factory Restore.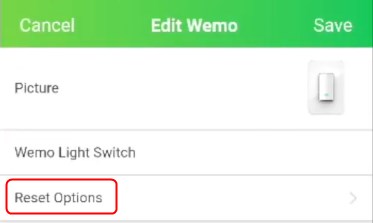 The Factory Restore will delete all the data from the Wemo device and revert it back to factory settings. It will also remove the device from the Wemo account.
When the factory reset completes just connect and set up the Wemo Light switch again.
Final Words
Have you fixed the Wemo Light Switch blinking orange light by now? If you have fixed it, remember what worked for you this time. Maybe you will need this solution if it happens again.
However, if nothing has helped it is recommended to contact customer support. Maybe you are dealing with a faulty device and in that case, you will need to replace it.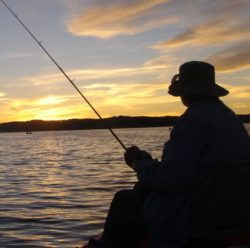 Hey, I'm David. I've been working as a wireless network engineer and a network administrator for 15 years. During my studies, I also worked as an ISP field technician – that's when I met Jeremy. 
I hold a bachelor's degree in network engineering and a master's degree in computer science and engineering. I'm also a Cisco-certified service provider. 
In my professional career, I worked for router/modem manufacturers and internet providers. I like to think that I'm good at explaining network-related issues in simple terms. That's exactly what I'm doing on this website – I'm making simple and easy-to-follow guides on how to install, set up, and troubleshoot your networking hardware. I also review new network equipment – modems, gateways, switches, routers, extenders, mesh systems, cables, etc. 
My goal is to help regular users with their everyday network issues, educate them, and make them less scared of their equipment. In my articles, you can find tips on what to look for when buying new networking hardware, and how to adjust your network settings to get the most out of your wi-fi. 
Since my work is closely related to computers, servers, and other network equipment, I like to spend most of my spare time outdoors. When I want to blow off some steam, I like to ride my bike. I also love hiking and swimming. When I need to calm down and clear my mind, my go-to activity is fishing.